Outdoors
Listening to the caribou
Redefining conservation from an Indigenous perspective
December 23, 2022 at 5:00 a.m.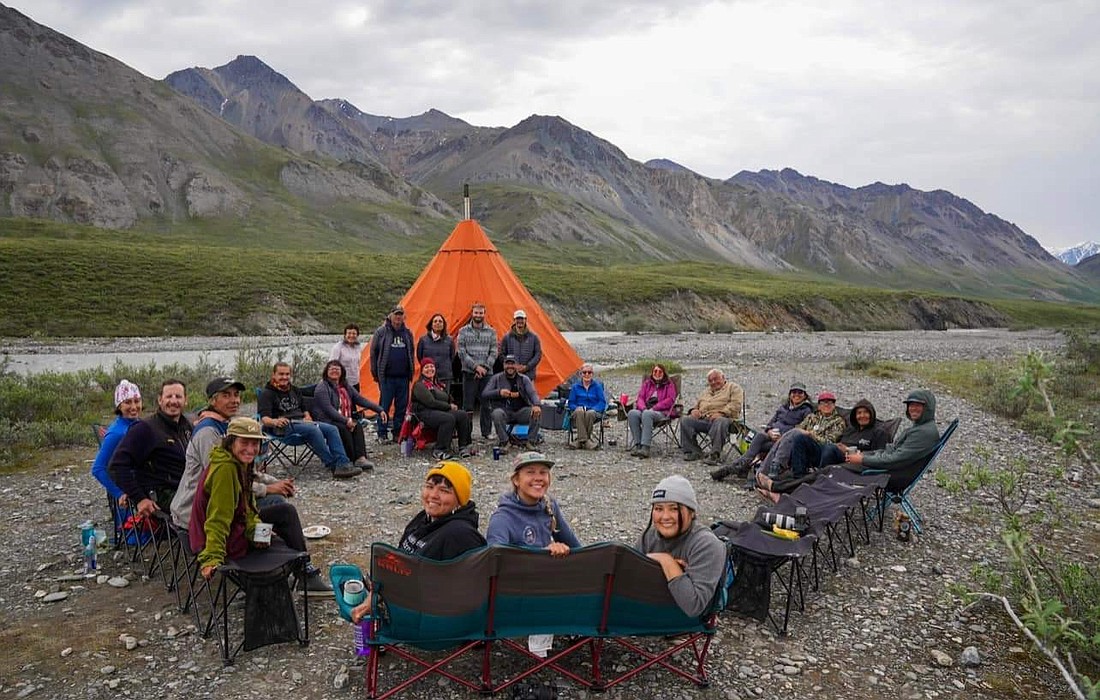 ---
---
"Listen to the caribou. They will talk to you if you are open."
I took a deep breath and patted the side of the eight-seater charter plane — a superstition I adopted from my well-traveled grandmother. Crouching into the sardine-sized cabin, I still banged my head as I crawled past the other passengers to the last empty seat tucked into the back corner. I had never been in such a small plane before and was struggling to hide my nerves.
My traveling companion, Robert Thompson, an Iñupiat Elder from one of America's northernmost towns, chuckled. His home in Kaktovik, Alaska, is only accessible by charter plane, and he had spent lots of time in much smaller planes. 
We were on our way to the Arctic National Wildlife Refuge, the place of a decades-old battle to protect the land or develop it. I had been invited by The Wilderness Society to join on this special trip to the heart of the Arctic Refuge. 
To my dismay, an even smaller plane was necessary to land on the delicate tundra, so we descended early toward a lone building standing alongside a landing strip. Relieved, I jumped out of the plane and saw a banner reading "Arctic Village Visitor Center, Gateway to the Arctic National Wildlife Refuge." The Gwich'in people call this place home.
An elderly man greeted us on the runway and helped us transfer our bags for the final leg of the trip. Along with the usual cautions about fastening seat belts, he noted that a "survival kit is located under the back seat" and handed each of us a headset. "The end of this month is the plane's 70th birthday, so if you're in town after your trip, feel free to come to the party," he added. I was too busy noting the rusted ceiling of the cabin to appreciate the invitation.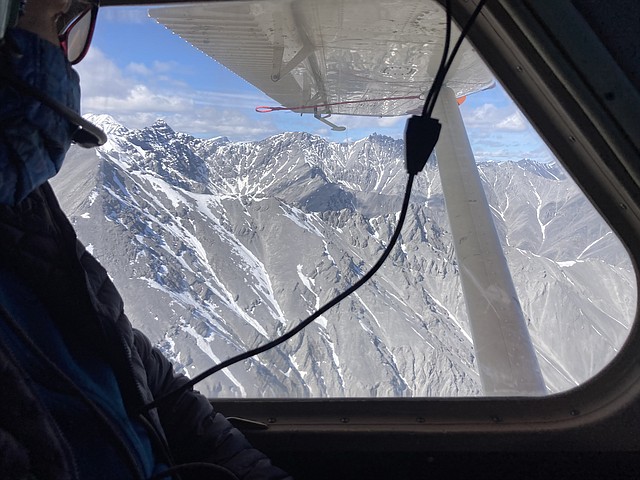 My nerves settled down as the Brooks Range loomed. I had never known the true definition of "vast" until that moment. I felt as if I was one of the 200 species of migratory birds that travel to the refuge every year from all over the world. The plane dipped in and out of the few pockets of space that seem to exist merely to give the mountain peaks a sense of individualism. The pilot spoke calmly through my headset — engaging in small talk as if this was somehow not a life-changing moment to gaze at such remote beauty.
Soon, we ducked down toward the Hula Hula River, carving snakelike through the tundra below. No landing strip this time, just a narrow clearing among the shrubs. The plane's three wheels bounced gently as we touched down and my stomach was relieved knowing there were no more even smaller planes in my immediate future. This was to be base camp for the next eight days.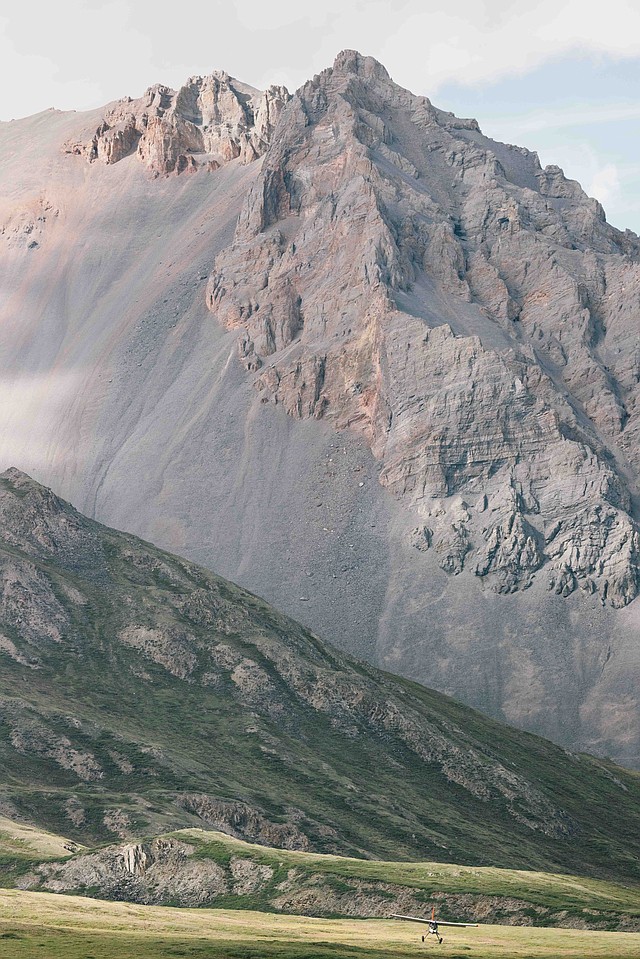 The Wilderness Society created the Imago Initiative, on which this trip was based around. The initiative promotes Indigenous-led, place-based discussions, reimagining conservation through an Indigenous perspective. The Arctic Refuge holds sacred ties for both Iñupiat and Gwich'in folks. People from both tribes joined our trip and spent time sharing stories and teaching us the ways of this land.
Almost immediately upon arrival, a representative of the roughly 200,000-member Porcupine caribou herd, known for the longest regular land-mammal migration in the world, emerged from over a hill, stopping about 30 feet away to size up the visitors. It observed us for about five minutes as if trying to assess our intent before bounding back over the hill, only to return minutes later with a small herd of relatives. They felt safe with us.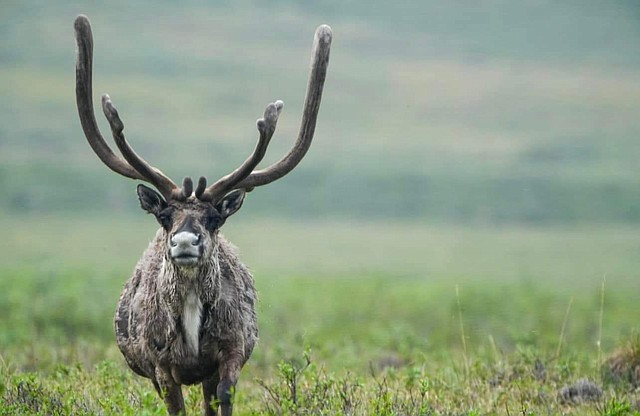 People like Thompson, and many other Iñupiat and Gwich'in folks, have fought endlessly not only to protect animals like the caribou, but to protect their own way of life, which depends entirely on the land. One evening, Thompson invited me to join him in carving some wood. We sat on the tundra as he told me stories of hunting in the Refuge, bear chases while raft guiding down the Hula Hula, winters in Kaktovik, and even polar bears knocking on his front door. 
One of the most impactful discussions here included three representatives from the U.S. Fish and Wildlife Service, who flew in to join the conversation on what co-management of the Arctic Refuge might look like. 
The midnight sun prolonged the conversation as Native Elders and youth, environmentalists and government officials tried to reimagine how we manage our lands and how, starting with the Refuge, we can benefit from an Indigenous perspective: from creating an Arctic Refuge board with both Iñupiat and Gwich'in members, and political officials, to creating Arctic Refuge management classes at nearby universities, aimed for Native youth to get their foot in the door. We all went to bed that night filled with hope.
On our last evening, we sat in the shadows of the towering mountains hiding the sun and held a final ceremony. It is hard to wrap up or even summarize such a life-changing trip. I had never been part of such a courageous group of dreamers doing something as big as redefining conservation. As if on cue, a small group of caribou started toward us. We all watched silently as they approached stopping just shy of us. We stood in silence. Just us and the caribou, all sharing the same goal. There were no differences between us and the animals in that moment. We were all one.  
Outdoor lifestyle columnist Kayla Heidenreich writes monthly: heidenreichmk@gmail.com.