Basketball
Sehome boys roll past Squalicum
Mariners use second-quarter run to gain permanent lead in 57-35 win
December 5, 2022 at 11:37 p.m.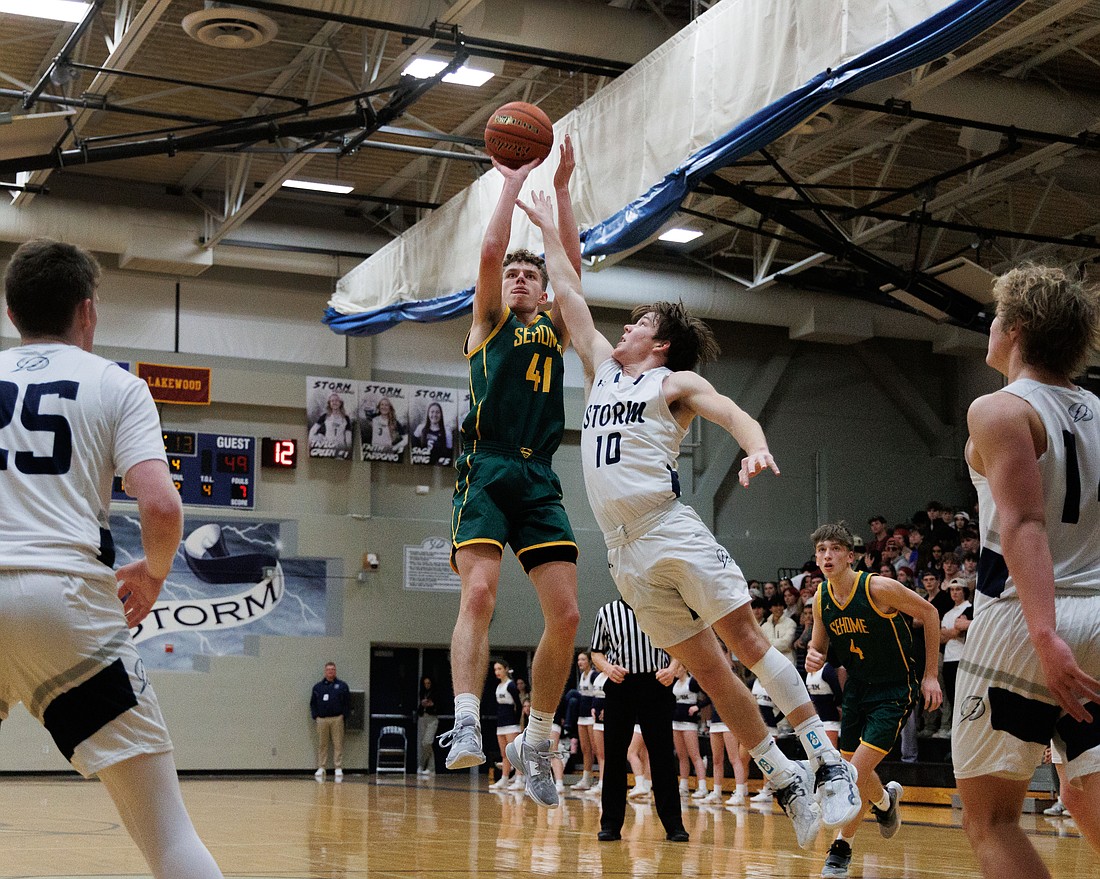 ---
---
Sehome looks to be picking up right where it left off last season.
The Mariners, who reached the 2A state quarterfinals a year ago, took the lead in the second quarter and never looked back during a 57-35 victory over Squalicum on Monday night. 
This Sehome team returned four starters from last season and filled the fifth spot with 6-foot-2 senior forward Isaac Lawrence. He has been a more-than-adequate substitute thus far.
First-year Sehome coach and Western Washington University legend Brad Jackson said it wasn't his team's best night offensively, but they did enough to win.
"It's so early in the season, and I don't think we're quite clicking on all cylinders yet," Jackson said. "We had some good performances. I thought Grey [Garrison] did a good job of fighting hard in there and getting some stuff around the hole. Isaac Lawrence had a really nice game tonight."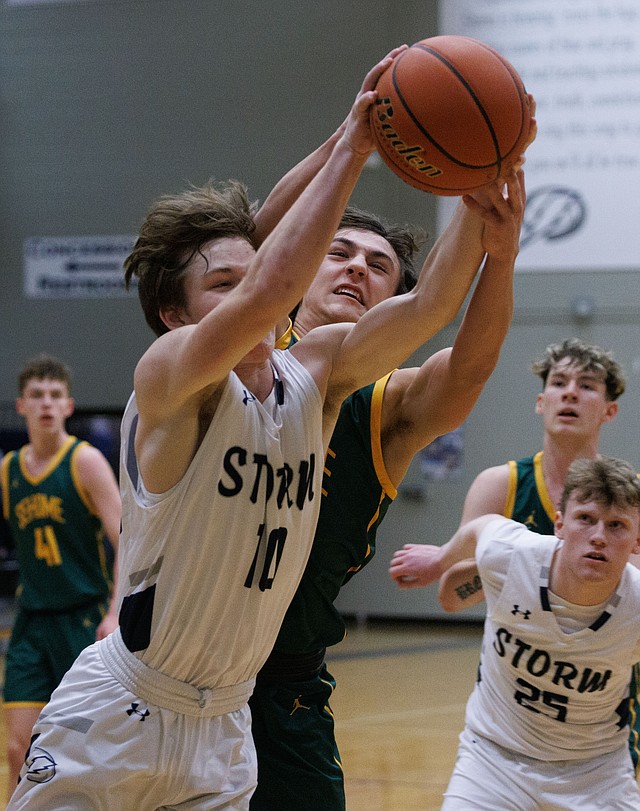 A back-and-forth first quarter ended with Squalicum possessing a slim 9-7 lead. The Storm were the aggressors in the opening period, and Sehome's offensive production was heavily stunted by traveling calls and tough shot attempts that didn't fall.
The Mariners looked reinvigorated in the second period, taking a 13-11 lead and picking up second-chance points whenever possible. Sehome closed out the first half on a 7-0 run, capped off by a 3-pointer from freshman guard Nolan Wright to make it 26-17.
"We settled down, we played our tempo and coach Brad [Jackson] helped us out a lot," Lawrence said. "We eventually got up by 20-plus and we got in our groove, which is what we need to do all season."
Sehome poured that run over into the third quarter, extending it to 14-0 early on. The Mariners were firmly in the driver's seat with a 33-17 lead.
They kept their foot on the gas pedal, and Garrison punctuated a nice couple of possessions by Sehome with an emphatic two-handed jam late in the third. It was 45-29 after three quarters, and the Mariners deployed their bench with around 2:50 remaining in the game. 
"When we got the lead, we did a much better job of getting the ball inside, got some buckets that way," Jackson said. "We still did not shoot like we're capable of shooting."
For the Storm, it was just a matter of not shooting efficiently from the field and trying to make up ground once they fell behind. 
"We got our shots — they didn't go in, and, at that time, momentum switched a little bit," Squalicum coach Tyler Hannigan said. "You just can't give good teams opportunities to get easy [shots], and when that momentum swings it's hard to get it back."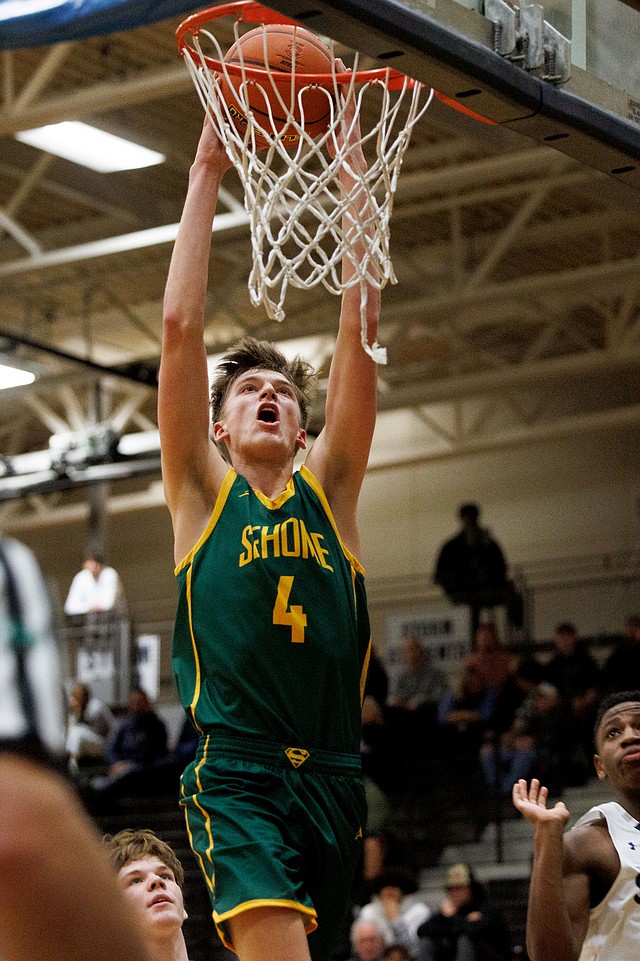 Garrison led the way with a game-high 19 points while Lawrence posted 16. Senior guard Grant Kepley poured in an additional 12 points for the Mariners.
Lawrence was proud of his teammate, and best friend, Garrison.
"Grey is a fantastic player. He has a lot of potential," Lawrence said. "He plays really hard, hustles, works the hardest in practice; he's a great team player, and for him to shine it makes me happy — makes all of us happy."
Senior forward Nicholas Watt led the Storm with 10 points, while junior center Peter Albert tallied eight.
The marriage between Jackson and the experienced Sehome roster is proceeding perfectly thus far for a team that has state championship hopes this season. It helps when Jackson has known most of the Mariners players for much of their lives.
"He's a great coach, better guy," Lawrence said of Jackson. "He leads us as a team but coaches us as men as well."
The Mariners moved to 2-0 overall on the season and 1-0 in Northwest Conference games. Sehome will host Mariner (1-1 overall) in a non-league game at 7:15 p.m. on Dec. 7.
Squalicum fell to 1-2 overall and 0-1 in NWC games. The Storm will play host to Ferndale (0-1 overall) at 7:15 p.m. on Dec. 8.