Recreation
Accessible trails in the nearby outdoors
Whatcom County's beautiful options for people of all abilities
August 26, 2022 at 5:00 a.m.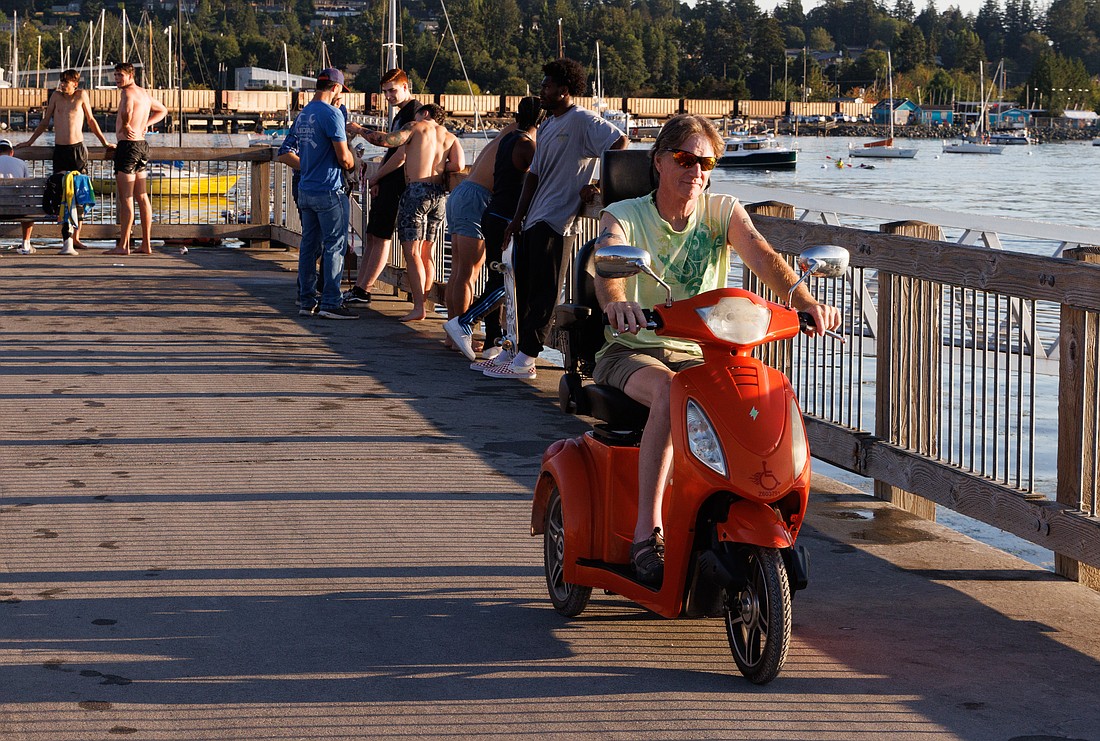 ---
---
Whatcom County and the surrounding region is a place of beauty, with endless sights to see atop hills and hiking trails. 
But, for those who can't easily navigate uneven terrains, what are the options? Barbara Hicks, a Ferndale resident, recently asked this question in Seeing Bellingham, a Facebook group dedicated to the sights of the city and surrounding areas.
Her sister, Laurel Hicks, recently transitioned to a lightweight self-propelled wheelchair, and now the two are searching for parks and trails both of them can enjoy, Barbara Hicks said.  
"I want to take her to beautiful places where we both can enjoy the sights, sounds, and fresh air of this beautiful part of the world we live in," Barbara Hicks said in an email. 
What makes a trail or park accessible?  
Laurel Hicks said a trail or park is accessible for her if it is paved with no steps, although accessibility depends on the comfort and abilities of an individual. Gravel trails, even if tightly packed, can be dangerous for someone using a wheelchair, as loose debris can get in the way of the wheels. 
A flat gravel or dirt trail can be more accessible for someone using a walking aid, someone pushing a stroller, or even someone who favors mild physical activity.  
An area must meet specific guidelines for it to be in compliance with the Americans with Disability Act, but Whatcom County and beyond has a variety of areas that are broadly accessible to those of all abilities. Here are a few of our favorites. 
Zuanich Point Park 
Overlooking Squalicum Harbor is Zuanich Point Park, a grassy area where the sky is filled with intricate kites. A paved walkway trails the short walk from the parking lot to the park, with several sturdy benches along the way.
The paved trail is well kept, with minimal (if any) cracks or unevenness. In addition to being wheelchair accessible, the trail also welcomes bicycles, roller skates and skateboards.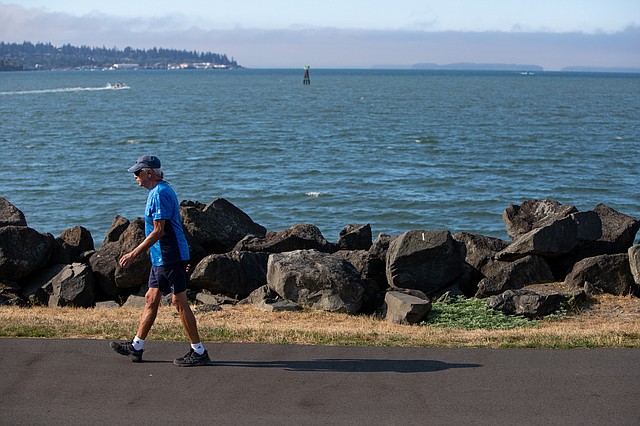 The park contains a small playset where the sounds of children playing slightly obscures the cawing of seagulls.  
On a bright afternoon, you may find the area filled with family picnics or a celebration spilling out from the Squalicum Boathouse.  
Zuanich Point Park is a beautiful place to sit and watch the boats in the harbor, or lay out a blanket and read a book.  
In addition to a flat, paved road, the park also provides public restrooms, vending machines and a few naturally shaded areas.  
Boulevard Park 
When you exit the car after parking in Boulevard Park, you're immediately met with the scent of saltwater. The park is on the water — you can dip your toes right in if you feel like it.  
Boulevard Park hosts a more spacious area than Zuanich Point Park, with flat paved trails that go all the way through the park and beyond. The paved trail separates the grassy park from the sand and boulders that border Bellingham Bay.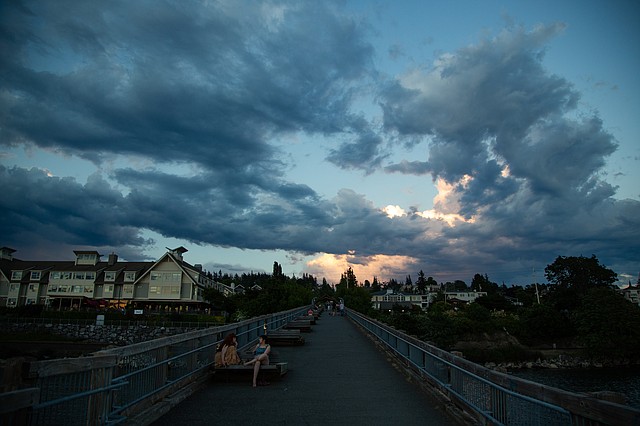 As well as containing a small playset, the park also has several patio tables, benches and a Woods Coffee shop, all with an incredible view.  
Extending out of the park is the boardwalk, a sturdy and elevated bridge right along the water. The boardwalk is flat and paved, making it an ideal spot for wheels, whether that be on bicycles or chairs. Additionally, the boardwalk has several park benches along the sides, providing convenient resting points.
There are a few sections of gravel path that connect the boardwalk to the park to look out for, but the gravel is tightly packed with few loose stones.  
Boulevard Park is a bit more populated, and parking can sometimes be difficult to find, but going early in the morning makes for a lovely stroll.  
Whatcom Creek Trail Loop 
Whatcom Falls Park is a more expansive area that can be accessible for hikers of all different skill levels.  
Shrouded in greenery, there are a number of trails and bridges that vary in steepness as well as path type.  
Closer to the waterfalls, there are several well-maintained trails of tightly packed dirt and very little steepness that make for a good hike for a beginner or someone who needs a walking aid.   
Starting near Fraser Street is a trail called Whatcom Creek Trail Loop, an approximately 4-mile long, wheelchair-friendly looping trail. If using a wheelchair, assistance is suggested for this hike, as there are a few steeper areas.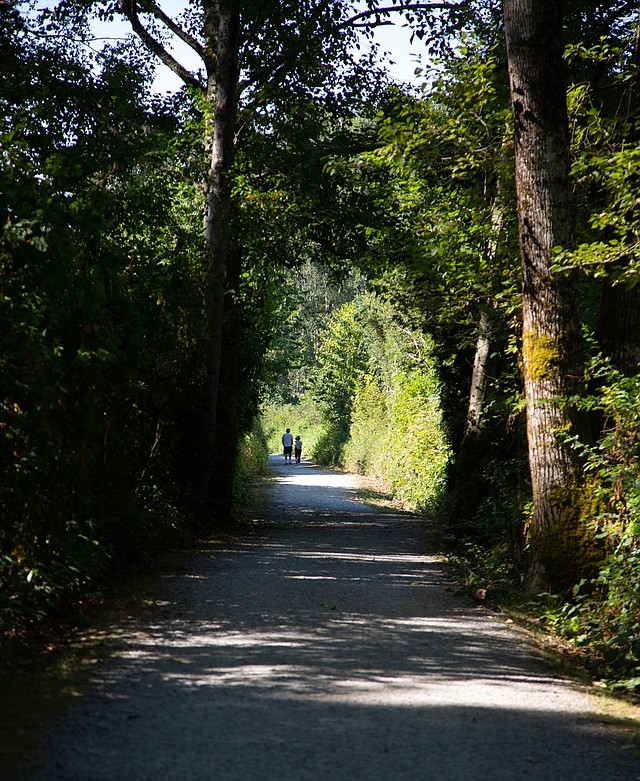 Otherwise, Whatcom Creek Trail Loop is a great place to take someone who can't traverse some of the steep, winding hiking trails in Whatcom County. The abundance of creek access also serves as a cooling resting point.  
Whether you walk or roll through the park for a few minutes or a few miles, the surrounding landscape makes for a picturesque hike.
Picture Lake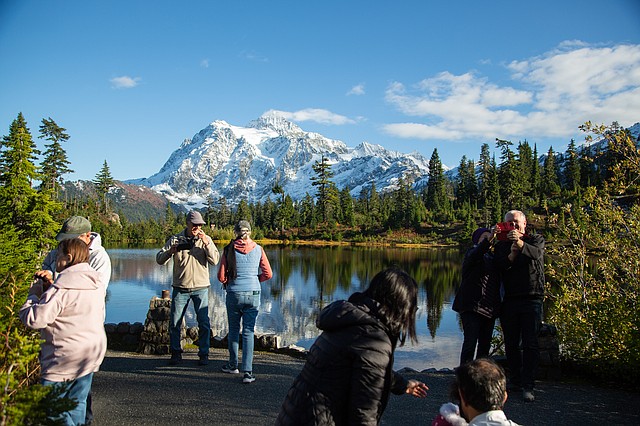 A bit farther away from the regular beauty of the Bellingham area is Picture Lake trail. Off of Mt. Baker Highway near Deming lies an incredible lake looped by a paved path.  
The paved path makes this trail both wheelchair-accessible and beautiful, full of foliage, crystal-clear water, and a backdrop featuring Mount Shuksan.  
At less than half a mile with little to no inclination, this trail makes an easy and quick outdoor adventure.  
This trail cannot be accessed as easily in the colder months because of snow and ice, making it a better summer and early fall excursion.