Day Trips
Hidden oases along Interstate 5
'Nothing bothers me more than passing up the possibility of a little outdoor discovery'
August 19, 2022 at 5:00 a.m.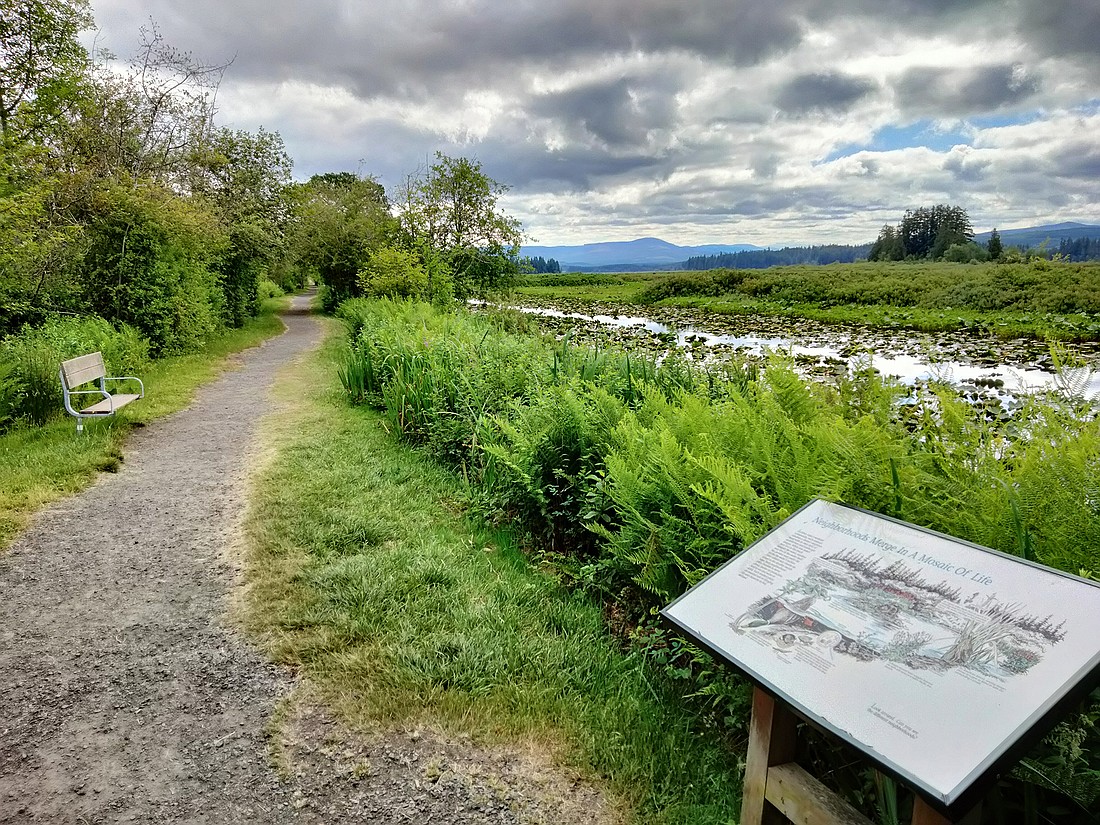 ---
By Scott Hewitt, The Columbian
---
I was on a return trip from Seattle, flying down Interstate 5 at 70 mph as one does, when one of those brown state park signs reached out and grabbed me.
Nothing bothers me more than passing up the possibility of a little outdoor discovery. And I had no particular reason to hurry home. So I veered off the highway and took an unexpectedly gorgeous hike through a glittering forest, cheered along by birdsong. 
"Oh wow!" I kept thinking. "Who knew?"
The I-5 corridor north of Clark County — but still in Southwest Washington — boasts numerous state parks that most of us shoot past at freeway speeds. I recently decided to slow down and explore them. 
If you're hungry for a little outdoor discovery that doesn't require more than a day trip, here's a sampler of six sweet state parks and one fabulous national wildlife preserve that beckon from along I-5.
Seaquest
The gateway to Mount St. Helens is a wonderland all its own. Seaquest State Park, straddling state Highway 504 just east of Castle Rock, is a 505-acre camping and hiking park with miles of diverse forest trails as well as an easy, flat loop trail at the foot of Silver Lake.
According to an interpretive panel, Silver Lake formed after a massive volcanic eruption and mudslide dammed off streams that overflowed their banks. That may sound familiar, but the blast in question happened 2,500 years ago. Silver Lake is historical evidence of the cycle of volcanism.
To learn more about the volcano, visit the impressive Mount St. Helens Visitor Center on the south side of the road, which offers a museum exhibit ($5 admission for adults, $15 for a family) and friendly park rangers ready to share local tips.
A pedestrian tunnel connects the visitor center with the rest of Seaquest, offering picnic tables and shelters, a primitive playground and horseshoe pits in the central day-use area. But if hiking is why you're here, proceed northeast, park at the yurt village and walk north. A network of 7 miles of hiking trails will take you up and down rolling oceans of ferns and second-growth forests.
The Seaquest name isn't about the pioneer journey to the Pacific. The park is named for Swedish emigrant Charles John Seaquest, who homesteaded here in 1870. 
Jackson House
Your GPS may suggest a southerly approach through Toledo, but the quickest connection to this reconstructed pioneer cabin is straight east from I-5 on state Highway 12. Turn right onto Jackson Highway, where you can't miss the gated stone wall and weathered cabin behind it. Parking is just beyond.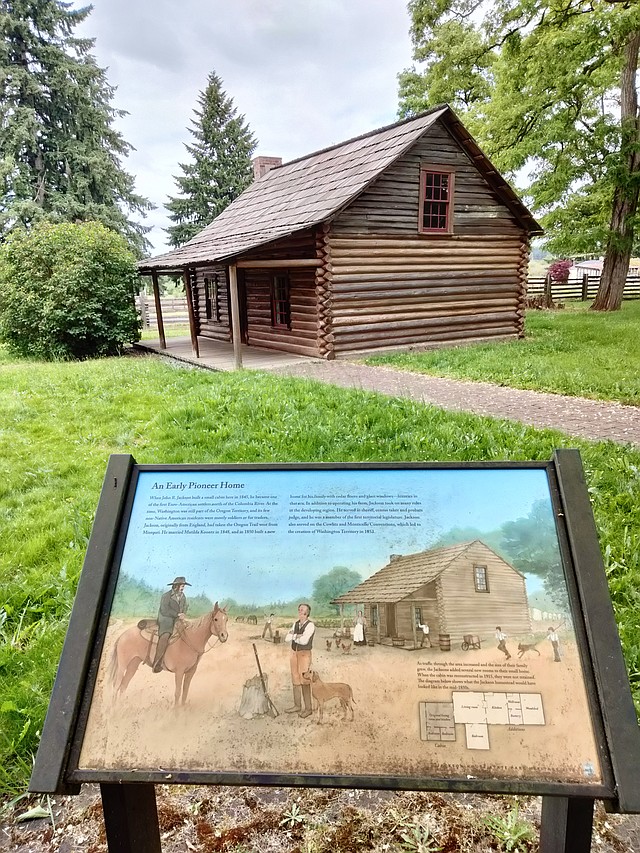 The John R. Jackson House is the first American pioneer home north of the Columbia River. According to Washington State Parks, it was built in 1848 and quickly became a key regional meeting place and hotel. Ulysses S. Grant and territorial governor Isaac Stevens were among its lodgers. The U.S. District Court convened at the Jackson House in 1850. 
The cabin is worth a brief gander or a tour by appointment. Call 360-864-2643.
Lewis and Clark
A quick hop south of the Jackson House is 616-acre Lewis and Clark State Park. It's a great example of public works for public benefit that has stood the test of time, according to a triple-panel kiosk in the central day-use area. The area was set aside in 1922 to preserve old-growth forest, but its cabins, restrooms, shelters, roadways and trails were built in the 1930s by young men who needed work during the Great Depression. They lived on-site in a Civilian Conservation Corps (CCC) camp. 
"The park's day-use area still appears much as it did after the CCC's work was completed, featuring several rustic picnic shelters and restrooms made from native logs and stone," the park website says.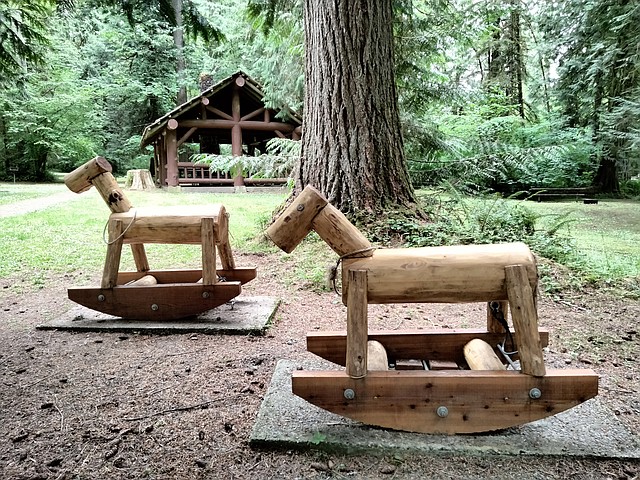 Two information stations near the entryway aim to educate visitors about local Indigenous history and forest practices.
Ready to hike? Veer right to reach a parking loop and forest-information kiosk packed with photos and data that will help you identify the flora and fauna in the old-growth woods beyond. (Take a photo to keep this info at your fingertips.)
There are 5 miles of tight, narrow hiking trails here, connecting with 8 more miles of shared equestrian trails across Jackson Highway. Towering Douglas fir and red cedar trees dominate a dense and deeply furrowed landscape of wetlands, streams and wildflowers.
Ike Kinswa
State park completists can venture about 20 miles farther east along state Highway 12 and Silver Creek Road to Ike Kinswa State Park, a small, scenic camping and boating park on Mayfield Lake. 
Not much hiking here, but there's a picnic area and playground, as well as sectioned-off swimming zones in the lake. The name Ike Kinswa commemorates an influential Cowlitz tribal member who lived here in the 1880s.
Rainbow Falls
To reach 129-acre Rainbow Falls State Park, you can drive about 16 miles west from Chehalis on state Highway 6. Or, you can bring a bicycle, park at any of several convenient access points to the Willapa Hills State Park Trail and ride the rest of the way. The trail begins in Chehalis, a wiggle south of I-5 Exit 77.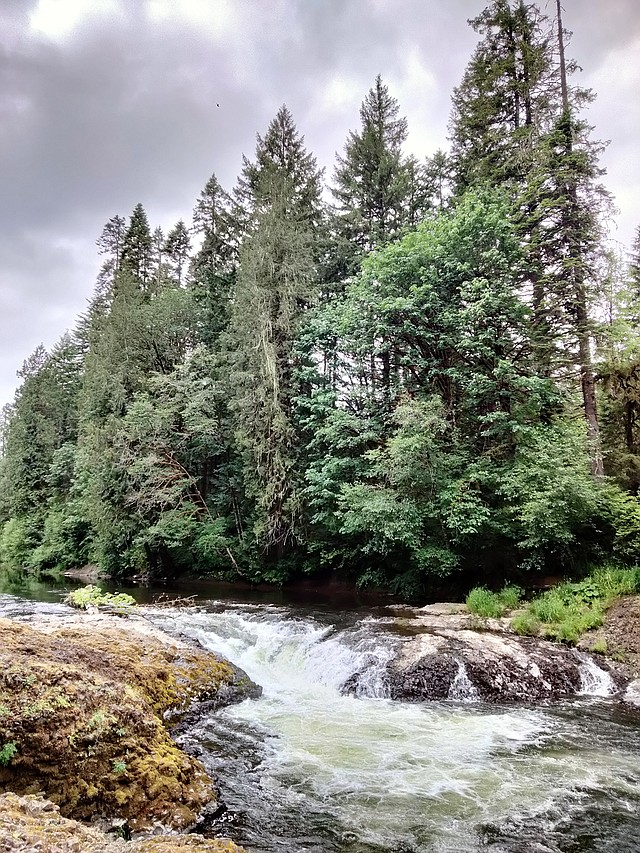 The beautiful, flat, fun trail is a former rail line that's paved in parts and packed gravel in others. It traverses farm fields, lush forests, tiny villages and a couple of impressive pedestrian bridges over the Chehalis River on its way to Rainbow Falls (and beyond). 
This summer, a half-mile of the bike trail east of the village of Adna is closed during overpass construction. State parks spokeswoman Meryl Lassen recommends parking at Adna and heading west from there. Intrepid cyclists who don't mind a detour onto the road itself can still do the whole thing.
Cyclists resting at Rainbow Falls will enjoy hanging out in the limited day-use area and meandering down to the little falls. But if you drive out here to hike, skip that area. Stay on Highway 6 and watch for an old wooden trails sign. Park across the road and head uphill on crisscrossing loop trails.
Millersylvania
Millersylvania State Park was the temptation I couldn't resist while returning from Seattle. So glad I succumbed, because this 903-acre park south of Olympia turned out to be huge, lush and historical.
Millersylvania is another Civilian Conservation Corps park, built by unemployed young men in the 1930s. Up-to-date interpretive panels note that the Civilian Conservation Corps' legacy includes not only sturdy, attractive workmanship but also racism and segregation.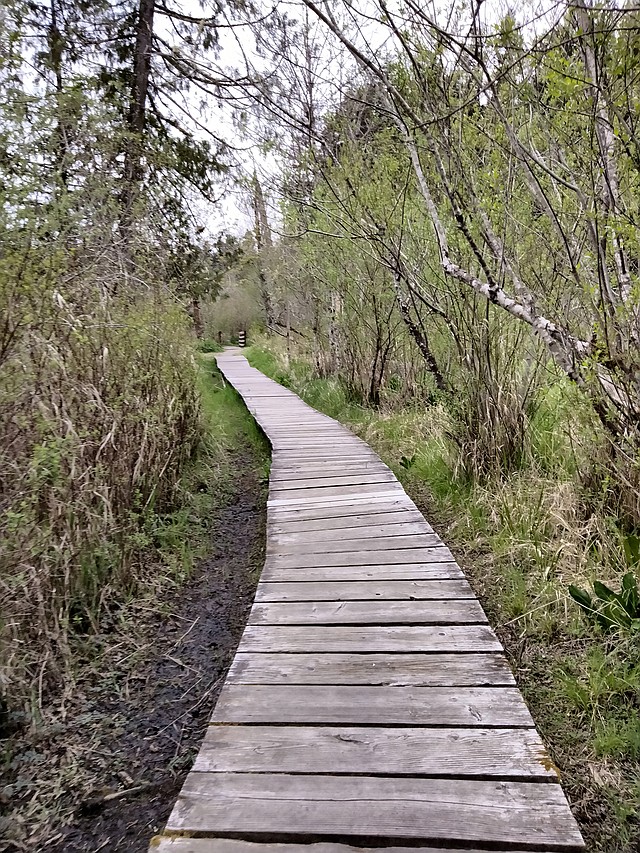 Even so, Millersylvania offers much to enjoy, including swimming and watercraft rentals in Deep Lake and a plank boardwalk that carries hikers over a rich, marshy area into a 7-mile network of loop trails. But perhaps the best reason to celebrate (and the best place to do it) is the Lakeside Taphouse, a summer-only business open inside the park where you can enjoy beer, wine and finger food while soaking up the scene. 
But, darn it, the Lakeside Taphouse wasn't yet open for the season when I stopped by in May!
Nisqually
This one is not a state park and farther up the I-5 corridor just past Olympia, but it's a real gem that's worth a long stop. 
The Billy Frank Jr. Nisqually National Wildlife Refuge on the southern tip of Puget Sound encompasses 4,529 acres of estuary — that is, a shoreline where freshwater streams meet salty seawater, creating an ultra-rich zone of bird, fish and plant biodiversity.
The walking here is entirely flat and the sky is big. Just beyond the Norm Dicks Visitor Center is a short bird-watching walkway across woodsy wetlands, but the star attraction at Nisqually is the scenic boardwalk that reaches 1 mile across tidal flats toward the sea. Stay a while and you'll be treated to the tide rolling in and out below you, endlessly hiding and revealing secrets of Western Washington's natural beauty.