Running
Hamster Endurance Run: A test of willpower, a testament to community
Nearly 100 runners race Lake Padden loop for 6, 12, 24 or 32 hours
August 15, 2022 at 2:24 p.m.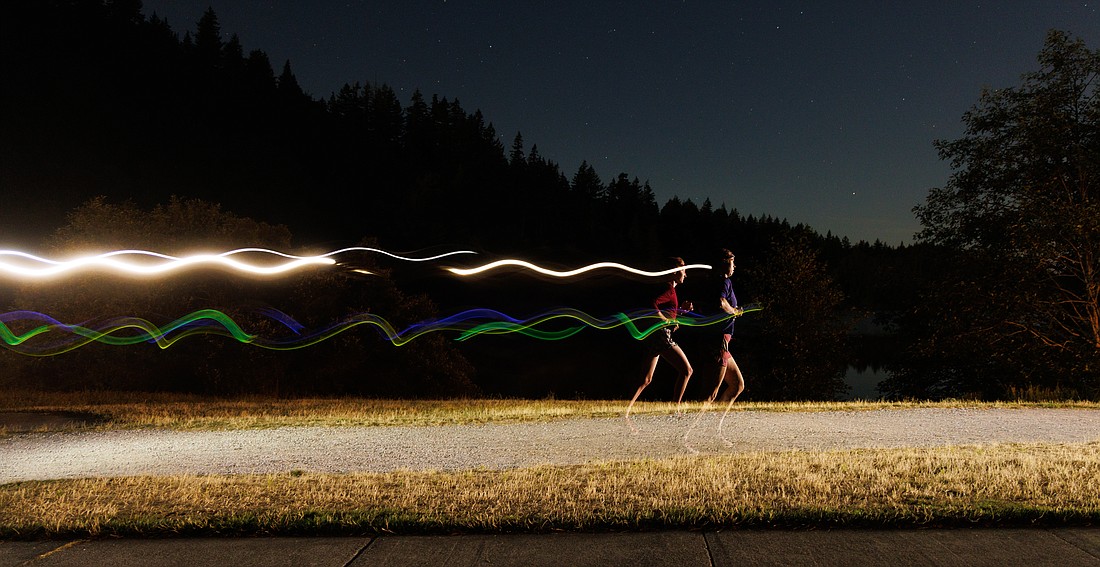 ---
---
Normally, Lake Padden Park closes at 10 p.m., but on Saturday night, just shy of midnight, small dots of light bobbed through the darkness, reflected in the lake water along with the almost-full moon.  
"Seventy-three!" 
"Forty-seven!"  
Voices called out as they neared the park pavilion, a bright oasis in the dark night, decked with warm string lights. Its picnic tables bore Mountain Dew, salted watermelon, soup and energy gels.  
"Sixty-eight!"
Too dark to see any race bibs, the runners called out their own numbers so volunteers could mark down which lap they had just completed. Then, after stopping to grab a bite to eat, the runners would set out on another loop, headlamps cutting through the shadows.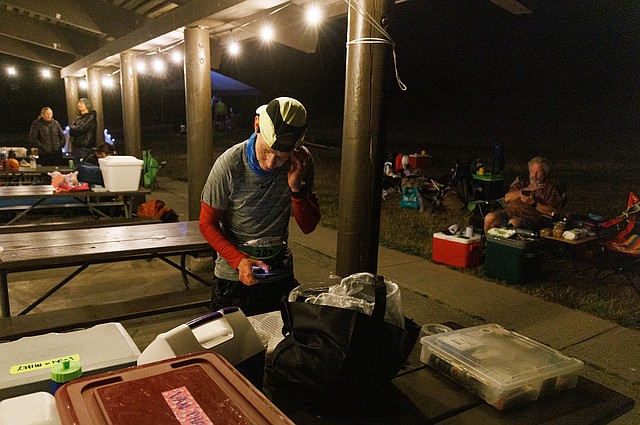 A full day of running, then a full night of running. More, for some participants. For six, 12, 24 or 32 hours, participants in the Walla Trails Hamster Endurance Run circled Lake Padden's 2.6-mile loop, over and over across dirt and gravel, from early Saturday morning to Sunday afternoon. 
The event, which ultramarathoner Kelly Krieger created in 2013, raises money for Whatcom Family YMCA's Girls on the Run program, and challenges participants to run or walk as far as possible during the time constraints. This year, the marathon brought in at least $1,200 for the program.  
Each of the events began around 8 a.m. Aug. 13 then finished periodically through the weekend, capped off by the 32-hour event's finish at 4 p.m. Aug. 14. 
For the 32-hour event, the goal was 100 miles, or 39 laps around Lake Padden, in order to receive a belt buckle, a staple prize of ultramarathons. By Sunday afternoon, nine runners were handed buckles, signifying the completion of 100 miles.  
"I love seeing people push their limits and be really happy doing it, just all kinds of things they never thought they could do," Krieger said.  "This one has got to be one of the prettiest [loop races]. There are courses where people run a mile around a concrete path for 24 hours." 
Current race director Gretchen Walla heads Walla Trails and Community, which organized this year's race. Walla took over the event for Krieger in 2019. Walla said 45 volunteers, scheduled in shifts throughout the weekend, helped make the race possible.  
The 32-hour-distance record holder, Jess Mullen, served as a volunteer on Sunday, counting laps and cheering on participants in the early morning chill. In 2021, Mullen ran 145 miles in 32 hours, averaging 13:14 per mile and completing 56 laps in just under a day and a half. She holds the course record by over 20 miles, Walla said.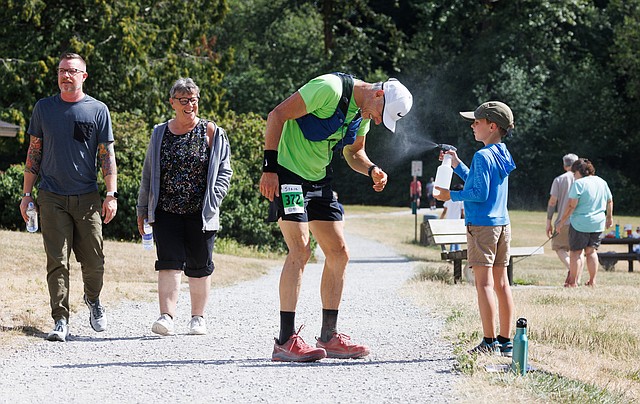 This year, recovering from an injury, Mullen participated in the 12-hour event on Saturday in preparation for her first 100-mile race in over a year.  
"Next year, I want to come back and see if I can beat my record," Mullen said. "I love this course ... it's not totally flat, it's not totally hilly. Part of it is in the shade, part of it is in the sun. You have a nice balance." 
Mullen directs her own race for a mountain 100-miler called Cascade Crest, which Walla volunteers at. Ultramarathon running is a tight-knit community that often overlaps, with runners participating or volunteering in each other's events, Walla said. 
As Bellingham local Kelsey Groenhout, this year's 24-hour runner with the furthest distance, passed by the pavilion after hitting her 100th mile, Mullen and others encouraged Groenhout to run another lap, as she still had time before the 8:05 a.m. finish mark, and another lap would break the 24-hour course record. It was friendly peer pressure, Walla said. 
Groenhout didn't sleep throughout the night. Prior to the Hamster Endurance Run, the longest she had run in one event was 50 miles. She more than doubled that this weekend, cheered on by her husband, two kids, neighbors and parents. 
"I wasn't sure how I'd feel about running around the same course, but it actually was a lot of fun because you could just zone out from route-finding and see people and pass them and encourage each other on," Groenhout said. 
At 8 p.m., once the six- and 12-hour events ended, some of the remaining runners were joined by pacers: friends and family who, one at a time, could run alongside the participants to pace their speed or simply keep them company as the sun set over the trees. 
"That's the least of the problems," Whatcom County resident Andrew Cooper said about the dark course as he took a break just before midnight. "The problem is that we're 16 hours into this and everything hurts ... but at least it's nice and cool now." 
Walla Trails capped the event at 90 participants, with 20 participants each for the six-, 12- and 24-hour events and 30 participants for the 32-hour finisher. The 32-hour event sells out fastest, Walla said, but there's a waitlist for all of them. 
The pavilion at the south end of the lake served as home base for the weekend. Volunteers set out food for runners to stop and snack on as they finished their laps: cookies, energy bars, fruit, popsicles, pickles, chips, pretzels, soda, water, electrolytes, anything salty or sweet to replenish lost water and energy. At night, pizza boxes laid open on the picnic tables, and pots of soup broth offered a source of warmth. In the morning, it was peanut butter pickle wraps and pancakes slathered with Nutella. 
"Every other loop, they'd hand me [a pancake]," Mullen said. 
In the grass near the pavilion, runners set up their own camp stations, with folding chairs to rest in and space to add or shed gear as the temperature dropped at night, then steadily climbed throughout the late morning. Jesus Bucio, participating in the 32-hour race, said he was changing his socks every eight hours to stay fresh. 
A few runners set up tents to nap in short bursts; others napped in their cars. Some didn't sleep at all, barreling through the night to the finish line. 
"If you're moving well enough, your heart rate is up," Mullen said. "I don't have an issue with getting sleepy. It's when you slow down or take a break."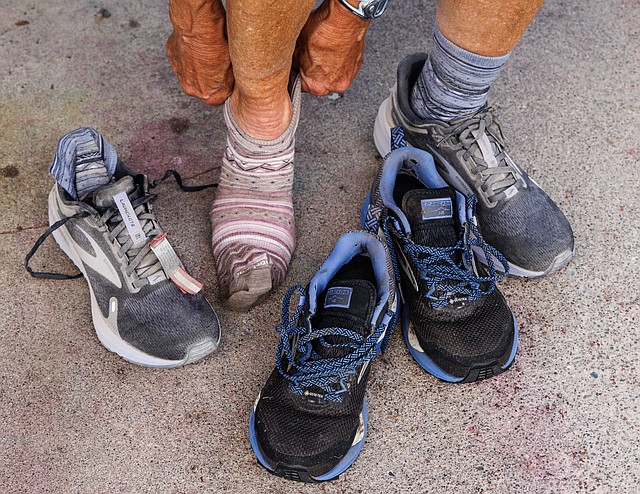 Walla said this year participants came from seven states and British Columbia to run in the event, with one athlete coming all the way from Texas. 
Mark Ihnot, his brother and his sister-in-law traveled from Colorado to compete in a race close to his sister, who frequents Seattle. Ihnot, who completed just over 80 miles as the top men's finisher for the 24-hour event, said the group enjoys loop races because they can gather together to take breaks and support each other after finishing their events. 
"I felt great almost the whole time," Ihnot said. "The altitude coming here from Colorado helped, but the worst for me was the 12th hour because it was when the sun went down and I got really cold, and I had to take a break to get my body temperature back up." 
The temperatures had risen again by the time Sunday afternoon rolled around, and the 32-hour finishers pushed to reach the 100-mile mark. Family, friends and volunteers cheered them on, lap after lap. 
"The community is incredible," Walla said. "People come out to see those last finishers. That's something I love about the ultrarunning community. There are runners of all ages, body types ...  It's incredible to see how far you can push the body and the mind to go, and to have this community rallying around you to do it." 
During the first year of the Hamster Endurance Runs, the event barely broke even, with around 20 runners, Krieger said. Now, having settled back into a routine of holding events since 2020, Walla hopes to hire staff so the event can expand further.