Business
WinkWink temporarily shuttered after weekend attack
Storefront destroyed by group wielding rocks
August 8, 2022 at 2:35 p.m.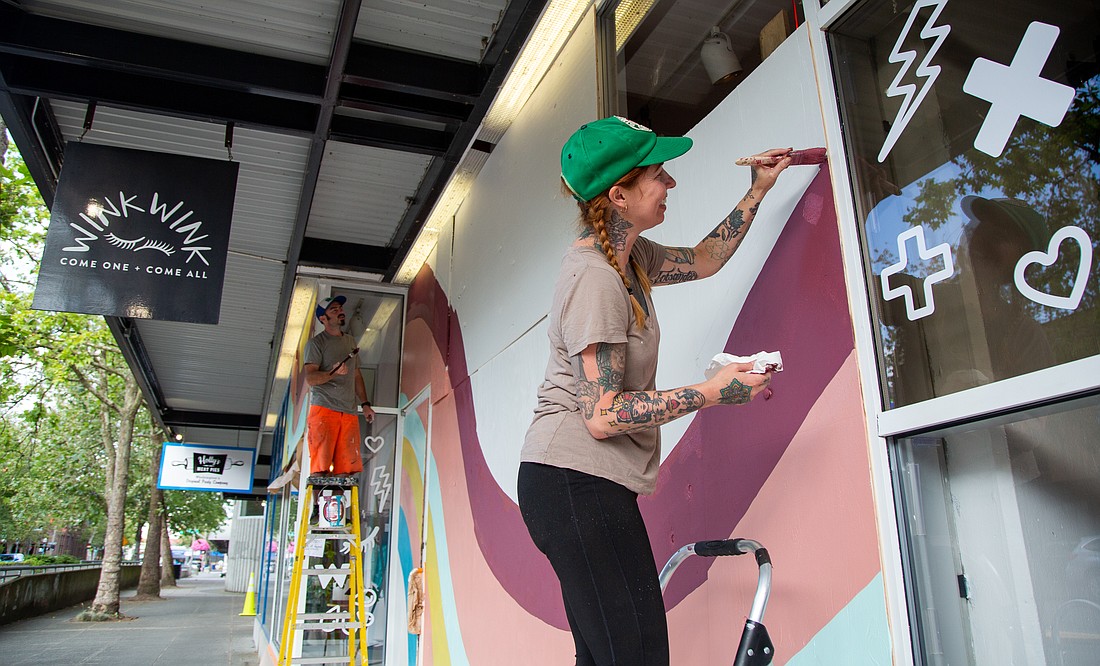 ---
---
WinkWink, Bellingham's "always inclusive, never creepy" sex shop, will be closed indefinitely after a group of people, armed with rocks, took aim at the store's floor-to-ceiling windows early Sunday morning. 
Early police reports indicate a group of five people, dressed head-to-toe in dark clothing (save one in white shorts), arrived at the store around 3:30 a.m. on Aug. 7 with a rock-filled box, and proceeded to throw them through as many windows as possible before fleeing.
Bellingham Police Department Investigations Lt. Chad Cristelli said police attempted to track the suspects using a K-9 team, but were unsuccessful. Police responded to the vandalism around 3:51 a.m., and alerted WinkWink owner Jenn Mason shortly after. 
Mason said cameras inside the shop captured the five individuals, who appeared to be young men, as they threw the rocks. BPD's forensics team is currently reviewing the footage for details. 
The vandalism is being investigated as first-degree malicious mischief, a Class B felony in Washington, Cristelli said. WinkWink was the only shop hit during the attack. 
Mason called the attack "a level up in harassment" WinkWink employees have faced this summer. 
"I don't know the motives of the group, but it seems like it's potentially related to all of the harassment and threats we've been receiving due to the right-wing media distorting our sex-ed classes," she said. 
The shop's youth sex-ed classes, known as "Uncringe Academy," are slated to start this week and have prompted significant backlash. 
Disinformation about Uncringe Academy has been featured on right-wing blogs and shows throughout the summer, with Fox News host Tucker Carlson criticizing Mason's role as a sex educator. Since Carlson's program aired in early July, Mason and her employees have been facing near-constant harassment and threats of violence, she said. 
Despite the destruction, Uncringe Academy will continue as planned, but in a new, confidential location. 
Though most threats come from outside the community, Mason said "it's unfortunately apparent that there are some people who are willing to take their threats from the internet and into real life."
Almost all of the windows at WinkWink were destroyed in the attack. 
"It's scary and violating to have your windows smashed and to have people targeting you in this way," Mason said. "We're expecting a significant cost for replacement on top of replacing things that were ruined by the glass, as well as the financial loss for us being closed for however long we'll be closed for."
Mason said the community support has been invaluable, and community members have been donating to the repair funds on Venmo and GoFundMe. 
"When we found out our windows had been broken, we put a call out to other downtown business owners and supporters for help and they immediately responded," she said. "We felt so grateful to also be really wrapped in safety and support from our community, who has continued to literally show up when we need them."
Mason isn't sure when the shop might be able to reopen. 
"Hopefully, it's soon," she said. "When we do reopen, we are considering additional safety and security that we can have in place."