Outdoors
It's all about the (mountain bike) ride
Everyone is 'new' at some point
April 30, 2022 at 5:00 a.m.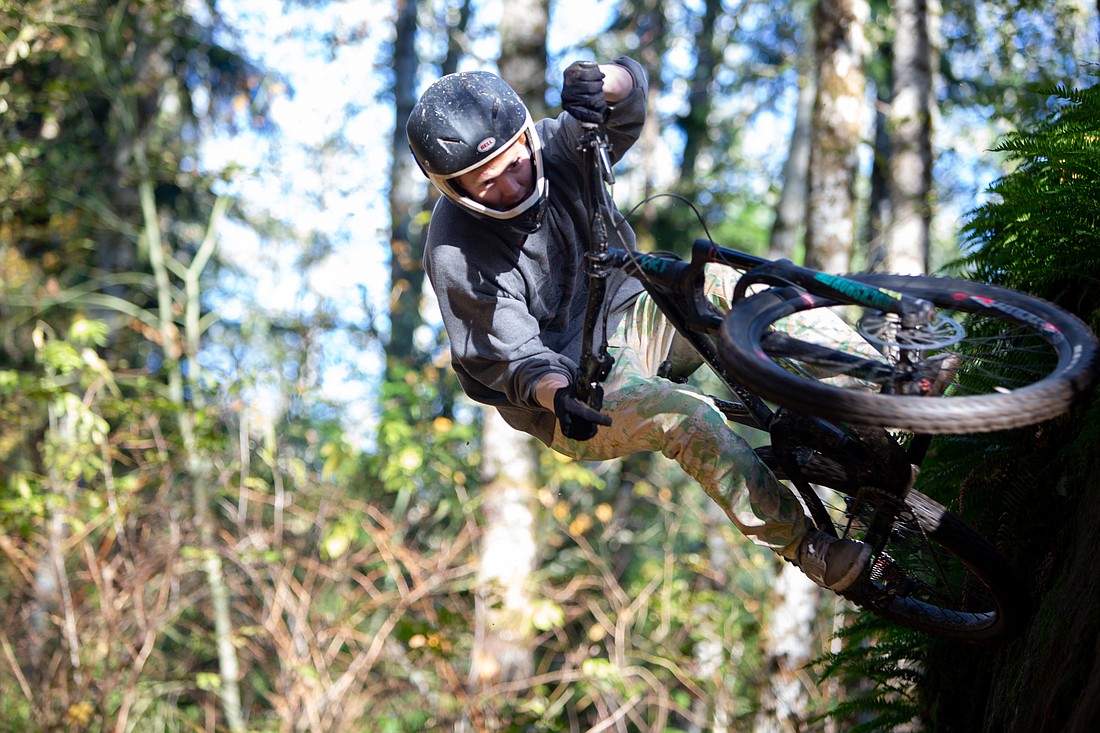 ---
---
It is easy for me to write about outdoor activities I am good at, or communities I am already part of. I love to tell stories of what it feels like to carve effortlessly down a snowy peak with my friends, or the butterflies that rush through my fingertips as I stretch for the next hold on the rock face.
But what about the stories of trying to fit into a new community or trying out a new sport? Not only is it difficult for me to tell such a story, it is nearly impossible for my stubborn self to even participate in the first place.
So bear with me here: I am starting to learn how to mountain bike. I am not good at it, nor am I overly stoked on it — yet. I'm hoping that talking openly about my relationship with this two-wheel contraption will do a multitude of things.
For one, it should humble me, which is always a plus, but also, I think it sheds light on the importance of welcoming new people to the traditionally elitist environment of outdoor sports. Yes, that is my opinion, and yes you can quote me on that.
So, with the sun recently starting to show her face again, I knew it was time for me to dust off my bike and recommit to the steep learning curve.
I am riding a hand-me-down, worth-nothing, beat-up bike, hopping on trails amid bikes worth more than my rent … doubled. Not to say I fail to appreciate the industrial strength of this bike, which has allowed it to hold on for much longer than it should.
My bike also came with a soundtrack, which plays out when it's ridden. I call it, "The Bells and Whistles of the Disintegrating Bike." It adds a clear wave of anxiety to my ride as I roll off a small rock and hear the tambourine clash into the drums.
I know that you don't need the best gear to be able to participate in a sport, but let me tell you, when I tried out my friend's multi-thousand-dollar bike, her bike's soundtrack was a lot sicker than mine.
It is also hard for me to be in the back of the bike group, feeling like I am a nuisance holding people up. I feel quirky in all my makeshift gear. I feel insecure of my riding skills. I feel embarrassed when I need to get off my bike to walk around a feature, and sometimes, I just feel unwelcomed by the hardcore bike shredders.
The other day, my lovely partner took me out for an early morning ride. He took the time to let me irrationally freak out about riding down a slightly slanted rock, he pushed my bike up a steep hill for me while I panted behind him, and he rode behind me down the whole trail cheering for each mediocre turn I made.
This was the first bike ride I finished with that all too cliché muddy grin painted on my face.
I want to emphasize, I did nothing particularly worthwhile on my bike. But I think I am beginning to realize that is the point I am trying to make.
I was with a friend last week who told me that she had lived in the city her whole life and recently moved to Bellingham in pursuit of living an adventurous life outside. Since getting here she has felt like an outcast from the very community she came here to find.
So let me say this: Everyone is "new" at some point in their lives. It is an exciting and vulnerable time. I have decided I am proud to be a not-so-good mountain biker, and I wrote this piece to try and celebrate that fact and to welcome others to my own community with open arms.
If you are also a beginner in any outdoor adventure sport, cheers to you. And if you are a pro, lend a hand to someone who needs it. It feels good.
Kayla Heidenreich's outdoor lifestyle column appears monthly: heidenreichmk@gmail.com.