Recreation
Pump tracks provide a place to race
Any age, skill welcome to try out the tracks
April 29, 2022 at 5:10 a.m.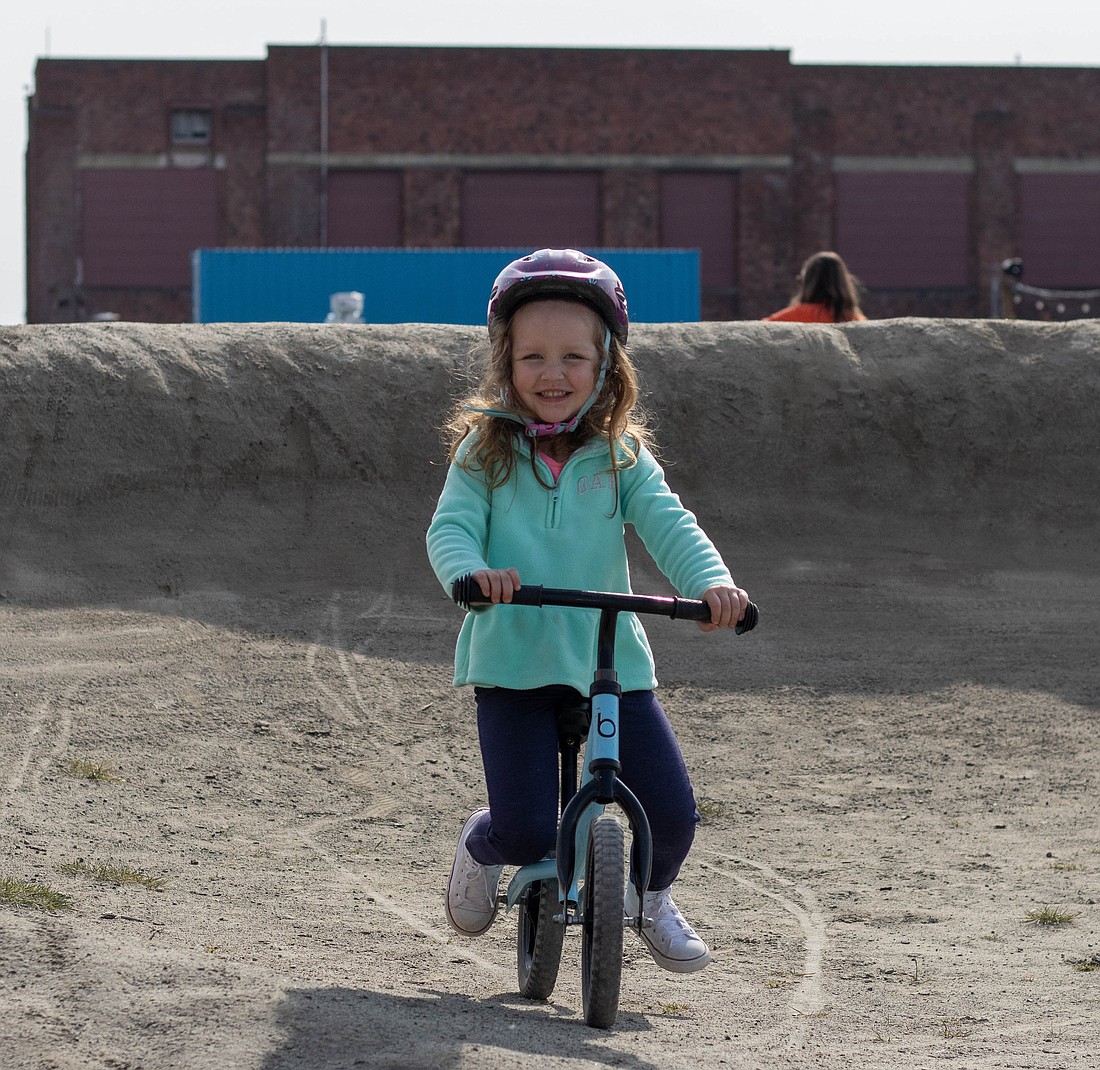 ---
---
Barreling down the track, popping up at each hillcrest and cruising into each valley, a biker makes his way from one end of Bellingham's waterfront pump track to the other. Adrian Madrone, 44, shows no signs of slowing, stopping only once at the edge of the parking lot.  
He began taking his kids to the Waypoint Park pump track during the height of COVID and fell in love with the sport. 
"I was mostly just kind of coming down to let my kids do it at first, but then I started riding it and got really, really into it," Madrone said.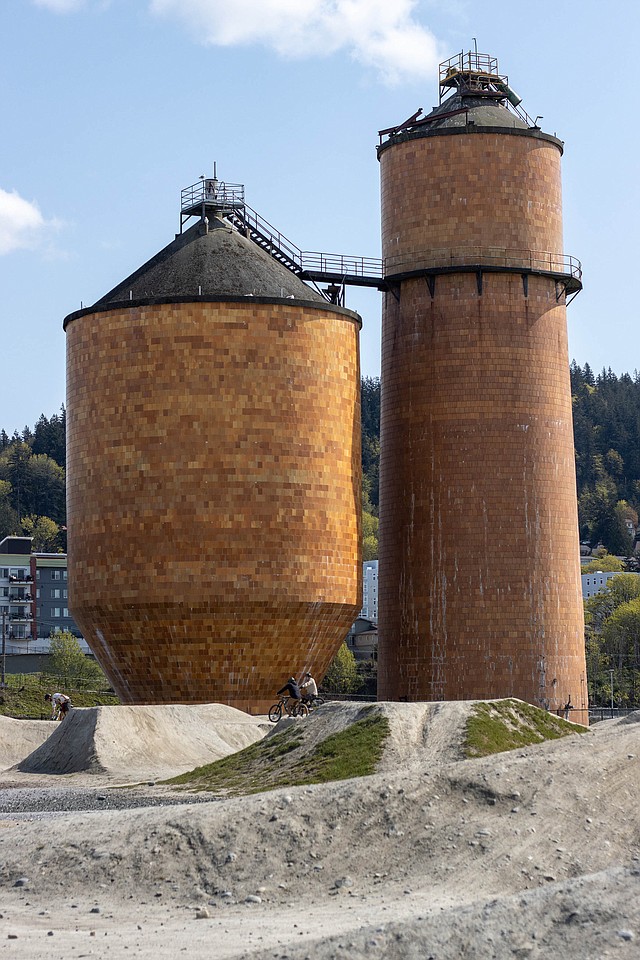 Pump tracks are continuous loop bike tracks with hills, frequently made of dirt. Bikers gain momentum and then ride through the track, shifting their weight to maintain speed. 
"When you ride a pump track, you typically don't sit down on your seat," Madrone said. "You do not pedal very much either. Once you get your momentum going, you pretty much just keep your momentum going by bouncing or pumping up and down." 
Pump tracks can be found in a few places around town — Whatcom Falls, built in 2017; Civic Stadium; and Cordata Park. Downtown's pump track is located near Waypoint Park and the acid ball. The Ferndale Bike Park and the Lynden Pump Track at Bender Fields offer the activity outside of Bellingham.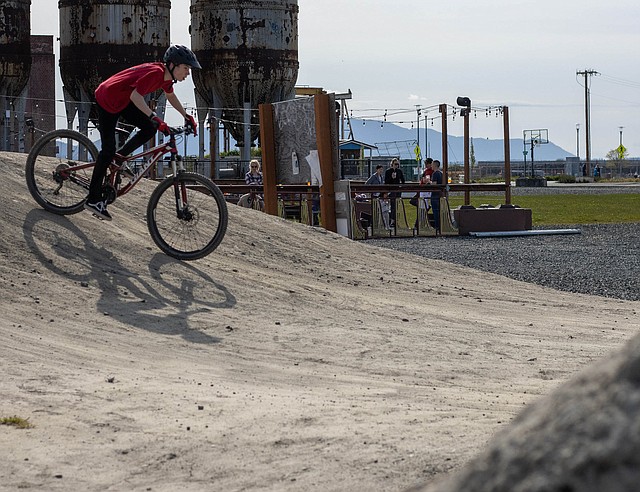 The Waypoint Park pump track was built in 2019 by the Port of Bellingham in partnership with the Whatcom Mountain Bike Coalition and has seen lots of activity since the onset of the COVID-19 pandemic.
"Especially during COVID, I was just down there like three or four times a week just enjoying getting better at it," Madrone said. 
The bike park has also attracted the attention of local businesses. Food trucks are no strangers to the park. In 2021, Kulshan Brewing opened its third location, Trackside Beer Garden, on the waterfront next to the park providing a place for adult bikers to eat and drink after a day on the track.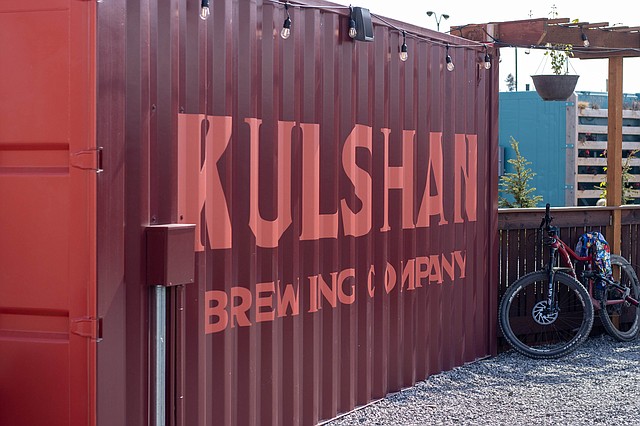 Madrone has taken his son Lyric to pump tracks all over Bellingham, but they prefer riding the waterfront pump track because of its size and variety. 
"It is the biggest [track] in town. It has a lot of variety in the terrain. There are long pump sections and then there is a middle section that is a lot more designed for jumps. You can learn and practice a lot," Madrone said. 
The layout of the track, with the different sections having several types of jumps and pumps, makes it very accessible to a wide range of bikers of all ages and skill levels. 
Claire Alward is only 4 years old and is already finding success on the track. Saturday was Claire's first time at the waterfront track. 
"This is her first time on a balance bike ever, actually," Rebekah Alward, Claire's mother, said. "She loves it. I am so pleasantly surprised because she is not usually so confident. A bike with training wheels she does not like to ride, but she loves this." 
To get into using the pump tracks, Madrone said all you need is a bike and a little bit of perseverance. 
While purchasing a mountain bike is helpful, a standard bike also works.  
"It is just getting on your bike, getting on the track, and starting to get the feel for it. It takes doing it over and over again," Madrone said.   
The waterfront pump track at Waypoint Park is located at 1200 Bay St.