Elections
Sheriff: Reform-minded candidate says office should invite public input
Donnell Tanksley says new jail should emphasize rehabilitation
September 21, 2023 at 5:05 a.m.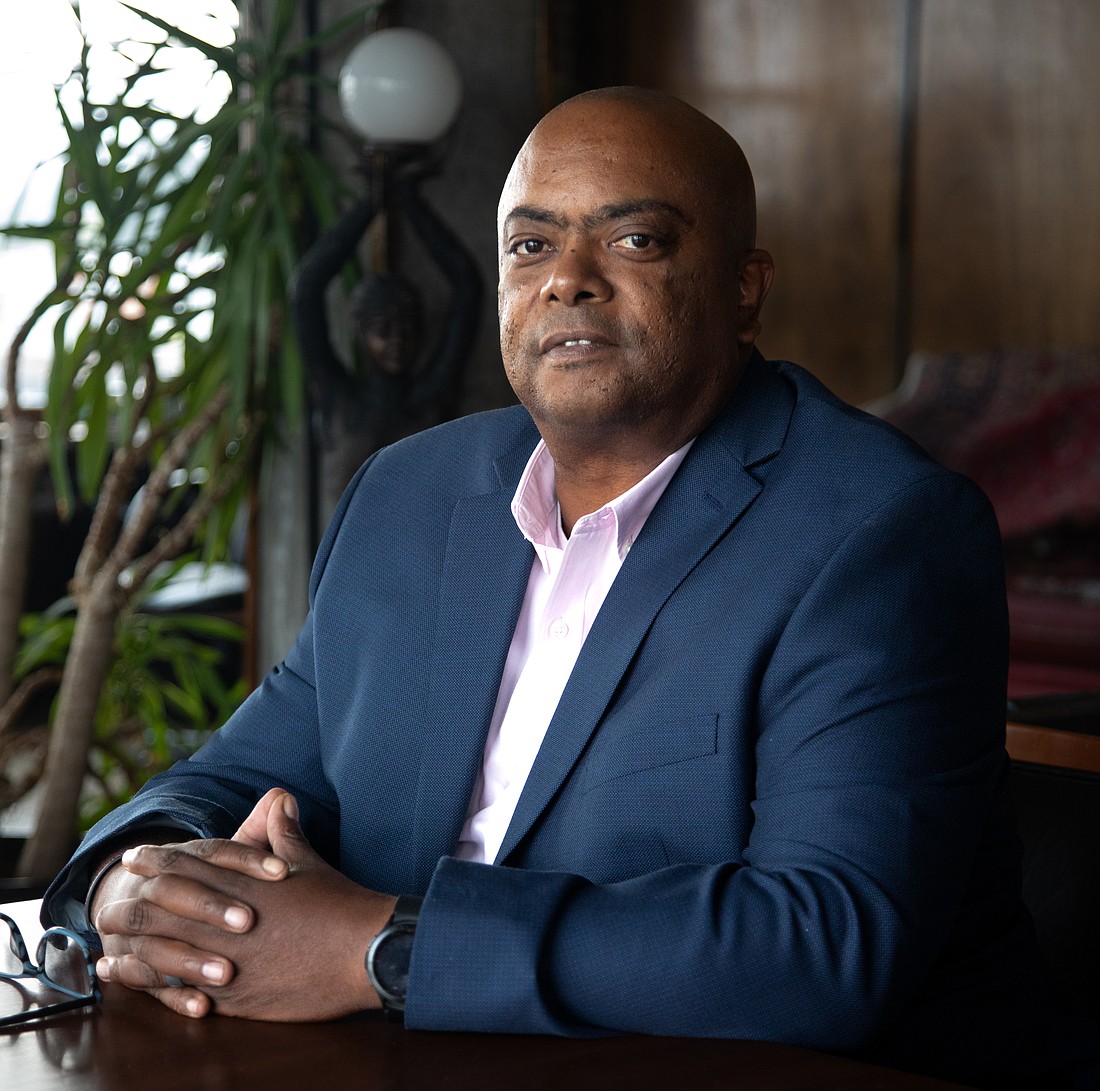 ---
---
Editor's note: This is the second of two profiles of candidates for Whatcom County sheriff ahead of the November general election. Read the profile of Undersheriff Doug Chadwick.
When voters elect the next Whatcom County sheriff this November, they'll have two highly experienced candidates to choose from.
Blaine Police Chief Donnell Tanksley and Undersheriff Doug Chadwick both have three decades of law enforcement experience. But the type and location of that experience are markedly different for Tanksley, 54, who has made the breadth of his resume a central campaign issue as he competes against a career sheriff's office insider.
Tanksley's work history includes military duty, a master's degree in management, extensive police-training experience and police leadership positions from St. Louis and Portland, Oregon to Bellingham and Blaine.
But ask Tanksley what inspired him to go into law enforcement, and he is ready with an intensely personal story.
Five police cars pulled over a group of seven young Black men in two cars, on a highway outside St. Louis. Tanksley, 19 at the time, and his friends were headed to a farm to go horseback riding.
The white officers taunted the youths, asking them "why you n-----s didn't go horseback riding in St. Louis." The cops weren't satisfied until they arrested and jailed one of the men on a pretext, Tanksley said.
A few years after this fateful stop, Tanksley was an officer with the St. Louis Metropolitan Police Department.
"It was after that experience that I thought, wow, there has to be a better way to do law enforcement," he said. 
The lesson Tanksley learned on the side of a Missouri interstate highway 35 years ago is something he has instilled in training classes ever since, including in Blaine.
"Every single encounter that the police may have with a person could change a person's life, however slight," he said. "So we want to be on the right side of things at all times."
Tanksley said he believes that's already happening within the Whatcom County Sheriff's Office.
"I would say that probably 99 or more percent of law enforcement officers out there do the right thing," Tanksley said. Even so, he said he will instill among his staff his particular brand of policing if elected sheriff. 
"We will make sure that people are treated fairly and treated with respect," he said.
Reform-minded
Tanksley is now in charge of a much smaller force, but Blaine Mayor Mary Lou Steward said she thinks her police chief would transition well to the countywide office he seeks. He stepped into his role in Blaine smoothly when he took the job four years ago, Steward said.
"He got hired and he got to work right away," she said. "Working with the police officers, he had their backing and their trust."
Steward is among dozens of current and former public officials who endorsed Tanksley in his campaign for county sheriff.
"When he asked me if I would support him, I laughed and said, almost jokingly, 'Tank, you must be kidding. I don't want to lose you.'"
"But you can do more for a larger community because of the character you have," she added.
Changes Tanksley proposes for the sheriff's office include more training for deputies, particularly around behavioral health.
Rather than getting the minimum eight hours of mental health training, Tanksley said, deputies should get a 40-hour crisis intervention certification.
"Each law enforcement officer should be a behavioral health specialist," he said. "It teaches you how to de-escalate. It also teaches you how to interact with different people in the community that might be experiencing trauma."
Further, Tanksley believes the sheriff's office should invite more public input. He proposes a tribal liaison officer, to work with the Indigenous communities in the county, and he said community advisory boards could help direct future jail planning and even weigh in on new hires.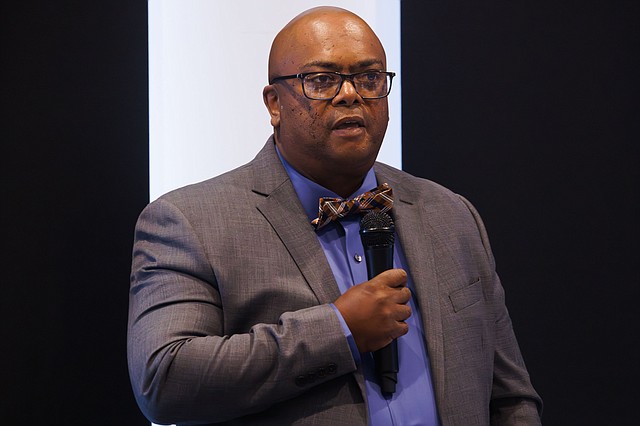 Shooting in Portland
Friends and associates refer to the sheriff's candidate as "Tank."
"In my high school, we had three, four or even five Donnells," Tanksley said. "Everyone knows who Tank is."
"Tank" is in a blended family, and his wife and seven adult children prefer to maintain their privacy during his campaign, he said. He's a veteran who served in the Navy and Air Force for 22 years.
Tanksley was with the St. Louis Metropolitan force from 1993 to 2014, rising to the rank of lieutenant. Western Washington University took him on as an assistant police chief in fall of 2014, and he stayed at Western through 2017. His next stop was Portland State University (PSU), where he was campus police chief from December 2017 until June 2019, when he took his current job in Blaine.
Under Tanksley's watch in Portland, two of his officers were investigated in the police-shooting death of a 45-year-old Black man who had attempted to break up a fight outside a bar on the urban campus. The officers were cleared of wrongdoing, according to a report in the Portland Tribune, but PSU agreed to a $1 million settlement with the victim's family.
"It was an unfortunate incident," Tanksley said in a recent interview, adding he was glad PSU police used body cameras at the time.
The lesson he learned, Tanksley said, was that "even if a shooting was justified, which that was, it has a lifetime of impacts" on all involved — the victim's family, the officers and their families, and others in the community.
"There's a lot of impacts to a lot of people and a lot of institutions, and for that I'm sorry," Tanksley said.
A new jail
Come November, on the same ballot where voters choose the next sheriff, they will decide whether to approve a sales tax to fund the construction of a new jail.
Whether the measure passes or not, Tanksley said the current, inadequate jail would be his number-one priority if elected.
Officials say the existing jail, adjacent to the county courthouse in downtown Bellingham, is a health and safety hazard and is too small to provide basic services, such as education, training or health care.
"We have to make sure that if a person is incarcerated, that we have the services, that we don't have black mold, that we don't have people staying in their cells 23 hours doing nothing," Tanksley said. "We have to make sure that we're trying our best as a community to get people ready to reintegrate into the community."
Tanksley, who prefers the term "justice center" over "jail," said the facility should include specialized services such as financial literacy training and apprenticeship programs. He also emphasized diversion programs that get people help before they are jailed. 
"For me, it's about community caretaking," Tanksley said. "It's about helping people. It's not about taking a key and throwing it away."
While Whatcom Democrats endorsed Tanksley earlier in the summer, county Republicans on Sept. 14 endorsed Chadwick in the November race.
Luanne Van Werven, vice chair of the Whatcom County Republican Party, said Chadwick has the insider experience needed to confront what she said were "serious" public health and safety problems in the county.
"It just is an easy call to support Doug Chadwick, who will step in without missing a beat," she said.
"There are fundamental differences on how to approach the challenges of public safety," Van Werven added. "Maybe Chadwick's opponent is going to come down a lot more on services, yet we believe we need a balance of services and the jail."
Democrats, not surprisingly, see it differently. State Rep. Alex Ramel, a Bellingham Democrat, said the sheriff's office needs a fresh perspective. 
Any plan for the new jail, Ramel said, needs to appeal to a wide range of competing interests, from law-and-order hard-liners to progressive social activists. Current Sheriff Bill Elfo and other county leaders haven't yet convinced voters to approve a tax for new jail construction, having seen separate measures fail in 2015 and 2017. 
"The politics of the jail in particular really speak to a need for coalition building," Ramel said. "I support Tank in large part because I think he is the kind of person who can do that coalition building, and we've watched the current sheriff's administration fail at it, at least twice. And I think Tank's opponent is the inheritor of that legacy."