News in Brief
News in Brief, Sept. 15 – 21, 2023
Burn ban lifted in North Cascades National Park
September 15, 2023 at 4:50 a.m.
|
Updated September 21, 2023 at 1:25 p.m.
---
---
News in Brief is published online every Friday, and updated throughout the week with bite-sized news from across Whatcom and Skagit counties. Read a roundup of the week's news in print the following Friday.
Thursday, Sept. 21
Burn ban lifted in North Cascades National Park
The burn ban in place in the North Cascades National Park complex will be lifted Friday, Sept. 22, leadership at the national park announced Thursday.
Fires will now be permitted in all areas of the complex, including campgrounds in Stehekin, along Route 20 and the Ross Lake area.
Campfires are still allowed in designated areas in campsites.
Burn bans in Whatcom and Skagit counties have been in effect since June this year as the hot, dry summer increased wildfire risk. Those burn bans, too, have been reduced. Recreational fires in Whatcom were permitted again starting Sept. 15, and in Skagit on Sept. 1.
This year, several fires burned in the national park, including the Sourdough Fire, which currently stands at 6,369 acres and 25% containment, according to the national park.
Wednesday, Sept. 20
8 injured as vehicle carrying migrants crashes in Sumas
Eight people were injured when a vehicle illegally crossing the border crashed into another vehicle near Sumas around 6:50 p.m. Sunday, Sept. 17, according to a news release by U.S. Customs and Border Protection.
Seven citizens from Romania illegally entered the U.S. near Sumas by driving across a remote portion of the border and through a berry field, the release stated.
Soon after, the vehicle crashed into a local citizen's vehicle at the intersection of East Badger Road and Van Buren Road, a mile west of Nooksack Valley High School.
All seven Romanians were transported to a hospital. Three remain hospitalized and four were released and transported to the Sumas Border Patrol Station for processing, as of Wednesday, Sept. 20.
Hoagland Pharmacy launches 'Lock Up Your Meds' program
Hoagland, a Bellingham-based pharmacy, has partnered with the Washington State Health Care Authority on their "Lock Up Your Meds" program to help prevent opioid misuse.
The initiative, which launched Sept. 1, allows the pharmacy to provide free medication locking devices to customers receiving opioid prescriptions. Those devices, including locking bags and locking prescription bottles, will be available until the end of December 2023, when the program ends.
"We are grateful to all our local pharmacy partners and their commitment to creating safer and healthier communities," said Sue Birch, HCA Director. "Their efforts are empowering Washington residents with information and actionable ways to prevent opioid misuse in their homes."
Hoagland is one of 15 pharmacies across the state participating in the program, which is the first of its kind in the country, according to a press release announcing Hoagland's participation.
Tuesday, Sept. 19
Bellingham lifts recreational burn ban

Recreational fires are now allowed within the Bellingham city limits. Recent rains prompted officials to lift the burn ban at 5 p.m. Monday, Sept. 18, a city news release said.
Burning garbage, yard waste or construction debris is still prohibited. 
Recreational fires must be fueled by seasoned firewood or charcoal. They must also be less than 3 feet in diameter and 25 feet from structures or other combustible materials. The fire also must be attended at all times and fully extinguished before leaving it.
Saturday, Sept. 16
Lynden rabbit rescue saves 33 bunnies from dire conditions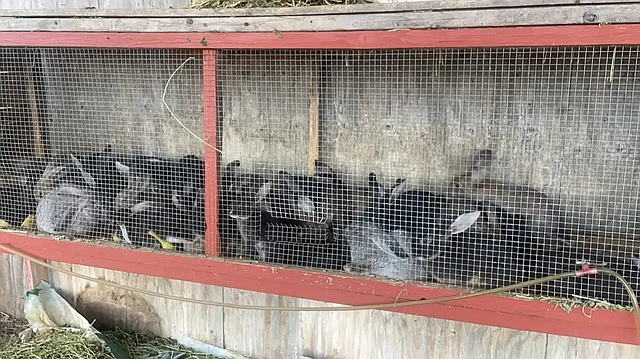 Bunanza Rabbit Rescue Ranch, located in Lynden, rescued 33 meat rabbits from inhumane living conditions in Skagit County on Sept. 4, according to a news release.
The rescue operation took place after Bunanza Rabbit Rescue Ranch was alerted to a large group of rabbits living in dire circumstances.
The juvenile rabbits — ranging in age from about 5 weeks to around 5 months — were living outdoors in overcrowded and unsanitary conditions, sharing a wire-bottom, 2-by-8-foot hutch, where they were forced to compete for food and water.
Members of the rescue team purchased all 33 rabbits for $223.
Friday, Sept. 15
Whatcom County facilitating 2 tire recycling events

Whatcom County residents can recycle their old tires at two free drop-off events on Sunday, Sept. 24 and Sunday, Oct. 1.
The drop-off site will be at 3463 Cedarville Road, and residents can dispose of up to 20 tires per load between 9:30 a.m. and 4:30 p.m. during the two events.
Only passenger vehicle and light truck tires will be accepted, according to a county news release. Bring valid ID.
No other recycling will be accepted on those days.
The tire recycling events are hosted by Whatcom County Health and Community Services and funded by a grant from the Washington State Department of Ecology. Since 2015, the county has collected more than 310 tons of waste tires through similar events.