Government
Food insecurity, early learning in East Whatcom highlighted during Inslee visit
Governor touted recent budget that allotted $1B to support housing in state
September 12, 2023 at 6:38 p.m.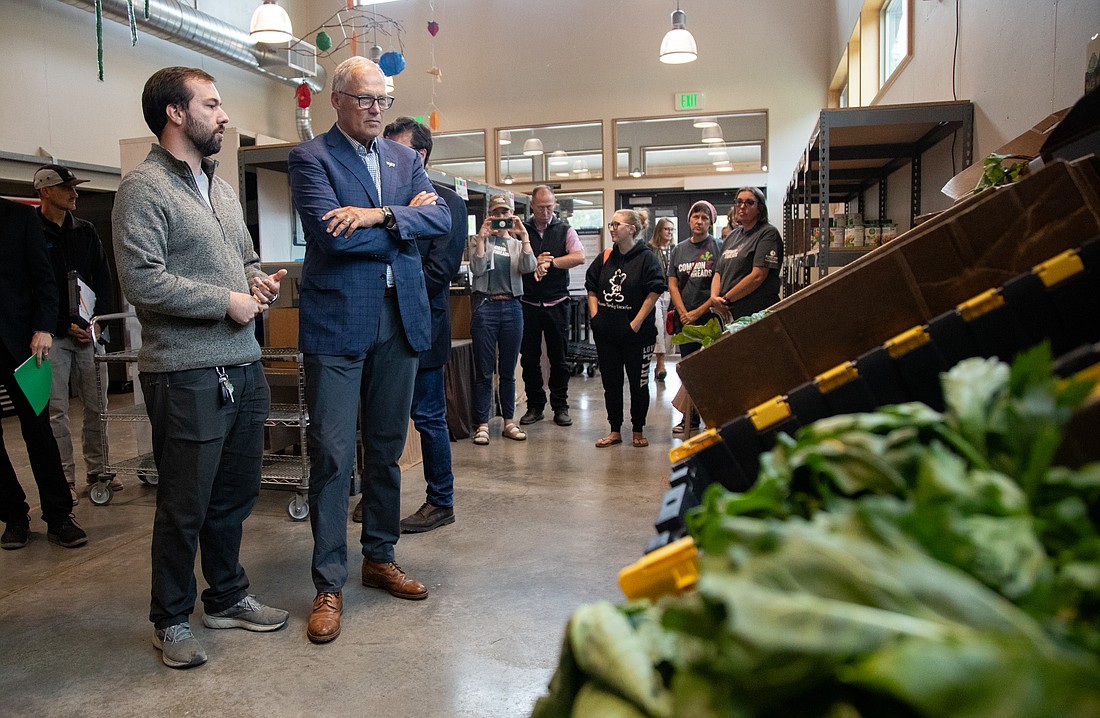 ---
---
MAPLE FALLS — On a Tuesday tour of Whatcom County, Gov. Jay Inslee explored issues of food insecurity and early learning while at the East Whatcom Regional Resource Center and Foothills Food Bank campus.
The food bank's executive director, Sam Norris, gave a tour of the facility which currently serves more than 350 households a week, up from 150 in 2020 when the building first opened. Norris estimates they serve about a third of the households in the 98266 zip code.
With Inslee, Norris discussed the growing need and the difficulties of running the expansive operation — two pickup days a week, deliveries, a food pantry and more — with just two full-time staff and a hoard of dedicated volunteers.
"The need has absolutely exploded," Norris told Inslee, who arrived shortly after the bank's closure for the day where they served another 231 households.
Norris said the food bank saw an increase in usage after the end of the temporary boost in SNAP benefits due to the COVID-19 pandemic. East Whatcom is recognized by the USDA as a rural food desert due to the lack of access to grocery stores and high poverty levels. The Foothills Food Bank works to bridge the gap in access to healthy food in the community.
Inslee acknowledged to Cascadia Daily News the growing food insecurity and the increase in need for "all kinds of services" in Washington and beyond. He discussed progress made through the recent budget which allotted $1 billion to support housing across the state, with the goal of alleviating financial pressure on families.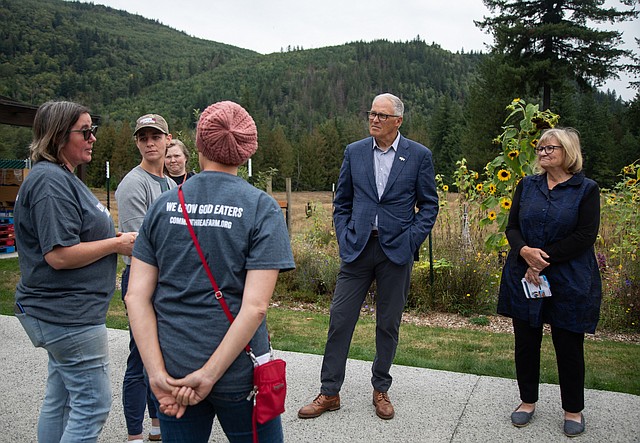 At the Opportunity Council's resource center, Inslee and his entourage watched children run and ride bikes on the playground of the Mt. Baker Head Start program. The child care facility receives funding from the Washington state Early Childhood Education and Assistance Program (ECEAP) and from the federal Head Start program. Dr. Lisa Tsuchiya from the Opportunity Council discussed with Inslee the need for more funding to provide adequate training and sustainable living wages to staff. 
Kristi Dominguez, the Ferndale superintendent and a longtime developer of early childhood education, and Tsuchiya also talked about the difficulties that school districts and private providers face when working together to provide child care. Dominguez discussed her vision to simplify regulations and braid funds together to provide more child care for all and reduce competition between private and public entities.
"In Whatcom County, I think it's time to create a system that could be developed statewide," Dominguez said. "I think you're actually looking at being able to offer all children — at least 3- and 4-year-olds — free and affordable, all-day care based on the ECEAP and Head Start standards."
Inslee also attended the opening of the Vicinity Motor Corp. factory in Ferndale, saw Amtrak's new electric bus in Fairhaven, visited with Bellingham Mayor Seth Fleetwood, and observed the city's electric vehicle fleet during his Tuesday visit.