Gardening
Cloud Mountain proves fruit belongs west of the Cascades
Whatcom County Farm Tour stop will highlight the farm's food partnerships
September 7, 2023 at 5:00 a.m.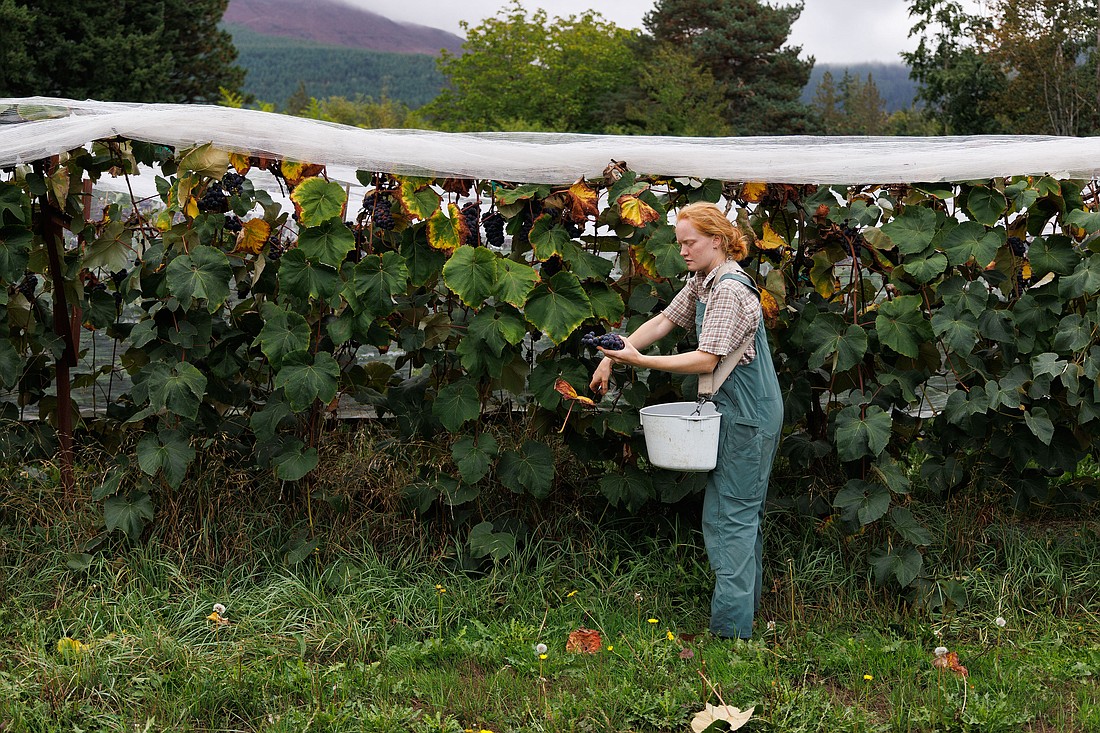 ---
---
EVERSON — On overcast days, Cloud Mountain Farm Center lives up to its name, with low-lying clouds abutting the 20-acre property at the foot of Sumas Mountain. 
But even on gray, late-summer mornings, color can easily be found at the farm that grows more than 75 varieties of organic fruit in its orchards and vineyards. Honeycrisp apples are ripening into shades of red and yellow, Lynden blue grapes are ready to be harvested, and a number of ornamental flowers in the outdoor nursery space are still putting out blooms. 
Although the nursery is open to the public through Nov. 6, the Whatcom County Farm Tour taking place Saturday, Sept. 16 will give people a closer look at how the nonprofit education center and nursery operates. Attendees can also find out more about how the farm has evolved through the years — from being founded in 1978 by Tom and Cheryl Thornton, to becoming a nonprofit in 2011, and then merging with Sustainable Connections in 2019.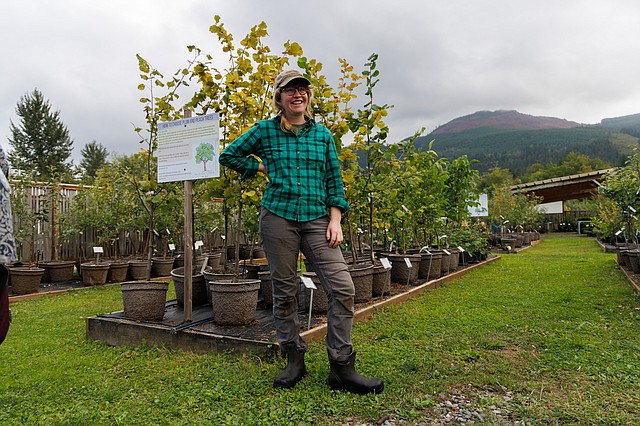 Fruit Program Manager Maia Binhammer will be leading two afternoon tours of the current crops at Cloud Mountain during the one-day event, and she said visitors will also be encouraged to explore on their own. But educating the public is something she looks forward to, and she said people shouldn't hesitate to ask questions. 
"Our main mission, especially in the nursery and our food production, is getting people educated on how to grow perennial fruit here, west of the Cascades, and that they can," Binhammer said. "We're showing that you can produce beautiful, high-quality, nutritious fruit." 
Cloud Mountain focuses its attention on growers of all scales, whether it's in a backyard garden or on acres of land. To that end, upcoming hands-on workshops include Growing Fruit Trees 101 (Sept. 17), Site Design (Sept. 30 and Oct. 7) and Sustainable Beekeeping and Beeswax Candle Dipping (Nov. 5).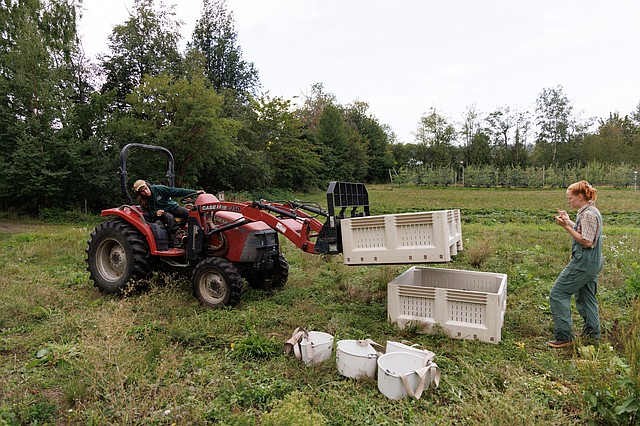 A tasting event on Oct. 12 will also provide a way for people to sample different kinds of fruit and give their feedback. 
Binhammer said Cloud Mountain's partnerships with other farmers and food purveyors is another way they tap into the regional food system. 
Entities such as the Puget Sound Food Hub and Foothills Food Bank use Cloud Mountain's cold, dry and frozen storage to preserve their products; fruit that has fallen on the ground is sent up the road to feed pigs at Alluvial Farms; and Bellewood Farms presses Cloud Mountain's "seconds" apples to make cider, so they're still able to get some kind of profit on fruit they otherwise wouldn't be able to sell.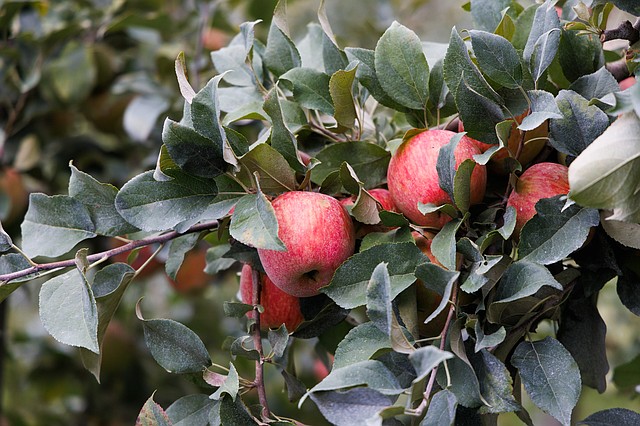 Additionally, an incubator farm located nearby on Lawrence Road gives beginning farmers assistance by providing affordable land, infrastructure and business support. 
"We have our hands in lots of buckets, and helping out local farmers is a big part of what we do here," Binhammer said. "We're hoping the farm tour allows people to come out here, get inspired and excited about fruit production, and see the ways that all those channels connect to one another."
Rachel Wood, a nursery retail associate at Cloud Mountain and a board member of Twin Sisters Farmers Market, agrees that everything they do at the center is part of a bigger picture — one where educating the public and getting them set up with the resources they need creates a more resilient environment and community. 
"It's nice to engage them on a scale like this," Wood said. "Basically, we say, you could be doing this stuff at home."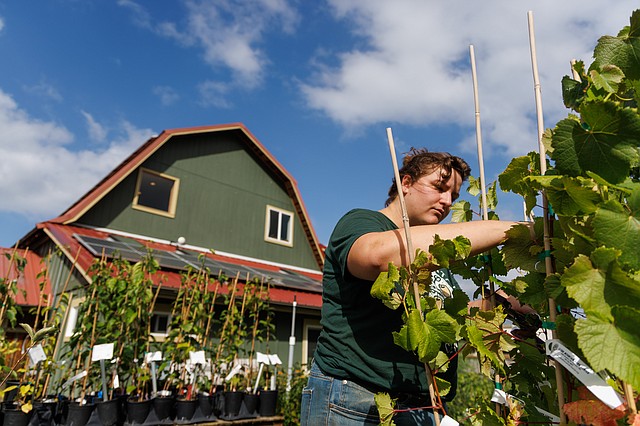 In addition to getting growing tips from staff members like Binhammer and Wood, signs and labels set throughout the rows of fruit trees, native plants, ornamentals and berry plants also offer guidance to customers who may feel overwhelmed by the number of choices available to them. 
It's a lot to take in. The nursery sells more than 30 varieties of apples, almost as many varieties of pears, and plums, peaches, currants, gooseberries, blueberries, raspberries, blackberries, kiwis, figs, elderberries, strawberries, grapes, currants, apricots, cherries, flowering garden trees, hops, olives, Japanese maples and shrubs. 
This year's nursery catalog also draws attention to other perennial plants people may be unfamiliar with, such as evergreen huckleberries and red candy lingonberries.  
"I have a particular affinity for a lot of the crops that are less well-known here, like quince and aronia berries," Binhammer said. "I love educating folks about different varieties and getting people excited about more than the varieties they'd find in a local grocery store." 
---
From farm to plate 
What: Whatcom County Farm Tour
When: 10 a.m. to 4 p.m. Saturday, Sept. 16
Where: Alluvial Farms, Barmann Cellars, Cloud Mountain Farm Center, CTK Foodshare and Farm, Fair Cow's Path Farm, Lydia's Flock, Oak Meadows Farm, Small Acres Farm, Spring Time Farm, Steensma Creamery and Grace Harbor Farms (co-hosting), We Grow! Garden, and Wright Brothers Farm
Cost: The self-guided tour is free
More: At Cloud Mountain Farm, fruit will be for sale and the Common Threads Food Truck, Basil, will be on-site.
Info: sustainableconnections.org
What: Fruit Tasting on the Farm
When: 5:30–7:30 p.m. Thursday, Oct. 12
Where: Cloud Mountain Farm Center, 6906 Goodwin Road, Everson
Cost: $10; advance registration is required
Info: cloudmountainfarmcenter.org