Restaurants
At Main Street Bar & Grill, dinner unifies the masses
Ferndale bar with $10 steak special exceeds expectations
October 30, 2023 at 5:00 a.m.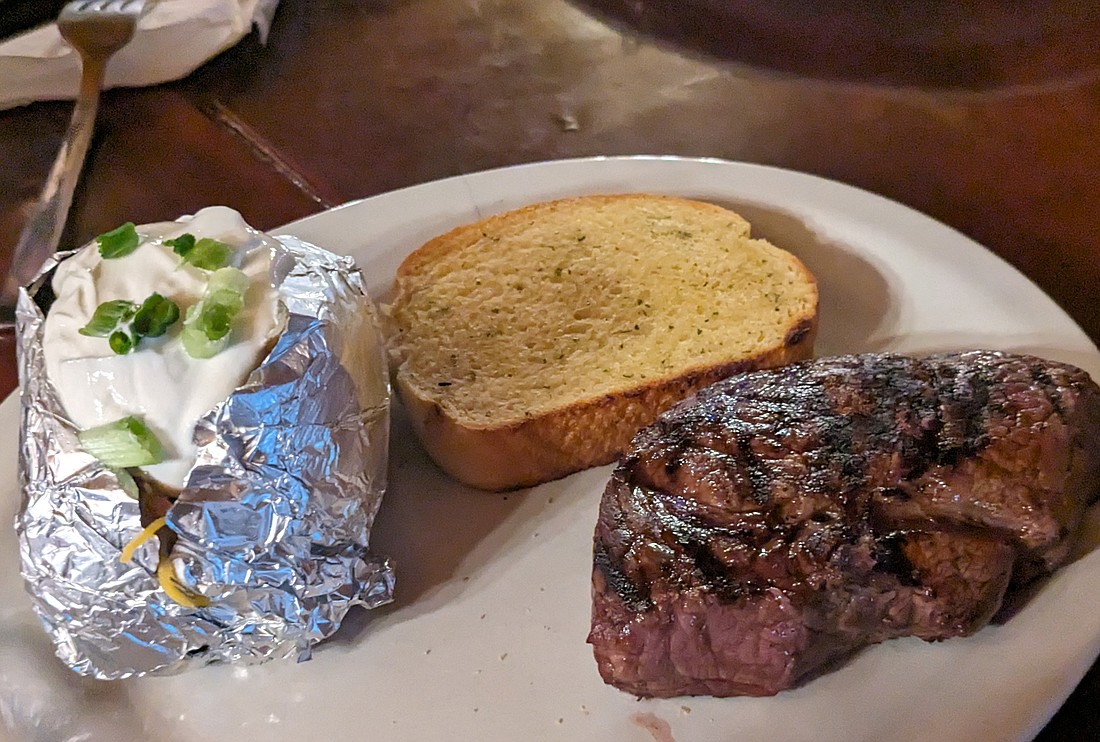 ---
---
Main Street Bar & Grill in Ferndale is situated, as one would expect, on Main Street. It's a longtime Ferndale staple, up the road from Cedars Restaurant and Outlaws Saloon, both mainstays in their own right, but without the deeply interesting draw of a $10 steak dinner from 5–9 p.m. every Thursday and Sunday night. 
This is going to be repeated multiple times: You get an entire steak, with sides, for $10.
The rest of the menu at Main Street Bar & Grill is fairly typical — various takes on nachos, burgers and sandwiches, and a couple of higher-dollar options such as the steak and prawns. Universally, the prices are incredibly reasonable, especially with the skyrocketing food costs prevalent in so many other restaurants. 
For the money, I would have been happy with every item we tried simply being tolerable and the $10 steak dinner being edible.
Sitting at the sturdy bar top, across from a nice selection of top-shelf bourbon whiskeys, I watched regulars flood in at 5 p.m. on the dot. Most of them were greeted by name as they came through the door. As expected, their food and drinks came out first. I don't begrudge them this, though — why else would you become a regular at a bar if not for that treatment?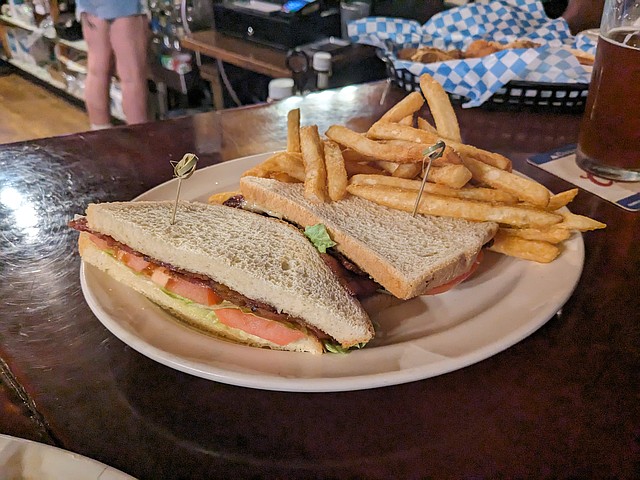 The overall energy was far more welcoming and warm than I'd expected, feeling akin to the man cave/bar/shop your father's rich friend had when you were a kid.
Finally squeezing in our order, we put in for hot wings ($13.95), a BLT and fries ($11.95), and a couple steak dinners ($10 EACH), along with a top-up on our beers. 
I'm no stranger to dive bars, and you learn to temper your expectations. So you can imagine my surprise as plate after plate came out ... really quite good (albeit a bit slowly). 
The steaks are served alongside a salad, baked potato and a slice of garlic toast. The side salad was an unremarkable experience, but that is to be expected when it comes to something as simple as iceberg lettuce, shredded carrots and red cabbage. 
The baked potato was a baked potato, generously loaded with sour cream, cheddar cheese and bacon bits. The Texas toast was institutional — that is to say, evenly soaked in hydrogenated vegetable oils and so, so tasty.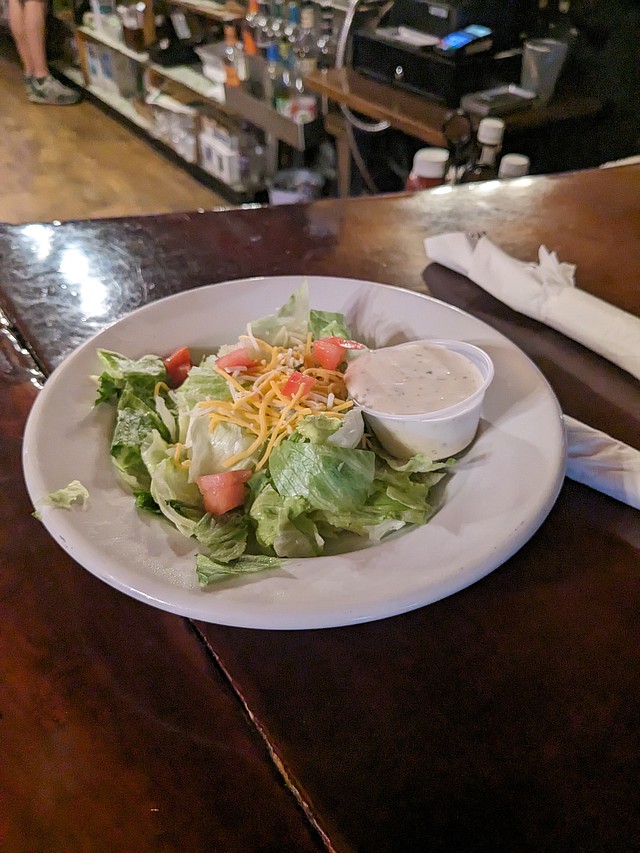 The steak was a cut of beef without bone, cooked over direct heat until medium rare, closer to rare. Exactly what cut of beef this steak is should not be a concern to you. It's not glued together, it's not horse meat masquerading as beef (I would know, I've eaten horse), and it didn't make me sick. That alone blows any reasonable expectations you could have for a $10 steak dinner.
But shockingly, it wasn't just beef and edible, it was actually quite nice, even a touch rare. I was able to easily and happily eat the entire thing, with no gristle or other unpleasantness to be found. My best guess is that it was seasoned with salt and pepper, and adequately at that. Although offered a bottle of A1, I didn't feel any need to use it.
The wings were enormous and very crispy, with the buffalo sauce served along the side instead of being tossed. The BLT was also pretty good, with thick bacon and firm tomatoes. Do I think the bacon came out of a vacuum-sealed pouch? Yes, I do. But that doesn't make it any less flavorful, and at the end of the day, a BLT really only has five ingredients, and as long as they're each good, I do not care if it's mass-produced.
But I need to circle back to that steak. It's apparent that there's a fair-day energy surrounding this twice-weekly event. Almost every table around us was packed to the gills, nearly all of whom behaved like groups of old friends do. 
The incredible value of the steak dinner seems like the hook, but the social aspect is what sets it apart. The only person in the bar who didn't come in with a group sat next to us at the bar top, and within minutes we were chatting away about our experiences in the petrochemical industry, traveling for work, our favorite restaurants, anecdotes, and lamenting the fact that Buc-ee's convenience stores haven't expanded into the Yankee states. 
Talking to strangers is hard, but the novelty of that $10 steak dinner has a unifying effect. There's something to be said for any activity that can bring people from all sorts of walks of life together, and it's even better if it's tasty.
Solely based on cultivating an environment where making friends with strangers comes naturally, Main Street Bar & Grill gets top marks in my book. The $10 steak dinner actually being really, really good? That's just icing on the cake.
Main Street Bar & Grill is open from 11 a.m. to 12 a.m. Sunday through Thursday, and 11 a.m. to 2 a.m. Friday and Saturday at 2005 Main St., Ferndale. Info: Facebook.com/themainstreetbarandgrill.