Community
Thousands of Knitted Knockers are stitched with love
Bellingham nonprofit shares success story for Breast Cancer Awareness Month
October 25, 2023 at 5:00 a.m.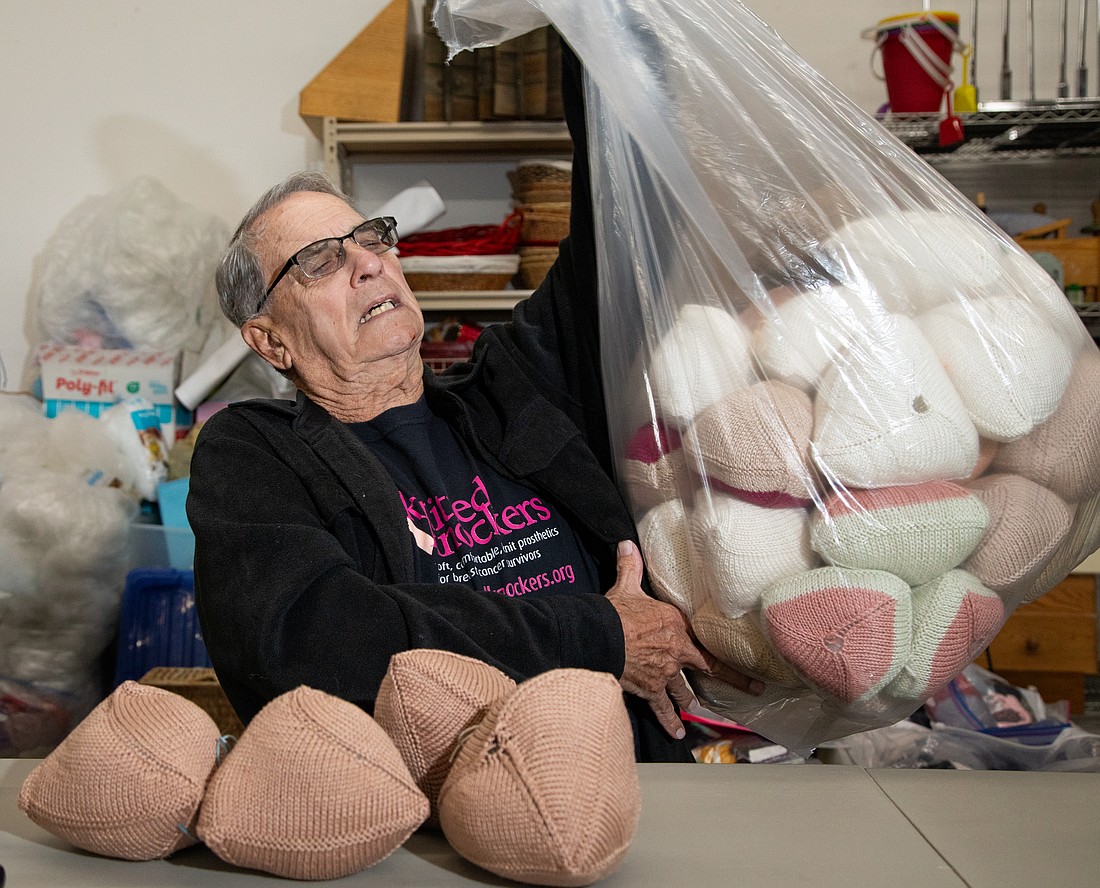 ---
---
In the black bag Char Malseed carries with her at all times are yarn, knitting needles, scissors, projects in progress and a worn sheet of pink paper full of minuscule tally marks.
The numbers on the note represent the 2,252 (and counting) pairs Malseed has created for the Bellingham-based Knitted Knockers, which provides free, lightweight knitted and crocheted prosthetics for breast cancer survivors around the United States — and the world.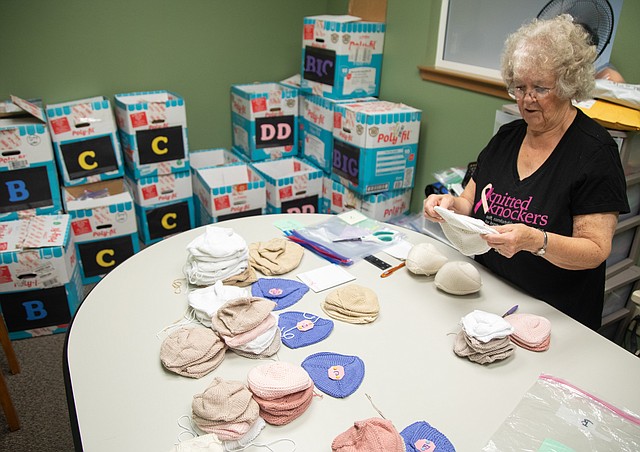 Starting a little more than a decade ago, the nonprofit now has more than 5,700 groups creating the knockers across the U.S. and in countries such as Finland, Ireland, France, China, Indonesia, the Philippines, the continent of Africa and beyond. 
"Char's note just gives me the chills," Apple Yarns co-owner Andrea Evans said as Char and her husband Ken — known as the "Knocker Dude" — unloaded finished "knockers" and ones in progress onto a table at the back of the yarn hub on Fraser Street. "I didn't realize she had gotten over 2,000." 
Apple Yarns has been working with volunteers such as Char and Ken since the store began its affiliation with Knitted Knockers in 2011. Once a week, the Malseeds pick up unstuffed knockers that have been mailed to the store from knitting groups and individual knitters or crocheters. 
Char inspects them to make sure they're up to snuff, and if they're not, she unspools and remakes them. Ken's task is to stuff each one with lightweight fiber through a small hole in the back. Since 2020, he has put the finishing touches on more than 13,900. 
"I just started doing it because it was something to do and it was rewarding," Ken said. "Just about every day when we're home I watch 'Judge Judy' at 3 p.m. and stuff knockers."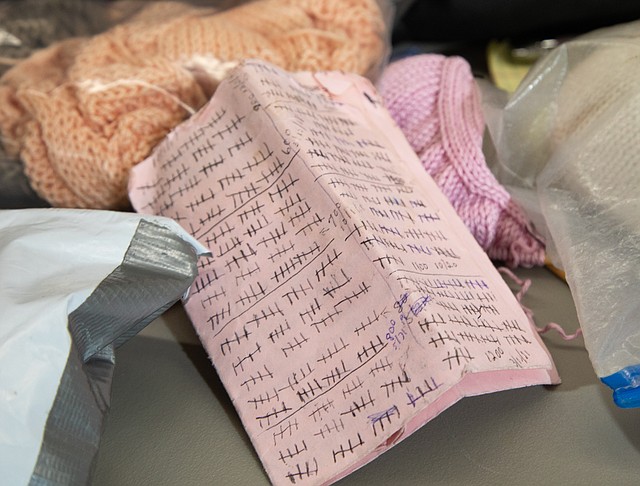 Char said she started volunteering for Knitted Knockers in 2015 after reading a news article about the group. She'd recently broken her ankle and had more time on her hands than usual, so she showed up at Apple Yarns to ask for advice on how to make the knockers. 
Eight years later, they're the main things she knits, other than an occasional sweater, scarf or hat. Each one takes her about an hour to complete.
"If I sit, I knit," Char said. "The only time I don't knit is when I'm driving." 
Everybody who works with Knitted Knockers is a volunteer, and Char said the emotional rewards are worth the time she puts into the project. 
"There's just the satisfaction that I know it's going to make a lady happy," she said.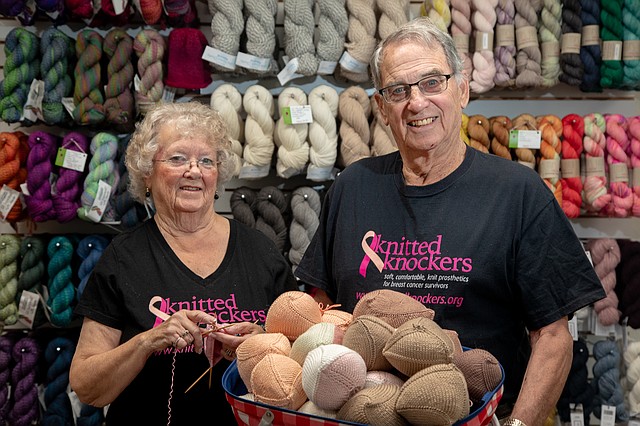 How Knitted Knockers started 
"Twelve years ago I heard the words that no woman wants to hear, that I had breast cancer," founder Barbara Demorest said. 
After her mastectomy, Demorest, now 72, was told she'd have to wait at least six weeks to wear a silicon prosthetic as her scar healed. She was self-conscious about her appearance, and at a loss as to what to do. But during a doctor's visit, he showed her an alternative — a photocopied picture of a knitted knocker and a link to the pattern. 
Demorest said she wasn't up for knitting at the time, but a close friend created a couple for her to put in her bra.
"It sounds dramatic, but it was life-changing," she said. "It was so soft and light, and made by somebody who cared."
"One of the reasons we give them away for free is we hear from people [about] how it feels to receive the gift of care and dignity," she added. "We get told 'thank you' every single day. We hear it over and over how they can feel the love in every stitch."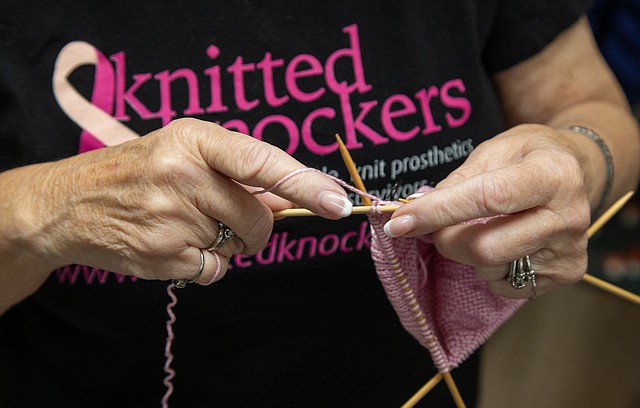 Among the many testimonials on the Knitted Knockers website are phrases such as, "Thank you for making the terrible more bearable," "This worked like magic," and "With the knitted knocker I received, I felt beautiful. I looked beautiful." Many women report putting away their silicone prosthetics for good because the handmade ones were so much more comfortable. 
Knitted Knockers — which Demorest secured the name to when the original knitter in Maine happily handed over the reins — now has 5,734 groups that make or send knockers to Bellingham for distribution, and the nonprofit supplies more than 2,100 medical clinics with the prostheses. Since they started keeping count, they have sent out more than 632,588. 
How people can help 
October is the perfect time to get their messaging out because of Breast Cancer Awareness Month, Demorest said.
The main thing is letting women who've had mastectomies or lumpectomies and aren't eligible for reconstruction know they're readily available, are free and are made in a variety of cup sizes. 
Additionally, financial donations to the 100% volunteer-run nonprofit are always welcome — and needed. Postage alone costs approximately $50,000 a year.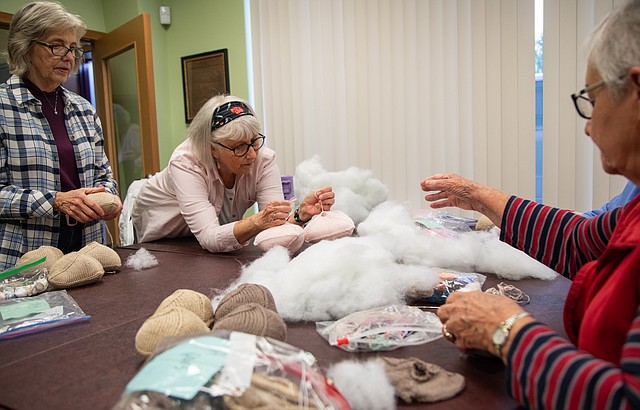 It's also a good time to let knitters and crocheters who want to volunteer their skills know the need will always be there, and their assistance could change many women's lives. For those who don't know their way around a needle, the local Knitted Knockers group meets every Thursday in Ferndale to help prepare the knockers to be sent out.
Becky Rawlings is one of the volunteers who's been around since close to the beginning of Knitted Knockers. She works full time in the accounting department at Windermere Property Management, but still finds time to knit knockers.
She recently finished number 1,633 — a figure she keeps track of on a spreadsheet. Rawlings puts what she calls a "karma bead" on each of her knockers. The small pink beads are always on the 12th stitch on the first row and give a personal touch to the process. 
Rawlings said she knits three or four times a week, mainly in the evenings and on weekends, and doesn't foresee giving up the hobby that she said helps people she knows she'll never meet.
"As long as I can knit," she said, "I will continue making knockers." 
To find out more about Knitted Knockers and how to donate, create your own knitting group or read testimonials, go to knittedknockers.org.