Museum
New Whatcom Museum exhibit tackles themes of healing and repair
Bellingham National artists processed challenges through creativity
November 15, 2023 at 5:00 a.m.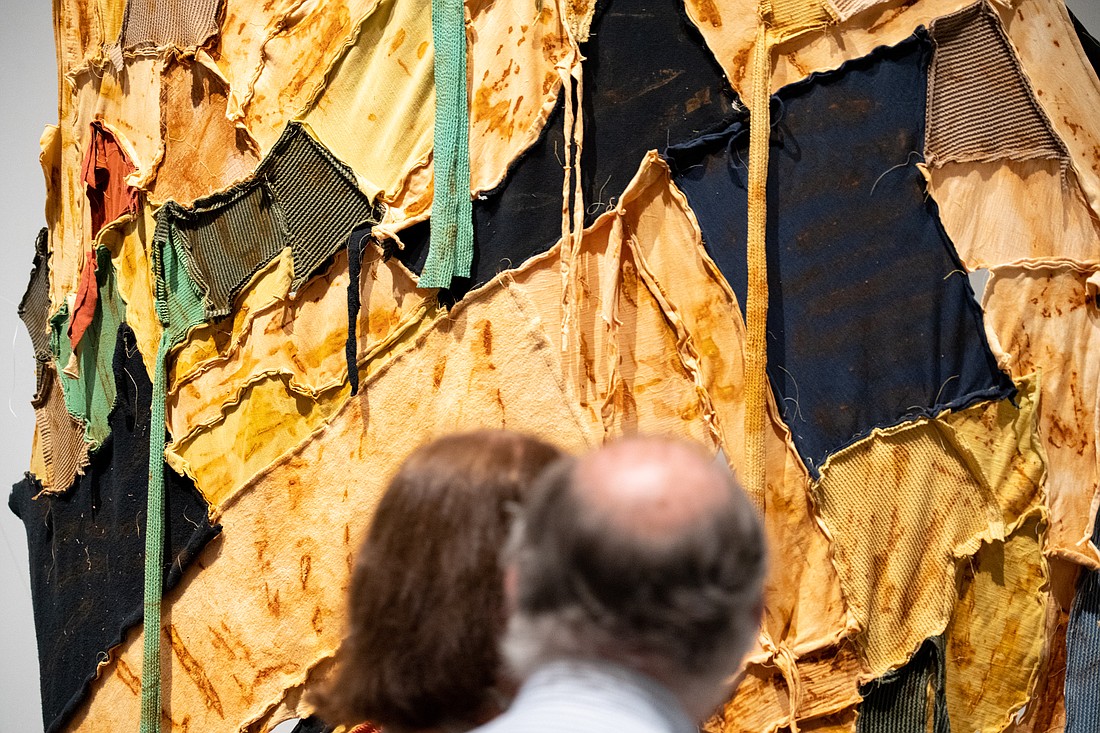 ---
---
Jinseok Choi, a Los Angeles-based artist who is originally from Seoul, said the theme for the biennial Bellingham National exhibition aligns with his artistic practice. 
"Bellingham National provides a great platform for artists to connect with diverse local and international audiences, and create a space for conversations about healing and repair — an essential stance in this highly polarized time," Choi said.
Amy Chaloupka, curator of art at Whatcom Museum, organizes and manages the museum's exhibitions. While she did not jury "Acts of Healing and Repair," she has been the juror liaison, on-site exhibition organizer, and curatorial administrator working with the artists who contributed work for the exhibit.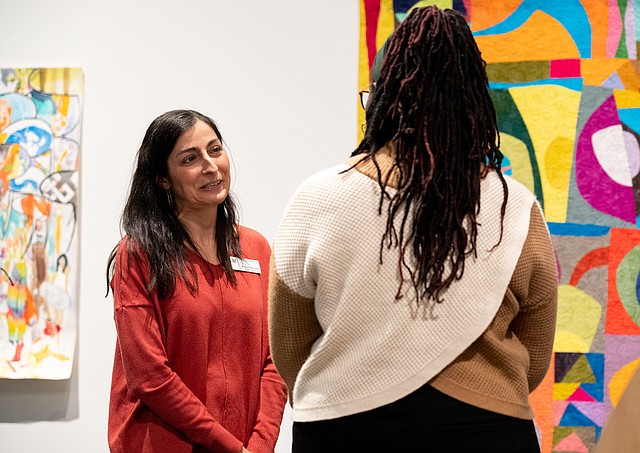 This year's theme, she said, was chosen with guest juror Grace Kook-Anderson, a curator at the Portland Art Museum. 
"We selected 'healing and repair' to recognize that artists, and our communities as a whole, are still processing a global pandemic as well as social, political and environmental turmoil," Chaloupka said. "We wondered how artists are creating and working through these challenges and wanted to provide an exhibition dedicated to exploring those experiences, which are uniquely personal but still relevant and understandable to all of us."
Chaloupka said the exhibition is an opportunity to experience art from nearly 80 artists from across the country who responded to the same theme in vastly different ways.
The artists
Bellingham artist Cynthia Camlin said when she first learned about the theme of the exhibit, she didn't think it would relate to her. 
But over the course of the summer, she said, she had a change of thought and realized that "healing and repair is exactly what my newest paintings are about."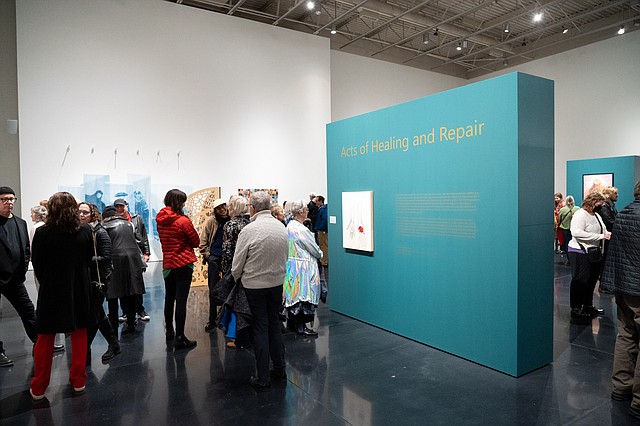 Camlin grew up on the East Coast in the Carolinas, and she was fascinated by specific wetland sites, the unique ecosystems of Carolina Bays. 
Named "bays" by colonial settlers for their abundant bay trees,  she explained these sphagnum bogs, tannin-rich lakes and seasonally wet savannas dotting the coastal plain once numbered in the thousands.
Current satellite images now depict a pattern of nearly perfect, oval depressions aligned northwest to southeast, she said, and are "mere traces in the land, left behind after centuries of deforestation, drainage, agriculture and development."
Antiseptic sphagnum has been used as baby diapers and bandages; in particular during World War I, when there was a cotton shortage and the moss was used to dress wounds in military hospitals.
This past summer Camlin began a series of paintings that depict the intricate surface of peat bogs themselves, making large canvases of ovals with fields of moss.
As she painted, Camlin began to think of sphagnum bogs, "with their deep sinks for carbon, and their crazy botanical adaptations, as a kind of bandage for the whole planet, a vision of nature defending herself, treating her wounds, and overcoming scarcity with creativity."
Camlin had already been thinking about society's lack of appreciation for wetlands. 
"My series of paintings called 'Swamp/Garden' were sunken landscapes of the detritus of history, especially Confederate monuments and other emblems of white supremacy," she said. Her goal was to juxtapose the idea of a wasteland — a place where unwanted things are pushed out of view — with that of a biodiverse ecosystem which sustains life.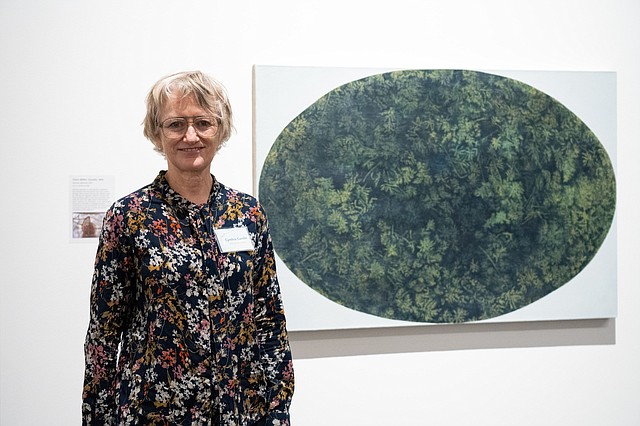 Choi's piece for the exhibit, "Before the Last Spike," is one of a series of hanging fabric sculptures that sheds light on the untold stories of invisible immigrant labor in America. 
"My concern about how physical labor is treated in our society drives the project to delve into two distinct histories: the railway construction that initially imported Asian immigrant laborers to North America; and the garment industry, where Asian immigrant workers currently comprise the majority of the workforce," he said.
His work links the histories of labor exploitation with found materials using scrap fabrics that he collected from American garment factories to create an embodied collectivity while retaining their original shapes, textures and colors.
The scraps, he said, are marked with the railway spikes used in the construction of the Transcontinental Railroad, evoking the archival photograph "The Last Spike," which documents the driving of the final spike to join the eastern and western lines of the railway.
The historic photograph features only white men, despite the fact that most railway workers were Chinese immigrants. 
To counter this false narrative, Choi said he rust-dyed the fabric scraps with railway spikes, directly linking the historical exploitation of migrant labor and present-day exploitation in the garment industry.
"Healing and repair manifest when we pause, reflect on the past and foster dialogue to shape a more inclusive future," he said. 
Juror and curator Kook-Anderson said "the act of healing is expansive, uplifting and grounding. But repair also comes with rupture and the work of mending and nurturing. "Breath, time and motion are part of the healing process, and these attributes of resilience are reflected in the exhibition."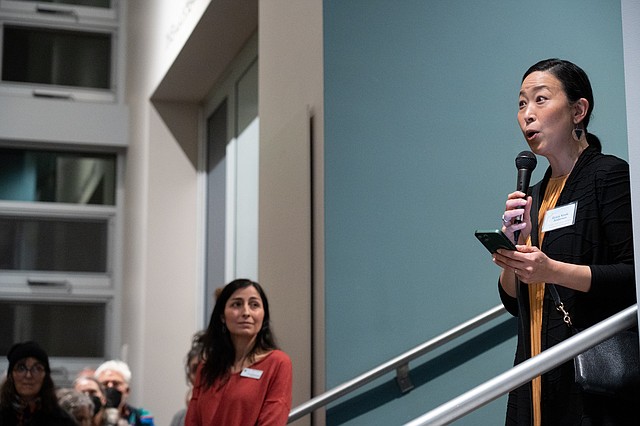 Bellingham National's "Acts of Healing and Repair" opened Nov. 11 and runs through Feb. 25 at Whatcom Museum's Lightcatcher Building, 250 Flora St. Info: whatcommuseum.org.