Football
Football forecast: State quarterfinals bring pair of high-stakes rematches
Lyncs, Pioneers to play for semifinal berth; last year's 2A state title game gets a reboot
November 13, 2023 at 3:32 p.m.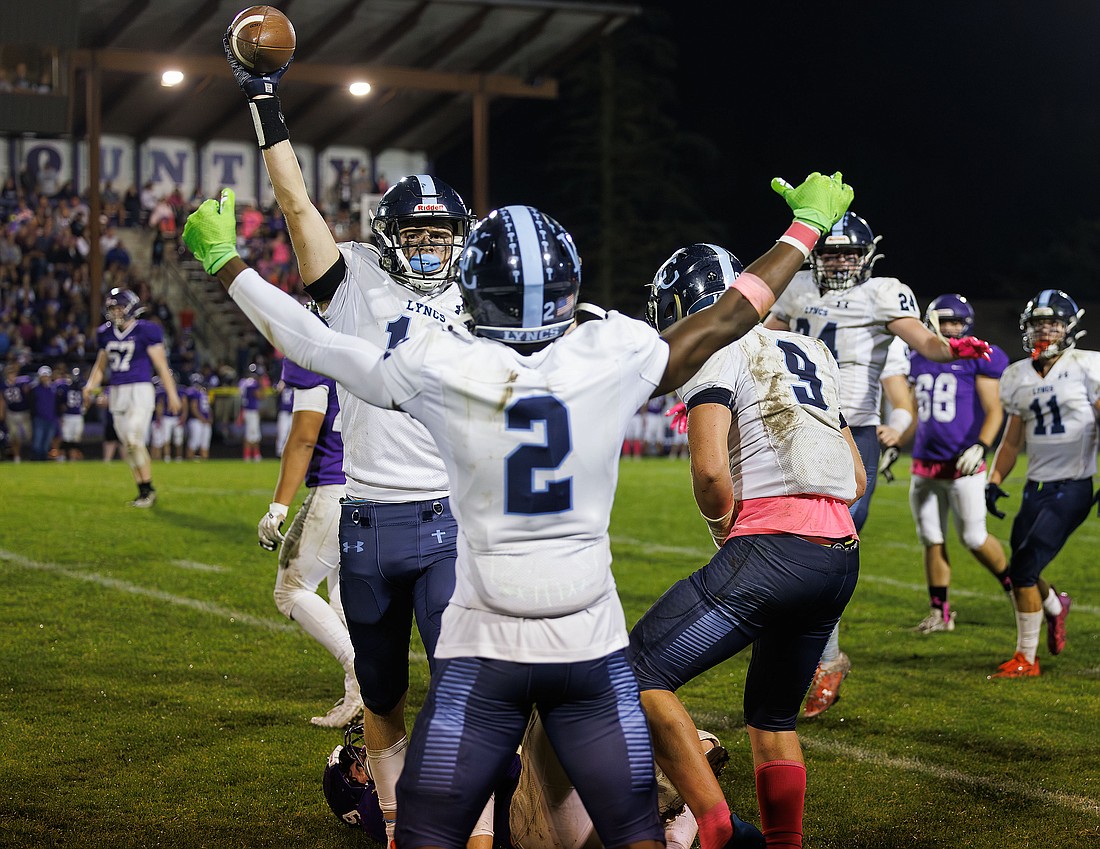 ---
---
With a maximum of two games each week for the remainder of the season, the "Game of the Week" pick has been retired until next year.
Lynden Christian, Lynden and Nooksack Valley are the final three remaining Whatcom County teams that have advanced to state quarterfinal games — two of which will play each other.
Ferndale saw its season end in the opening round of the 3A state tournament following a 21-7 loss to Mount Tahoma on Friday, Nov. 10. The Golden Eagles finished their season 8-3 overall.
Here's what you should know about upcoming games:
1A state tournament, quarterfinal: No. 3 Lynden Christian vs. No. 6 Nooksack Valley
7 p.m. Friday, Nov. 17, Civic Stadium
Lynden Christian record: 8-2
Lynden Christian's result last week: Beat No. 14 Connell, 41-20
Nooksack Valley record: 8-2
Nooksack Valley's result last week: Beat No. 11 Cascade Christian, 59-7
Final prediction: 29-24, Nooksack Valley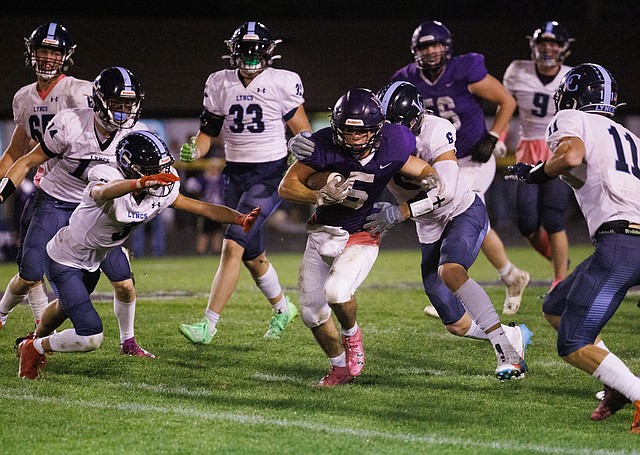 Despite both teams earning big wins in the first round, their final scores from last week are misleading. 
Lynden Christian led Connell 41-6 with 10:03 remaining in the fourth quarter before Lyncs head coach Greg Terpstra pulled most of the team's starters. Connell scored twice in the last 10 minutes.
Nooksack Valley could have scored 100 points if head coach Craig Bartl didn't take his foot off the gas, sitting most of his starters before halftime. The Pioneers led Cascade Christian 59-0 at the half, initiating a running clock for the final two quarters. 
Even then, Cascade Christian didn't find the end zone until there was 2:41 left in the game.
The last time these two teams met (during the regular season on Oct. 6), NV blew a 20-7 fourth-quarter lead and allowed a game-winning touchdown by LC's Kayden Stuit with less than a minute remaining. The Lyncs won 21-20. 
Since then, both teams haven't lost. LC is on a six-game win streak dating back to Sept. 30, and its last loss was a 28-7 home defeat to top-seeded Royal in horrendous weather conditions.
NV (49.8 points per game, 13.3 points per game allowed) has scored 213 points in its last four contests alone. Over the same span, LC (35.5 points per game, 14.1 points per game allowed) has put 178 on the board. 
Neither team is going to score 50 in this game, but don't be surprised if the offenses take over. 
What makes this matchup so exceptional is that both groups are playing their best football at the right time. Both quarterbacks, NV's Joey Brown and LC's Jeremiah Wright, have improved, and each made a few jaw-dropping throws in their first-round games.
Each team also has a superstar offensive weapon, and one per team is a conservative assessment. 
First-round stats: The Pioneers' running back Colton Lentz needed just eight carries to rush for 108 yards and four touchdowns. LC tight end Kayden Stuit caught six passes for 101 yards and three touchdowns, including four catches, 81 yards and a score on one second-quarter drive alone. 
No surprise, the above players are the ones to watch in this game.
Lynden Christian player to watch: TE/LB Kayden Stuit, senior
Stuit, at 6-foot-4 and 230 pounds, is one of the most difficult players to tackle in the entire state. At times, the Eastern Washington University commit simply refuses to go down. 
Need a third-and-short conversion? Hand it off to Stuit or throw it to him in the flat and let him run over a few people for the first down. Need a big play downfield? Line him up outside and let him go get the football.
LC's offense was most effective in its first-round win over Cascade Christian on the drive that Wright quite literally funneled targets to Stuit.
Defensively, he will be key in slowing down NV's top offensive weapon.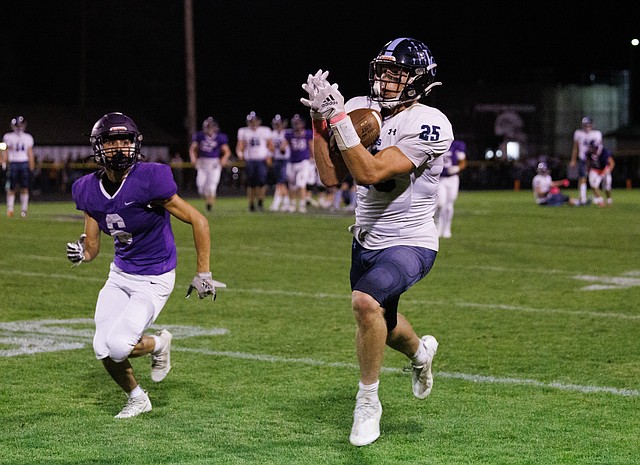 Nooksack Valley player to watch: RB/DB/LB Colton Lentz, junior
It's easy to forget Lentz is a junior. He's the biggest and strongest player on the field in most cases, and he regularly reminds his opponents of that.
NV's offensive line deserves a lot of credit for the holes it opens up for the 6-foot-2, 215-pound rusher, but Lentz doesn't need much space to produce. Lentz's size sometimes hides how fast he is as he will outrun most defenders with ease. 
Similar to Stuit, Lentz never goes down on the first or even second tackle attempt — bring a crew. The threat of Lentz getting the ball forces the defense to focus on him, which opens things up for NV's offense. His presence on the field alone makes him dangerous.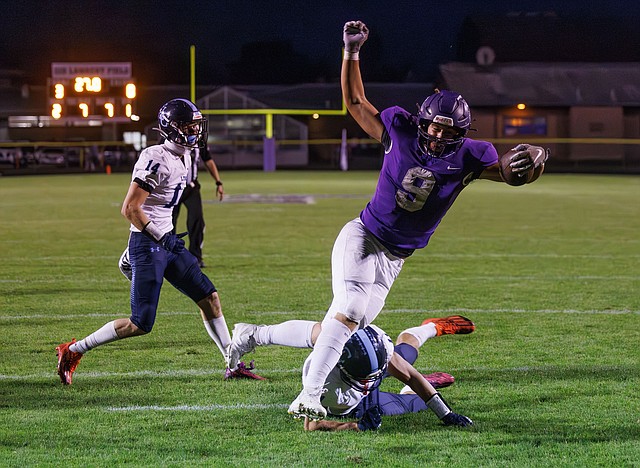 2A state tournament, quarterfinals: No. 5 Lynden at No. 4 North Kitsap
3 p.m. Saturday, Nov. 18, North Kitsap High School
Lynden record: 8-2
Lynden's result last week: Beat No. 12 Bremerton, 41-7
North Kitsap record: 10-1
North Kitsap's result last week: Beat No. 13 Ephrata, 49-0
Final prediction: 32-30, Lynden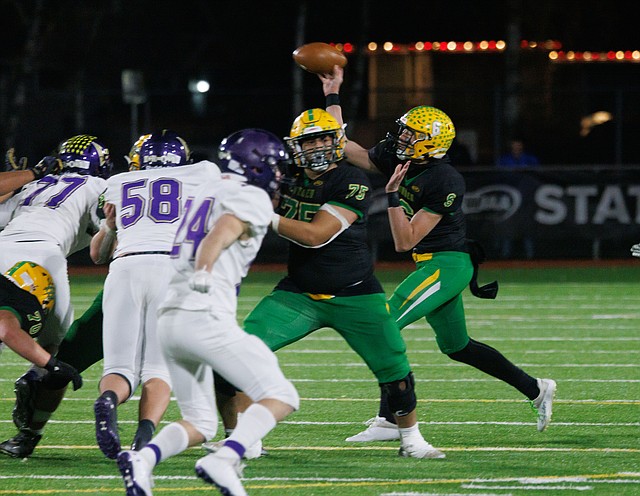 State tournament games between these teams over the last two years have been a treat. This one — their third postseason meeting in as many seasons — should be no different.
Some context: Lynden, the second seed at the time, knocked No. 3 North Kitsap out of the 2A state tournament in 2021 via a 15-10 semifinal win over the Vikings. The Lions went on to win the state championship. Last season, top-seeded Lynden beat No. 3 North Kitsap, 31-24, in the 2A state title game for its second straight championship.
In other words, Lynden has been the only thing standing between North Kitsap and a state championship the last two seasons. For the first time during this stretch, the Vikings are the higher seed — giving them the home-field advantage.
Lynden is the most vulnerable it has been in the last three seasons, especially after surrendering its first loss since 2019 to a Class 2A team on Oct. 27 (losing to No. 2-seeded Anacortes, 15-8).
That said, the postseason is where the Lions thrive. Lynden is 14-3 in the postseason with three state championship appearances since Blake VanDalen took over head coaching duties in 2017.
Lynden is averaging 33.0 points per game this season while giving up 18.6. North Kitsap is scoring 39.1 points per game while allowing 13.2. 
VanDalen and the Lions have a way of winning these games, and their first-round statement versus Bremerton further displays that.
But it'll all come down to the players.
Lynden player to watch: RB/LB Maximus Assink, sophomore
Brant Heppner is the engine that drives Lynden's offense, but there's a case for Assink being the most important player in this game.
Last week, in a big win, Assink finished with 11 carries for 106 yards, according to Whatcom Preps, to lead the Lions' running game. Lynden struggles most when it is forced to throw the ball — a reality displayed by the way Anacortes attacked the Lions' offense. 
In that game, Lynden's running backs combined for 112 yards on 31 carries (3.6 yards per carry), and Heppner had to throw it 22 times.
Assink will need to get loose and create first downs for Lynden to play the way it wants to play, and he certainly has the skills to do so.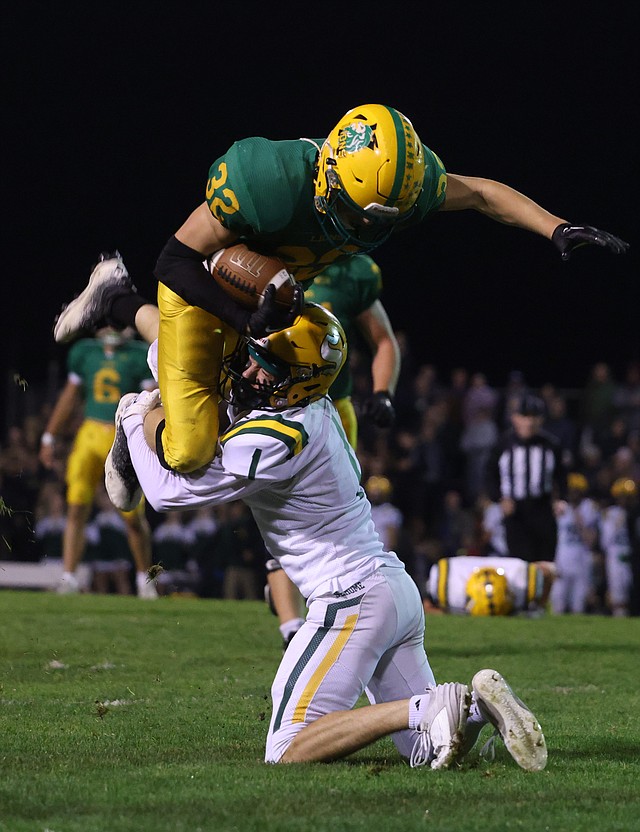 North Kitsap player to watch: WR/DB Logan Sloman, senior
Sloman resembles the Anacortes players that gave the Lions problems three weeks ago.
The dynamic wide receiver had four touchdown catches in North Kitsap's shutout win over Ephrata, and he also has six interceptions on defense this season. 
Lynden will have its hands full trying to limit Sloman's impact on the game.