Volleyball
Lynden caps season with a sweep, 3rd-place state trophy
Lions sweep Burlington-Edison for 3rd time this season
November 11, 2023 at 7:29 p.m.
|
Updated November 11, 2023 at 9:01 p.m.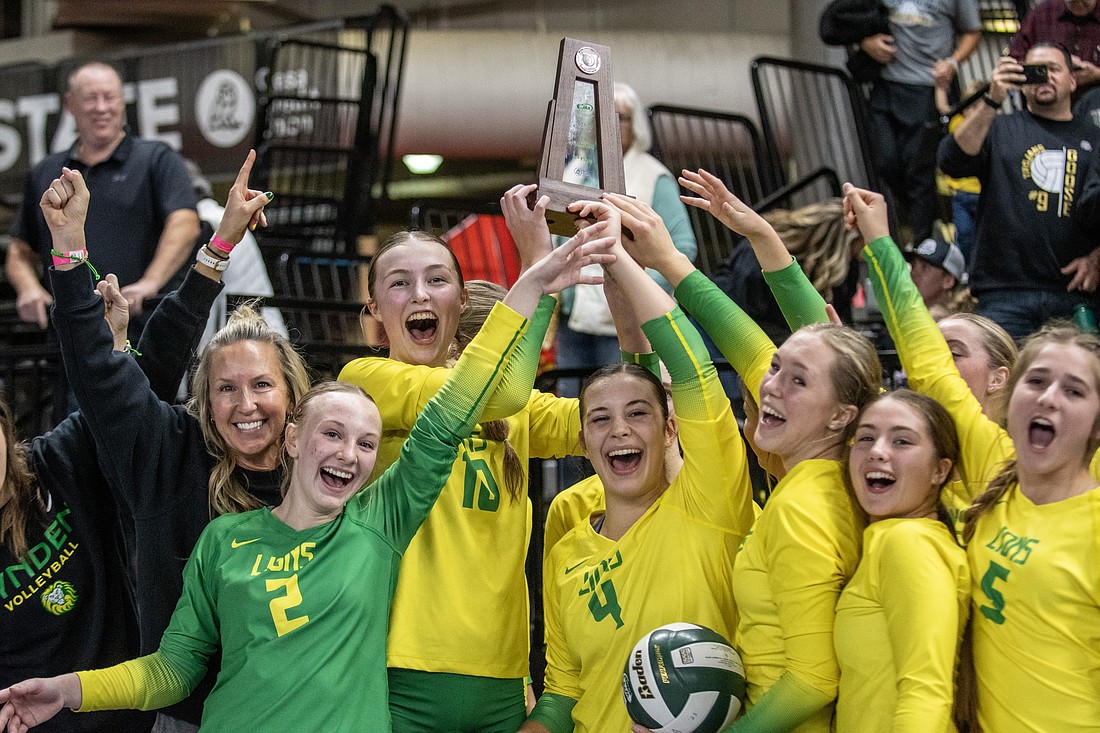 ---
---
YAKIMA — It isn't a state tournament unless Lynden ends the season with a win.
The Lions rebounded from a state semifinal loss earlier in the day to sweep league-foe Burlington-Edison 25-20, 25-22, 25-18 and secure a third-place trophy in the 2A state tourney Saturday, Nov. 11.
"To walk away from a state tournament of this caliber with a win, it's a reflection of all the hard work that we've put in over the years," Lynden coach Chris Elsner said. "They played Lynden volleyball. It's so sweet for them."
Lynden has medaled in five of the last six years now, which includes a fifth-place finish in 2022, sixth in 2019, and second in both 2018 and 2017.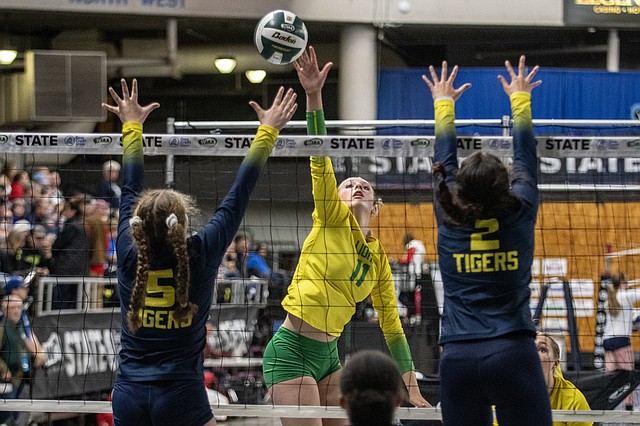 No. 2 Lynden started the tourney Friday, Nov. 10 with a sweep of No. 15 Sammamish in the opening round and a sweep of No. 7 Tumwater in the quarterfinals. The Lions then lost in four sets to No. 6 Ridgefield in the semifinals before facing No. 4 Burlington-Edison in the third/fourth-place match.
The Lions have been a thorn in the Tigers' side all season, sweeping them in all three matchups this season, including in the district title game.
In the third/fourth-place match Saturday, there was no hangover from the semifinal loss as Lynden was determined to end the season with a win.
Three Lions finished with double-digit kills, led by Ashley Shumate's 16, Haylee Koetje's 11 and Finley Parcher's 10. 
Mya VanderYacht had a team-high 25 digs, while Shumate had 16 and Koetje 10. Grace Rice contributed 43 assists, 14 digs and four kills. Ava Langstraat had a team-high three block to go with two kills. Kasi Thomas finished with nine digs.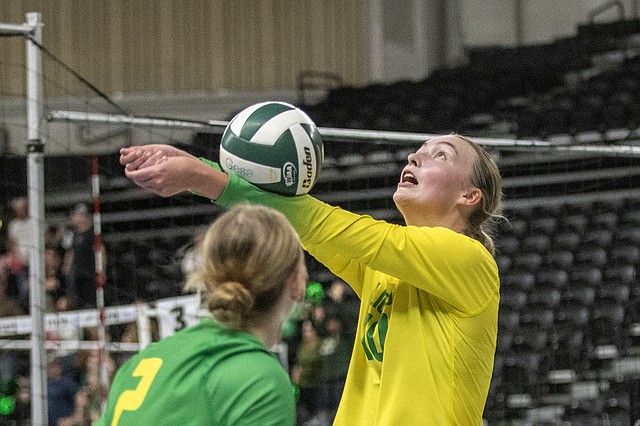 Though Koetje and her fellow seniors didn't get the state title they had hoped for, she said it was still a rewarding end to her prep career.
"It feels amazing," Koetje said. "And the best part is I was able to do it with my teammates."
Koetje and five other seniors played their final match in Lynden green and gold, including Shumate, VanderYacht, Rice, Thomas and Langstraat.
Koetje said she has plenty of memories with them that she'll cherish for years to come.
"The love that we have for each other and the fun that we have," Koetje said, "we were out here fighting for every point and we had so much fun doing it together."
What Elsner said she'll remember most about this team is the joy they brought to every practice, every game, every tournament.
"They love one another, they build each other up," Elsner said. "You can see the encouragement on the court. Every point, they try to win for each other. It's special."