Restaurants
Tips for tip's sake are (literally) in your face
How does pandemic-spurred tipping overhaul work for workers?
May 17, 2023 at 5:55 a.m.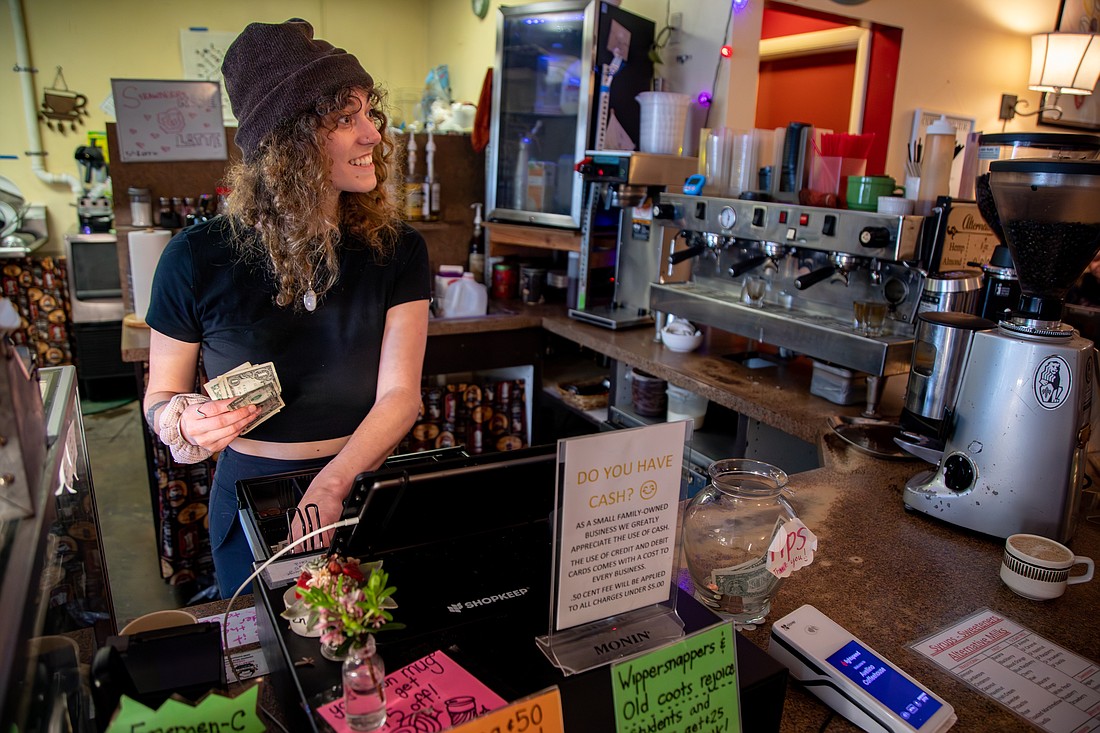 ---
---
To tip or not? It's an increasingly in-your-face dilemma for diners and even shoppers.
Places I've tipped recently include Captain's Cod Company food truck, Jalapeños restaurant and Cascade Herb Company. I also left a 15% tip for an order at Blue Fin Sushi, which transitioned to takeout-only during the pandemic, but has yet to reopen the restaurant to diners.
I'm glad Blue Fin is still in business, and am happy to leave a reasonable tip for a well-prepared meal, but at what point does tipping become an obligation? Am I beholden to tip the cheese-maker at the farmers market if a tip jar is on the counter? Is it worth it to get a $5 beverage if the only option is to tip 15% or 20%?
A recent article in the Wall Street Journal drew attention to the proliferation of entities asking for tips even when there is limited human interaction — such as self-checkout machines at airports, stadiums and even chains like Crumbl Cookies, which has a Burlington location.
"Tips are everywhere," said Danny Stratten, who was sipping an iced coffee on Railroad Avenue in downtown Bellingham on a warm weekday afternoon. "I think it kicked in during the pandemic because people realized that the service industry was suffering, and so more people offered it in as an option and consumers who had the capacity and were still employed said, 'Yeah, I want to support you. I want your business to keep going.'"
Stratten said the COVID-19 emergency may be over, but tipping hasn't gone away. If anything, it's growing. He said he's noticed it at regular counter-service-type places such as Jimmy John's, which didn't use to elicit tips, and now make it difficult to opt out of them.
"The burden of skipping is getting higher, so that's trickier too," Stratten said, "but being a Northwesterner, I'm used to tipping for coffee service and that sort of thing."
Among the concerns shared by Stratten and other Bellingham residents interviewed: Who is actually getting those tips (especially when there's tip pooling)? How can businesses ensure equitable wages for their employees? And what does the future of tipping look like?
Tipping trends shifted during the pandemic
During the first pandemic shutdown in March 2020, restaurants and coffee shops in downtown Bellingham and beyond had to quickly decide whether to shift their businesses to takeout-only or shutter indefinitely.
Bayou on Bay kept its lights on, and former manager Josh Holland said the community was initially strongly supportive.
"It was a honeymoon phase," he said. "Customers were tipping astronomically high. After a couple months, it evened out back to normal tipping. The next arc of tipping was when things started slowly reopening again."
Holland said when that happened, many patrons expected the same level of service and menu choices they'd had before COVID-19 put the world on pause. Even when seating was only outside, and even when a second shutdown was imminent, he said some customers didn't take into account that the entire food service industry was struggling to adjust.
"There was a curve when people didn't understand," Holland said. "It resulted in a decline in tipping. It was a noticeable trend."
Holland and others pointed to a number of things that have shifted in the service industry since the beginning of the pandemic: Federal Paycheck Protection Program funding for small businesses ended on May 31, 2021, and in the ensuing two years, inflation, supply chain problems and staffing shortages came into play.
From cash to cards, tipping has changed 
Devon Harris, the general manager at Mount Bakery and Temple Bar, said another noticeable change was how people pay their bills and tip. Pre-pandemic, he said the spread of tips at their downtown and Fairhaven locales was about 65 (credit card) to 35 (cash).
"Now it's like 95/5," he said. "It's all credit cards, barely any cash. Everyone went to plastic during the pandemic. Most people never went back to cash."
Avellino Coffeehouse uses Clover as its point-of-sale (POS) system to take in-person payments from customers, but directly above the card reader is a glass vase for tips and a sign reading: "Do you have cash? As a small, family-owned business we greatly appreciate the use of cash. The use of credit and debit cards comes with a cost to every business. (A) .50 cent fee will be applied to all charges under $5."
Assistant Manager Lukas Smith started working at Avellino in the beginning of 2021 during the second shutdown, when the coffeehouse was only open for takeout. He said at that point tips were slightly above average, but there were fewer customers. Only recently, he said, have they started to return to pre-pandemic numbers.
Like most coffee shops in Bellingham, customers order and pay at the counter and bus their own tables. Tipping is done when they order, with 15%, 20% or 25% tip options on Clover. Still, Smith said many people do pay with cash.
Avellino handles tip payouts on a daily basis. The tips Smith makes during each shift are shared with a co-worker and taken home by him and whoever else is working that day.
When asked if he's making a living wage, Smith paused for a moment.
"I definitely am surviving," he said, "but it can be hard working a customer service job and paying rent and all the other stuff that comes along with being an adult."
The no-tip movement
Ben Scholtz, owner of Mallard Ice Cream, opened Bantam Kitchen & Bar 10 months before the start of the pandemic with a goal of providing living-wage jobs to his employees.
Originally, the staff made a guaranteed base wage. There was no tipping; rather, higher menu prices reflected the cost of a gratuity and a percentage of the gross sales (not profit) were divided among the staff.
Scholtz said he soon realized the model Bantam had implemented would only work in a fully established restaurant and he was unfairly asking his staff to bear the burden of the startup. Before the pandemic, they lowered prices and transitioned to tipping.
"Customers did respond more favorably to dinner and a tip; they were happier," he said.
These days, Bantam customers get to choose their own tips as much as possible. A 20% gratuity on to-go orders went into effect during the pandemic and remains, but Scholtz said that may change in the future.
The changes that preceded the pandemic and those that have stuck around, Scholtz said, help make Bantam "an equitable and enjoyable place to work."
Tip pooling and payment equity 
Whether paying a tip with cash or via a card on a POS system such as Clover, Square or Toast — most of which offer percentage options from 15% to 25% — it can be difficult to know where the tips end up. Are they divvied out at the end of the day or included in paychecks, and who's getting what?
Mount Bakery's policy is explained on the front of the menu with a missive including the information that "with equity in mind," they use a tip-sharing policy, meaning a portion of each gratuity is received by everyone from "servers to dishwashers, cooks to bussers, and from hosts to bakers." Upper management does not receive a portion of the tips.
Harris said this is the kind of information customers should know when considering leaving a gratuity.
"Maybe my server had an off day, but my food was still awesome," he said. "I'm still going to tip OK because I know a lot of that is going to go to the kitchen. Now, if I think the server at the end of the day is going to kick the kitchen a $5 bill and my service was awful, I might not tip as well."
In addition to tip-sharing, Mount Bakery also pays its tipped servers $15.75 per hour — something they started doing last year when Seattle set up a secondary minimum wage for tipped servers.
"We knew Bellingham was going to go there," Harris said. "We want to be a place that's good to work and do our best to make a livable wage for people. It just makes sense."
Equity among front-of-house staff and back-of-house is the goal where tip-pooling is concerned, but a 2022 article in the The Seattle Times about staffers who walked out during a shift at Capitol Hill's Barrio due to concerns about the restaurant's tipping structure showed management needs to be transparent with its employees about exactly how tips are divided.
At Makeworth Coffee Roasters, employees report they get 100% of the tips left on the POS machine. 
Tony Corral, who was working as shift lead in late April at La Fiamma Wood Fired Pizza, said the automated tip system has been a boon to employees because of its convenience, offering "one-touch tipping" to diners. Employees there share tips, which show up on their next paychecks.
At Jimmy John's, Miles Snook and other members of the crew working a recent lunch shift said they also receive 100% of the tips from the new credit card system, which are doled out at the end of every shift. Before the tip option was added to a customer's credit card swipe, only drivers got tips. Now, all shift workers divvy up the tips, with drivers' gratuity depending on the number of deliveries they make.
Bantam's Scholtz said as a business, they're entangled with the financial success of all employees since they make choices that impact people's income. The tip pooling at the full-service restaurant is divided up per day, and distributed in paychecks.
Scholtz is hoping as more people emerge from the pandemic, Bantam will continue to be a dine-out destination.
"The best thing for a business with a tip pool is to be busy," he said. "If there are businesses in town you support, go out and visit them. Tell your friends about them. Post positive reviews. Spread the word."
Ralph Schwartz contributed reporting to this story.