Root-to-Leaf
Seasonal eating: Crispy frizzled potato peels
Recipes to reduce food waste
March 4, 2023 at 5:00 a.m.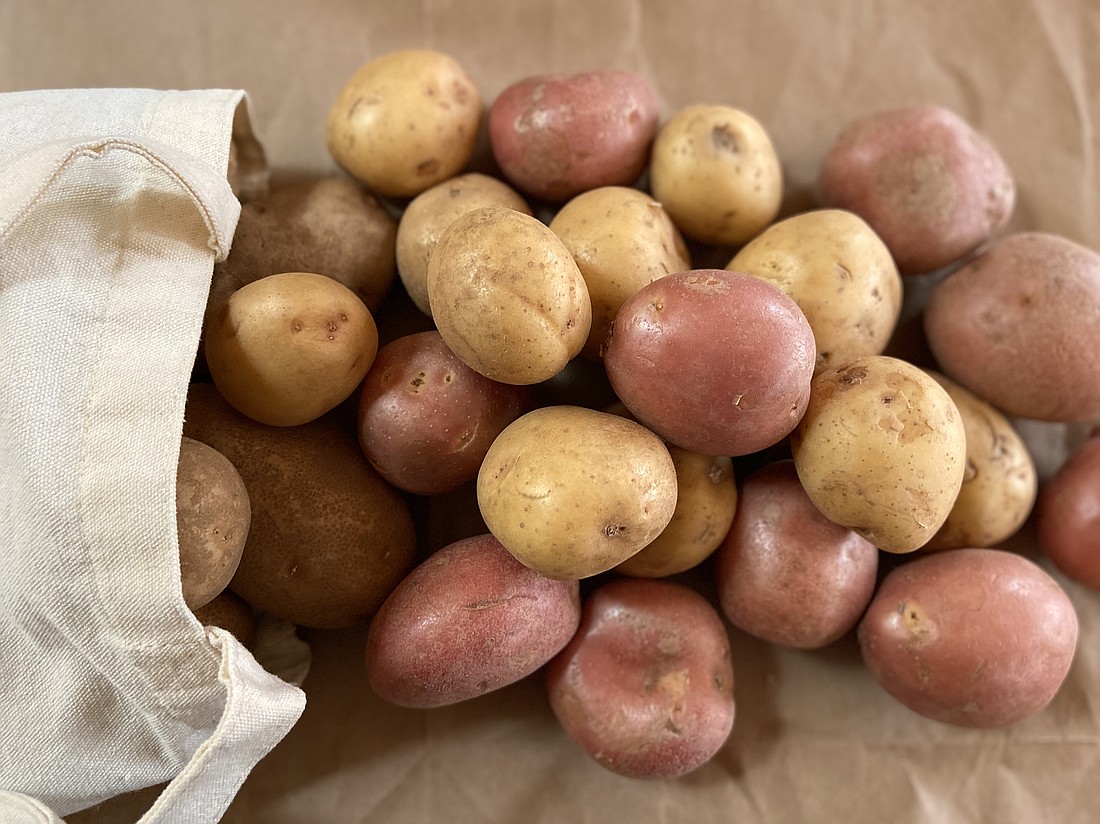 ---
---
Root-to-leaf cooking uses all edible parts of the plant with a focus on seasonal ingredients, grown and sold close to home. This recipe turns a lens to potato peels, the oft-ignored skins that feel more like a chore than an ingredient.  
We're moving slowly into spring, but my cupboard is still full of a variety of storage crops, like squash, onions and potatoes. It's felt like a long winter, which is all the more reason to find a fresh perspective on these staples.  
Of course, many of these winter vegetables are also staples of spring and summer. Consider the potato; fall heralds mashed and scalloped potato recipes, winter sees thick stews and curries, and summer is for potato salad. This crispy frizzled potato peel recipe is a transitional one, in that it can be a supplement to any other potato dish you're already making. 
For many recipes, you may want to leave the peels in, but sometimes you want the entirely smooth, creamy texture of pure potato. For these times, reserve the peels and make an easy crackling, deeply browned topping. 
Frying shredded potato skins transforms them into feathery-light crisps, which add a layer of texture to a dish and then melt in your mouth. These crispy little guys add a restaurant-quality touch to any recipe. Use to crown mashed potatoes, shepherd's pie, scalloped potatoes, potato salad, potato soup, twice-baked potatoes, potato quiche, potato tacos, or use in place of crackers, cornflakes or French-fried onions.  
One secret of cooking potatoes: peel them afterward. Whether you're boiling, steaming or roasting, leave the peels on while cooking and they slip right off while the potatoes are still warm. Refer to your main recipe to choose your cooking method. You can also cut the potatoes before cooking if your main recipe calls for it, and the skins will still slip off after cooking; the step might take another few minutes, though it's still far faster than peeling raw potatoes. 
For this recipe, I tested both boiled and roasted potatoes. I used a mix of red, yellow and small russets. The boiled potatoes were cooked in salted water for about 20 minutes until easily pierced with a fork. The roasted potatoes were tossed in olive oil and roasted at 400 degrees for about 20 minutes. 
Russets take another 10–20 minutes to cook depending on size. Yellow potatoes were the easiest to peel after cooking, and came off in just one or two pieces, while red potato skins are quite thin and came off in smaller strips. Either way is fine; we're going to finely shred the skins in any case. Roasting also resulted in easier peeling, but boiling was almost as easy. 
Crispy frizzled potato peels   
Ingredients
Potatoes, as many as your main recipe calls for  
1/2 cup neutral oil, or the fat called for in your main recipe, as long as it has a relatively high smoking point (butter, olive oil, avocado oil, schmaltz)
Salt to taste  
Method: Scrub and rinse potatoes thoroughly. Cook potatoes as your main recipe calls for. Once potatoes are cooked, allow them to cool until the skins are warm to the touch. At this point, remove the skins with your fingers, either with a pinching or gentle rubbing motion. The skins should slide off easily. Use the peeled potatoes for your primary recipe.  
If the potatoes were steamed or boiled, allow the peels to dry before proceeding. Slice the skins with a sharp knife into matchstick-sized lengths. 
Add oil to cover the bottom of the pan, about 1/2 cup. Heat oil over medium until you start to smell the oil; test with one strip of potato peel. If the peel sizzles lightly but immediately, the oil is ready.  
Add your potato peel strips all at once. Cook for 10 minutes on medium, stirring occasionally until potato skins are darkly browned and crispy. Remove to a paper towel, salt immediately, and serve.  
Notes: If you salt your potatoes before cooking them, omit salt in the last step.  
Thinner skins, such as from red potatoes, will provide more of a crisp, while thicker skins from yellow or russet potatoes provide more of a crunch.  
If you're cooking potatoes directly in a dish, like with a curry or stew, go ahead and peel the potatoes before cooking as usual. Choose slightly larger potatoes for these recipes to make peeling easier. Reserve the potato skins and follow the instructions above, but add an extra five minutes or so to the frying time since the skins will start cooking from raw.  
Add spices to your frizzled potato skins for an extra hit of flavor. After removing the fried skins to a paper towel, sprinkle with spices while still warm. Add a dash of cumin, paprika, cayenne, onion and garlic powder, or dried parsley. 
Hannah Green's Root-to-Leaf column runs on the first Wednesday of every month.