Basketball
Lynden clinches second-straight 2A state title
Lions rout Monarchs 61-43 for fourth title in five seasons
March 4, 2023 at 10:30 p.m.
|
Updated March 5, 2023 at 12:51 a.m.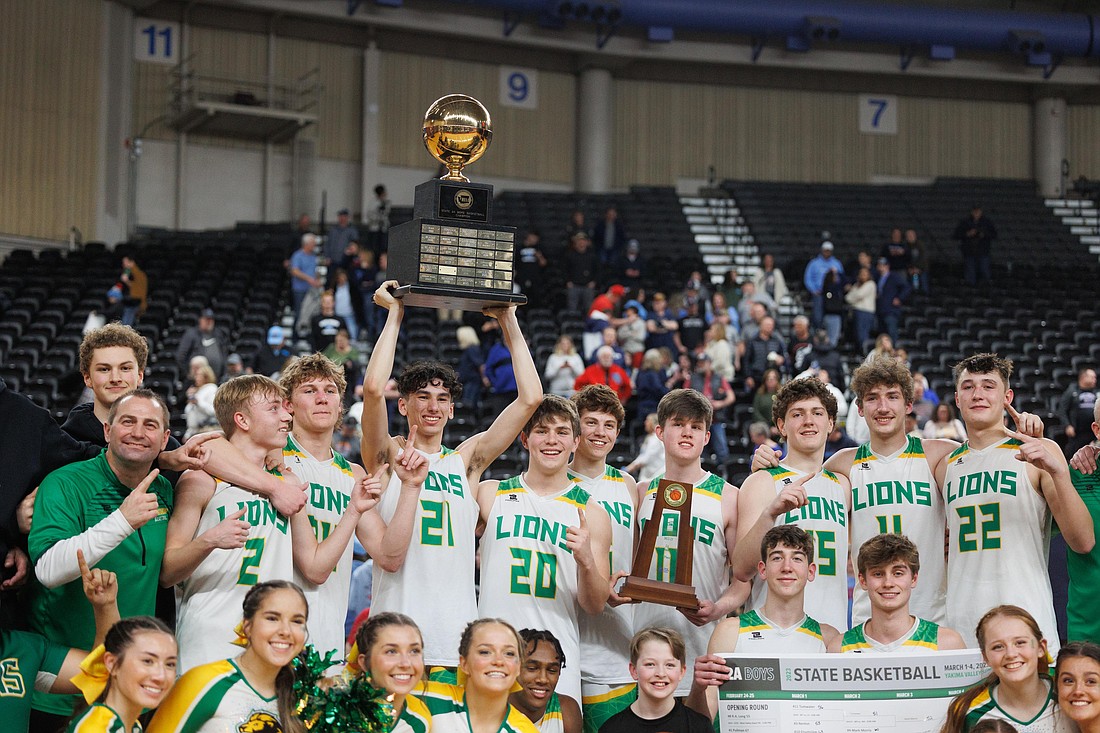 ---
---
YAKIMA — There go those Lions.
No. 6-seeded Lynden boys basketball had a delayed start to its season for the second-straight year with some of the team's biggest contributors tied up in winning back-to-back 2A state football championships.
A handful of Lynden's players are now four-time state title winners after helping the Lions' basketball team complete a repeat of their own, defeating No. 4 Mark Morris 61-43 in the 2A state championship Saturday night at the Yakima Valley SunDome.
"I just feel blessed that I have the opportunity to play for this program and play with these people," Lynden senior forward Kobe Baar said. "Over the seasons, they just become your brothers and you love them to death."
Baar, who completed his high school career as a star safety for Lynden in the fall, posted a 16-point, 12-rebound performance and threw down his first career dunk in his last-ever game.
"Kobe was special," Lynden coach Brian Roper said. "He was just dialed in. He's one of the most competitive kids I've ever coached. He just doesn't want to lose."
Junior guard Anthony Canales poured in 23 points while grabbing five rebounds to earn tournament MVP for the second-straight year. The 6-foot-4 superstar helped Lynden secure its fourth state title in the last five seasons, including 12th overall.
"It feels amazing. It doesn't feel real to me," Canales said. "I'm speechless. I'm really speechless right now."
Canales was forced into the team's top-scoring role this season with the senior talent the team last to graduation in 2022.
As far as his growth goes, Canales said it was mostly mental.
"If it was four, three months ago, there's no way that I'm playing at this high of a level," Canales said. "I was kind of a baby, to be honest with you. I'd be complaining about [opponents] pushing me and stuff. But now, I feel like I've just grown emotionally a lot. More than anything else."
Roper, in his 18th season leading Lynden, earned his sixth state championship with the program. He will never assume any credit for his success, but the school has been far better off with him than without him.
He became the Lions' all-time winningest coach in program history (529) earlier this season and has now put a bow on a storybook year.
"It's the players. My staff is the best coaching staff in the state ... We work together like no other school I know of," Roper said. "It's a community state championship. That's how I look at it. I'm just the guy who calls the timeouts and stuff like that."
The door swung wide open for Lynden when top-seeded Anacortes and No. 5 Sehome were eliminated in the round of 12 on March 1. Sehome, specifically, accounted for two of Lynden's regular season losses.
"We don't pay attention to seeds, and this year, I think if you played the state tournament over 10 times, you might have five or six different winners," Roper said. "I really believe that. It just happened to be us this year."
Lynden's defense suffocated Mark Morris, holding the Monarchs' 73.8 points-per-game offense to a season-low scoring effort and just 29.2% shooting.
The Lions did what they have done all season — aside from their 2-for-16 shooting night from 3-point range — by converting 49% of their shots and forcing 17 turnovers.
"They play so hard for each other, and they're so committed to the defensive end and the rebounding, that that travels," Roper said. "Offense can come and go, but defense travels. It's a secure investment."
Aside from Mark Morris' two-point lead with 5:46 left in the first quarter, it was complete domination by the Lions.
Lynden took a slim 11-8 lead into the second quarter, slowly building it up in the second period. From there, the Lions led by as many as 11 in the second and took a 25-16 lead into the locker room.
Senior guard Coston "Bubba" Parcher, the team's floor general, ran into foul trouble that severely limited his minutes. The Lions turned to their bench, including junior guard Brady Elsner to pick up the slack.
As the third quarter began, Lynden kept pouring it on. Mark Morris scored the most points it had in either of the first two quarters, notching 12, but Lynden added 19 on top of its total.
Meanwhile, Lynden's defense remained tough, and the Lions took their first 20-point lead of the game with 5:30 to play at 52-32.
It was all coasting for Lynden from there, and Roper got the team's reserves into the game with a minute left.
Sophomore forward Brant Heppner added seven points and seven rebounds for Lynden, while Parcher finished with seven points as well.
Mark Morris was led by 21 points from junior guard Brayden Olson, accounting for nearly half of the Monarchs' scoring. Mark Morris finished its year 25-3, placing second for the fourth time in school history.
Lynden concluded its championship-winning season 24-4 overall, claiming its 39th state trophy in program history.
The Lions will graduate six seniors: Coston Parcher, Kobe Baar, Treyson Smiley, Cameron Peterson, Alexander Matthews and Elijah Hanenburg.
"Those guys are like my brothers," Canales said of the senior class. "Ever since I came in as a freshman, they've just been there for me, I've been there for them. It just means the world to me."