Basketball
Lynden Christian claims back-to-back 1A state championships
Lyncs erase 13-point first-quarter deficit to down Knights 57-47
March 4, 2023 at 6:35 p.m.
|
Updated March 4, 2023 at 9:37 p.m.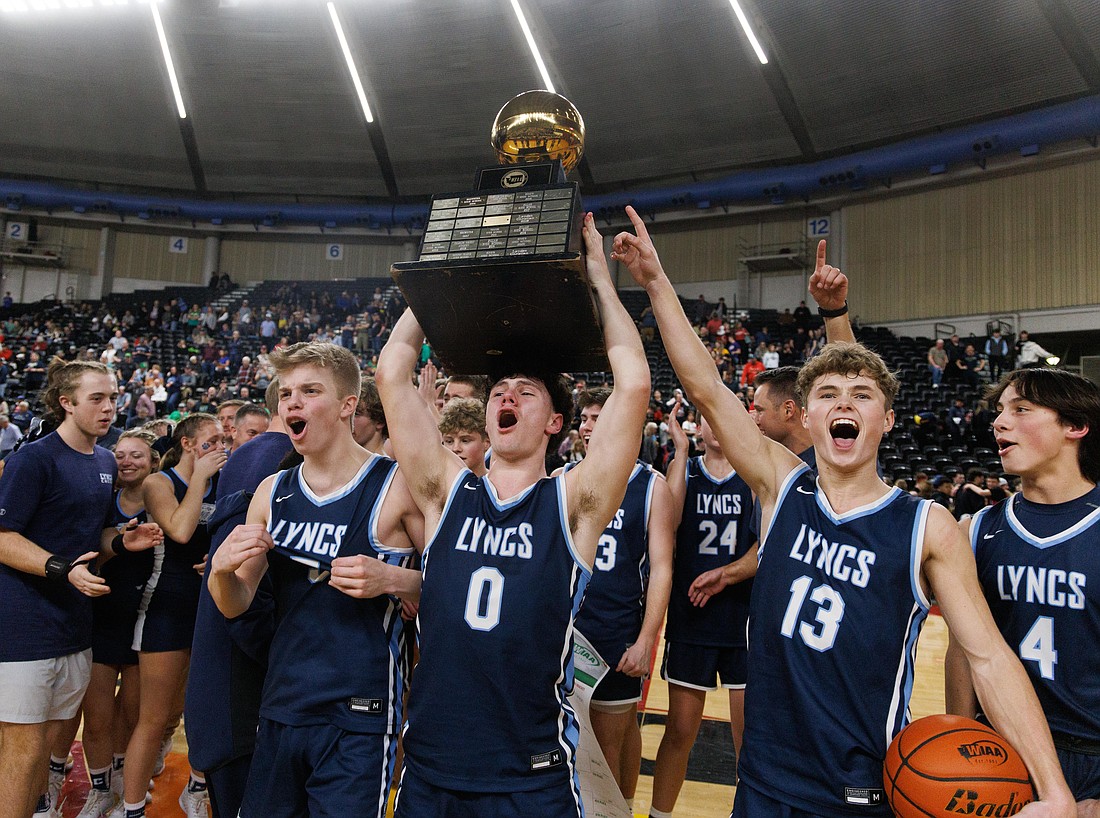 ---
---
YAKIMA — Seven other Lynden Christian boys teams have won state titles, but none have gone back to back — until now.
The top-seeded Lyncs met King's in the 1A state championship game for the third consecutive season, this time overcoming a 13-point deficit in the first quarter to win 57-47 and clinch their second-straight title at the Yakima Valley SunDome Saturday.
"To play in three, and now be the first group to do it back-to-back, it puts our team in history, and that'll forever be there," Sipma said. "I love everything about that. I love winning."
Sipma and the Lyncs' five other seniors were freshmen in the 2020 loss to King's, 70-67. Last year — with a loaded roster and wealth of veteran talent — LC toppled the Knights, also by three points, 61-58.
"Each group that comes through, you have special bonds with each one of those players," LC's second-year coach Tim Zylstra said. "To see them love each other and bond together like that is actually better than the championship."
Sipma and junior forward Jeremiah Wright led LC with 15 points apiece. Wright completed a double-double with 14 rebounds, while Sipma added four rebounds and three assists.
Zylstra gave credit to Wright for "working his tail off" in the post to improve his rebounding and turn boards into second-chance points. He also made sure his now-graduating floor general got his flowers.
"Sipma has just been incredible for three years," Zylstra said. "He had to bring it up against three teams that put full-court pressure on him and he never wavered once ... He controls the flow of the game."
LC's bench depth proved the difference when it came tournament time, as players who might have never seen the court if not for foul trouble stepped up in key situations for the Lyncs.
"The best team wins this tournament, and I felt we were the best team because of that," Sipma said. "We had a whole bunch of guys contributing this weekend, which is huge."
Senior guard Lane Dykstra understands that as well as anyone on the roster, having to wait his turn to crack the starting lineup until this season.
The 6-foot-2 hustle player finished with 11 points on three 3-pointers — one of which extended LC's lead to six with under three minutes left — and six rebounds. He's humble, too.
"I'm just a role player — just get the boards, work really hard. I hit a couple shots. It's an incredible feeling," Dykstra said. "This is a dream senior year; to win a chip. I can't even explain it. It's just immense joy."
After going down 21-8 at the end of the first quarter, something had to change for LC.
The Lyncs began quarter two with a 7-0 run, slowly getting the crowd back into it as well. King's responded and took a 27-22 lead into the locker room. Luckily, for LC, they had been in this position before.
"When that happens, [Zylstra] kind of just looks at us and smiles, like, 'guys we've been here before, we know what we're doing,'" Sipma said. "If we can do it last year, down 16, we can do anything."
LC rattled off 11-straight points to start the third, seizing a 32-27 lead three minutes into the second half. The Lyncs took a 39-36 lead heading into the fourth quarter.
King's came within one point twice early in the fourth, but LC's emphasis on attacking the paint paid off. A tough layup in the lane by Sipma gave the Lyncs a six-point lead with 3:41 to go before the Knights hit a 3-pointer to trim it back down.
"We didn't start out well. We didn't shoot well," Zylstra said. "I told them to stay with it and let's attack."
Dykstra dropped in a key triple with 2:20 left, and King's never pulled within six points the rest of the way.
Junior guard Dawson Bouma also added nine points, three rebounds and three assists for LC. Senior guard Dexter Zylstra finished with four points and three rebounds, including the dagger layup with 34 seconds left in the game.
King's was led by 16 points and six rebounds from sophomore guard Cameron Hiatt. Junior guard Nick Linhardt added 10 points and three rebounds.
"[King's is] one of the highest-level programs in the state, so getting to compete against them is always special," Zylstra said. "We'll continue to see them down the line."
LC finished its season 26-2 overall, winning its third championship in the last five seasons and claiming its 31st overall state trophy.
The Lyncs will graduate six seniors: Tyler Sipma, Dexter Zylstra, Lane Dykstra, Griffin Dykstra, Isaac Paxton and Braden Kuik.
King's finished its season 20-7, finishing second for the second-straight season.
"I can't even put into words quite yet how happy I am," Sipma said. "To be able to do it with the guys I grew up playing with my entire life, you know, we all started playing together when we were in kindergarten. It was cool to see every single one of the guys in my grade contribute to this run we made at the tournament."