Profiles
Bellingham's first female fire captain is a 'professional problem-solver'
Captain Sarah Pernick's historic promotion is the product of years of work
June 28, 2023 at 5:55 a.m.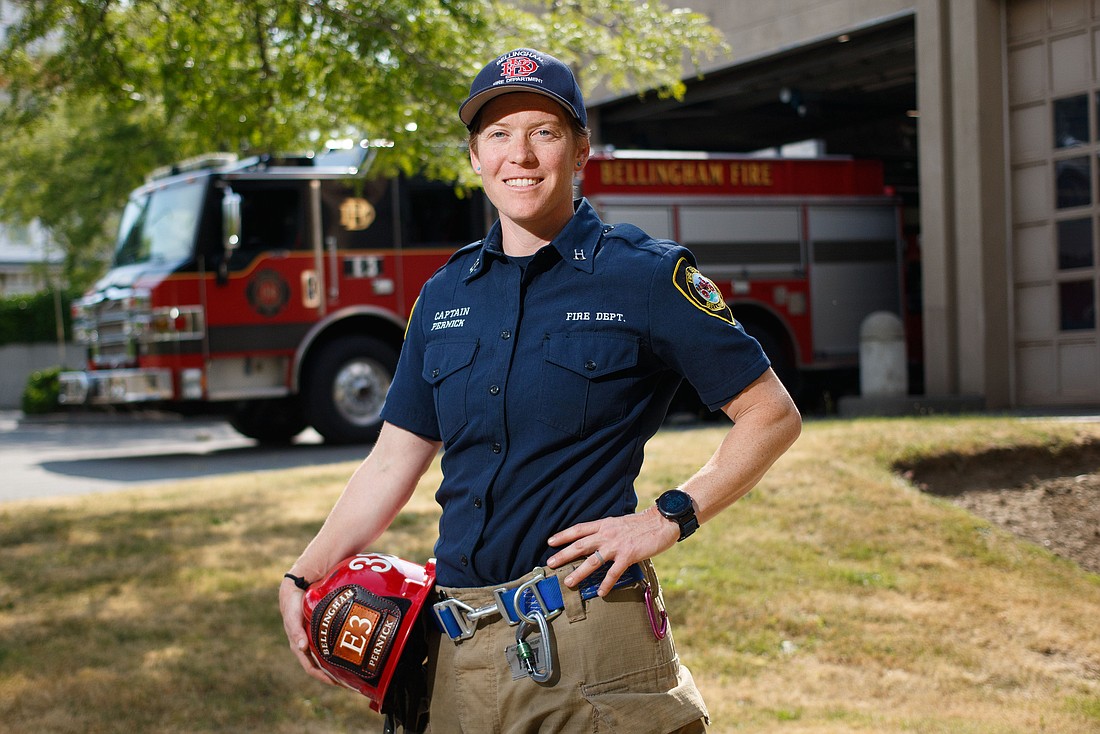 ---
---
Being a firefighter was not on Sarah Pernick's childhood list of aspirations. Before becoming the first female fire captain in Bellingham, she was a self-described "ski bum." Pernick enjoyed the outdoors, worked as a river guide in her 20s and eventually opened a whitewater rafting business with her brother.  
Pernick initially got her EMT license to help with her rafting business. There, she was surrounded by aspiring firefighters, volunteers and career firefighters who introduced her to the world of fire. 
"I got a lot of mentorship through that," Pernick said.  
From there she went from volunteering at South Whatcom Fire Authority to eventually landing a position at Eastside Fire & Rescue. Three years later, she started at Bellingham Fire Department (BFD) in 2017.  
Pernick was promoted to fire captain on April 1, 2023.  
"I wouldn't necessarily say that promoting was on my mind at that point," Pernick said. "I was just wanting to learn as much as I could and be as proficient as I could. Just be the best firefighter I was capable of being." 
To become a captain in the BFD, applicants must have worked for the department for at least five years, complete a written test, a simulation test and an interview. From there, applicants are placed on a list of promotions. 
"I wanted to be No. 1 on the list," Pernick said. "I also had this sense that when we were going to promote a woman into the position of fire captain, I wanted it to be just objectively that I came out No. 1 on the list and I got the first promotion and that's it."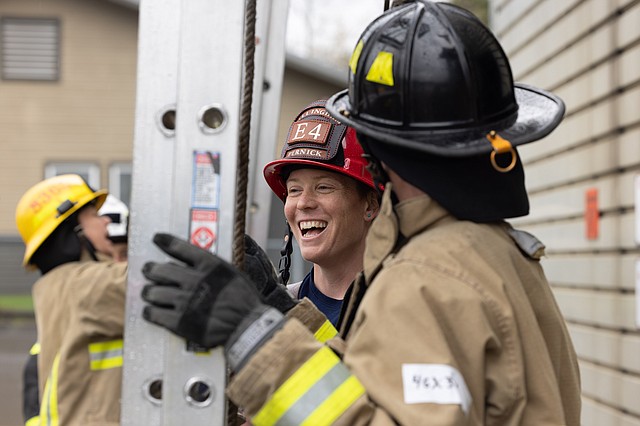 Pernick was No. 1 on the list. 
Pernick is the BFD's first female fire captain, but not their first female captain. That title goes to Erica Martin, who became EMS captain in 2006 and retired last year.  
About 6.2% of U.S. firefighters are women, according to the U.S. Bureau of Labor Statistics, a number that has been slowly growing over the years as fire departments like BFD have pushed for greater diversity. As of March 2023, 16 of 183 Bellingham firefighters were women. 
"We should reflect the community we serve," said Kristine Larson, Los Angeles Fire Department's (LAFD) assistant chief. Larson is the highest-ranking African American woman in the history of the LAFD.
Larson is also vice president of Camp Blaze, a leadership camp based around fire training for young women.
"You can't be something that you can't see," Larson said. "If you don't see women on a fire engine in that area, it becomes really hard if you take that step forward to be the first." 
One solution to the lack of diversity in firefighting is representation, Larson said.  
"You have to be intentional with the visibility of the people that you put on your posters, recruiting materials, your fire department websites, because those diverse candidates are out there," Larson said.  
BFD hosted Future Women in Fire and EMS in May this year, an event centered around visibility. Sixteen civilian participants and 20 women in the field spent two days practicing firefighting and life-saving skills.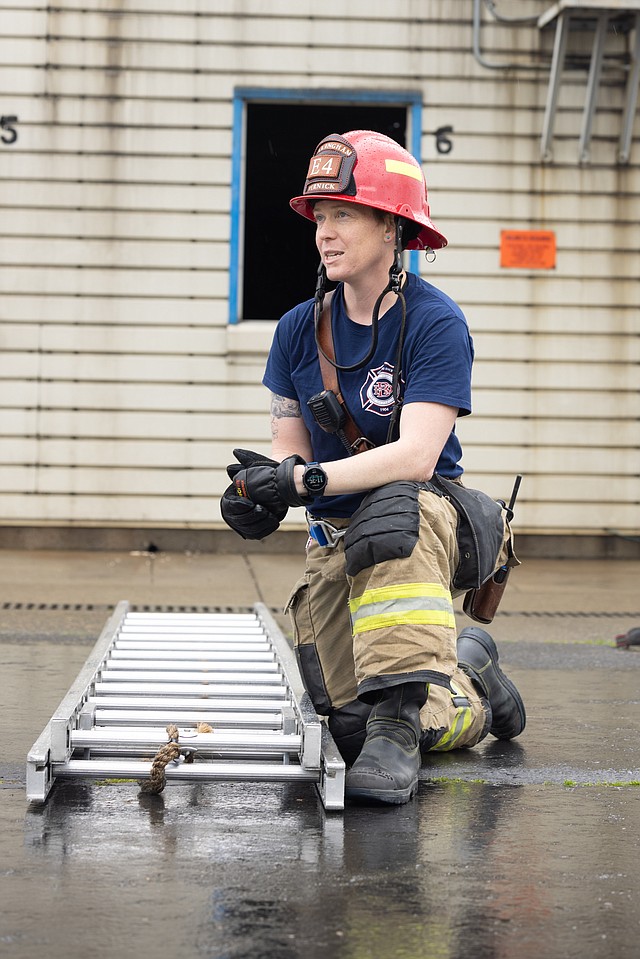 Everett Fire Department is also practicing intentional recruiting. Everett is focusing its advertising in places where diverse groups of people will see it, such as its recent recruitment at an Everett Pride event, said Richard Langford, battalion chief of the Everett Fire Department. Langford was the first Black battalion chief in the department. 
"We have to come up with a way to mass market this job in a way so that we can have an appeal," Langford said. "So, we get more people actually looking at it to see if it's something that they want to do." 
Diversity in fire is important because of the different skills and backgrounds people bring to the table, Pernick said. It can also be comforting to community members to be helped by someone they can relate to. 
"[Diversity's] not important to the career, it's important in being human," Langford said. "The more that we know, the better we're going to be, and we're not going to know more if everybody's exactly the same." 
As Pernick moves forward with her career as a fire captain, she has a couple of goals. At the crew level, she wants her team to have a "shared mission" and be able to perform well in every circumstance that might be thrown their way. 
She also wants to provide a mentorship role to other firefighters and women interested in the career.  
"There is something unique about what we do on the job as women, and particularly in a field that is so male-dominated," Pernick said. "It's not better and it's not worse, but it's different and it's important."