Indigenous Affairs
Swinomish Community creates clam garden on reclaimed lands
'Once the tide is out, our table is set'
June 5, 2023 at 8:12 p.m.
|
Updated June 7, 2023 at 3:27 p.m.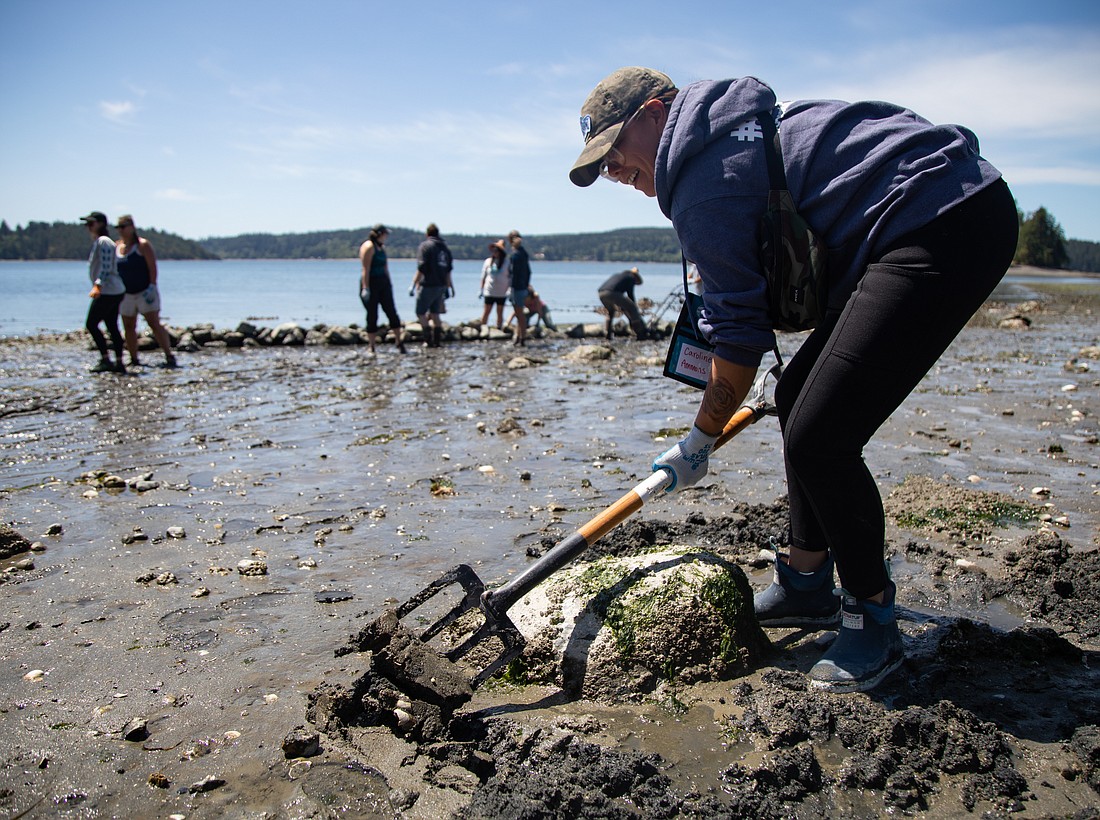 ---
---
KUKUTALI PRESERVE — More than 20,000 pounds of rocks passed from gloved hand to gloved hand in an assembly line down the beach near Kiket Island Monday afternoon, June 5, moving the Swinomish Indian Tribal Community another step closer to a modern clam garden on tribal territory. 
Those rocks — some closer to boulders — were heaved from person to person during low tides as part of the tribe's Salish Summit, a multi-day event that brought together Indigenous community members from tribes across the Pacific Ocean in the Cross-Pacific Indigenous Aquaculture Collaborative.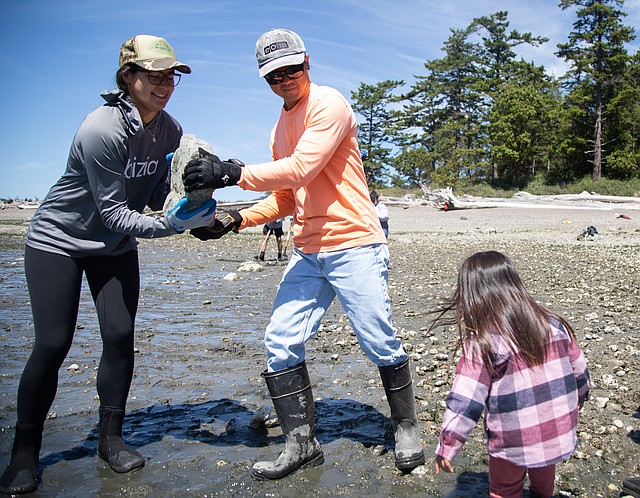 Almost 30 tribes participated, with members from Washington, British Columbia, Alaska, Hawaii, and even as far as Guam and Palau (5,642 and 6,404 miles from Bellingham, respectively) to engage in the summit, the first since COVID-19 began in 2020. 
The clam garden — a project three years in the making — represents a reclamation for many members of the Swinomish community, which resumed stewardship of the land just 13 years ago. The Kukutali Preserve land was historically managed by the Swinomish Tribe, but was transferred to private ownership in the early 1900s, leaving tribal members barred from ancestral harvesting grounds for decades.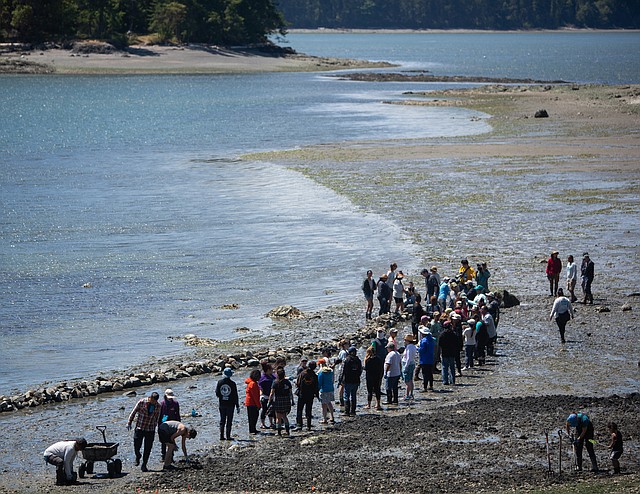 The shellfish "have been here as long as our people have been here," said Alana Quintasket, vice chair of the Swinomish Indian Tribal Community. "I have a responsibility to this project, but also to my future children and my future grandchildren. When I do have children, they're never going to know a life without a clam garden." 
Other tribal members, including the tribe's historic preservation officer Jojo Jefferson, expressed similar sentiments. 
"It's phenomenal to be back and to use our land," Jefferson said between placing large rocks in the sand Monday. "Even though we have treaties, we have still had so much that was taken from us, and we're still having to fight to get it back."
The garden stretches across several feet of beach in the Kukutali Preserve, and when complete, will provide subsistence for tribal members, as well as a community gathering space and a place for tribal members to learn about their history and their community. 
"The goal is to create a space for the community to gather, to share teachings, to remember elders and those who have passed, and to reconnect with the land," said Courtney Greiner, the marine ecologist for the tribe who spearheaded the project.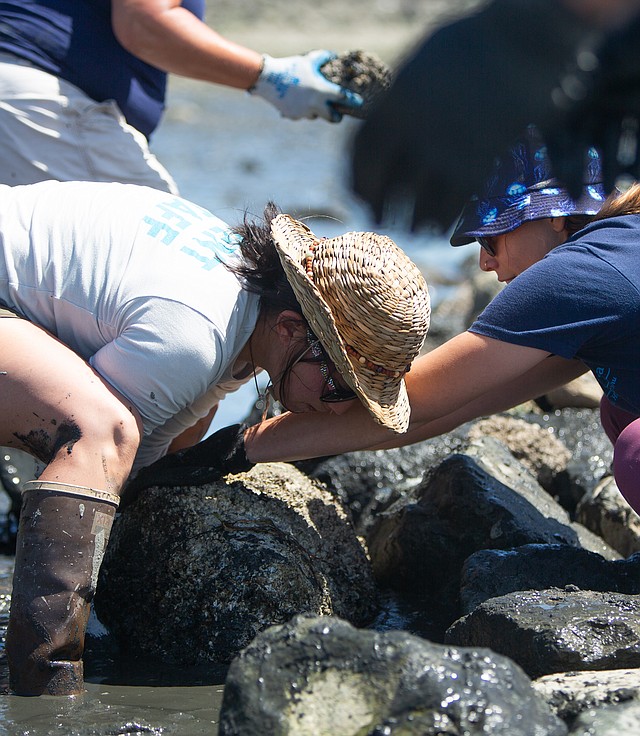 Jefferson and Greiner stood next to each other, almost knee-deep in thick, muddy sand, during the work party Monday afternoon. 
"Our elders have said in the past that once the tide is out, our table is set," Jefferson added. "To have this land back, it's a minor step forward, and there are still many steps we have to take to give back to our people, but this is a huge milestone for us." 
There was a point in time — though brief — where Joe Williams, the tribe's shellfish community liaison, worried the clam garden wouldn't come to fruition.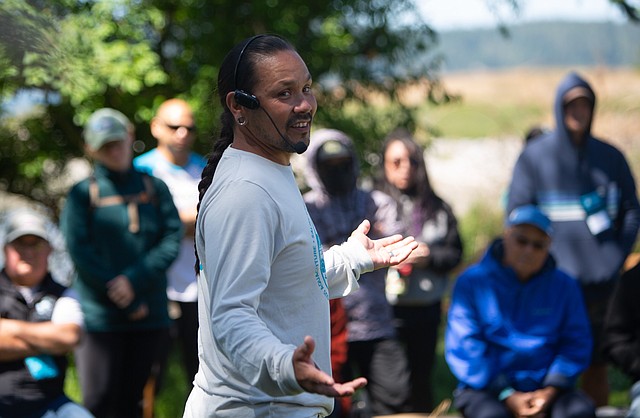 Just after the Swinomish Community began exploring plans to construct a clam garden, the plans changed drastically as COVID-19 swept through the region, devastated communities, upended travel and canceled public gatherings. 
"We were starting this Cross-Pacific Indigenous Aquaculture Collaborative right before COVID," Williams said. "When COVID hit, it just brought everything to a snail's pace. Luckily, it didn't stop the progress — it was just frustratingly slow."
While the clam garden is a major win for the tribal community, the project is also a significant boon for the local fight against climate change, sea level rise and ocean acidification.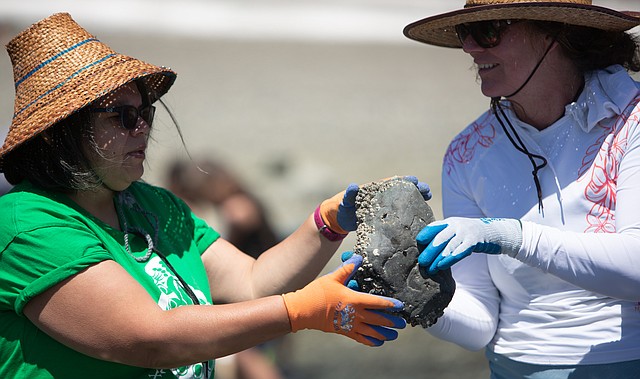 The tribe's senior shellfish biologist, Julie Barber, said the project is a win-win. 
"We recognize that sea level rise is coming, and it's already happening," Barber said Monday while digging up sand along the beach. "This wall [along the clam garden] was built a little bit higher than it would have traditionally been built, and in doing so, it [should help] create a really nice clam bed for the Swinomish Tribe." 
Barber said her main job is to ensure the tribe has access to healthy populations of shellfish, and the tribe has several projects in the works to make sure that happens.  
In the coming years, while the clam garden naturally regenerates, Barber said the tribe plans to spread shell hash as a climate adaptation strategy. The hash, which looks like broken shell bits, can change the chemical composition of water and de-acidify the water near the clam garden. 
The garden is not finished yet, but after volunteers moved 10 tons of rocks Monday, the tribe is one step closer. 
"To finally be here is a blessing," Williams said.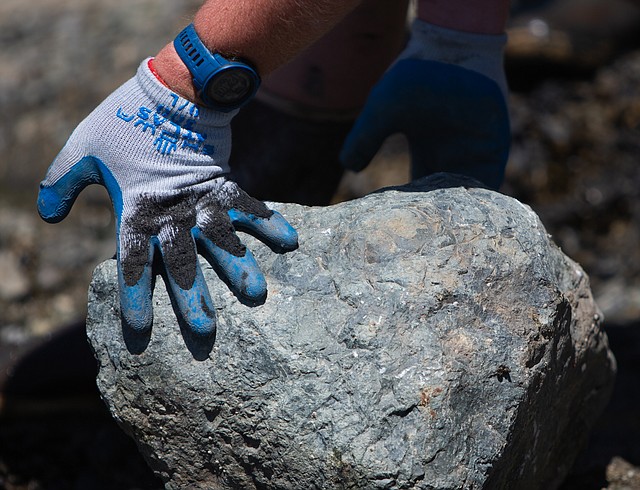 A previous version of this story misspelled Courtney Greiner's last name. The story was updated to reflect this change June 7, 2023, at 3:27 p.m. Cascadia Daily News regrets the error.