Commmunity
Anacortes woman finds purpose in war-torn Ukraine
Markéta Vorel's nonprofit raises nearly $10K, and counting, to support country
June 1, 2023 at 4:27 p.m.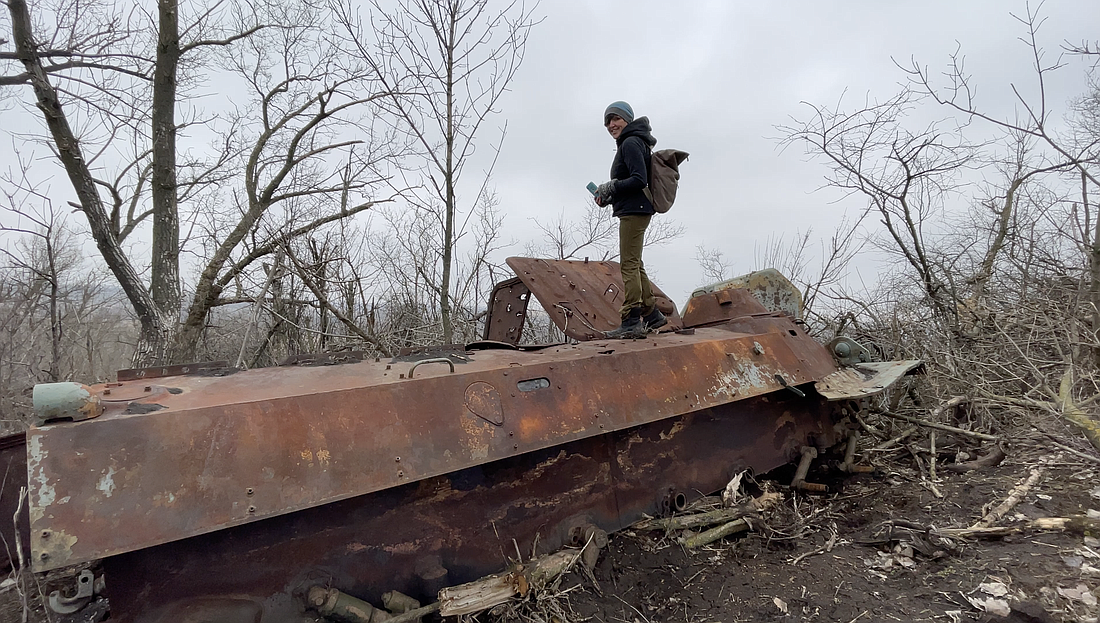 ---
---
Anacortes attorney Markéta Vorel didn't have combat experience. She wasn't a nurse or a doctor. 
Even so, she found herself drawn to the war zone in Ukraine. What she had to offer, it turns out, was a willingness to hear Ukrainians tell their stories about the Russian invasion, and an ability to pool the resources of Americans to support Ukraine's cause.
Vorel will tell her story — and more importantly, in her view — the stories of the Ukrainians she met over two months this past winter, at 2 p.m. on Saturday, June 3, at Anacortes Public Library, 1220 10th St.
"When the war broke out, I just felt so utterly helpless," Vorel said. "It really struck me at my core, because I grew up in Czechoslovakia. And so I know what it feels like to be under that kind of oppression. And I grew up with that fear that the Russians would do to us exactly what they were doing in Ukraine."
"Eventually, it just became clear to me that I really needed to go, to settle my own anxiety about it. I just wanted to be there," Vorel added. "That's as far as I can explain it. It felt like a gravitational pull. … In a way, it was a strange homecoming for me."
While in Ukraine in February and March, Vorel connected with a client of hers from Anacortes named Sharon Harris. The two crisscrossed the country, which is slightly smaller than Texas. 
"We would secure things from one town and then deliver them to another town and just constantly coordinate," Vorel said. "It was all humanitarian supplies, sometimes lethal items, but constantly on the go, which gave me the chance to see all of these different places."
Ukrainians made a strong impression on Vorel.
"They have this stoic resolve," Vorel said. "Their families are on the line, their own lives are on the line. And they have this attitude of, 'It's our home, we're not going to leave. They're going to try to kill us all, but they're going to have to kill us all. And while they're trying, we're going to continue living."'
At the library on June 3, Vorel is likely to tell the story of the night she attended a National Philharmonic of Ukraine concert in Kyiv, the country's capital, after a night of bombing. Vorel expected the concert would be canceled, for everyone's safety.
"Not a seat was empty," she said. "It was absolutely astounding to see that."
After returning to the U.S., Vorel founded Sunflower F.U.N.D., a nonprofit that delivers money to effective non-governmental organizations in Ukraine. The nonprofit's acronym stands for Funding Ukrainian Networks Directly.
"It's been incredible to actually make this happen … and to feel like even though I'm here, I'm still helping the people that I know there," Vorel said. "Because leaving felt like I was leaving people behind."
Sunflower F.U.N.D. distributed more than $6,000 in cash and $2,600 in in-kind donations to Ukraine in May. The money paid for a lot of essentials, including food, fuel, gas stoves, first-aid kits and body armor.
"One hundred percent of what you donate is going directly to Ukraine, and immediately, so I'm basically just kind of a clearinghouse for the money to go there," Vorel said.
Vorel and Harris' story was first published in the Anacortes American.