Local
Demand skyrockets at food bank serving Whatcom farmworkers
Agape Service Project feeding hundreds more families than last summer
July 28, 2023 at 5:05 a.m.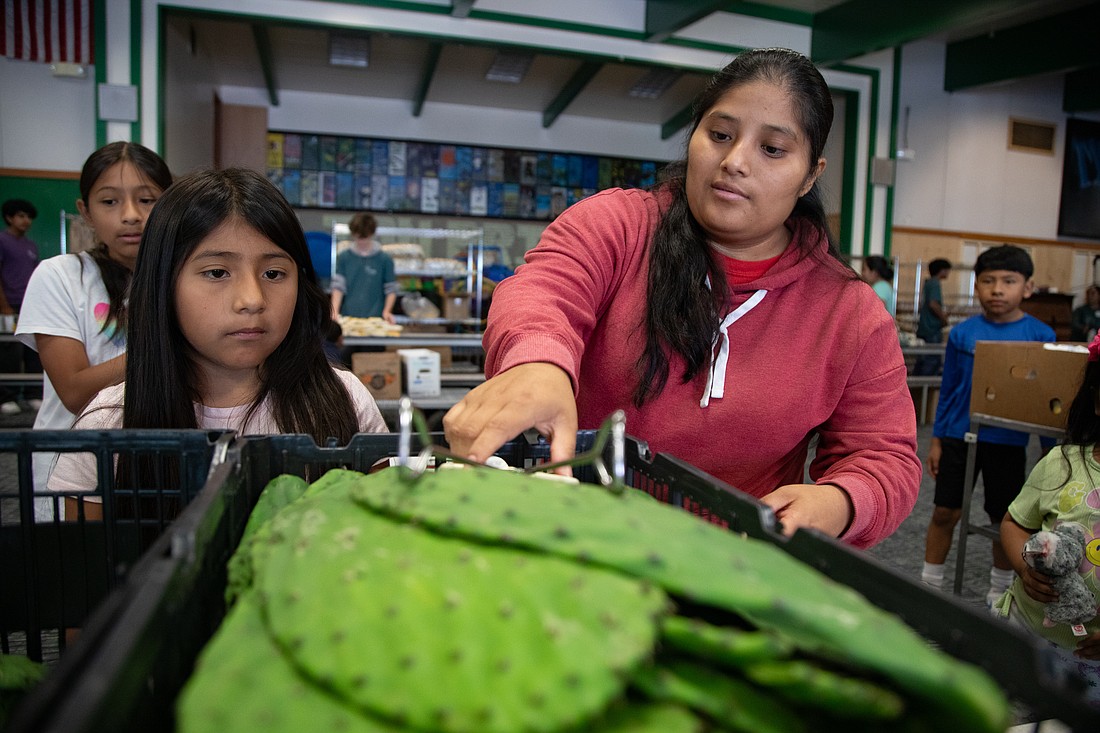 ---
---
Every Wednesday in the summer, Spanish music blares from the doors of the preschool gym housed in the Lynden School District office. A line extends outside and onto the front stairs, as people pass pulling carts filled with bags of maseca, stacks of nopal leaves, cartons of eggs and packages of diapers. 
Inside, a small group of employees and a hoard of volunteers with the Agape Service Project run a shopping-style food bank with culturally appropriate food, Spanish-speaking staff, child care and a taco stand. 
All of it is focused on supporting the majority-Latino farmworkers of Whatcom County and their families who cannot afford to buy food after spending hours sweating in the fields, hand-picking berries and other crops.
This summer, Agape is facing unprecedented demand, leading the food bank to consider expanding its services to a year-round schedule. At the start of last summer, Agape served around 150 households per week. On Wednesday, July 26, they served 665.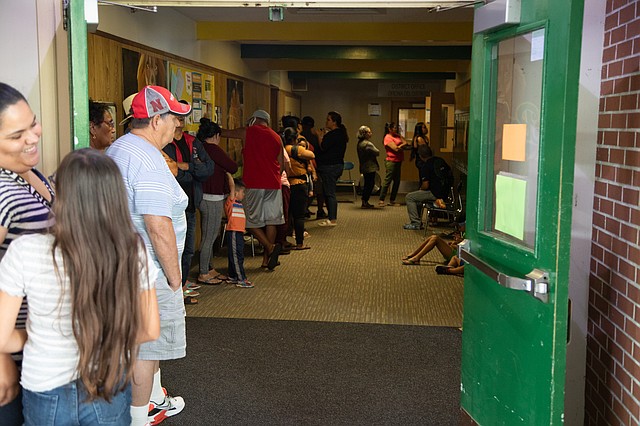 "We've blown our budget out of the water. We were planning on serving 350 families each week for 11 weeks," Agape Director Kelsey Harrington said. "Agape has always operated on the 'spend the money now, and we'll figure it out later' mentality. The miracles will come through."
Harrington attributes the rapid growth to a higher need in general, an increase in awareness of the food bank among migrant populations and more year-round farmworkers coming to the food bank. Initially, Agape aimed its services at migrant farmworkers, but Harrington estimates more than half of the people coming now are year-round residents.
In 2018, the Washington Employment Security Department estimated that approximately 2,800 workers — half of whom were migrants and half year-round — run the farms in the winter months. The count jumped to 5,499 in July and 4,868 in August due to an influx of migrant workers to manage the busiest months on the farms.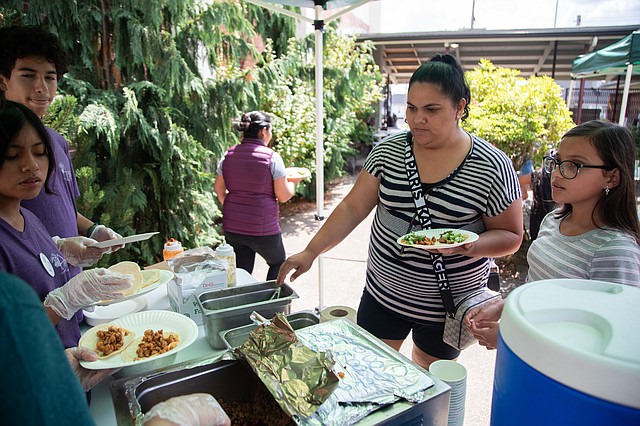 In 2004, the Archdiocese of Seattle launched the ministry, Agape, to support the farmworkers of Whatcom County. In 2007, they launched the summer food bank and also provided enrichment activities for farmworkers' children, health services and college scholarships. All of their work serves farmworkers and creates a service catered to them.
Angelica Vila Moreno said she goes to the food bank each week to access fresh vegetables and products that Latino families use, something she cannot find elsewhere. 
"Before they used to give a lot of canned food and us Latin Americans aren't used to eating out of packaged food," Vila Moreno said in Spanish during an interview. "There's a lot of canned foods and we don't know how to prepare them, and that's why I almost never went to food banks."
Moreno said she also appreciates that she can access the food bank without having to provide an ID or other detailed personal information.
"We make all of our decisions around making it as dignified as possible," Harrington said.
In the 20 years since its launch, the service program has significantly expanded and is considering making the food bank year-round, Harrington said. The organization is looking at partnerships, and grant and fundraising opportunities to be able to provide more for the community. 
Harrington is Agape's only full-time, year-round employee. In the summer, Agape hires a group of college students to help manage operations and relies on weekly groups of youth and adult volunteers coming from parishes around Western Washington and beyond.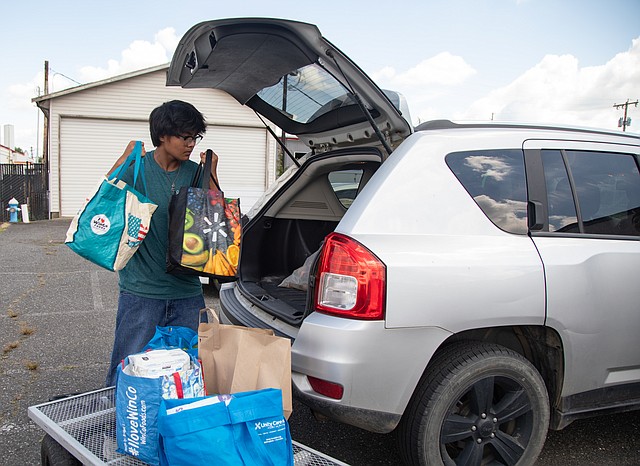 Last year, Lynden's Family Services Coordinator, Margaret Vailencour, and Harrington connected. Vailencour offered the district office space — unused in the summer — to Agape to use for the food bank, providing power and allowing them to serve perishable foods. Additionally, the space is across the hall from the Family Community Services Center, where many families already go throughout the school year for support from the district.
Agape also partners with the Bellingham Food Bank. This week, the Bellingham Food Bank provided as much as 20,000 pounds of food and two refrigerated trucks to the Lynden location. Emerging Projects Manager Max Morange said the Bellingham Food Bank wants to support populations that are in need but have not historically come to them, like the farmworker community.
"Rather than start our own effort, we want to support the efforts that already have clustered relationships in the community," said Morange, who works alongside Agape in Lynden each week.
Morange said when Agape is open once a week in the summer, it is easily the second-busiest location after the main Bellingham Food Bank, which is open three days a week.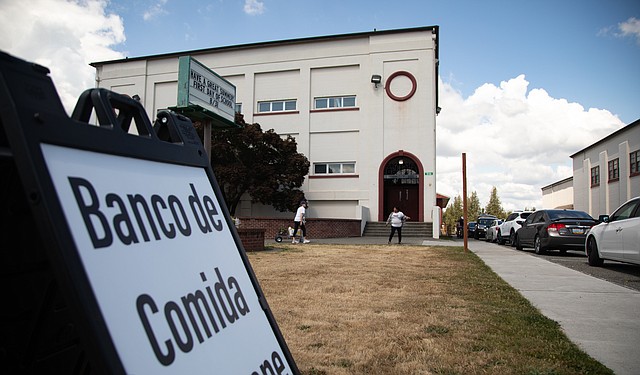 The irony of the service, Harrington said, is that the people who grow and harvest food across Whatcom County cannot afford to feed their own families.
"Food banks shouldn't have to exist at the core," she said. "I'm doing something that shouldn't have to exist, so it's a level of acknowledging something in that injustice."
"It just goes to show how much poverty there is in Whatcom County, especially in the farmworker community," said farmworker and activist Rosalinda Guillen, founder of Community to Community Development.
Guillen called attention to how food banks are a Band-Aid on the food system's gaping wound, and argued they should be an emergency measure and should not be relied on for the food system to function. The banks, she said, are subsidizing the agricultural industry and ultimately enabling the low wages paid to farmworkers for their skilled work as farmers and, especially, berry pickers.
"The skill level of a farm worker picking a blueberry or strawberry is so high that the handpicked berries in the marketplace are the most expensive," Guillen said. "That is where the big money is for the agricultural industry."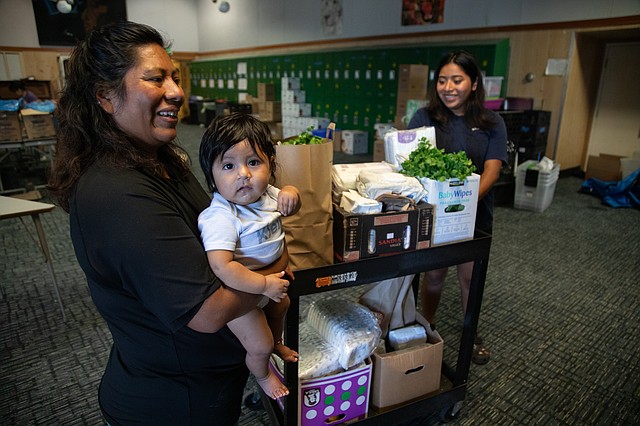 Dillon Honcoop, Save Family Farming's communications director, said the issue is a symptom of a larger problem with the food system, in which profits don't trickle back down to the farms and, therefore, the farmworkers who pick the food.
Honcoop pointed to how U.S. farmers have to compete in a global marketplace, where growers from other countries pay pennies for labor and buyers look for the cheapest price. The U.S. additionally has a prerogative to keep food affordable and has made it some of the cheapest in the world with Americans spending about 10% of their disposable personal income on food in 2019, according to the U.S. Department of Agriculture. 
"There's long-term economic policy that has been geared toward keeping our food cheap," he said, "and sadly it's farms and farmworkers who have borne the brunt of that."