Environment
Timeline for Tokitae move unrealistic, state officials say
New concerns raised about disease transfer, net-pen structure
July 27, 2023 at 5:00 a.m.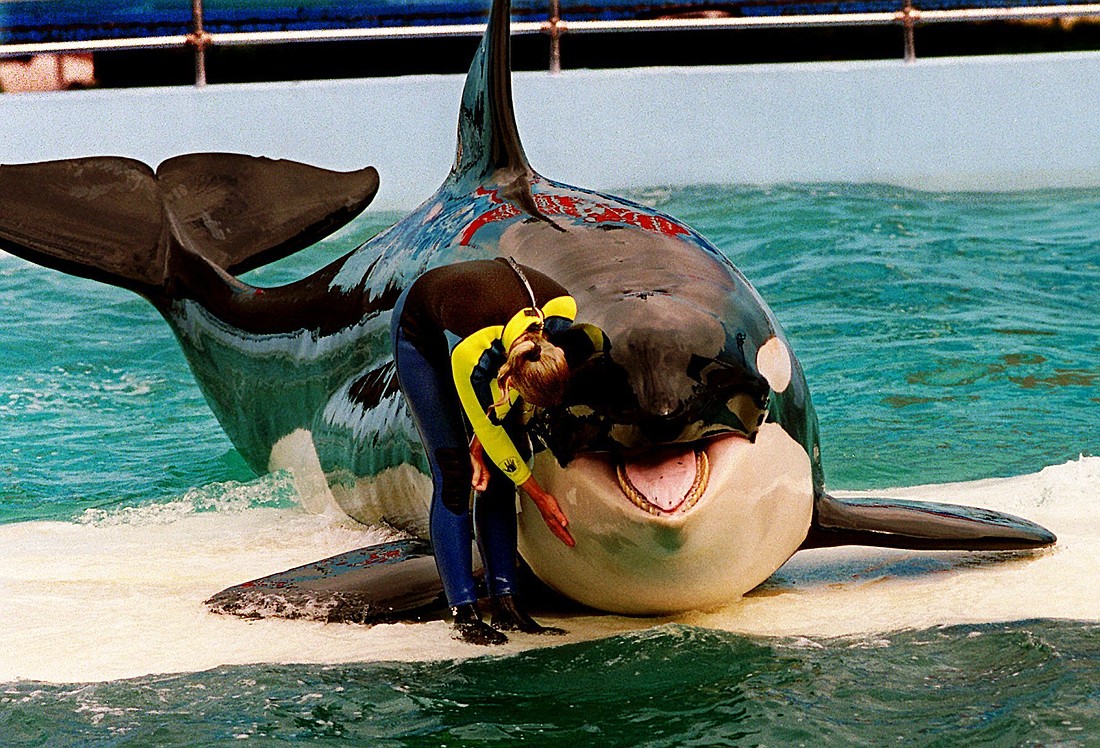 ---
---
Ambitious plans to move the orca Tokitae — a 22-foot Southern Resident killer whale in captivity in Miami for more than 50 years — to an undisclosed location in north Puget Sound by the end of the year are not realistic, officials responsible for permits and logistics say. 
Others studying the move, meanwhile, have introduced a further possible wrinkle in relocating the whale: concerns that Tokitae might spread pathogens to her long-lost relatives, or vice-versa.
The expensive relocation plan, announced in March and financed in part by Indianapolis Colts owner Jim Irsay, called for the whale to be transported as early as November this year by plane, from an 80-by-35-foot tank at the Miami Seaquarium to a 10-to-15-acre net pen in Washington. The hope is that the whale, under care and feeding by trainers and veterinarians, would learn to feed itself and perhaps reconnect with the 75 wild Southern Residents from whom she was taken. 
State employees charged with environmental permitting for projects like this say the timeline is unlikely.
"I laughed at November," said Jim Thornton, the environmental permit coordinator for the Washington Governor's Office for Regulator Innovation and Assistance (ORIA). "The short answer is we're nowhere because they have not applied for any permits."
After months of work and studies, plans to transport Tokitae are no closer to coming to fruition without permits, which must be issued by an array of both federal and state officials.
Thornton said Friends of Toki, the group sponsoring the move, initially reached out to Washington's ORIA — which Friends of Toki optimistically called "the one-stop process for state permitting" — in March to learn about which permits the group would need to build a net pen in state waters, then transport the aging whale into its confines. 
Since then, the group has brought on project consultants and launched studies into possible "pathogen transfer" and acoustics to protect both Tokitae and the Southern Residents. 
Pathogen transfer is a big concern for environmentalists, who worry the whale may not have immunity to Salish Sea bacteria — or may introduce new illnesses that could threaten the remaining Southern Resident population. Friends of Toki, though, said experts in marine mammal epidemiology and infectious disease "have been engaged to recommend appropriate distances for net positioning to mitigate this potential issue." 
That net, though, could bring problems of its own. 
In Washington, net pens have a controversial history, and commercial net pens have been banned by the Washington Department of Natural Resources. That's why the group is calling it an "ocean enclosure," Thornton said. 
"We're calling it an ocean enclosure, but it essentially is just a net pen," he said. "It isn't different from a net pen. That's just how we term it." 
Though Tokitae's enclosure has nothing to do with commercial fish-farming, concerns remain. Commercial net pens, banned in the state just last year, have been called "harmful" for the coastal ecosystem, particularly after the 2017 pen collapse near Cypress Island that released approximately 250,000 non-native Atlantic salmon into Puget Sound. 
The 2017 collapse was decried as an environmental disaster at the time, and small numbers of Atlantic salmon were later found upstream in Puget Sound rivers, including the Skagit. None of the salmon have proven to have reproduced or established an ongoing population in Puget Sound, however.
The permitting process will require signoff from at least a dozen local, state and federal agencies, including the U.S. Army Corps of Engineers, the Coast Guard, the National Oceanic and Atmospheric Administration (NOAA), U.S. Fish and Wildlife, and the state Departments of Natural Resources, Ecology and Agriculture, among others. 
Several of those organizations, including the Corps of Engineers and NOAA, said this week they had not received any formal permits or requests, and were not ready to evaluate a possible move. 
"Construction on her seapen will begin once all necessary approvals have been granted," according to a July 26 email from SacredSea.Org, one of the partner organizations working to bring Tokitae back to Washington. "We are hopeful that she will be home within the next year." 
Thornton said her potential arrival is probably closer to 18 or 19 months out, given the breadth of the project, the permitting requirements, construction of a net pen and flying the approximately 8,000-pound whale across the country — arrangements for which have not been made. 
Groups involved have declined to identify the preferred location of the sea pen. 
In the coming months, Thornton said local, state and federal agencies will meet with Friends of Toki to discuss issues related to the project and what agencies are expecting to see in permit applications. Friends of Toki will also share details about long-term maintenance for the net pen. 
In the meantime, Friends of Toki is still working with consultants and engaging local tribal organizations on the plan to bring the orca home. 
"Consultation with the Indigenous nations in Washington State to respectfully seek their support for Toki's relocation site and the enclosure design and installation are among the most important aspects of her relocation process," Friends of Toki wrote in the July 12 update.
"Although over the years, many tribal leaders and tribal elders have discussed, planned and celebrated many elements of plans to return Toki to her birth waters, we are now initiating meetings to share the precise plans and concepts for her return."