Community
Brigadoon Service Dogs connects canines with clients
Bellingham-based nonprofit aims to offer 'a helping paw'
July 27, 2023 at 5:00 a.m.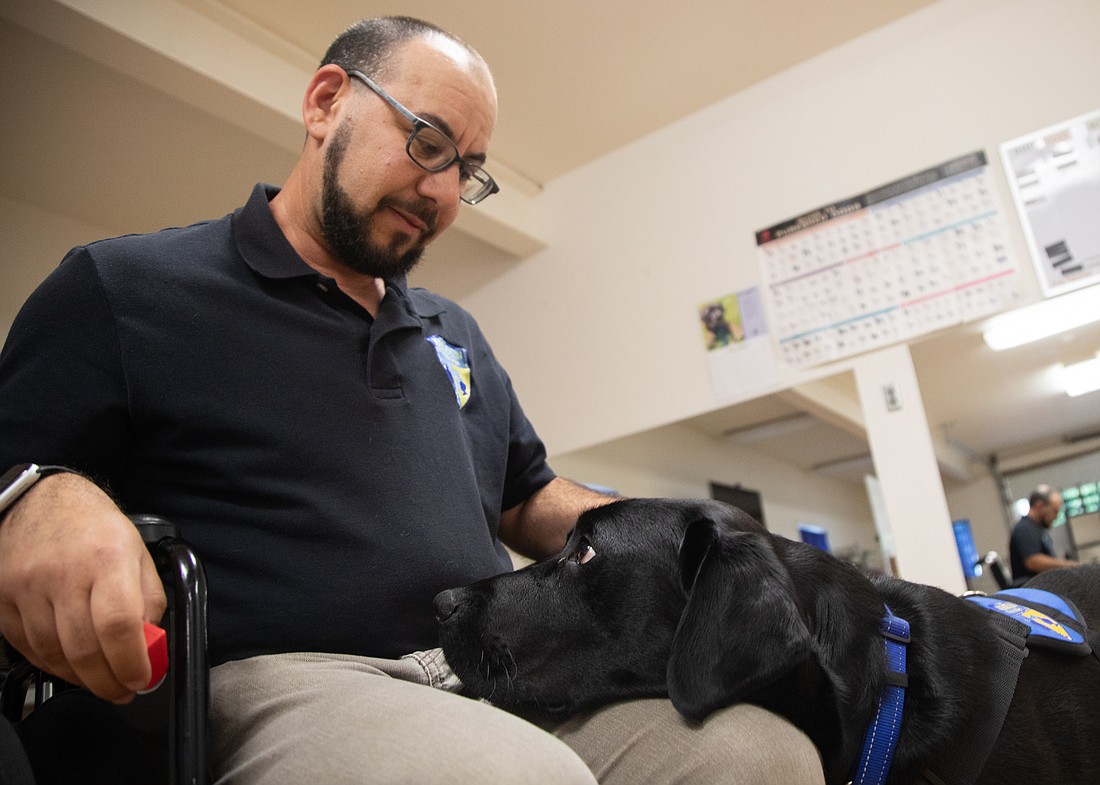 ---
---
The first thing Gig Harbor resident Sandra Wade does when she wakes up in the morning is have her service dog, Pharrell, retrieve his collar with a cue she calls "yours." After she puts it on him, he then brings her red medical bag to her and, if she needs a shoehorn, she uses the cue "feet" to have him get it. 
Pharrell, an English Labrador trained by Bellingham-based Brigadoon Service Dogs, has been with Wade, 66, for five years. Diagnosed with PTSD, Wade, an Army veteran who served during the latter part of the Vietnam War era, depends on Pharrell to navigate the world. 
"He helps me get through my day," Wade said. "If I ever sniffle or use a tissue or if I'm standing too long — not moving along in my day, or my task — he comes straightaway."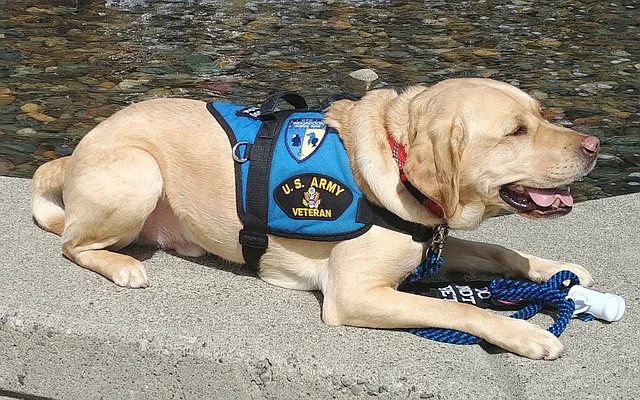 As he was trained to do, Pharrell also helps her with mobility issues. Wade fell in her yard a couple of weeks ago, and the first thing he did was retrieve her cell phone. When she used the cue "brace," he helped her stand back up. 
"He's made my quality of life much better," Wade said.  "It would be an emergency if I lost him; he's everything to me. He's my partner." 
From puppies to partnerships 
Where Brigadoon Service Dogs are concerned, Pharrell and Wade are a success story. Like the other canines trained at the nonprofit's headquarters off Mission Road, it takes a lot of time and effort to get a dog from being a cute-as-a-button puppy to a full-fledged service animal who is able to assist anyone from veterans to children and adults with physical, developmental and behavioral health disabilities.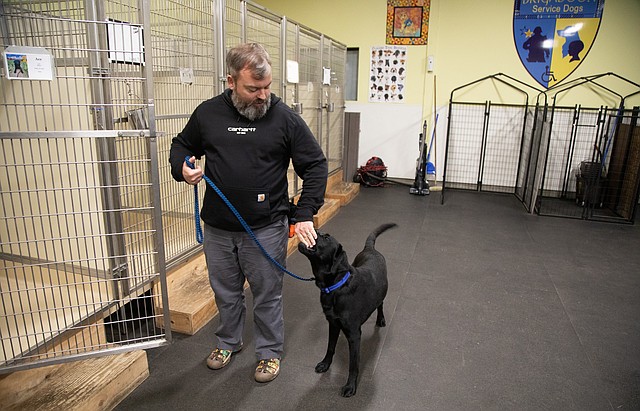 A lot of help is needed along the way, Executive Director Kevin Ryan explained on a recent afternoon. From 8 weeks old to 8 months old, the puppies live with volunteer trainers. From 8 to 16 months old, they're housed with prison inmates at four locales throughout Washington state for intermediate-level training using positive reinforcements of praise and nibbles of food. 
"It's a highly sought-after position in prison," Ryan said, noting the program is a common model for the service dog industry, and that Brigadoon is one of two Assistance Dog International (ADI) accredited organizations in Washington state.
"The people in the program tend to be those who are incarcerated for long periods of time," he said. "They are people that are behaving well, doing well in the prison system." 
After prison, the dogs are ready for more intense training, and make their way to Bellingham to get it. Ryan said it can take as many as 22 to 26 months to fully train a dog, and they might get to month 23 and find out the dog's not going to make it all the way to service. If not placed, Brigadoon works to find a suitable adoption for them.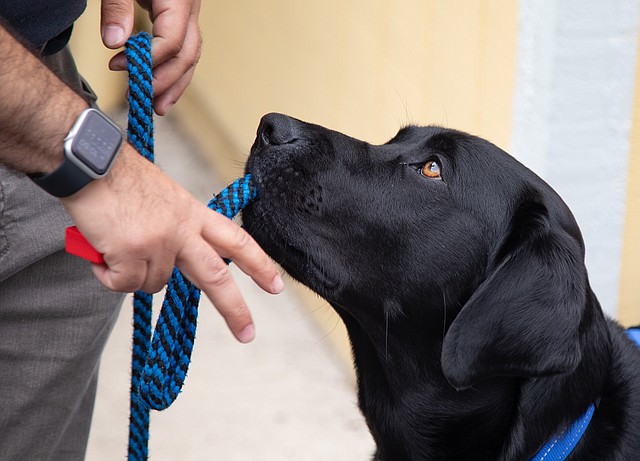 Crucial to the process is a two-week team training each new client goes through with the dogs who have been paired with them. Ryan — who recently retired from the Marine Corps after 23 years and joined Brigadoon in March — participated in a team training with the last three clients (all of whom are veterans) and was able to glean valuable details about the process. 
"It was super-rewarding to go through the same two weeks of training that they do," Ryan said. "I went through with Ace, one of our dogs, and was able to see what their experience is like and how much we're asking them to do."
Training by the numbers
In addition to the 22-plus months it takes to train a service animal, Ryan estimates it costs more than $30,000 to raise each dog. When they factor in training, food, transport and medical care (including intensive veterinary screening to ensure the dogs are in the peak of health), the fees add up. 
Thanks to grants and fundraisers — including a "Service Dogs 4 Veterans" beer and barbecue event taking place Saturday, Aug. 5 at Boundary Bay Brewery to raise money to pair veterans with service dogs — veterans don't have to pay for their canine companions. (Civilians need to pay as much as $10,000, but typically have a year or more to raise the money.)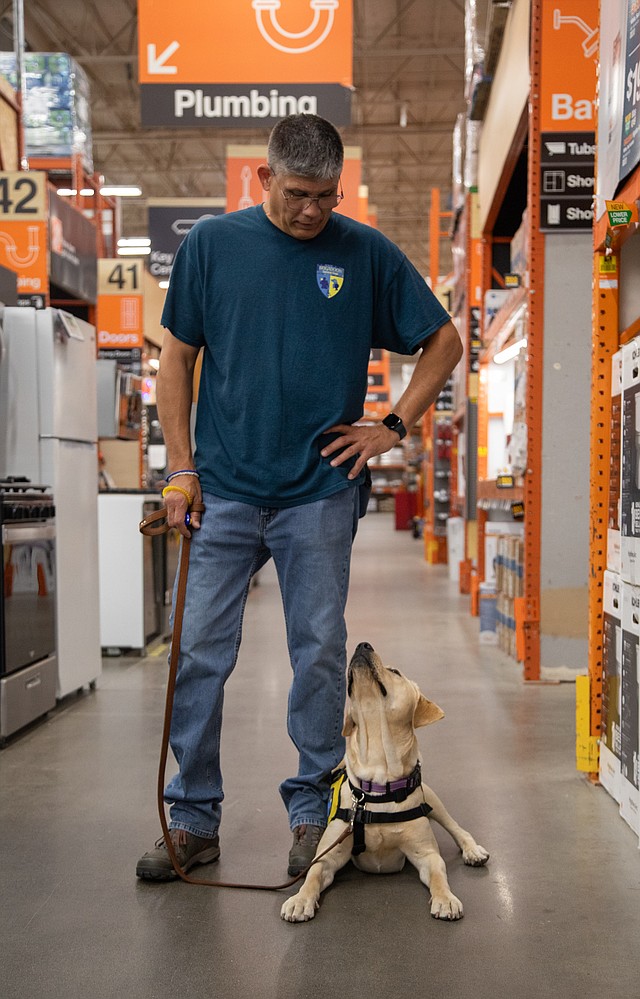 Other numbers of significance include approximately 50 cues the dogs are taught, which then turn into tasks such as "look," "get it," "bring it" and "give."
"We're looking to make sure the dogs can perform the cues no matter the stimulus around them," Ryan said. "Just because they know how to sit in this [training] room doesn't mean they know how to sit everywhere. We do a lot of public interaction. We take the dogs to Tractor Supply, Home Depot, grocery stores, etc. It starts to help generalize their behavior."
Additionally, as many as 50 volunteers are needed on a regular basis to come do things like play with dogs, mow the lawn, help contact donors, lend their bookkeeping talents and, as mentioned before, foster and train puppies.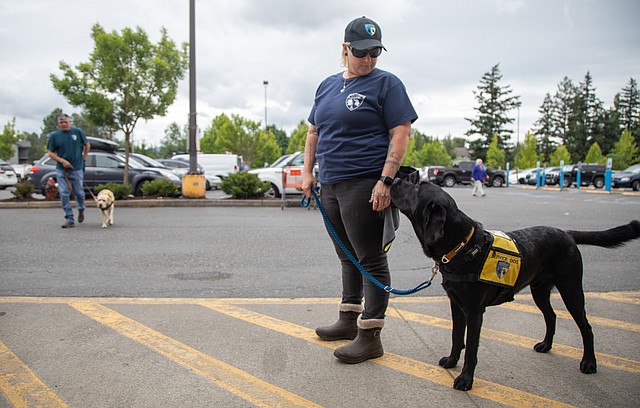 Happy endings  
Shawn Crincoli, the dog program manager at Brigadoon, loves what he does. Training dogs is something he's been doing professionally for more than seven years, but he said matching and placing the dogs with clients is a joy. 
"The most rewarding part is knowing we've actually changed somebody's life and seeing the person working with the dog," Crincoli said. "For me, the matchmaking part is one of the more fun and interesting parts of what I do as the director of the dog programs." 
Sandra Wade feels like she was perfectly paired with the dog she calls "Pharrell, Loving, Wiggle-Butt Wade." She said he has a serious side, but is also a happy worker who makes her life better whether she's at the grocery store, on an airplane or at home. 
"We need more service dogs, and more ability to have them," Wade said. "Brigadoon holds all kinds of events throughout the year to raise money. I try to be supportive and let people know what's happening." 
"Service Dogs 4 Veterans" takes place from 5:30–9 p.m. Saturday, Aug. 5, at the beer garden at Boundary Bay Brewery, 1107 Railroad Ave. Tickets are $90 and include food. Trainers, dogs and puppies will be in attendance. Info: brigadoondogs.org. 
July 26 marked the 33rd anniversary of the Americans with Disabilities Act (ADA). The Northwest ADA Center invites citizens, businesses and public entities to seek out the NWADAC to leverage its many services, such as free technical assistance, research and training options — including service animal dos and don'ts. Info: nwadacenter.org. 
A previous version of this story misstated how many years Brigadoon Service Dogs Executive Director Kevin Ryan was in the Marine Corps, and also misstated the date of the "Service Dogs 4 Veterans" fundraiser. The story was updated to reflect these changes on July 28 at 9:50 a.m. Cascadia Daily News regrets these errors.