Visual Art
From abstraction to realism, Skagit exhibits invite introspection
Nature on display in Edison, Mount Vernon
July 24, 2023 at 5:00 a.m.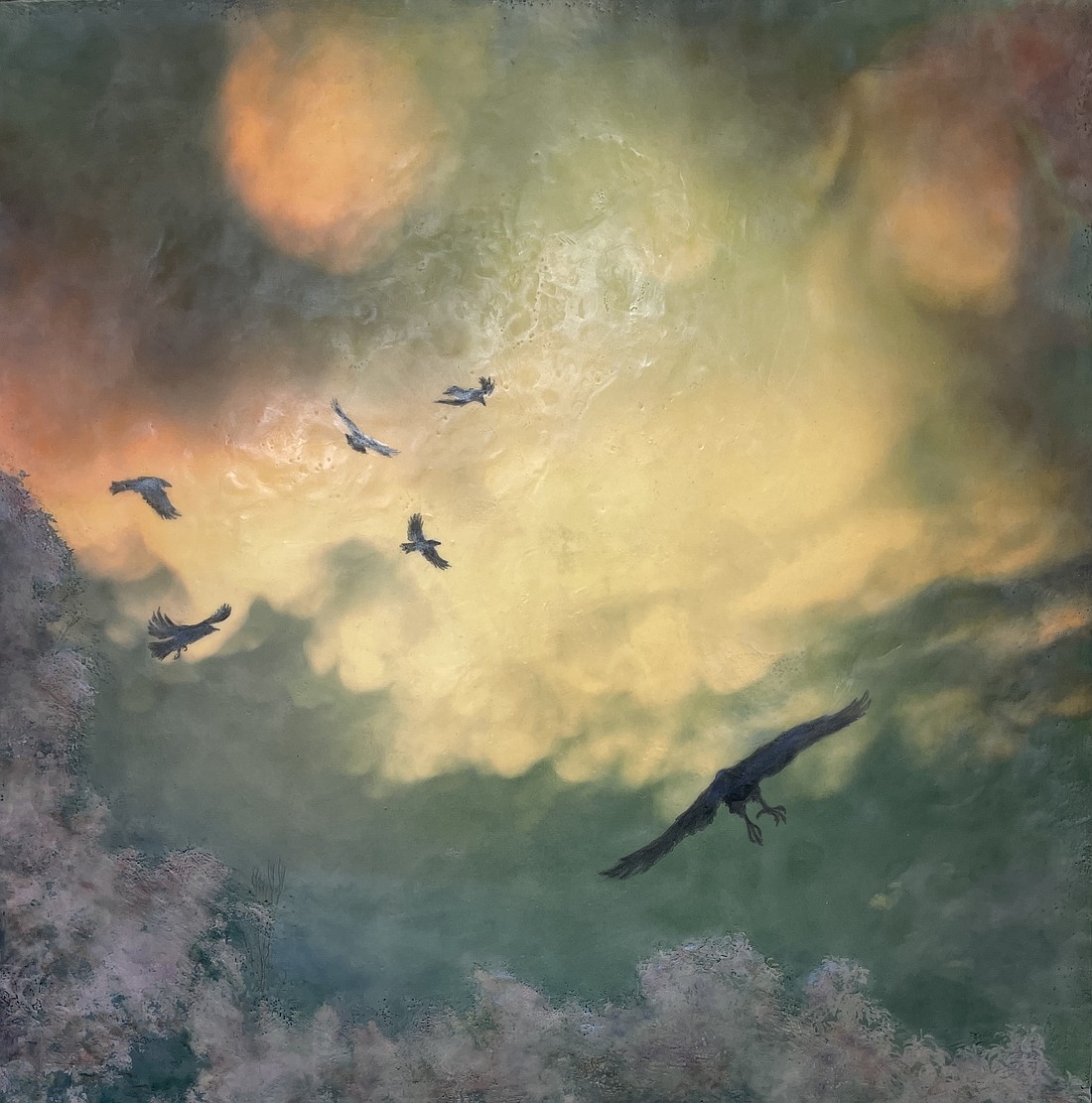 ---
---
A cluster of what appear to be penguins stare in Joshua R. McDonald's "Scented Dusk" — one of his oil and cold wax works on view in the exhibition "Terrebonne" showing through Sunday, July 30 at Edison's I.E. Gallery. 
My eye seeks something living among the curves and blocks in this very patterned abstraction in warm brown, black and several very subtly registered hues of green — the whole neatly scored with vertical lines. And taking a step back, you may be startled by a doubled composition peeking from behind. Several of McDonald's works also feature a smaller profile of an animal — in this case, a rabbit — hiding among the abstract elements.
All of McDonald's pieces on view share a limited, harmonious palette and restrained, evocative shapes. "Shadow Marsh" hints at swans and perhaps an elephant, while at the same time preserving a strictly cubist aesthetic.
The exhibit is named after the small town of Terrebonne, Oregon, near where McDonald lived as a child. He mixes abstraction and symbolism to express his love for the high-desert landscape and the ranch house where he grew up.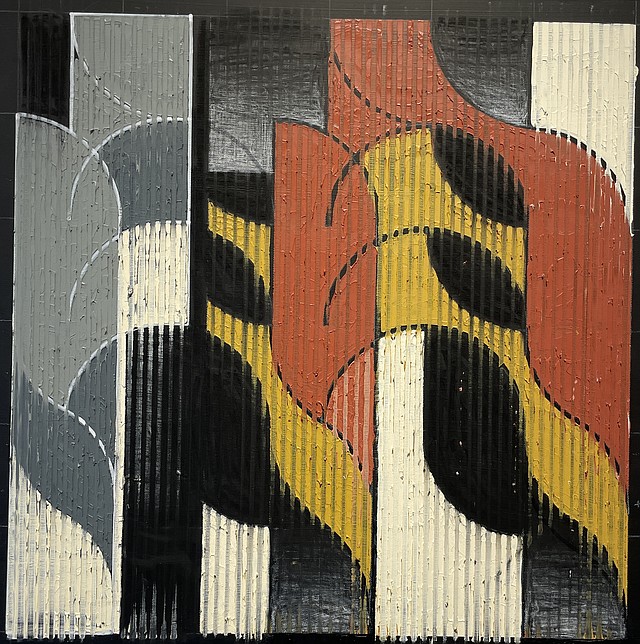 In his painting "Red Acres," animal references are replaced by blades of grass in the colors earth-red, tan, white and black. The series of gestures and warm tones in "Lonesome Co." appear to suggest the spirit of 1920s "flappers." It's a work of great confidence; something about the nodding shapes tugs at the heartstrings.
As McDonald's work becomes more complicated — "Some Hills Are Never Seen" and "Grazer" — it risks becoming overwhelming. "Nature Revisited," constructed of a few vertical, repeating elements, provides a satisfying structural solidity.
His smaller works such as "Cruciferous," "Slow Dive," "Sowing Seed" and "Grassland" suggest ingenious puzzle pieces. I would welcome all four of them to enliven a hallway.
Altogether, this is a refreshing exhibit of inspired work by a young master, from whom we can expect to see more great things.
In Mount Vernon, "Hem of Heaven" is the title of an exhibition of the realist work of artist Catherine Eaton Skinner at Perry and Carlson Gallery. In a lifetime devoted to art, Skinner has found inspiration equally in the Northwest environment and Eastern philosophy. She has mastered many media, and in this rich exhibit, offers monotypes, encaustics, oil-on-prints, bronze castings and even poetry.  
Ravens and trees are among Skinner's favorite subjects. "Rising Ravens IV" contains 20 bird images composed of beeswax, graphite, Encaustiflex paper, lead sheeting and bamboo, all suspended from a wood panel. "Birdman" memorializes ravens in cast bronze, and in "Kunzi IX" she portrays another flock within a lead-covered panel, itself hung with a plumb bob.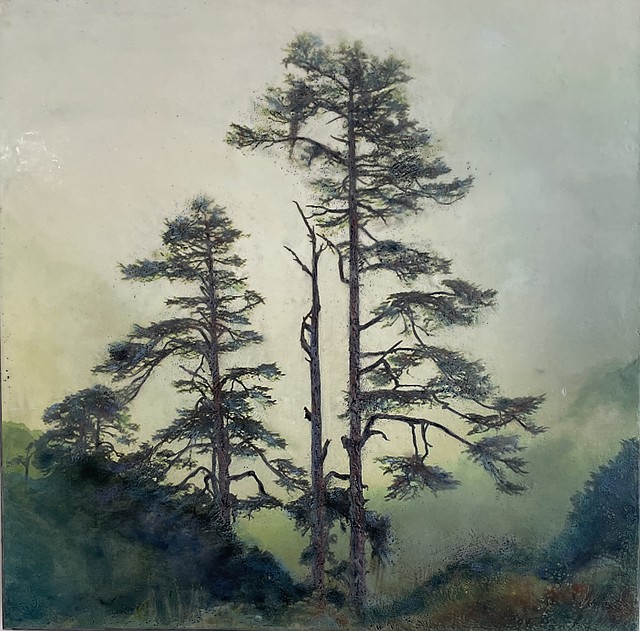 Her "Lungi Kam" works are delightful in encaustic, oil stick and graphite, portraying ravens soaring against splendid skies. Skinner arranges 30 of the corvids quite convincingly in "Lungi Kam XI." "Lungi Kam XV" sets five of the magnificent birds against darkening clouds. In "Lungi Kam XVI" a half-dozen ravens celebrate a sensuous sky dominated by two hypnotic, rosy orbs. 
Skinner's "Tangent" encaustics are subtle and colorful abstractions. "Passages IX" (encaustic, oil stick, paper on panel) is a semi-realist work boasting a magnificently rendered sky. Photo-monotypes "Forest" and "Marsh" are beautiful and quite abstract. "Forest III," in faded yellow streaked with red and black, is beautiful and intriguing.
Especially numinous is Skinner's hanging panel in black and white: two identical tree images with color reversed accompany her poem, which begins, "Is the wind holding its breath or am I —"
The artist offers a number of finely crafted landscapes. "Traces VII" (archival print on paper, encaustic and oil on panel) features a graceful tree leaning toward the viewer, framed by bright clouds. Her study of two pines, "Shing Sdong," is dreamlike and enchanting. But what's the meaning of the red marks on photos in "Passages" and "Teelum 1"? 
The disparate works in Skinner's exhibit are a visual autobiography, displaying the love of nature and the rich spiritual inheritance of India, China and Japan which shines through her work. 
"Terrebonne" shows from 11 a.m. to 5 p.m. Fridays through Sundays, or by appointment, at 5800 Cains Court, Edison. "Hem and Heaven" can be seen from 11 a.m. to 6 p.m. daily at 504 S. First St., Mount Vernon. Both shows close Sunday, July 30. Info: ieedison.com or perryandcarlson.com.