Parks & Rec
Work parties help community members give back
Bellingham Parks and Recreation hosts weekly volunteer opportunities
January 29, 2023 at 12:49 p.m.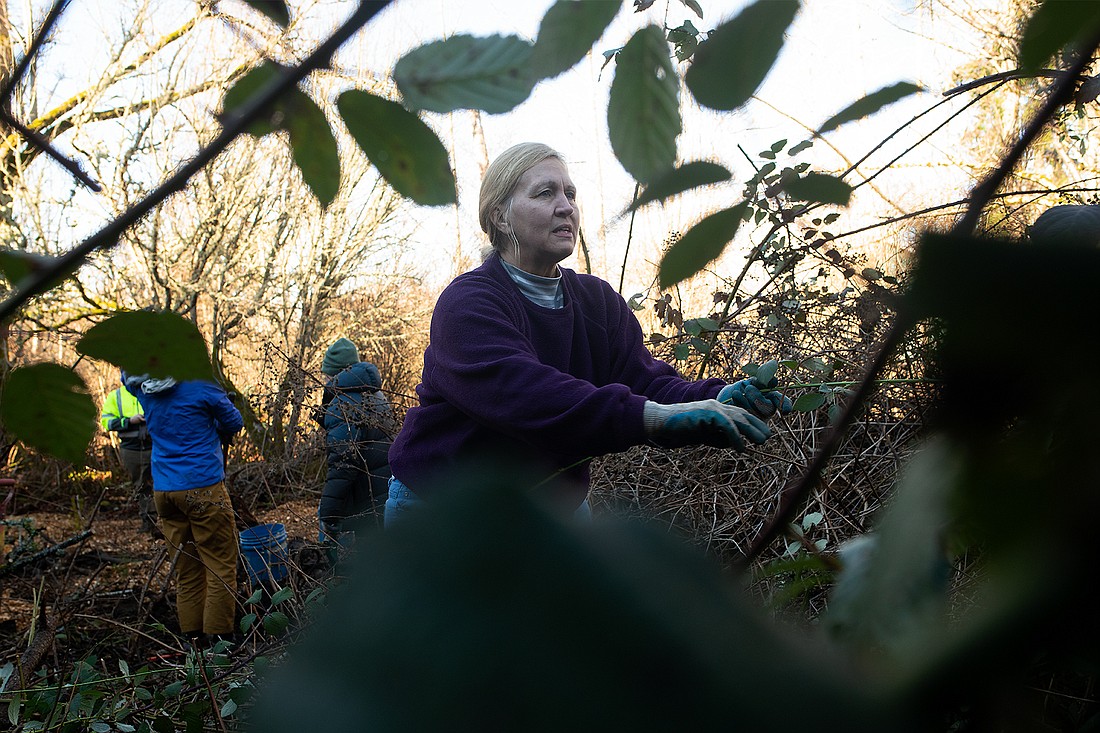 ---
---
Volunteers at East Meadow Park were busy removing invasive plants, spreading mulch and planting Saturday, Jan. 28 during one of the many community work parties organized by the City of Bellingham Parks and Recreation Department.
The main goal of the East Meadow work party was to remove invasive species from the park, including Himalayan blackberry, Evergreen blackberry (cutleaf blackberry) and yellow archangel, all of which fall within Washington state's current noxious weeds list. The Washington State Noxious Weed Control Board classifies noxious weeds as invasive, non-native plants that threaten agricultural crops, local ecosystems or fish and wildlife habitats. 
"We're also making sure we plant a lot of native plants where we take out the invasives just to try to get these natives in," said Sky Hawk Bressette, parks restoration educator. Volunteers spread mulch over the areas where they take out invasives in order to help the fresh natives grow while preventing the invasive species from regerminating and coming back.
The natives planted in the park included sword fern, tall Oregon grape, snowberry, oceanspray, salmonberry, thimbleberry, shore pine and Douglas fir.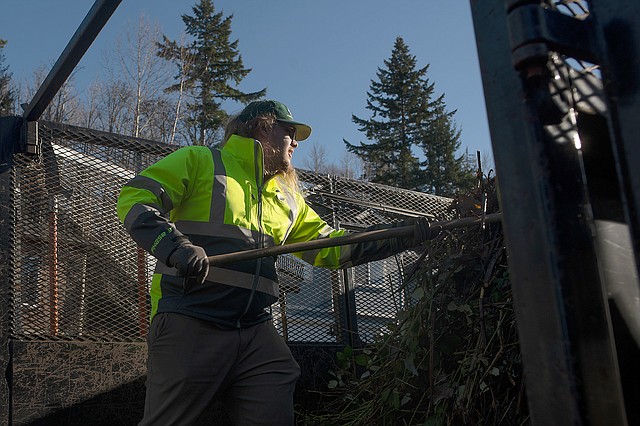 These community work parties are hosted every Saturday morning with locations scheduled out to April 15. The events are open to anyone, with no experience necessary, and registration is required.  
Lyla Biddle, an intern with the parks volunteer program, said it's great to see familiar faces week after week and encourages those who haven't tried to sign up. 
"Everyone's really happy to be here," she said. "It's not some big commitment...You don't even have to be here for the full three hours, you can just come by for an hour and just get your hands dirty and come help your community parks." 
Christian Moulaison, a volunteer from Ferndale, said he wanted to get involved with his community when he saw the event on Facebook. He showed up feeling like he would stick out because he wasn't affiliated with any of the groups involved with these projects. 
"I didn't have a very good answer for why I was out there," Moulaison said, "because the answer was I just wanted to – it felt like a good thing to do." 
Moulaison said he found a community with the other regular volunteers.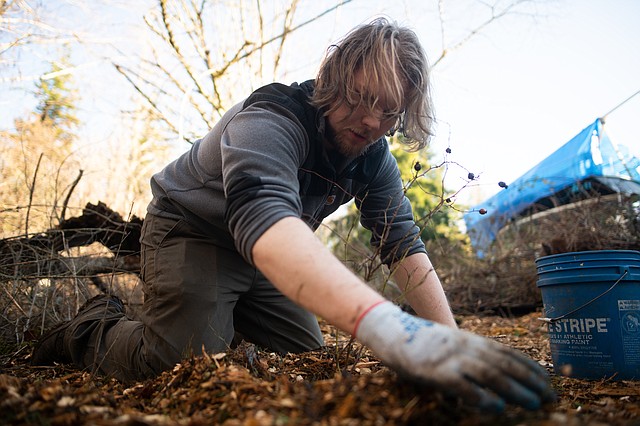 Locations are chosen through a variety of community input, Bressette said, including the parks stewardship program, which sees long-term volunteers adopt sections of parks they take care of. Some locations are also chosen by community members wanting assistance with specific parks.
The majority of the funding for these projects comes from the Greenways levy, Bressette said. Last year, Bellingham purchased 42 acres of land across several locations with the Greenways levy funds and park impact fee revenue. These projects and purchases fall in line with the Greenways' goals, objectives and priorities detailed in the 2022–2026 Greenways Strategic Plan.  
This plan guides and directs the use of the Greenways levy funds, which come from a 2016 ballot measure that authorized a seven-year property tax levy that collects $5 million to $6 million per year for the parks department. This was the fourth time this type of measure has been passed by Bellingham voters. The 2016 ballot measure ends in 2023 but the plan assumes the levy will be renewed for a fifth time by future voters.