Music
Arts for All Ages highlights the best of Make.Shift
Gala event celebrates a community of creativity
January 19, 2023 at 5:00 a.m.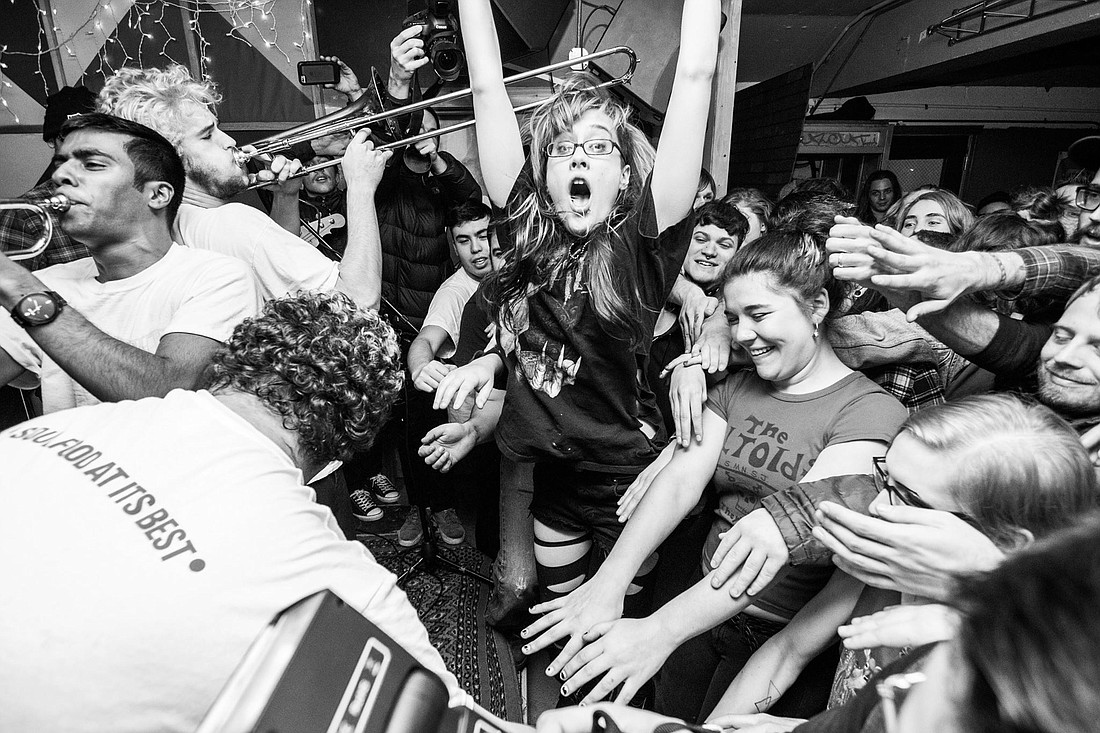 ---
---
Make.Shift Art Space changes lives. Just ask Jessyca Murphy, who started volunteering for the all-ages music and arts venue in 2009 — when the nonprofit was still operating out of people's living rooms — and today is its executive director.
In between, Murphy served a stint as Make.Shift's gallery director, and has played music there, made art in its studios and championed others who have walked through the doors of 306 Flora St., with an aim to share or connect with their various talents.
Murphy, 36, said a big part of what has kept drawing her back is the creative ways the venue has of influencing the community. This will be evident Saturday, Jan. 21, when Make.Shift's inaugural Arts for All Ages fundraiser and awards ceremony at Whatcom Museum's Old City Hall will focus the spotlight on a local hero of all-ages arts and music — someone who has worked hard to help create a safe and accessible scene.
"We're keeping the winner under wraps to the public until then," Murphy said, "and after the actual gala, we'll release the name on social media." 
If you were hoping to be one of the 100 or so people in the museum's Rotunda Room when the honorary citizen is announced, it might be a bummer to hear tickets to the event had sold out as of Monday afternoon. And while there may be a few available at the door on the night of the big soiree, the best chance you have of helping the fundraiser be even more successful is to donate generously online.
Of course, if you've ever walked through the doors of Make.Shift, you're probably aware there are plenty of ways to support the space on an ongoing basis. Whether you're paying fees as a resident artist or musician; perusing and purchasing art during the monthly Art Walk; ponying up a minimal cover charge at the door for one of the many booze and drug-free live concerts featuring local or touring bands; putting your name down for the monthly anything-goes Open Mic; or helping with programming for the low-power community radio station, KZAZ 94.9 FM; you're a part of Make.Shift's success.
"I absolutely love the folks who come and work for Make.Shift," Murphy said. "I meet the most interesting people — whether they're interns, volunteers, staff or board members. They're incredibly creative."
Like Murphy, there are many others who have had their lives altered due to time spent at Make.Shift. 
Sarah Sakurazawa said her son, Erik Takuichi Wallace of Shibusa Sound, started attending shows at Make.Shift 16 years ago — when he was in high school — and eventually began performing and running sound there. Sakurazawa said he's now making a living as a musician, audio engineer and senior instructor in audio recording at Western Washington University. She's convinced the experiences he gained through being a part of Make.Shift can be directly tied to what he's doing with his life today.
"Make.Shift offers rehearsal space, studio space, gallery space, and a place for high school and college kids to explore and perform art and music," Sakurazawa said. "With no drugs, no drinking, no smoking, no vaping, [being] handicap-accessible and fire-code safe, it's a safe place that nurtures musical and artistic expression. Which is pretty important for kids given the stressors they face — school shootings, COVID isolation, climate change."
Murphy said Make.Shift came through the worst of the pandemic thanks to a lot of community support, COVID relief grants and an emergency relief campaign that paid money forward to various artists. She said the staff was able to adapt and put art shows online, experimented with doing live-streaming in "that in-between phase" and created episodes of Make.Shift TV on its own YouTube channel.
Murphy said moving forward in 2023, they are focused on bringing back workshops and other educational elements that were just gaining traction before the pandemic. Starting in February, there will be workshops focused on everything from art skills to creative writing, art industry primers and more.
"We'll have lots of people practicing creativity," Murphy said. 
Who knows, maybe one of the classes will feature someone who, years down the line, will be taking the reins at Make.Shift after their lives have been enriched at the space.


Arts for All Ages starts at 7 p.m. Saturday, Jan. 21 at Whatcom Museum's Old City Hall, 121 Prospect St. Tickets are $25. At press time, tickets were sold out online, but a few may be available at the door. If not, donate at makeshiftartspace.org/donate.