Visual Art
Storytelling through fabric in 'African American Quilters Today'
History and heroes are the subject matter
January 14, 2023 at 5:00 a.m.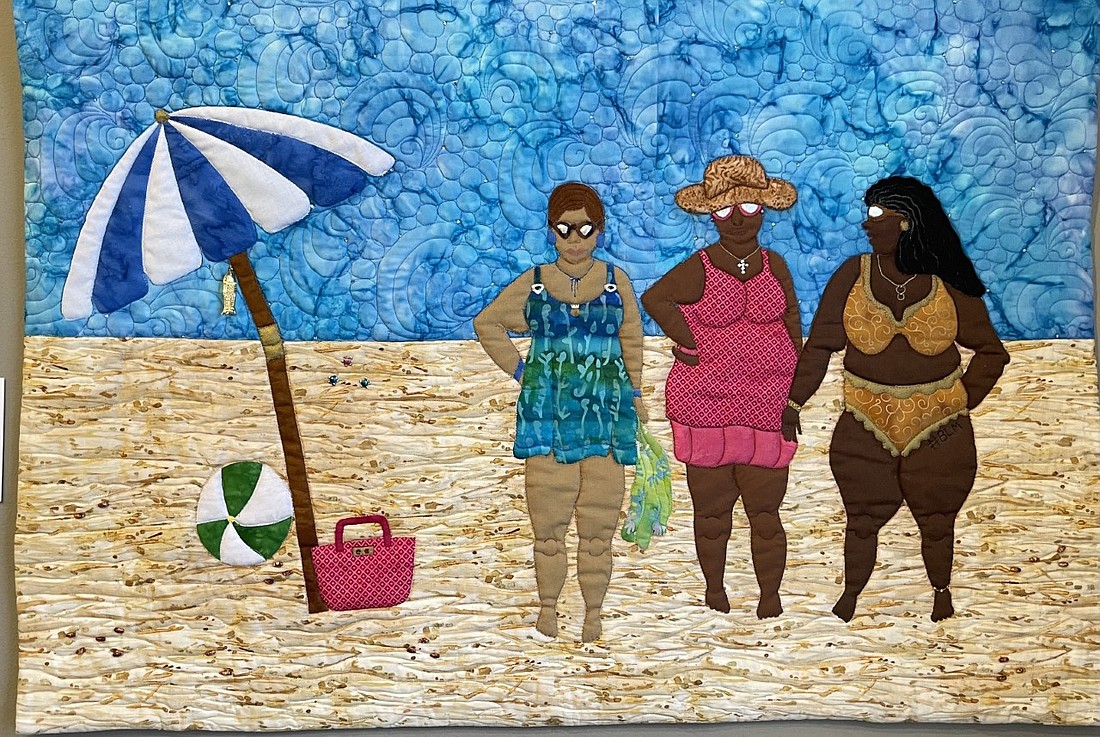 ---
---
La Conner's Pacific Northwest Quilt and Fiber Arts Museum is one of my favorite haunts on a gloomy day, when the vibrant color of the quilts makes up for the weather. Such was the case for the current main attraction, "Our Voices in Fiber: African American Quilters Today," a display of quilts curated by Torreah "Cookie" Washington.  
A resident of Charleston, South Carolina, one of Washington's proudest accomplishments was being chosen along with 43 other quilters to create a quilt in celebration of Barack Obama's 2008 presidential inauguration.
"Quilting is in my blood," Washington said. "Enslaved Africans used quilting to tell their stories. I keep this tradition alive by weaving stories of the African American experience, just as my foremothers did 400 years ago."  
One of Washington's quilts, "Yes Momma, There are Black Angels," features a Black madonna and child and five angels beneath the star of Bethlehem. She created it for Reverend Clementa C. Pinckney of the Emmanuel African American Methodist Church in Charleston — but before she could give it to him, he and eight others were murdered by shooter Dylan Roof. How sad that we should benefit from that tragedy by seeing the beautiful work.
Washington's "African Star Quilt" boasts in its center a cryptic symbol called "Bi Nka Bi," meaning "no one should bite the other." It's a call for peace and unity. A Black mermaid bedecked with strings of seashells is the theme of her "Swimming on Sunshine." Others of hers are "A Piece of Peace," "African Geometry" and "African Crazy Quilt" — which is a splendid ray of sunshine made of African fabrics.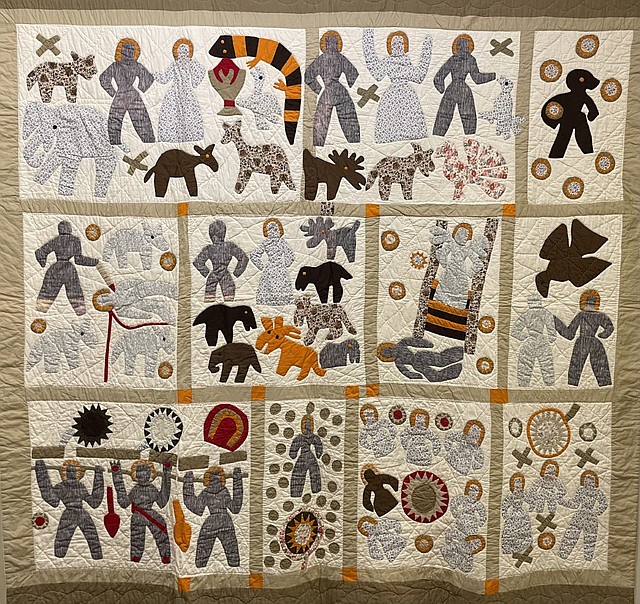 With her striking "Nurse Harriett," Veronica Mays of Portsmouth, Rhode Island, depicts the Civil War hero Harriet Tubman, dressed as a nurse, possibly one of her disguises. Her face is featureless. As a Union spy, it was said she could "hide in plain sight."
A hero of a different sort was Oseola McCarty, who is memorialized by Catherine Lamkin in a quilt featuring McCarty's portrait, bedecked with clothespins. The subject of the artwork saved her lifetime earnings as a washerwoman to endow a scholarship fund at the University of Southern Mississippi for students in financial need. President Bill Clinton presented her with a Citizen's Medal and Howard University awarded her an honorary doctorate.
There are many more, some lighthearted, like "Fun in the Sun," a portrait of Renee Fleuranges-Valdes' grandmother, mother and sister "on the beach on a fine summer's day."
Others commemorate tragedy, such as Karen von Phul's "Marshall Fire." The most famous is a reproduction of "The Bible Quilt," created in 1886 by a freed slave named Harriet Powers. (The Smithsonian Institution owns the original.) If you've kept abreast of your Bible studies, you might be able to decipher the cryptic stories in the 11 "boxes" of cartoons of people and animals. I'd bet the first square, top left, shows the temptation of Adam and Eve — if you'd accept a black-and-orange salamander as a snake!
"African American Quilters Today" will be on view until Feb. 26, and I strongly suggest making time in your schedule to see it. Other excellent exhibits are also on display at the museum, including "Scandinavian Stitches: Traditional Hardanger Embroidery" (showing through Jan. 22) and "Celebrating 25 Years: Treasures from the Permanent Collection" (up through Jan. 29). 
The Pacific Northwest Quilt and Fiber Arts Museum is open from 11 a.m. to 5 p.m. Wednesday through Sunday in La Conner at 703 S. Second St. Entry is $5–$7 (free for museum members and children 12 and younger). Info: qfamuseum.org.