Faces in the Crowd
Josselyn Winslow: Co-founder of Dementia Support Northwest
CDN's weekly community profile
August 18, 2023 at 5:00 a.m.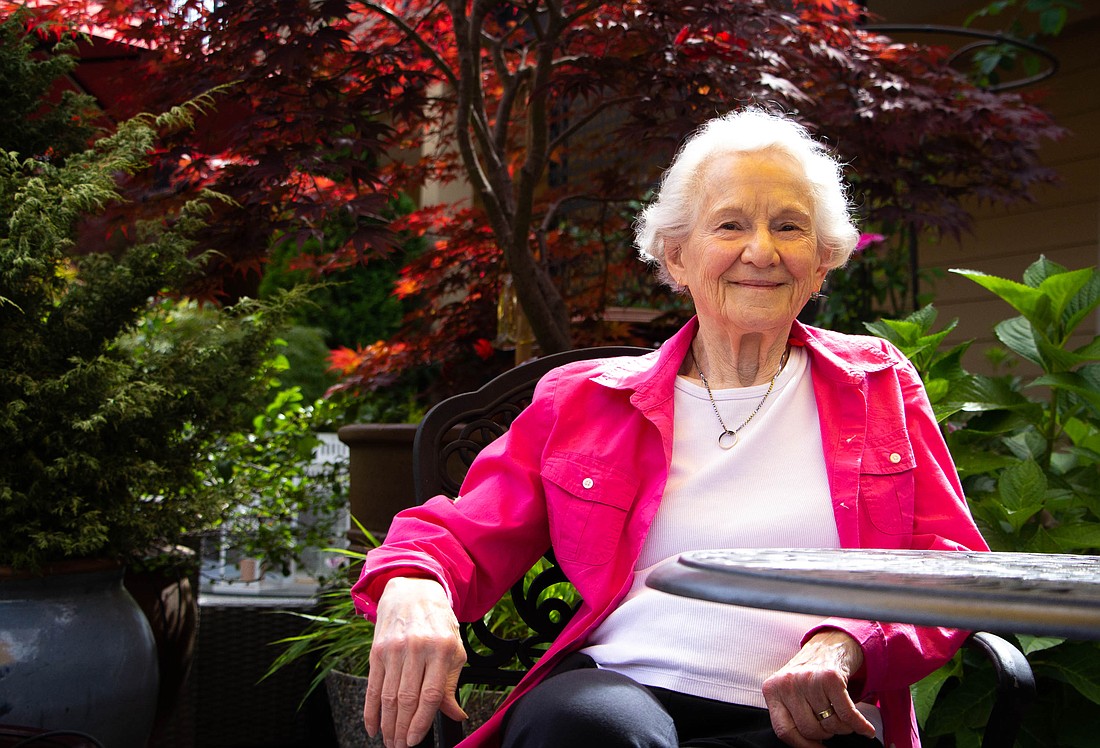 ---
---
Josselyn Winslow (she/her)
Age: 93
City: Bellingham
Lived here for: 44 years
Originally from: Ohio (moved "28 times in 25 years" after marrying her husband who was in the military)
Notable: Co-founder of Alzheimer Society of Washington, a nonprofit now known as Dementia Support Northwest. She has been active in the organization since it began 40 years ago and now serves on the Board of Directors. She founded the group with her late husband, Frank, who died of vascular dementia.
How did Dementia Support Northwest form?
When we got into this business of discovering that my mom had dementia, we just kind of naturally looked for people that would be supportive. About six of us — some spouses and some family members of kids, adult children, of the people who had dementia — were all sort of similar.
We were all just stuck on the fact that no one really knew what was happening, except that what was happening was really not anything understood. And it was very terrifying. So we got together, and we sat around our big dining room table. And we just talked and talked.
Tell me about your mom.
She was the world's best secretary. She could spell any word, but I could never spell a word right. She was just one of these people who was very, very capable in an office situation. She was working and she came home and said to me, "I'm having trouble doing things at work." The doctor basically just told her to go home, forget it — which is not the least bit of help. Because clearly, she knew there was something wrong.
She became, I guess, what is typical of people with dementia — just really lost her ability to do a lot of things that were just part of what normal people do.
What have you learned about dementia and Alzheimer's since the organization began 40 years ago?
At that point, there was no information out there. We actually got that wonderful book (Nancy Grace's "36-Hour Day") which is sort of the handbook for people dealing with dementia. We got it when it was in notebook form, long before it was really published. It was the first piece of information that was real. 
First of all, no one wants to deal with dementia. So you ignore it as long as possible, you push it away, you do everything you can to think that this is not there. Then when you reach the point where you have to recognize it, you realize to be supportive and a person, you also have to find answers. That's when you start to reach out to other people. Once they do, then we try to be there.
Out of all the free programs the organization offers, which stands out to you?
Probably the support groups, because the support groups are for both the family caregiver, and also for the people with early memory loss. That's an opportunity for people to get together and just talk about what's happening in their lives and then sort of problem-solve jointly.
Recently the organization was able to do an adult day care program. That's just fabulously important ... someone can go and have care and an opportunity for real stimulation when they're further in the disease process.
The problem is that when a person has dementia, they need to have someone through their support system. Someone else's life is completely on hold and all wrapped up with the process and dementia. Anytime you have support groups to support that person ... you basically are helping to keep the caregiver healthy and on duty.
Any strong supportive programs like the programs that Dementia Support Northwest has ... are just wonderfully valuable for the individual and also for the community as a whole.

Dementia Support Northwest will host a 40th Anniversary Cruise Monday, Aug. 21 aboard the Victoria Star. Tickets are $75 and all proceeds go toward the organization. To learn more visit dementiasupportnw.org/cruise.
"Faces in the Crowd" is published online and in print Fridays. Have a suggestion for a "Faces in the Crowd" subject? Email us at newstips@cascadiadaily.com.