Water Sports
Bellingham Bay Classic returns after 3-year break
The outrigger paddle race is a Hawaiian tradition
August 12, 2023 at 3:38 p.m.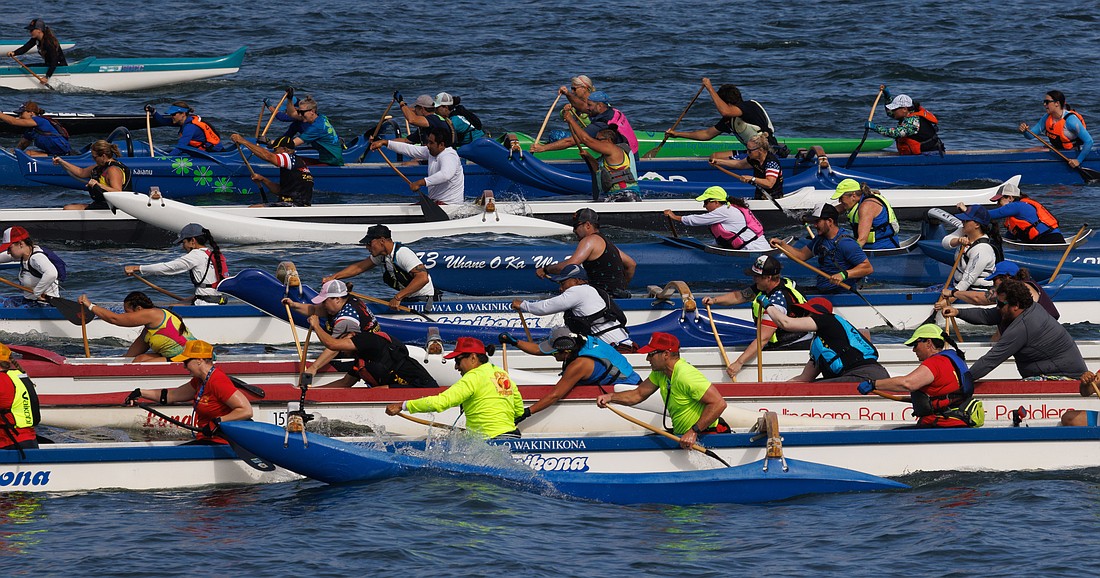 ---
---
Between the 2023 Bellingham Bay Classic and a wedding ceremony on the beach Saturday, Aug. 12, the Boulevard Park parking lot was filled up by 8 a.m. 
The Bellingham Bay Classic is a canoe race hosted by the Bellingham Bay Outrigger Paddlers, a club of around 200 members that was founded in 2011.
 Race director Janice Lapsansky said the event is making a comeback after taking three years off during the pandemic. She explained the roots of the club and its desire to honor the sport's history. 
"Our club was founded by folks who had some paddling experience, some because they're Hawaiian native, some because they lived in the Pacific Rim where paddling is part of their culture," Lapsansky said. "They wanted to help perpetuate that paddling culture here. So, it's not just about racing, it really is about the culture of family, or in Hawaiian: ohana."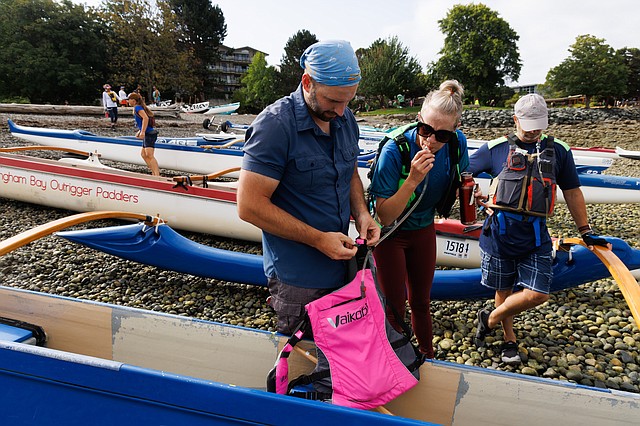 The first races — for women's and mixed divisions — began at 10 a.m., but before teams got their canoes in the water, Uncle Stan Dahlin, po'o wa'a of Hui Wa'a o Wakinikona, led the group in pule, or prayer. Dahlin explained the tradition and importance of pule, something he thinks is becoming lost on younger generations. 
"It's a spiritual thank you usually for any start of any activity," Dahlin said. "You always got to pay respects to those that have come before you and those that have given you what you have today. This ocean and this mountain, the fish, all that." 
This year, 22 crews registered for the race, coming in from as far as the Tri-Cities, Portland, Oregon, and British Columbia. Race divisions were split into women's, men's and mixed, and unlimited and spec boat classes. The unlimited boat class denotes that the canoes weigh as little as possible, while the spec boat class requires canoes to fit the length and weight of the traditional Hawaiian boat specifications. 
In the mixed division, the Sand Point Mixed Crew was the first to cross the finish line with a time of 1:17:02. Kai Pana Black and Kai Pana White placed second and third, finishing in 1:17:58 and 1:20:34, respectively. 
Kristen Schriver, steersperson of the Sand Point Mixed Crew, has been paddling for 25 years. Saturday's race was her second time competing in the Bellingham Bay Classic. 
"All of us come together in a kind of unusual, respectful love of the sport and we try to perpetuate it," Schriver said. "All of the races, there's always great, we call it ohana, where we are a big family organization, you see us out here all day long and the food flows and we say 'hi' to people that we know from other clubs. So it's always really awesome." 
SPOCC Wahine placed first in the women's division with a time of 1:22:37 and was followed by Champagne Straight Up at 1:22:49 and BBOP Wahine at 1:23:44. 
Kauai Outrigger finished first in the men's division with a time of 1:04:37, Bad Boilers finished second at 1:06:52 and BBOP Open Men finished in third at 1:11:45. 
All top-three finishers in each division competed in the unlimited class. 
For full results, visit Pacific Multisports' website.