Places & Things
Places & Things: August 2023
Rite Aid downtown closing, J's Kitchen Fairhaven opening
August 1, 2023 at 5:00 a.m.
|
Updated August 30, 2023 at 6:22 a.m.
---
---
Places & Things is updated regularly throughout the month with new business openings, closings and changes.
Wednesday, Aug. 30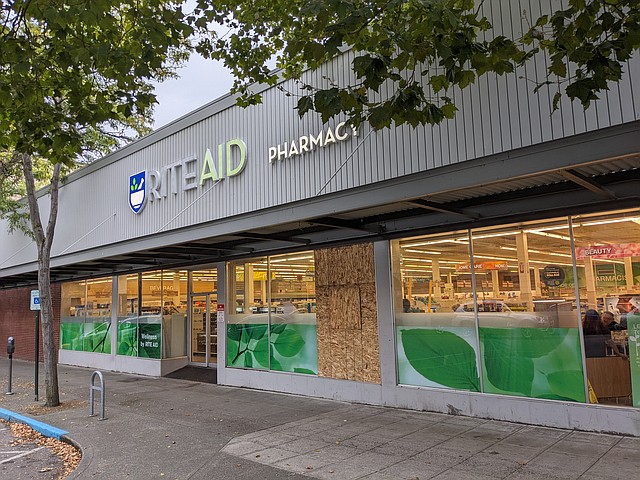 Rite Aid at 1400 Cornwall Ave. in downtown Bellingham is closing. A sign posted on the front door said the store will close on Monday, Sept. 11. "Please know that this decision in no way reflects our commitment to serving you and this community," it reads. "Customer prescriptions will be automatically sent to our location at 220 36th St." The sign gave no reason for the closure. A Rite Aid corporate spokesperson reached by email confirmed the closure. "A decision to close a store is one we take very seriously and is based on a variety of factors including business strategy, lease and rent considerations, local business conditions and viability, and store performance," the company said in a statement.
J's Kitchen is opening in Bellingham's Fairhaven neighborhood at 1307 11th St., where both Banter and Fairhaven Pizza used to have locations. The restaurant's website promises Puerto Rican cuisine. "The owner, Justin (you can call him J), has been cooking Puerto Rican food with his mother Linda for his whole life," according to the site, "embracing aspects of their culture in every bite." The restaurant's Facebook page said, in a post on Tuesday, Aug. 29, that it would be opening at 5 p.m. on Friday, Sept. 1. Listed hours are Tuesday through Sunday, 11 a.m. to 8 p.m.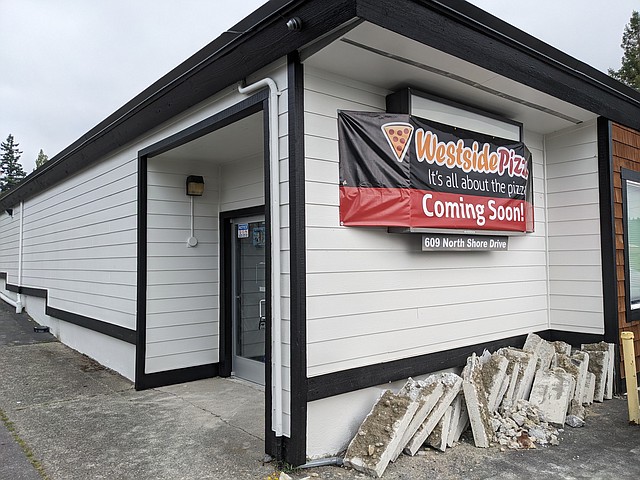 Westside Pizza apparently plans to open a second location in Bellingham, this one in the Silver Beach neighborhood. The franchised regional pizza chain, with current locations in Ferndale, Lynden and Bellingham's Cordata neighborhood, said on its website that a "Lake Whatcom" location is "coming soon to Bellingham, WA 98226." A banner wrapped on the side of a building at 609 Northshore Drive next to Silver Beach Grocery sports the Westside Pizza logo, the words "Coming Soon!" but no other details. Westside Pizza did not respond to a request for additional information.
Bella Boutique & Consignment in Ferndale has new hours as of September. The shop at 1887 Main St., suite 103 posted on its social media page that the store will now be closed Sundays, and also will accept consignments by appointment only. Regular store hours starting Sept. 1 will be Monday through Saturday, 10 a.m. to 6 p.m.
Glimpse Piercing Boutique opened in Bellingham at 147 W. Kellogg Road. The "quality body jewelry and safe piercings" spot in the Cordata neighborhood announced its opening on Saturday, Aug. 19 and lists hours of Wednesday through Sunday, 11 a.m. to 6 p.m. Glimpse also has a location in Salt Lake City, Utah.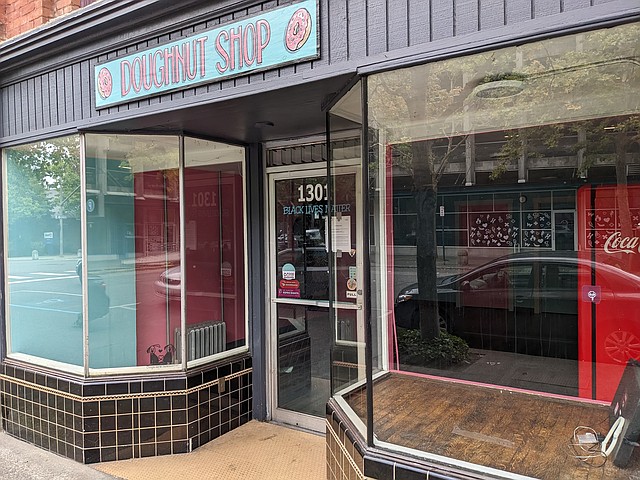 JoJo's Doughnuts has confirmed that it's permanently closed. A change to the shop's Facebook page intro and the disappearance of its website led to speculation about the fate of the business at 1301 Commercial St. in downtown Bellingham, since it announced in late June it was closed while looking for a new location. "I have done what I possibly could and still can't make this happen," the owner wrote in a Facebook post on Thursday, Aug. 24. "We cleaned out the shop yesterday and it's final." In a Facebook chat, JoJo said she couldn't "sit idle and keep paying everything," so she had to "finally give up the ghost and shut it down."
Bison Bookbinding & Letterpress has wrapped up its summer pop-ups at The Granary on Bellingham's waterfront. The letterpress print shop, bindery and stationery store said its last patio pop-up was Saturday, Aug. 26, and it now will focus on preparing its indoor space at 1207 Granary Ave., suite 160 for a grand opening in October. Bison's main location is at 112 Grand Ave. downtown.
Alaska Wild Dockside Bar has opened seasonally in Blaine. Tied to Alaska Wild Fish & Chip Co.'s food truck at 277 Marine Drive, the beer container opened on Aug. 4 and will remain open through the last Sunday in September along with the food truck, according to Alaska Wild's website. 
Birch Bay Waterslides abruptly closed for the season on Friday, Aug. 25. The waterpark at 4874 Birch Bay Lynden Road cited — in a Facebook post on Saturday, Aug. 26 — an "unforeseen accident on one of our main slides" leading to an injury, shortage of staff and smoke and poor air quality. The original 2023 season closing date was Monday, Sept. 4. 
Wednesday, Aug. 23
Happiest Tees on Earth holds its grand opening in Sedro-Woolley on Saturday, Aug. 26. The business, at 816 Metcalf St. next to the Sedro-Woolley Chamber of Commerce, was previously an online-only retailer featuring t-shirts, sweatshirts, kids' items and accessories with Disney-esque themes. "It is our desire to create apparel that will bring the magic & joy of Disney to your wardrobe," the owners wrote on their website,  "whether you are skipping down Main Street or dreaming of it from home!"  A ribbon cutting ceremony is planned for 10:00 a.m. on Saturday. 
AniMyNation has opened at Bellis Fair mall. The kiosk — located at the intersection that leads to the mall's food court — will shift to a storefront in suite 408, next to Hot Topic, at the start of November. AniMyNation has a selection of anime-inspired products for adults and kids. 
JB Formal Wear announced it has opened its own storefront at 1304 12th St. in Bellingham's Fairhaven neighborhood. The suit and tux shop had earlier been located inside Belle Bridal at 1114 Harris Ave., according to its website. The business said via Facebook chat that the new location opened on July 1 and was announced Sunday, Aug. 13 on social media, and now has 4,500 square feet dedicated to men's wear including enough inventory to do last-minute rentals.
Lee Asian Bistro opened at 8114 Guide Meridian Road in Lynden at the former site of Jake's Barbeque restaurant. Featured menu items range from Tamarind Pad Thai and Singapore Street Noodles to Hawaiian Fried Rice and Trio Don. Posted opening hours are Monday through Saturday, 11 a.m. to 2:30 p.m. for lunch and 4-8 p.m. for dinner.
Wednesday, Aug. 16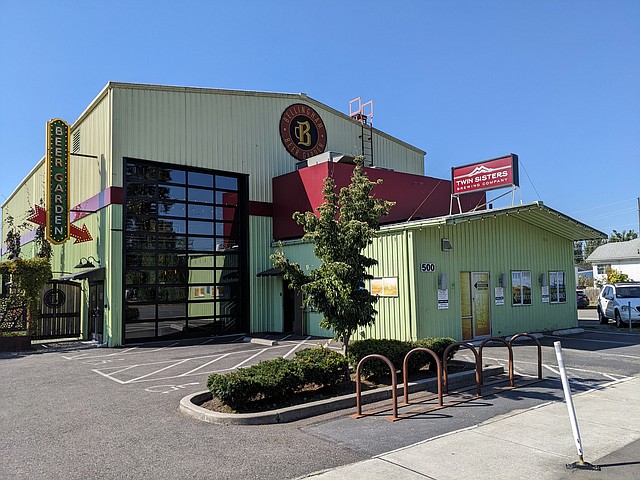 Twin Sisters Brewing Company has been listed for sale. A posting on the BizBuySell website shows an asking price of $3.7 million for the restaurant, brewery, "beer brand and distribution channel" headquartered at 500 Carolina St. in Bellingham's Sunnyland neighborhood. The reason given for selling is "retirement." A related offering memo from Re/Max Whatcom County said the appraised value of real estate at the brewery, established in 2018, was $2.9 million and the BizBuySell listing said the full buildout was valued at $5 million. Twin Sisters remains open with posted restaurant and taproom hours starting at noon or 3 p.m., varying by day of the week.
Gene Juarez Salons and Spas has set an opening date for its new downtown Bellingham location: Wednesday, Aug. 30. A company news release said the space at 1411 Railroad Ave. is the former home of Toni and Guy Hairdressing Academy. The salon will be Gene Juarez' 10th in the Pacific Northwest, and the first north of Lynnwood. Fun fact: the company said its CEO, Katie Trent, is a WWU grad.
Bordertown Mexican Grill's food truck is on the move. According to its Facebook page, the food truck — formerly in Lynden — had its grand opening at 500 Kentucky St. in Bellingham's Sunnyland neighborhood on Monday, Aug. 14. The same owners also operate Qué Onda Oaxaca Cuisine at 442 Peace Portal Drive in Blaine and confirmed in a Facebook chat that they have had a longtime Bordertown Mexican Grill taco stand in Blaine as well. 
Living Pantry moved to a new address in Blaine on Wednesday, Aug. 9. The natural goods and refill store is now located at 264 H St., suite A, which it said is one building east on H Street from its former location on Peace Portal Drive. A grand re-opening celebration is set for Friday, Sept. 1. Living Pantry also has a location in Bellingham's Roosevelt neighborhood at 2400 Yew St. and said that earlier this year it had a pop-up spot in the Fairhaven neighborhood. 
L&L Bakery opened in downtown Blaine in late July. The new storefront, at 477 Peace Portal Drive, is open Tuesday through Thursday, 11 a.m. to 6:30 p.m., and Friday and Saturday, 10 a.m. to 7 p.m. The bakery's website promises "custom cakes, cookies by the dozen, and much more! We are a mother and daughter team baking up a storm in Whatcom County."
Thursday, Aug. 10
Mystery Thrift in Ferndale is moving. The thrift shop is leaving the Carnation Oxford Building at 1920 Main St. and relocating to 1874 Main St., starting Saturday, Aug. 19. The last day open in the old spot will be Saturday, Aug. 12. A Mystery Thrift rep said they're moving "to get better exposure on Main Street, better parking, and (an) easier donation process."
Graham's Bar and Restaurant has reopened in Glacier. The historic bar and restaurant at 9989 Mount Baker Highway opened its doors on Friday, Aug. 4 after a lengthy renovation process highlighted on its Instagram feed. The restaurant opens daily at noon and has full meals, sandwiches, salads and soups, including a venison beer chili. Its history, dating back to the early 1900s, is documented on the grahamsrestaurant.com website. 
The Flow Bar is open in Sedro-Woolley at 109 Ferry St. The locally owned spot opened at the beginning of August. Its Facebook page promises karaoke, hours of 9 a.m. to 2 a.m., and "amazing daily specials."  
Primal Barbeque opened Sunday, Aug. 6 at 848 N. Sunrise Blvd. on Camano Island. The restaurant, which said it "takes the art of smoking meats to new heights by serving up by the pound or in a bowl format," is in the former Brooklyn Bros. Pizzeria location. It opens daily from 11 a.m. to 8 p.m.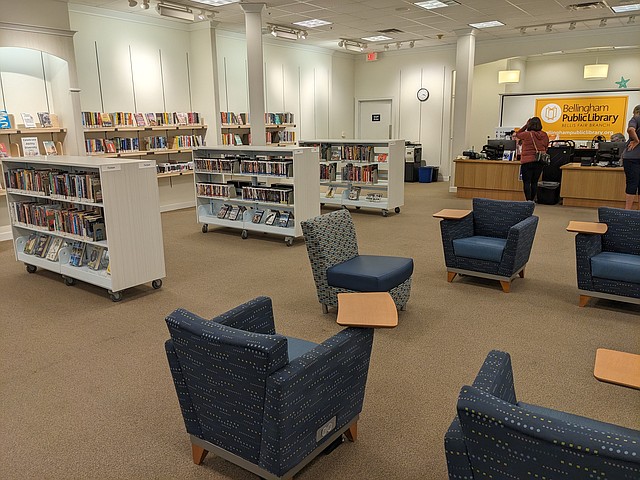 Bellingham Public Library's Bellis Fair Branch has expanded its shelving and selection. The branch, which originally opened in late April, has added a half-dozen rolling book shelves and a double-sided newspaper and magazine rack to the open area of its floor space. Initially, fiction, DVDs and Spanish-language books are on the new shelves. 
Maxx Hair Studio has now soft opened in Bellis Fair in suite 316. The new family hair salon next to GameStop said, as of Thursday, Aug. 3, it is open seven days a week starting at 11 a.m., and a grand opening is planned for mid September. 
Tuesday, Aug. 8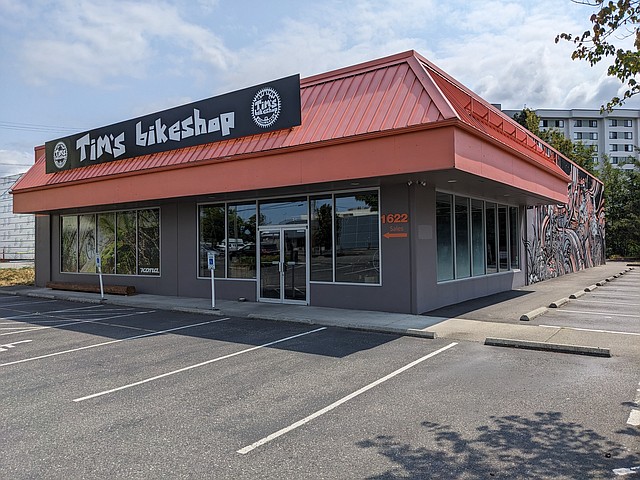 Tim's Bike Shop has opened in the former Kona Bike Shop space at 1622 N. State St. in Bellingham. It's the second location for Tim's, said Jay Hiester, who also owns the original Tim's Bike Shop in Everett, a store he used to visit before buying it in 2000. "I am very excited to serve the Bellingham community with what has been my passion since I was a kid," Hiester said. The Sunnyland neighborhood store opened in July; a grand opening is planned starting Sept. 12. Hours are Tuesday through Friday, 10 a.m. to 6 p.m., and Saturday 9 a.m. to 5 p.m.
Latitude Kitchen and Bar has apparently closed, less than a year after changing hands. The restaurant at 1065 E. Sunset Drive in Bellingham's Barkley neighborhood was empty during posted opening hours the afternoon of Saturday, Aug. 5; by Sunday, Aug. 6, signs with the posted hours had been removed. The company's Facebook page and website are also gone, and reviews on its OpenTable page said reservations for late July were met with a closed restaurant. In February, Latitude extended its hours after new ownership took over in September 2022.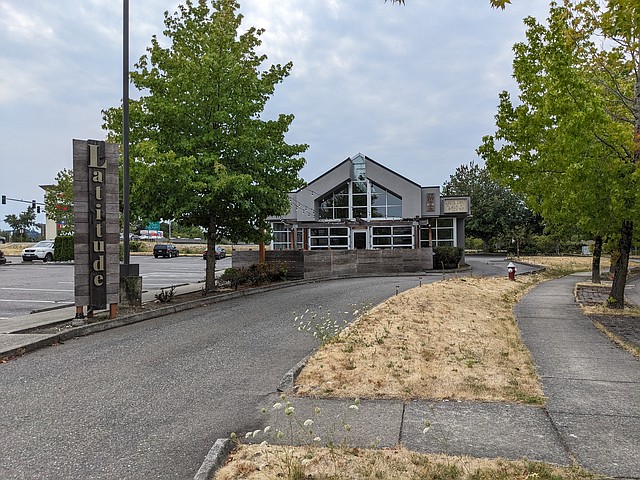 Daiso has now set an opening date in Bellingham's Sunset Square. A Facebook event listing promotes a grand opening at 1145 E. Sunset Drive, suite 110 on Sept. 2 and 3. "We will be giving away free an exclusive tote bag and plushie to the first 100 customers with $30 purchases," the post read. The global discount chain will be located in the former Tuesday Morning spot and earlier had been advertising for store sales associates.
Whatcom Humane Society Thrift Shop is moving. The new location will be at 1534B Birchwood Ave., between Guide Meridian and Northwest Avenue, sharing the same parking lot as Big Lots. The current store at 4151 Meridian St. in the Cordata neighborhood will close after Sunday, Aug. 27 and is no longer accepting donations. The new store will open to the public on Wednesday, Sept. 27 with a grand opening on Saturday, Sept. 30.
Spirit Halloween has now opened at Bellis Fair at 8 Bellis Fair Parkway next to Buffalo Wild Wings in Bellingham. The Burlington seasonal location is still listed as "coming soon" on the Spirit Halloween website. Boo.
Tuesday, Aug. 1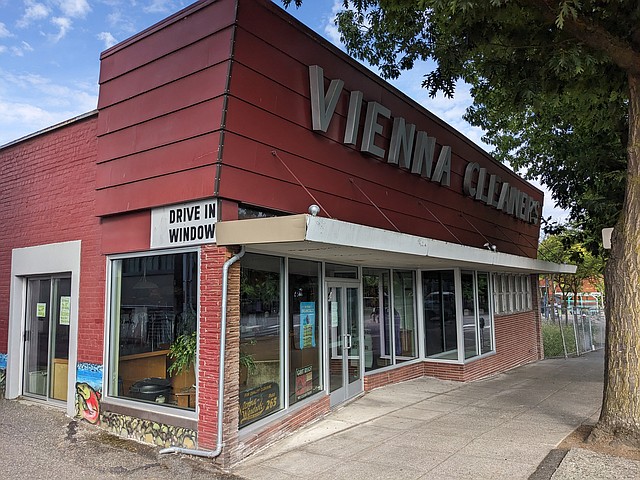 Vienna Cleaners in downtown Bellingham will close on Friday, Aug. 11. Signs in the windows at 206 E. Magnolia St. read that the dry cleaner is currently open for "pickup only." Fraser Elliott Commercial had listed the property for sale on its website in late July at $900,000, and the real estate group's multiple posts on Facebook described it as "a fantastic retail location or a prime redevelopment opportunity." A family member working at the site on Saturday, July 29 said the owners plan to retire, shuttering the business that is said to have been in operation since 1908, and which had stayed open despite challenges over the years.
Antler Baking Company has opened at Maple Bar in Bellingham's Cordata neighborhood. The treats and cake bakery is offering its desserts at the 4252 Cordata Parkway location every Wednesday through Saturday night, 4–9 p.m., extending the coffee shop's operating hours. Antler is still working on opening its own retail space in the Puget neighborhood, where it has its commercial kitchen.
Sahara Pizza is open at 2323 E. Section St. in Mount Vernon. The regional chain's newest location officially fired up its ovens on June 19 and held a ribbon cutting in early July. Hours are Sunday through Thursday, 11 a.m. to 9 p.m., and Friday and Saturday, 11 a.m. to 10 p.m. The restaurant also offers delivery.
Pizzazza in Bellingham's Fairhaven neighborhood is for sale. A listing on BizBuySell has an asking price of $330,000 for the pizza business at 1501 12th St. and said the owners "plan to shift their priorities and enter a different line of business outside of restaurant and food operations." An offering flyer from Saratoga Commercial Real Estate highlighted the "rare find" of a parking lot, and the listing noted a "very favorable lease" to be assumed. Pizzazza will apparently stay open throughout the sales process as part of what the listing said is its "ongoing" operations.