The A-List
A&E calendar: Musicals, spring flings, Purple Reign and Hamlet
A curated selection of happenings in Whatcom and Skagit counties
April 19, 2023 at 5:00 a.m.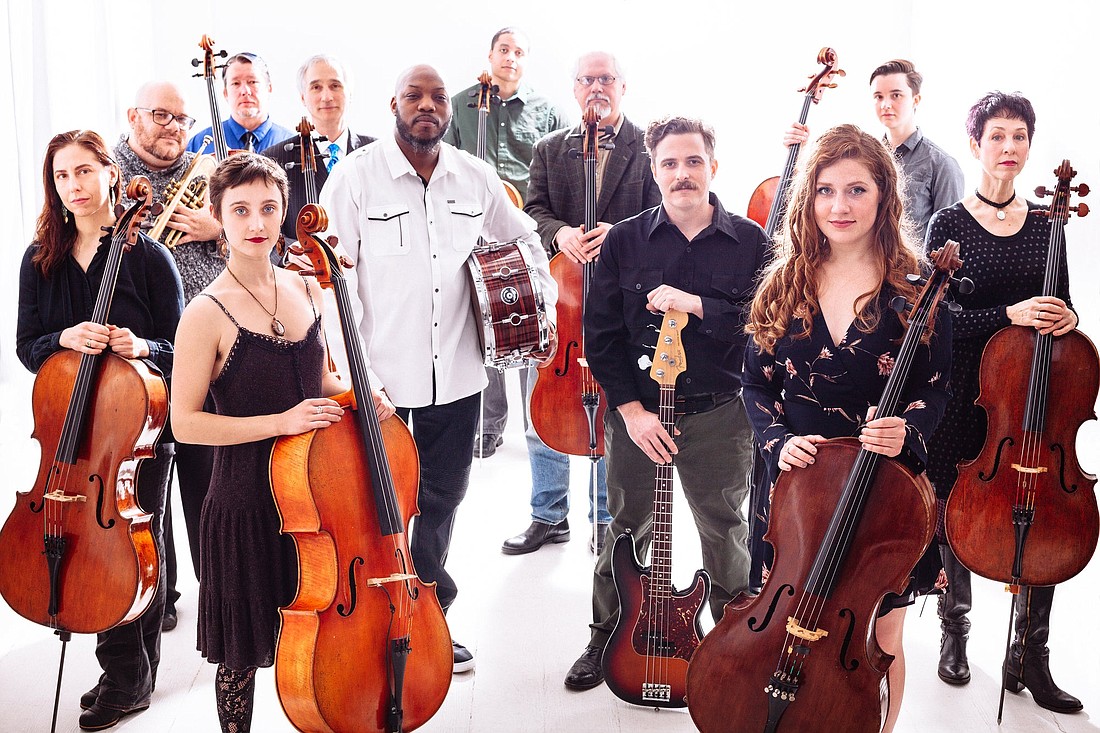 ---
---
Wednesday, April 19
'Hamlet (Variorum)'
7 p.m., Explorations Academy, 1701 Ellis St.
Outsiders Inn presents this meditation on Shakespeare's "Hamlet" tonight and continuing on various dates through May 5. The dynamic and high-velocity two-hour production is performed by a 10-actor ensemble, uniquely using the Elizabethan language of the First Folio and the structure of the First Quarto. Greg Berry directs. Tickets are $10. Info: outsidersinn.ludus.com. 
Comedy Night
7:30 p.m., The Blue Room, 202 E. Holly St.
Bellingham Entertainment's Nathan Romano hosts this stand-up comedy event. Featured comedians include Rafe Octagon, Dartanion London, Nora Wilson and Les Milton. The Blue Room House Band will provide live music. Entry is $7–$10. Info: blueroombham.com. 
Thursday, April 20
'Into the Woods'
7 p.m., Blaine Middle School, 975 H St.
Blaine High School presents this full-length musical, with shows taking place Thursday through Sunday, through April 30. Tickets are $7–$12 to see the Stephen Sondheim and James Lapine show which intertwines the plots of several Brothers Grimm fairy tales, exploring the consequences of the characters' wishes and quests. Info: 360-332-6045. 
David Roth
7 p.m., Unity of Bellingham, 1095 Telegraph Road
Hear this noted singer, songwriter, recording artist and keynote speaker in person. Suggested donation to see the award-winning musician is $20 at the door (nobody will be turned away). Info: unitybellingham.org.
'My Son Pinocchio' 
7:30 p.m., The Claire, 655 Front St., Lynden
Attend opening night of Disney's "My Son Pinocchio, Geppetto's Musical Tale," which shows on various dates through May 7. The song-filled production shows the timeless tale of Pinocchio through the eyes of his father. Tickets are $11–$15. Info: theclaire.org. 
Menace on the Mic
8:30 p.m., Menace Brewing, 2529 Meridian St. 
Want to take a chance at performing standup comedy? Show up early to sign up for your spot, then stick around to see the action unfold. The free event takes place every other Thursday. Info: menacebrewing.com. 
The GBU
7:30 p.m., The Upfront Theatre, 207 Prospect St. 
Bellingham's longest-running improv show, "The Good, the Bad, and the Ugly," takes place every Thursday, featuring a rotating performance format and special guest players. Tickets are $10–$15. Info: theupfront.com. 
'Gravitate'
7:30 p.m., FireHouse Arts and Events Center, 1314 Harris Ave. 
Bellingham Repertory Dance presents contemporary dance works for the final weekend, Thursday through Saturday. The performances will explore the forces that keep us simultaneously grounded and in motion. Tickets are $15–$35. Info: bhamrep.org. 
Friday, April 21
Tulip Festival Street Fair 
10 a.m to 6 p.m., downtown Mount Vernon 
Daily through Sunday, this Skagit Valley Tulip Festival event will feature more than 140 artisan vendors, entertainers, food trucks and activities for kids. Find wearable art, jewelry, handcrafted furniture, art, sculptures and more. Entry is free. Info: downtownmountvernon.org. 
Bourbon Launch Happy Hour
4–7 p.m., Bellewood Farms & Distillery, 6140 Guide Meridian 
Sample Applewood Smoked Bourbon, the first bourbon produced by the distillery, at this 21-and-older event. Attendees can also enjoy complimentary pulled pork sliders, loaded tots and other goodies. Info: bellewoodfarms.com.
Some-Stars of Native American Comedy
7:30 p.m., Mount Baker Theatre, 104 N. Commercial St.
Join a lineup of longtime Native standup comics, including The Naughty Rez Dog (Gilbert Brown), rising star Kasey Nicholson, and veterans Jim Ruel and Sheila Chalakee. Tickets are $15.50–$34.50. Info: mountbakertheatre.com. 
'Men of Parts'
7:30 p.m., New Prospect Theatre, 207 Prospect St.
Friday through Sunday, Those Brazen Wenches present this new play by Rosalind Reynolds, Idiom Theater's former playwright-in-residence. The story follows a ragtag company of actors struggling to mount a production of "The Deeds of Robin Hood," while evading angry sheriffs, greedy publishers, vengeful husbands, landlords, lawyers, bears and their own checkered pasts. Tickets are $10–$15. Additional showings happen April 28-30. Info: newprospecttheatre.org.
'Something Rotten' 
7:30 p.m., Lincoln Theatre, Mount Vernon 
Skagit Valley College's music department presents this Tony Award-winning musical Friday through Sunday. The action takes place in the year 1535, when brothers Nick and Nigel Bottom are desperate to write a hit play but are stuck in the shadow of the rock-star bard, William Shakespeare. Tickets are $16–$28. Info: lincolntheatre.org. 
'Der Rosenkavalier'
7:30 p.m., McIntyre Hall, Mount Vernon 
Pacific Northwest Opera presents this work Friday and at 1:30 p.m. Sunday. The comic opera by Richard Strauss and the poet Hugo von Hofmannsthal includes madcap comic scenes, daring plot twists and bittersweet musings on life. Tickets are $25–$75. Info: mcintyrehall.org. 
Wizards of the NW Coast
7:30 p.m., The Upfront Theatre, 207 Prospect St.
Join a band of unlikely heroes as they are called upon to embark on a true-to-life quest at 7:30 p.m. Fridays and Saturdays through April. At 9:30 p.m., stick around for Upfront Classic, an improv games show. Tickets are $10–$16. Info: theupfront.com. 
Saturday, April 22
Bellingham Farmers Market 
10 a.m. to 2 p.m., Depot Market Square, 1100 Railroad Ave. 
Approximately 90 vendors from Whatcom and Skagit counties are on site at this weekly market, which continues every Saturday through Dec. 16. Info: bellinghamfarmers.org.  
Earth Day Eco Market
10 a.m. to 4 p.m., Granary Building, Bellingham waterfront
More than 30 local makers, free mending from Madrona Wear, tips for living a more sustainable life, a scavenger hunt and more will be part of this Bellingham Makers Market event. Ten percent of all vendor fees will be donated to Whatcom Million Trees Project. Info: bellinghammakersmarket.com. 
'From Tree to Sea'
11:30 a.m., Pickford Film Center, 1318 Bay St. 
RE Sources hosts this Earth Day screening of three films as part of "From Tree to Sea: Fighting for Salmon & Forests." The films highlight the ways in which the fates of the Northwest's salmon, rivers, forests and communities are inextricably linked. A Q&A will follow. Tickets are $9–$9.75. Info: pickfordfilmcenter.org. 
Earth Day Fair
Noon to 4 p.m., Boundary Bay Brewery, 1107 Railroad Ave. 
Learn more about local organizations that promote sustainability in our region at this free event in the venue's beer garden. Attendees can also shop for goods, jewelry, plants and more from area artists and vendors. Info: bbaybrewery.com. 
Poet Laureate Reading
7 p.m., Village Books, 1200 11th St.
Ellensburg Poet Laureate Marie Marchand will read from her latest poetry book "Gifts to the Attentive" and also share new work. Tickets and reservations are required. Entry is $5–$12. Info: villagebooks.com.
Sunday, April 23
Bellingham Symphony Orchestra
3 p.m., Mount Baker Theatre, 104 N. Commercial St.
"Romance" will be the theme of this BSO concert, with works by Brahms and Schumann — musical giants and close friends. In the first half, Seattle Symphony violinist Elisa Barston will join the orchestra for Brahms' Violin Concerto. Tickets are $15–$49. Info: mountbakertheatre.com. 
Monday, April 24 
Monday Night Makers Market
5–8 p.m., Farmstrong Brewing Co., 110 Stewart Road, Mount Vernon
Peruse the work of a variety of local artists selling handmade crafts including paintings, jewelry, candles, stickers and more. The free indoor event will take place on the last Monday of the month. Info: farmstrongbrewing.com. 
Tuesday, April 25
Bellingham Story Hour
7 p.m., New Prospect Theatre, 207 Prospect St.
"Oh, no thank you" will be the theme of this monthly story share. Put your name in the hat for the chance to tell your own 5- to 10-minute story live on stage, or just enjoy listening to true tales. Entry is $5.53. Info: newprospecttheatre.org. 
Wednesday, April 26
'The Necessity of Wildfire'
6 p.m., Village Books, 1200 11th St.
Caitlin Scarano will read from her new collection of poems, which recently won the 2023 Pacific Northwest Book Award for Poetry. She'll be joined by two other local poets, Jane Wong and Jessica Gigot. Please register in advance. Info: villagebooks.com. 
Thursday, April 27
Portland Cello Project
7 p.m., Mount Baker Theatre, 104 N. Commercial St.
"Purple Reign" will be the focus of this performance, which will include an evening of a curated lineup of Prince songs. Musicians such as Saeeda Wright and Tyrone Hendrix — who worked with Prince — will join the lineup. Tickets are $22.50–$44.50. Info: mountbakertheatre.com. 
Front Street Jazz 
7:30 p.m., Jansen Art Center, 321 Front St., Lynden
Community members who share the desire to play and perform simply for the enjoyment of making music will play a variety of tunes — from jazz to rock to New Age originals. Tickets are $10. Info: jansenartcenter.org. 
Friday, April 28
'Peter and the Wolf' 
7 p.m. and 8 p.m., Performing Arts Center, WWU
Western Washington University's Symphony Orchestra will revive its 2015 costumed and fully staged rendering of Sergei Prokofiev's beloved music tale, with choreography by Western dance professor Pam Kuntz. Orchestra members will be portraying the characters while playing their instruments. The 30-minute show will be staged twice. Tickets are $10–$15. Info: tickets.wwu.edu. 
Nordic Fiddlers Bloc
7:30 p.m., McIntyre Hall, Mount Vernon 
The traditions of Norway, Sweden and the Shetland Islands will come to life when this trio of fiddlers bring both traditional and original sounds to the stage. Tickets are $30–$40. Info: mcintyrehall.org. 
North Cascades Community Orchestra
7:30 p.m., Central Lutheran Church, 925 N. Forest St. 
Works by Vivaldi, Schubert, Bach and Mascagni will be on the lineup at this spring concert. Admission is free, but donations are welcome. Info: northcascadesmusic.org. 
Saturday, April 29
Artist Talk
1 p.m., Museum of Northwest Art, La Conner 
Acclaimed glass artist Toots Zynsky will talk about her career as an artist using the distinctive "filet de verre" technique she invented, her work both past and present, the impact and influence of working with Dale Chihuly and Italo Scanga, and what it was like being at Pilchuck Glass School during its founding. Suggested donation is $5. Please RSVP in advance. Info: monamuseum.org. 
Matt Baker
6 p.m., Lincoln Theatre, 712 S. First St., Mount Vernon
The Matt Baker Comedy + Stunt Show will help raise funds for the Skagit Preschool and Resource Center. Baker is a three-time Guinness World Records-holder and was previously voted Seattle's Funniest Alternative Comic. Tickets are $125 and include admission, concession snacks and drink tickets). Info: lincolntheatre.org. 
Swing Into Spring 
6–9 p.m., Pioneer Pavilion, 2004 Cherry St., Ferndale
The Ferndale Arts Commission hosts this free event, which includes swing dancing lessons for the first hour. Swing Connection will be providing live music; bottled water and light snacks will be provided. Info: cityofferndale.org. 
Bellingham Community Chorus
7 p.m., St. James Presbyterian Church, 910 14th St.
"Folk Songs of the United States and Canada" can be heard tonight and again at 3 p.m. Sunday. The chorus will present a program of songs exploring musical traditions that helped develop the North American musical landscape — from toe-tappers to haunting ballads. Tickets are $15. Info: bellinghamcommunitychorus.org. 
Sunday, April 30 
'Owen & Mzee the Musical'
2 p.m., McIntyre Hall, Mount Vernon 
The Music Vital Theatre Company presents this amazing true story of an orphaned baby hippo, Owen, and a 130-year-old giant tortoise, Mzee. Tickets are $18–$35 for the family-friendly musical. Info: mcintyrehall.org. 
Silent Film Screenings
5:30 p.m., Lincoln Theatre, Mount Vernon 
Celebrate the 97th anniversary of this historic venue by watching two films by innovative filmmaker Charley Bowers — "Egged On" and "He Done His Best." Harvey Rossiter — known as the "organ grinder" — will provide live accompaniment on the Mighty Wurlitzer. Entry is 35 cents; arrive early to secure a seat. Info: lincolntheatre.org. 
Before heading out to attend in-person happenings, check with individual venues to make sure the event is still taking place as scheduled.
The A-List appears weekly on Wednesdays. To submit an event for consideration, email calendar@cascadiadaily.com.