Community
Tulip Valley Farms begins first year
Baby cows, tea time, yoga await visitors
April 11, 2023 at 5:00 a.m.
|
Updated April 11, 2023 at 12:05 p.m.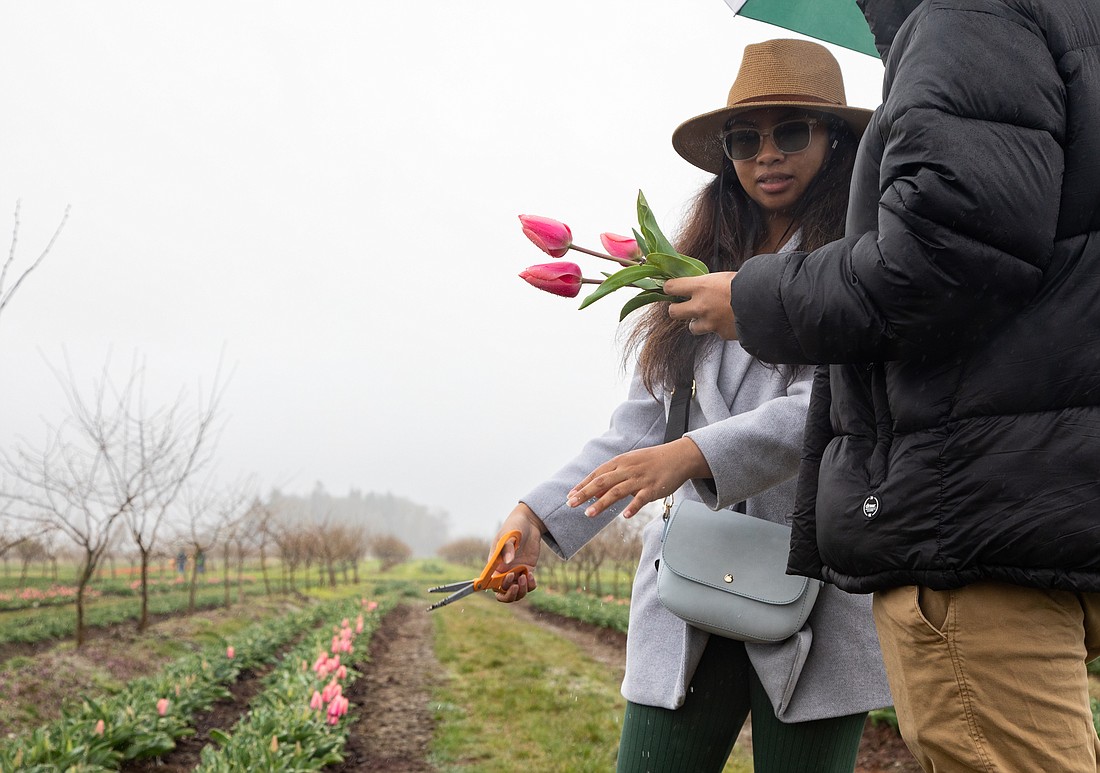 ---
---
Despite a cloudy spring and a late bloom, rendering the tulip fields primarily green in the first weeks of April, Tulip Valley Farms — Skagit Valley's newest tulip business — is operating at full force with a smörgåsbord of supplementary spring activities at its two locations: Tulip Valley Farm and Tulip Valley Gardens.
The ambitious start of the newest tulip farm is spearheaded by co-founder and CEO Andrew Miller, who runs the farm with the help of his wife, Holly, siblings, children and parents. 
Miller said he has one dream: "to be the Coachella of spring."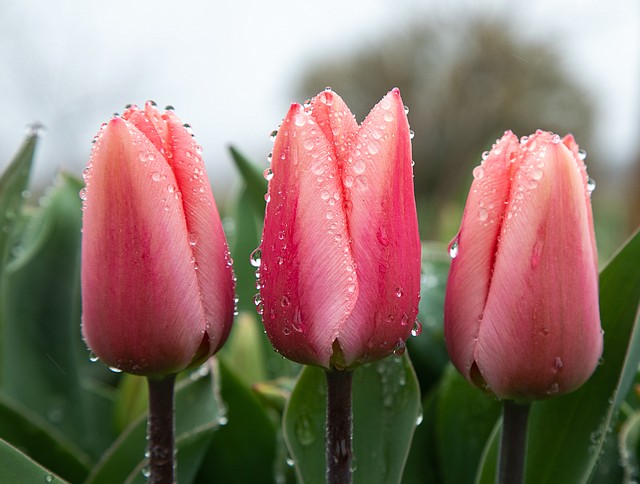 While a part-owner of Tulip Town from 2019 to 2022, Miller said he had many ideas but lacked the bandwidth to accomplish them. Last year, Miller bought a hazelnut farm just down Bradshaw Road and hit the ground running to achieve his tulip field dreams. Tulip Valley Garden quickly followed. 
Miller's boundless energy, eye for opportunity and understanding of consumer desires — and his extensive familial support — have created a new tulip experience.
"We've got each other's backs and we have a good time," his sister, Celeste Gambini, said. 
At Tulip Valley Farms, visitors can pay to cuddle and feed a month-old cow or pick their own bouquet of tulips at the farm. They can participate in yoga and painting classes in the gardens. Professional photographers can pay to arrive early for sunrise and stay late for sunset, or fly a drone over the colorful fields. At night, two movie-grade projectors launch colorful images and designs on the rows of tulips, called "Night Bloom."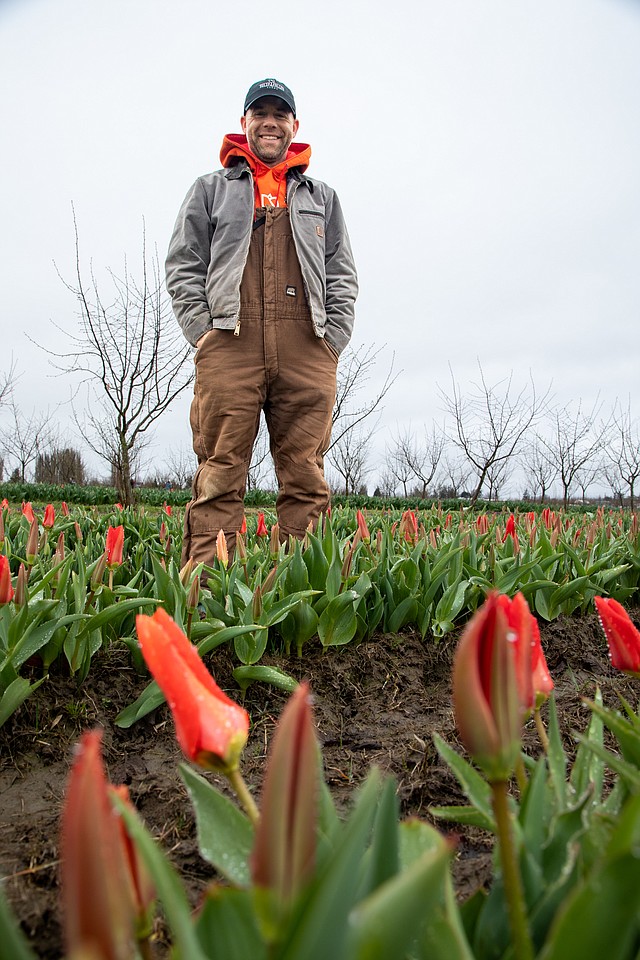 "It's not just tulips," Miller said. "It's tulips and family. It's tulips and the dopamine from cuddling a cow."
The rows of tulips come in pairs, providing plenty of space for visitors and encouraging them to walk in between — a battle other tulip fields constantly fight. Between them, hazelnut trees grow, remnants of the past farm.
In its first year, the farm boasts around 1 million bulbs to bring pinks and reds and yellows to the fields of Skagit Valley. Miller, who is colorblind, happily passed off the design duties to his wife, who carefully planned out the fields of "Tulip Song" and "Delight Mix" and dozens of other bulbs. She said they just put in an order for 3 million more bulbs from Holland for next year.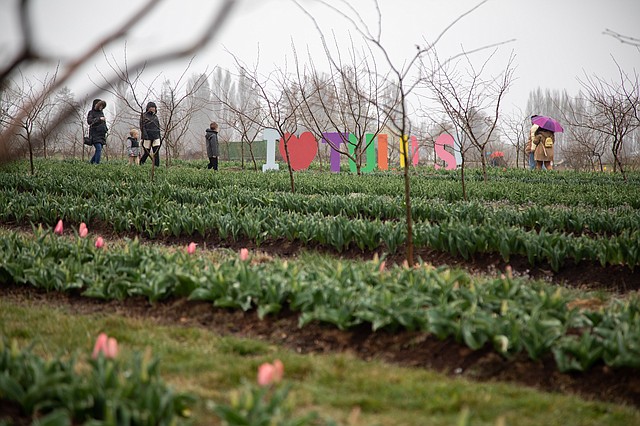 One bulb mix is especially important to the farm — "Ethan's Smile." The bulb mix is named for former co-worker Ethan Chapin, who was one of four University of Idaho students murdered late last year. The farm sells the bulb mix, bouquets of the tulips and other merchandise to honor Chapin and help fund the Ethan's Smile Foundation. The foundation, run by his parents Jim and Stacy, will fund scholarships for college-bound Conway students and students at University of Idaho.
Miller, who was born and raised in Skagit Valley, began his career working in intelligence in the U.S. Air Force, has a law degree and an MBA, has worked for various corporations like Amazon and Expedia, speaks three languages, serves as a commissioner in the Skagit Public Utility District and climbs mountains in his "free time."
"I don't think he sleeps," Gambini joked.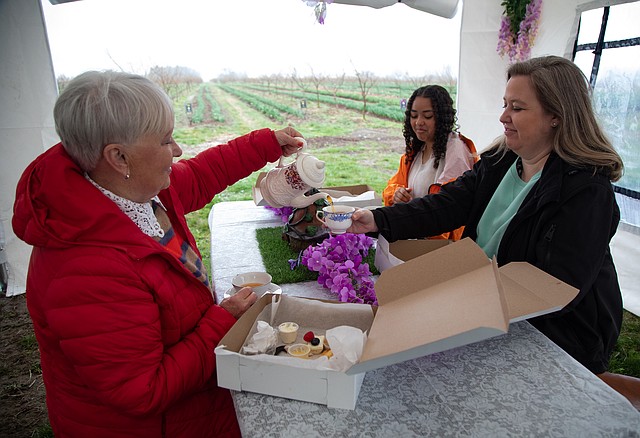 A few years ago, Miller and Holly decided to return to Skagit, with the goal of giving their six children a childhood away from the hard pavement of Seattle. Miller said he wanted to give them the experience he had growing up.
Since then, Miller has reimmersed himself in the community and engaged in their biggest economic driver, with the help of three generations of his family.
"The community needs it, and I think that's a huge part of why I can't leave it alone," Miller said. "Tulips are an iconic part of our community. It's part of our identity."
With the farm, Miller hopes to create a model that other local farms can mimic and execute themselves. He said that agriculture is changing, and to resist the pressure of urban expansion, Skagit Valley has to adapt and explore new ideas and concepts. He likes using his farm as an experiment or a place to try out new ideas, like Night Bloom or calf cuddling, to see the outcome.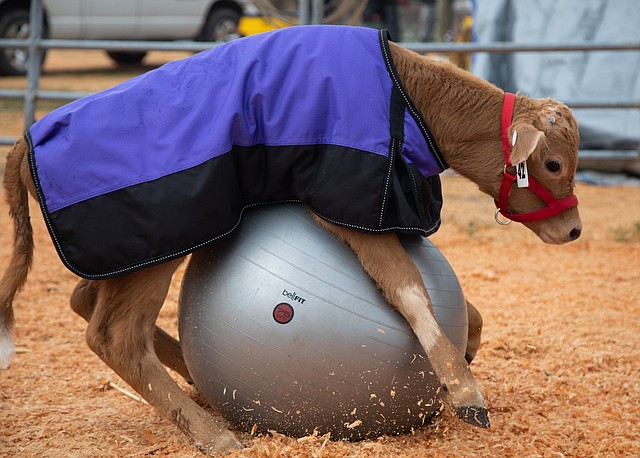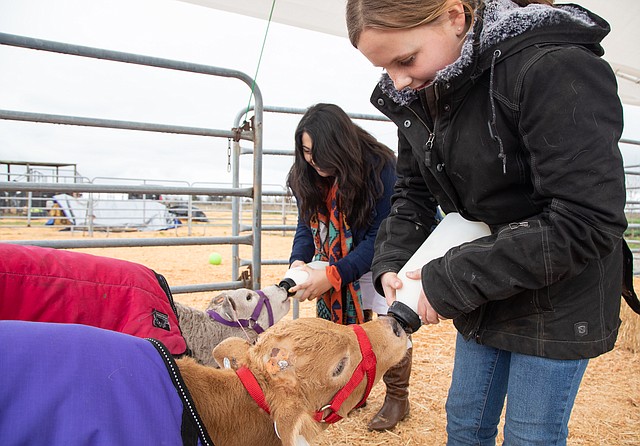 The start has not been all sunshine and rainbows, literally. The cold, rainy weather has delayed the bloom of the tulips and limited crowds. Rabbits have happily feasted on a few exterior rows, and Tulip Town recently served Tulip Valley Farms in the Skagit County Superior Court.
On March 28, Tulip Town alleged Miller breached contract and started the new tulip farm in competition while still working with Spinach Bus Venture Group, the owner of Tulip Town, the Skagit Valley Herald reported. Miller denies the allegation. Tulip Town argues Tulip Valley Farm, located a quarter mile away, will draw business away from them.
A previous version of the story misstated that professional photographers can be paid to photograph the farm, when they actually pay for the opportunity. Additionally, the story misstated the number of students murdered at the University of Idaho. This story was updated to reflect that change at 12:05 p.m. on Aprill, 11, 2023. The Cascadia Daily News regrets this error.