Faces in the Crowd
RB Wick: Owner of Bellingham Coin Shop
CDN's weekly community profile
April 7, 2023 at 5:00 a.m.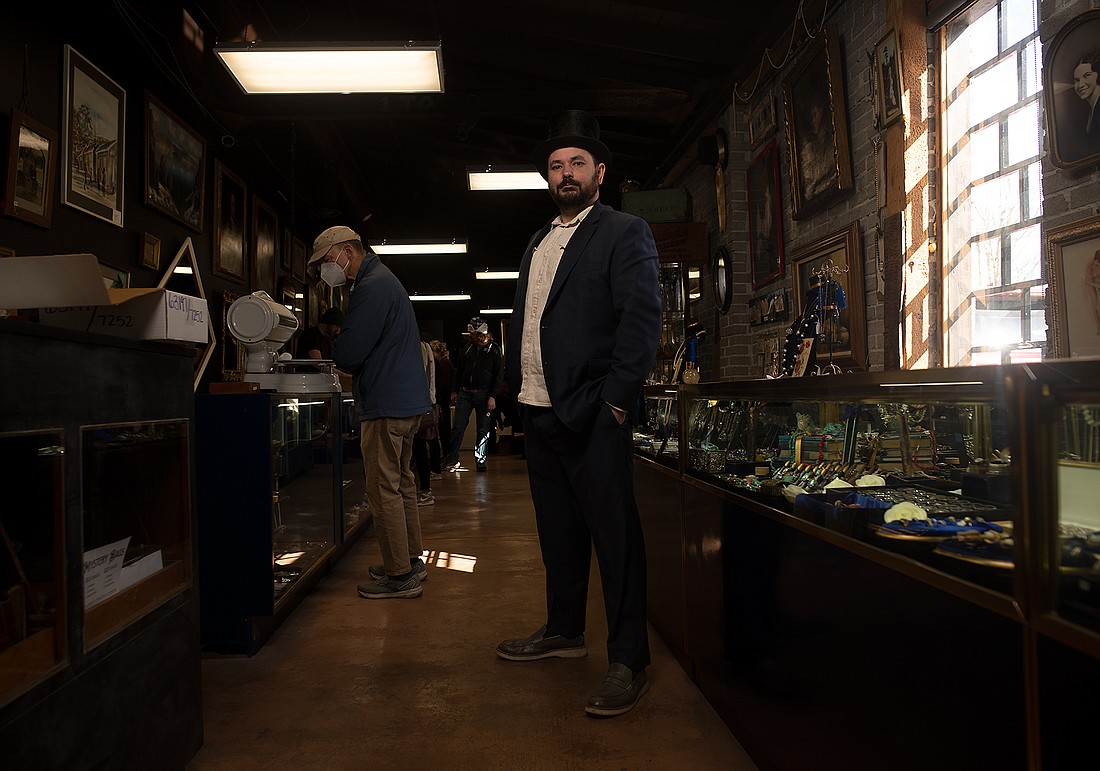 ---
---
RB Wick
Age: 36
City: Bellingham
Lived here for: 36 years
Originally from: Bellingham
Notable: Coin shop owner, new dad, lives on a 34-acre farm, organizes treasure and egg hunts
What does a typical day look like for you right now? 
I'll clean off the porch, I'll feed [our pet dog and pig] and then I'll go on — I'll feed the guineas and I'll feed the chickens, and then I'll come back inside and I'll take care of the parrots. In between all that, I'm checking in on mom and making sure that she's got her tea, she's got a drink, she's recovering ... checking in on baby, changing diapers (which, I'd never changed a diaper until two weeks ago — and it's not that bad. It's actually fine). 
[Getting] back into work, I'll answer emails, I'll check in on social media ... I'll check the silver and gold markets. Right now I'm checking in on volunteers, seeing who wants to volunteer to help hide eggs and fill eggs. 
How did you become the owner of Bellingham Coin Shop? 
When I was 9, my father would take me to the library, so I was left to roam. I found a coin book, and I knew that we had coins in the safe deposit box, so I said, 'Hey, dad, can you get the coins out of the bank? I have this book that will tell me how much you're worth.' ... And then I was reading the newspaper in the library, and I saw an ad for an auction that had old silver dollars. I said, 'Oh, dad can we go?' and he said, 'Absolutely.' My dad retired when I was about 7, so he was there, he was in my life. Any interest I had, he helped foster it and didn't like to say no unless he had good reason. 
When I was 16, the person that owned The Stamp and Coin Place asked me to come work for him, and so I did, and I worked for him until 2013. And then we parted ways, and I went off on my own and struggled for a while and worked hard … I'm definitely no stranger to knowing what it's like to have equity and people willing to help lend a hand. And so that's what has gotten me to where I am, is the relationship that I have in the community. 
What's your favorite part of living in the Bellingham community? 
We have a lot of people from different backgrounds, from different walks of life ... They're here because it's a beautiful, great place, and I think that great social change can come from Bellingham. I think that that's one of my favorite things is that we're a hidden gem within the United States.  
What's the inspiration behind your annual Easter egg hunt? 
There is no Easter egg hunts for adults, really. We just outgrow them ... So by [hiding] these Easter eggs around town, everybody has an opportunity to bring back that childhood nostalgia, our inner child. We all want to have fun, we all want to smile ... Every year I'll get three, four, five, a half-dozen messages on Facebook about, 'Hey, thank you so much, I couldn't get my kid to hang out with me, but they would do this.'  
There are $1,000 prizes in some of these eggs, so that's some of the things that people can look forward to. So it's the thrill of the hunt. And also the real treasure often, I would say, is not the treasure itself. It's the journey to find the treasure. 
"Faces in the Crowd" is published weekly in print on Wednesdays and online Fridays. Have a suggestion for a "Faces in the Crowd" subject? Email us at newstips@cascadiadaily.com.