The A-List
A&E calendar: Makers markets, wizards, dance and drag
A curated selection of happenings in Whatcom and Skagit counties
April 5, 2023 at 5:00 a.m.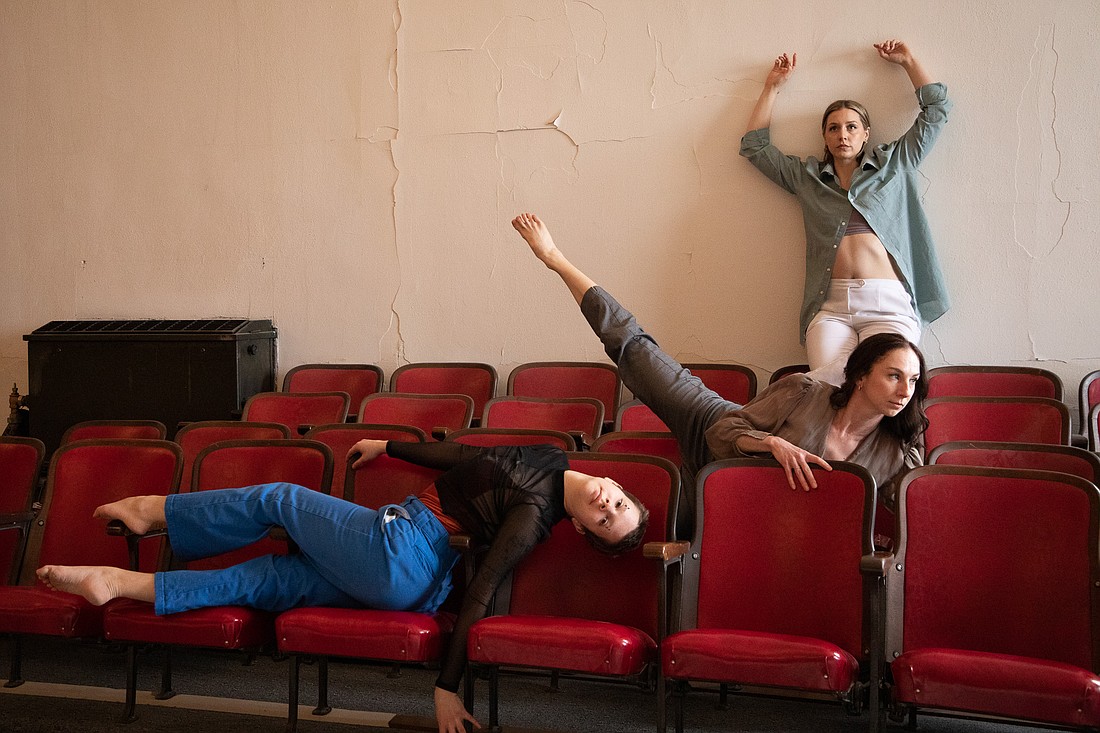 ---
---
Wednesday, April 5
Tulip Festival
Through April, throughout Skagit Valley
Tours of tulip fields, live music, the Downtown Mount Vernon Street Fair, photo contests, a salmon barbecue, a Tulip Parade, basketball tournaments, art shows, garage sales and much more will take place through the month as part of this 41st annual event. Info: tulipfestival.org.
Improv Night
8 p.m., The Blue Room, 202 E. Holly St.
Members of The Upfront Theatre and Western Washington University's student-led improv troupe, The Dead Parrots Society, will team up for this Western Wednesday show. Tickets are $7. Info: blueroombham.com.
Thursday, April 6
Spring Makers Market
4–8 p.m., Gruff Brewing, 104 E. Maple St.
More than 20 local artisans and craftspeople will be showing and selling their wares at this seasonal event. Grab a beer or mimosa and find a one-of-a-kind gift or treat for yourself. This is a 21-and-older event. Info: Facebook.com/gruffbrewingco.
'New Roots' Reception
7–9 p.m., Terra Firma Design Gallery, 2139 Humboldt St.
Check out pieces by woodworkers Tom and Jennifer Dolese and Hugh Montgomery, ceramist Larry Richmond, and painter Tom Semple at this new gallery space. The art can be seen during most business hours, and by appointment, through May. Info: terrafirmadesignnw.com.  
'Cuban Quartermoon'
7 p.m., Village Books, 1200 11th St.
Gig Harbor-based author Ann Putnam, an internationally known Hemingway scholar, will read from this "evocative and gripping" novel set in Cuba. She'll also share her novel "I Will Leave You Never," which will be published in May. Advance registration is recommended. Info: villagebooks.com.
'Casa Valentina'
7:30 p.m., Bellingham Theatre Guild, 1600 H St.
Closing weekend of this play written by Harvey Fierstein features showings Thursday through Sunday. Based on real events and infused with wit, this insightful and entertaining work offers a glimpse into the lives of a group of "self-made women" as they search for acceptance and happiness. Tickets are $8–$18. Info: bellinghamtheatreguild.com.
The GBU
7:30 p.m., The Upfront Theatre, 207 Prospect St.
Bellingham's longest-running improv show, "The Good, the Bad, and the Ugly," takes place every Thursday, featuring a rotating performance format and special guest players. Tickets are $10–$15. Info: theupfront.com.
Menace on the Mic
8:30 p.m., Menace Brewing, 2529 Meridian St.
Want to take a chance at performing standup comedy? Show up early to sign up for your spot, then stick around to see the action unfold. Entry is free. Info: menacebrewing.com.
Friday, April 7
First Friday Artwalk
6–8 p.m., downtown Anacortes
MoonWater Arts, Scott Milo Gallery (and the studios above the gallery), Adrift Restaurant, Trinity Skate, and Clayhouse Ceramic Studio will be among those participating in this monthly event. Entry is free and open to all. Info: anacortesart.com. 
First Friday
6–10 p.m., downtown Bellingham
The 11th annual Recycled Arts Resource Expo (RARE) at Allied Arts will be part of the programming for the Downtown Bellingham Partnership's monthly event combining art events, live music, restaurant specials and much more. RARE provides a platform for eco-friendly artists to showcase their art created from recycled materials. The exhibit will be up throughout April. Info: alliedarts.org.
'I'm Not a Comedian'
7:30 p.m., Mount Baker Theatre, 104 N. Commercial St. 
Ronnie Marmo portrays a classic talent in "I'm Not a Comedian … I'm Lenny Bruce" both Friday and Saturday night. The show looks at the life and battles of one of the most groundbreaking and impactful comedians of all time. The performances are part of MBT's Out of the Box Series in the Walton Theatre. Tickets are $55–$70. Info: mountbakertheatre.com. 
'All My Little Words'
7:30 p.m., New Prospect Theatre, 207 Prospect St.
Ashley Hollingshead, a Portland-based director, performer and collaborator, presents this "performance lecture on art and failure" for one night only. Hollingshead uses friend and artistic collaborator Nate Harpel's unfinished graduate playwriting thesis as a jumping-off point to explore the concepts of artistic failure, practice and success. Tickets are $10–$15. Info: newprospecttheatre.org.
Wizards of the NW Coast
7:30 p.m., The Upfront Theatre, 207 Prospect St.
Join a band of unlikely heroes as they are called upon by an audience member to embark on a true-to-life quest at 7:30 p.m. Fridays through April. At 9:30 p.m., stick around for Upfront Classic, an improv games show. Tickets are $10–$16. Info: theupfront.com.  
Saturday, April 8
Anacortes Farmers Market
9 a.m. to 2 p.m., Depot Arts Center, 611 R Ave. 
Peruse farm-fresh produce, crafts and more at this event, which will take place both indoors and outdoors. This will be the final "winter edition" market before the event continues on a weekly basis starting in May. Info: anacortesfarmersmarket.org.
Easter Celebration
9 a.m. to 3 p.m., Bellewood Farms & Distillery, 6140 Guide Meridian
Photo opportunities with the Easter Bunny, tractor train rides through the apple orchard and live music by Lynden-based band Queen's Bluegrass will be part of this event taking place both Saturday and Sunday. Children age 12 and younger can also play games along the Bunny Trail for $5. Entry is free. Info: bellewoodfarms.com.
Bellingham Farmers Market
10 a.m. to 2 p.m., Depot Market Square, 1100 Railroad Ave.
An expected 90 vendors from Whatcom and Skagit counties will be on-site at the weekly market, which continues every Saturday through Dec. 22. Stock up on local produce, baked goods, gluten-free items, jewelry, pottery and more. Info: bellinghamfarmers.org.
Skagit Drag Show
6 p.m., Lincoln Theatre, Mount Vernon
Simply Curious Enterprises presents "10 Years of Inspiration" at this annual show, which was created in 2013 to give a space for connecting the community through creative expression by sharing love, art, knowledge and support. Tickets are $20. Info: lincolntheatre.org.
Sunday, April 9
Adults-only Easter Egg Hunt
1–4 p.m., Gruff Brewing, 104 E. Maple St.
If you're 21 or older, grab a basket and friends and hop on over to the beer garden to score candy, merch, beer, prizes, drink specials and more. Entry is free. Info: Facebook.com/gruffbrewingco.
Tuesday, April 11 
Chuckanut Radio Hour
7 p.m., Hotel Leo, 1224 Cornwall Ave.
Head to the Crystal Ballroom for this live radio event featuring Bellingham-based romance and fantasy novelist Sarah Hawley, author of "A Witch's Guide to Fake Dating a Demon." Hawley will be interviewed by Les Campbell, and there will be live music, serial radio comedy, groaner jokes and poetry. Tickets are $5. Info: villagebooks.com.
Wednesday, April 12
They Lost Everything
6 p.m., The Foundation Lounge, 1209 Cornwall Ave.
Historian Carole Teshima and Fumio Otsu of Nikkei Northwest will give a presentation about the experience of Japanese Americans in Whatcom County before World War II. Otsu was born in the Tule Lake Concentration Camp, where Japanese families from Bellingham were also imprisoned. Entry is free, but space is limited. Please register in advance. Info: letteredstreets.wordpress.com.
Thursday, April 13
Poetry in the Library
4 p.m., Wilson Library, Western Washington University
Hear original creative work written and read by student employees from the Hacherl Research & Writing Studio, and by graduate students from Western Washington University's MFA in Creative Writing Program. The live reading will be followed by an opportunity for attendees to browse, purchase or borrow poetry books. Info: 360-650-3678.
Friday, April 14
'Gravitate'
7:30 p.m., FireHouse Arts and Events Center, 1314 Harris Ave.
Bellingham Repertory Dance presents contemporary dance works Friday and Saturday, and again April 20–22. The performances will explore the mysterious forces that keep us simultaneously grounded and in motion; the ways people, places and things have the power to forcefully propel us into orbit, or gently gather us together. Tickets are $15–$35. Info: bhamrep.org.
J.P. Falcon Grady
7:30 p.m., Mount Baker Theatre, 104 N. Commercial St.
This local singer-songwriter will be joined by special guests at this Lookout Sessions show at the intimate Walton Theatre. In his repertoire, the self-taught acoustic guitarist includes Native American, reggae, Hawaiian, Latin and country influences. Tickets are $18.50. Info: mountbakertheatre.com.
'Something Rotten'
7:30 p.m., Lincoln Theatre, Mount Vernon
Skagit Valley College's music department presents this Tony Award-winning musical Friday through Sunday and again April 21-23. The action takes place in the year 1535 when brothers Nick and Nigel Bottom are desperate to write a hit play but are stuck in the shadow of the rock-star bard William Shakespeare. Tickets are $16–$28. Info: lincolntheatre.org.
'Der Rosenkavalier'
7:30 p.m., McIntyre Hall, Mount Vernon
Pacific Northwest Opera presents this work — translated as "The Knight of the Rose" — Friday and at 1:30 p.m Sunday. The comic opera by Richard Strauss and the poet Hugo von Hofmannsthal includes madcap comic scenes, daring plot twists and bittersweet musings on life. Tickets are $25–$75. Additional performances take place April 21 and 23. Info: mcintyrehall.org.
Good Comedy
7:30 p.m., The Blue Room, 202 E. Holly St.
Bo Johnson and special guests will head to Bellingham after a sold-out series in Seattle. Johnson is a stand-up comedian who was a finalist in the 39th annual Seattle International Comedy Competition and is a regular at festivals like Bumbershoot (and far beyond). Tickets are $15–$25. Info: blueroombham.com.
Saturday, April 15
Artisan and Vendor Market
8 a.m. to 3 p.m., Lynden Christian School, 417 Lyncs Drive
Shop from a diverse group of more than 60 local artisans and crafters. A pancake breakfast will take place from 7 a.m. to 1 p.m., and from 10 a.m. to 4 p.m., shop at the nearby Second Chance Store. Info: lyncs.org.
Makers Market
10 a.m. to 3 p.m., Depot Arts Center, 611 R Ave.
Creative Avenue Market hosts this curated event featuring more than 50 local small businesses that will be selling everything from candles to art, soap, jewelry, stained glass, dumplings and more. Entry is free. Info: creativeavenuenw.com.
'All You Need is Love' closing reception
2–4 p.m., Gallery Syre, 464 W. Stuart Rd.
Enjoy coffee, tea and cookies on the last day of this varied exhibit, which features the works of 45 artists from Whatcom County and far beyond. The pieces in the open-call show explore the concept of love and universal understanding through art. Entry is free. Info: gallerysyre.com.
Piano Area
3 p.m., Performing Arts Center Concert Hall, Western Washington University
"Road to Kyiv" will be the theme of this concert performed by Western students and faculty. Casey Mullin will give introductory remarks, followed by a program including works by Lysenko, Kapustin, Maliszewski, Kuzmenko, Rachmaninov, Prokofiev, Liszt, Mussorgsky and others. Entry is free and open to the public. Info: cfpa.wwu.edu.
Art Conversation
5:30 p.m., i.e. gallery, 5800 Cains Court, Edison
Deryl Wells, the executor of late Skagit artist Guy Anderson's estate, will talk about his friend and his work at this exhibit of Anderson's lesser-known paper works. Entry is free. Info: ieedison.com.
'Ever is Never'
7:30 p.m., Honey Moon, 1053 N. State St.
The Unsubdued Theatre Collective presents a staged reading of this new play by Kyle Weeks. The sci-fi adventure is set in the worldwide web, where a plucky but not-too-bright job seeker is contacted by a mysterious employer offering to pay them handsomely for a simple task. Entry is free, but donations are appreciated. Info: honeymoonmeads.com.
Before heading out to attend in-person happenings, check with individual venues to make sure the event is still taking place as scheduled.
The A-List appears weekly on Wednesdays. To submit an event for consideration, email calendar@cascadiadaily.com.