Restaurants
Review: Chuckanut Manor
Come for the view, stay for the food
September 23, 2022 at 5:00 a.m.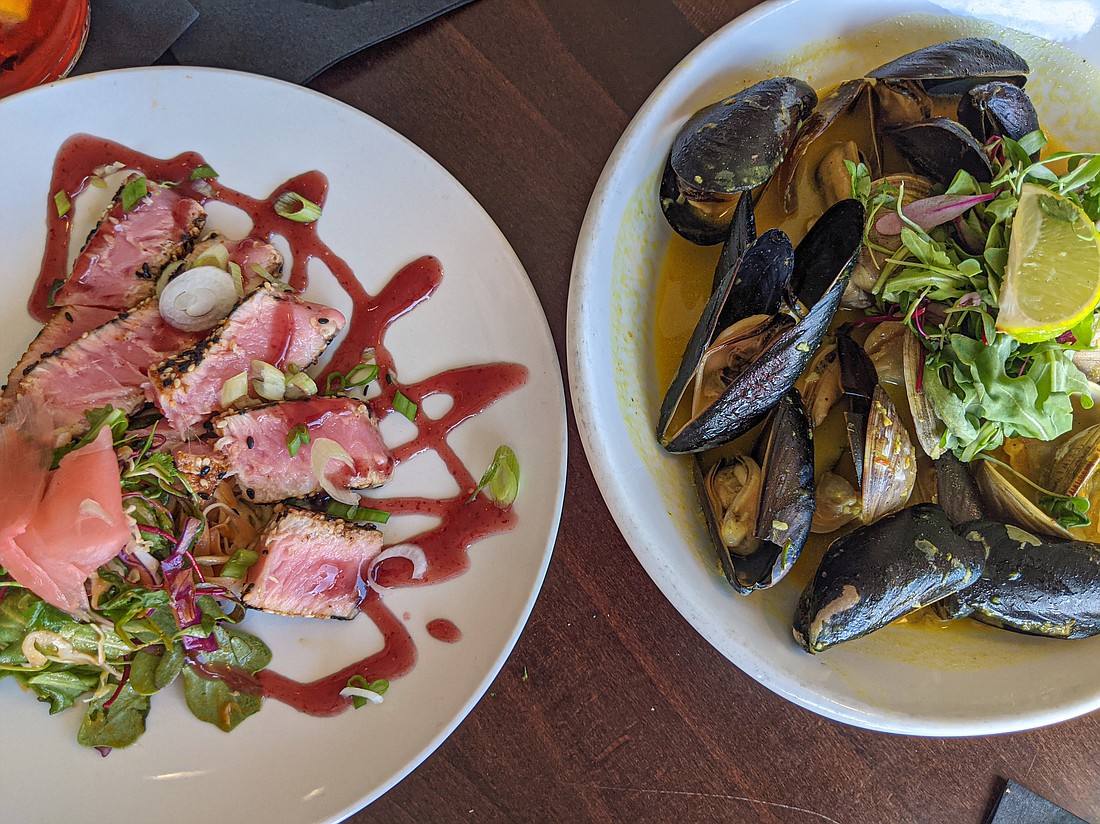 ---
---
Perched on the edge of Chuckanut Drive just before it curves down to the Skagit flats, Chuckanut Manor Seafood & Grill has been around for a long time. When I first moved to the area, it was popular with locals for its Friday night surf-and-turf smörgåsbord but was otherwise a rather dull and dingy place.
Since then, it has been taken over by Meagan Pickett (previously the owner of Pacioni's in Mount Vernon). The change in ownership and a big remodel have worked wonders.
The biggest draw of the Manor has always been its location. During the day, the restaurant overlooks Samish Bay out toward Anacortes and the San Juan Islands, with the sun shining off the bright blue of the water (or gleaming off of the mudflats, depending on the tide). Sunset, however, is astonishing, as the calm bay waters reflect the brilliant sky.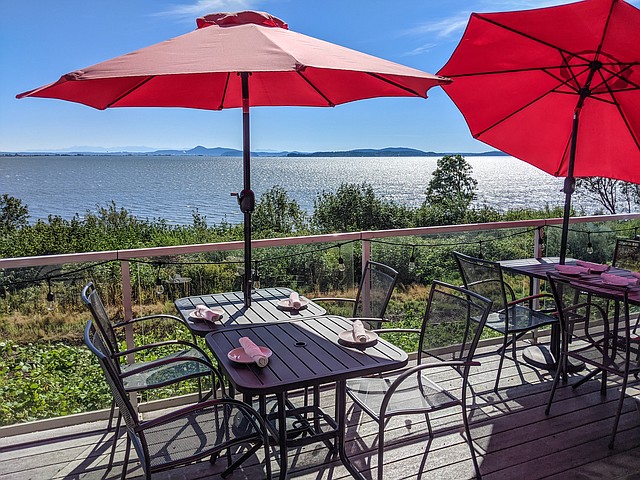 All tables have a view of the water, although it's worth making a reservation to make sure you get a window table. Note: They don't seem to pick up their phone in the evenings — and don't have voicemail, for some reason — so call during the day. There is seating in the cozy bar and in the main dining room, which is spacious and uncrowded. Deck seating is first-come, first-served, even for reserved parties.
The restaurant is open for lunch and dinner, with happy hour from 2–5 p.m. Appetizers are 25% off during happy hour, a great reason to come early (especially in the winter to catch the sunset). The clams and mussels in curry broth ($18) are excellent, and you should definitely get them along with an order or two of fresh bread and butter. I also loved the sesame-crusted ahi tuna with a salad of cabbage and pungent pickled ginger ($18). The tuna was slightly overcooked for my taste, but the flavors were fantastic. 
As befits a place located right by an oyster farm, there are fried Pacific oysters with tartar sauce ($16), and often they also have fresh oysters on the half-shell as well.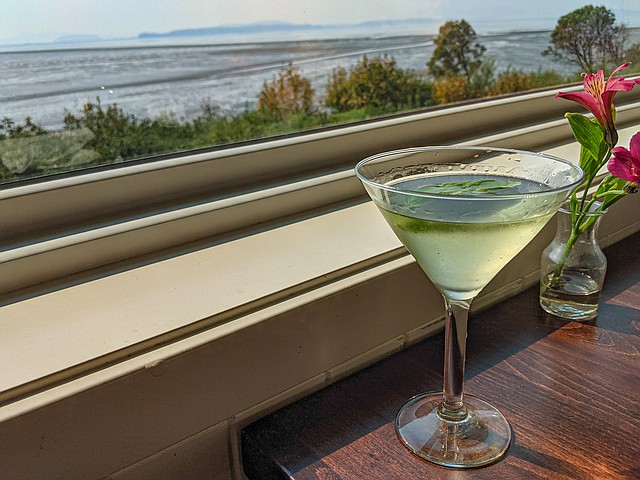 The Manor has a full bar, with a selection of house cocktails. My favorite so far has been the Saint ($13), with cucumber, Hendrick's gin, grapefruit and soda water. It arrived in a huge swanky glass that felt like a party all by itself. The Mint Bombasil ($15) is a pleasant riff on a gin martini, its flavor infused with fresh basil and mint. The wine list is nice, and there are also a few nonalcoholic options, including the Mediterranean with soda water, cucumber and rosemary. Wine and beer are discounted for happy hour as well.
Lunch and dinner share a number of entrees, but the lunch menu also includes a burger, halibut tacos and a very good fried oyster po' boy ($17), served on a soft roll with creamy, thinly shredded coleslaw on the side. I thought about ordering fries with the sandwich but didn't, which I regret. (Always order the fries, they have truffle oil and are very addictive.)
One of my favorite things on the menu is the Skagit chopped salad ($19). A huge pile of greens, seasonal vegetables and chickpeas dressed with a lemon and oregano vinaigrette on a slick of pungently delicious feta mousse, this would make a great side to share with the table, but it also makes a substantial and delicious entrée with the addition of grilled chicken or bay shrimp. I would normally go for the wedge salad ($12), but the chopped salad keeps distracting me.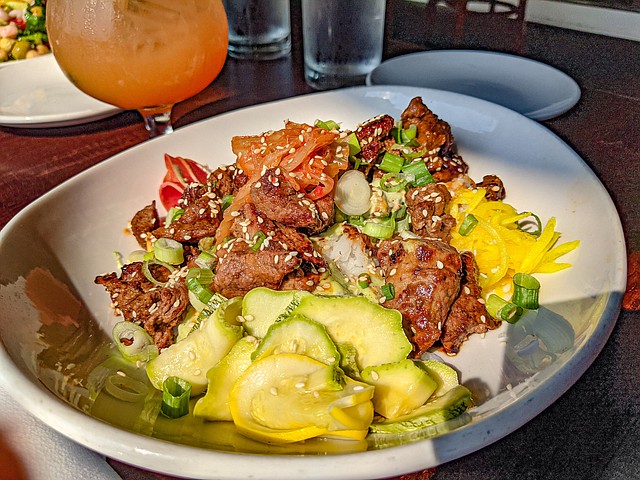 Dinner includes dishes such as scallops with couscous, cioppino, chicken romesco or just fish and chips. If you want to go all out order the Manor Oscar ($58) — filet mignon with crab, asparagus and Bearnaise sauce — but the cheaper steak frites ($32) are a good option, with flat iron steak, mushrooms and a rich demi-glace, plus the aforementioned addictive truffle fries. The bulgogi bowl ($26) was a surprise hit, a spectacular combo of flavors including kimchi and house-pickled vegetables over rice. We tried it with beef tenderloin, but it's also available with tofu.
Desserts included a berry cobbler that our table devoured, as well as a varying selection of ice cream and sorbet. A chocolate mousse cake was decadent, served with plump raspberries and a swirl of whipped cream. In addition, this is one of the few places I allow myself a chocolate martini ($14), and it lives up to all expectations.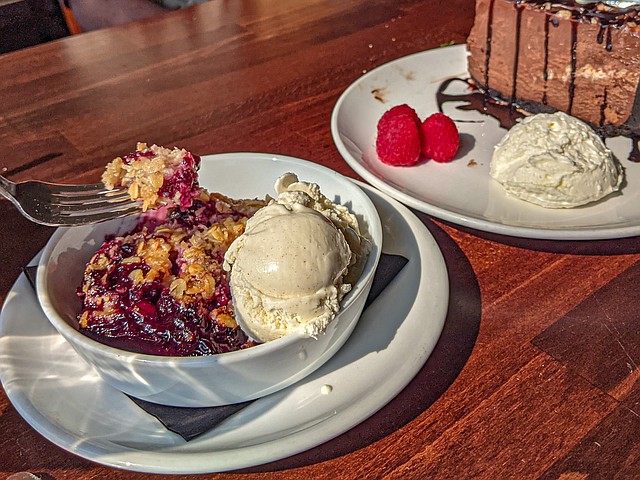 After its long pandemic closure, I had been anxiously awaiting Chuckanut Manor's return, and am happy to report it remains a very nice destination restaurant. Whether meeting for drinks or going all out on a splurge date, you can order something good while you enjoy a comfortable seat and a great view.
Chuckanut Manor is open from noon to 9 p.m. Tuesday through Sunday at 3056 Chuckanut Drive, Bow. Info and reservations: 360-766-6191 or chuckanutmanor.com.