Drink Cascadia
District Brewing opens Ferndale taproom
From hardware store to hangout hub
September 21, 2022 at 5:05 a.m.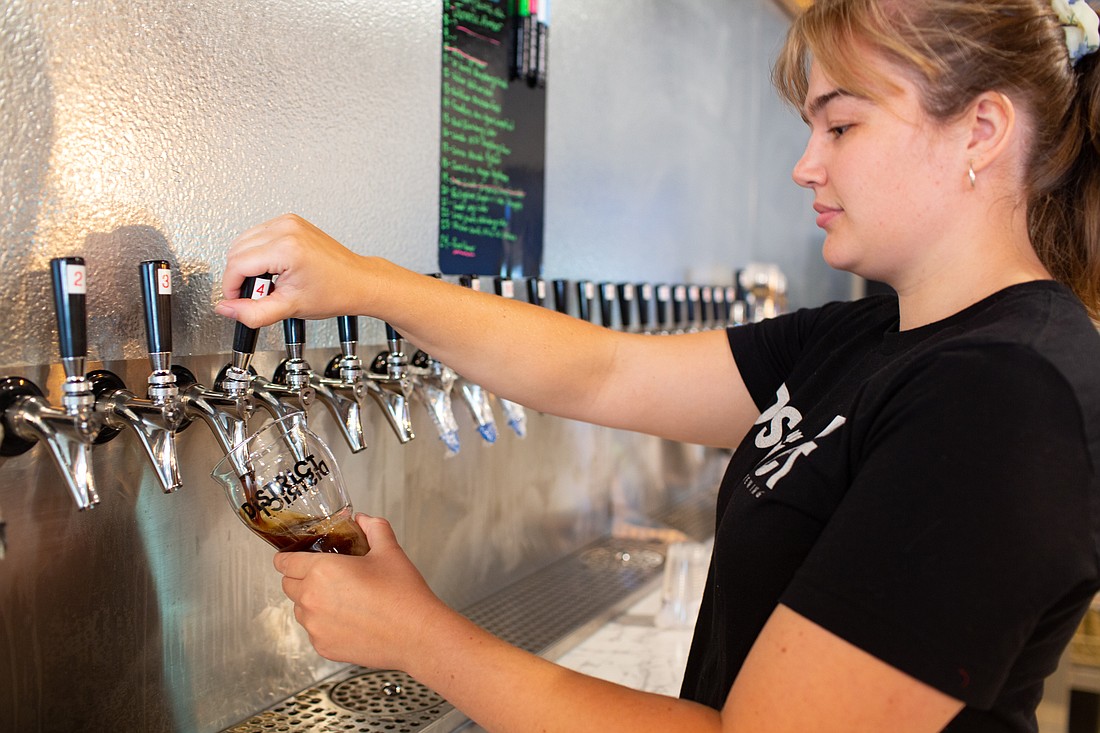 ---
---
District Brewing opened in downtown Mount Vernon's historic Lyric Theater building in 2020. After just two years of operation, District has become a community hub on the Skagit Riverwalk — a bustling brewery, pizzeria and family-friendly hangout. Now, District's flagship location serves as a hub for not only the Mount Vernon community but also the growing family of District taprooms.
On Thursday, Sept. 8, District opened its second location at 2000 Main St. in Ferndale. Located just two blocks from Fringe Brewing, one could almost argue that District's arrival creates an up-and-coming Ferndale brewing district. But District Ferndale isn't a production brewery — it's a taproom and barrel-aging space.
Housed in a former True Value Hardware building, the taproom takes up a sprawling 7,000 square feet. Inside, it's sort of set up like a house. A large "living room" offers plenty of space to spread out, with various seating options, pool tables and a bar. Several separate rooms branch off from the main area, each with its own theme.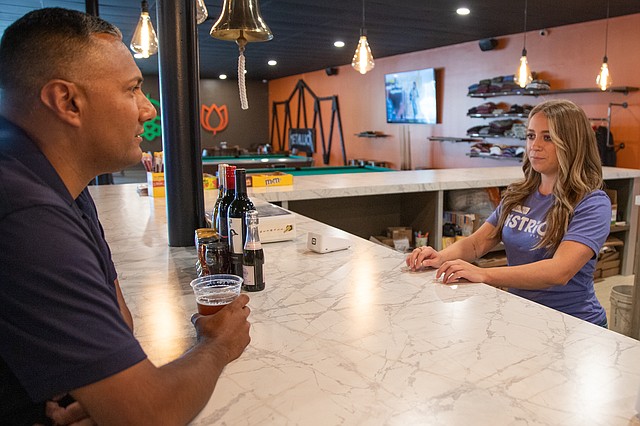 Feeling nostalgic? Take a seat in the "speakeasy room" or "grandma room." Local sports fans will appreciate the "locker room" — complete with a collection of jerseys from Ferndale High School. In the back — with more of a basement or garage feel — is the "arcade." Outdoor seating is available too, and will eventually be expanded to include a covered patio area.
Big-screen televisions, board games and a jukebox decorate the walls. There's a lot to do, and that's by design. Owner Mark Shintaffer grew up in Ferndale and is focused on creating a family-friendly experience for everyone.
"We have great beer, we're going to have great food and no matter who you are when you show up — from kids to grandma — you can enjoy the place," Shintaffer said. 
District Ferndale offers non-alcoholic options for all ages, including soda, kombucha, seltzer and energy drinks. Of course, the highlight is the beer. Shintaffer's business partner and head brewer, John Kochendorfer, creates a variety of styles, with an emphasis on juicy and hazy IPAs. Formerly a large-scale brewer for Elysian Brewing, Kochendorfer is well-versed in scaling beer recipes for consistency.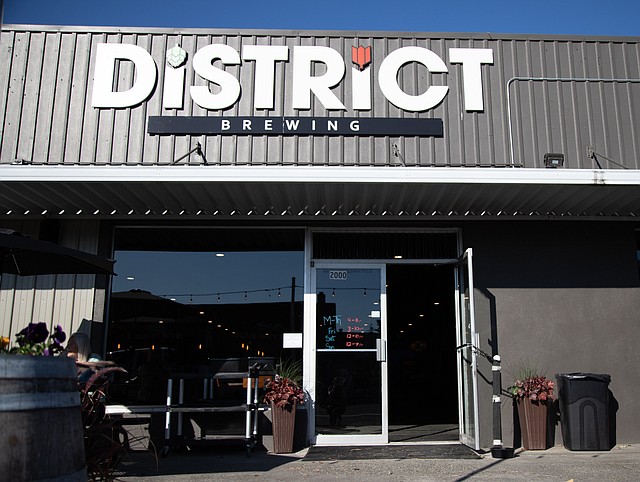 "The benefit of having John's background was, everything is a technical experiment with him," Shintaffer said. "So if we like a beer and want to make 20 barrels instead of 10, we're pretty sure the 20 barrels will taste exactly like the 10-barrel did — and our customers will come back and like that beer."
When I asked Shintaffer for a recommendation, he suggested the Juice Almighty IPA. True to its name, the beer was fruit-forward without any lingering bitterness — a sure hit with the hazy crowd. 
Food wasn't available on-site during my visit, but guests are welcome to bring outside food. Westside Pizza — located just across the Nooksack River — delivers to the taproom and offers a discount to District customers. Shintaffer said on-site food is coming soon.
The taproom was hopping during my Friday afternoon visit. Loud music played throughout the building; the atmosphere was fun and friendly. It seemed like half of Ferndale was there meeting neighbors, running into acquaintances and catching up. I look forward to returning with family and friends for another round.
District Ferndale is open from 4–8 p.m. Monday through Thursday, 4–10 p.m. Friday, noon to 10 p.m. Saturday, and noon to 8 p.m. Sunday. Be sure to bring a credit or debit card, as cash is not accepted.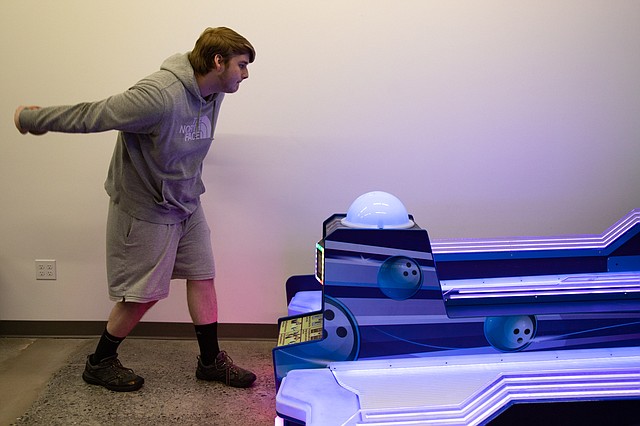 Beer news
•    Fresh hops are here! When the annual hops harvest wraps up in late August, Western Washington brewers rush to Yakima for the freshest, juiciest hops available. These hops typically go straight into the brew within a matter of days (or hours). The first local example I've seen is Stemma Brewing's Strata Harvest Fresh Lager. Watch for more fresh-hop beers over the next week or two.
•    National beer writer and podcaster John Holl recently visited our corner of the Pacific Northwest for two live podcast recordings. Tune in to the Drink Beer, Think Beer podcast to hear John speak with guests from Aslan Brewing, Chuckanut Brewery and Garden Path Fermentation.
•    The fourth annual Trails to Taps Relay will be held Sunday, Oct. 16 in Bellingham. Teams of 5–10 runners cover over 30 miles from brewery to brewery (including two cideries), followed by a party at the end. Ten Bellingham breweries and cideries are involved this year, with an after-party held from 1–4 p.m. in the Boundary Bay beer garden.
•    A new seven-barrel brewery and taproom are coming to Lynden. There's no ETA yet, but you can follow Icon Brewing on social media for updates. 
•    Finally, some shameless self-promotion. My new guidebook pairing trails and ales, "Beer Hiking Pacific Northwest," will be released Sept. 27. The guide, co-written with Rachel Wood, features local breweries in Washington (including Kulshan and North Fork), plus pairings in Oregon and British Columbia. You can find it at local retailers including Village Books and Ponderosa Beer and Books. 
Brandon Fralic's Drink Cascadia column runs every other Wednesday. Reach him at drinkcascadia@gmail.com.