The Beat Goes On
Sarah Goodin's new album was a long time coming
A singer-songwriter with staying power
October 19, 2022 at 5:05 a.m.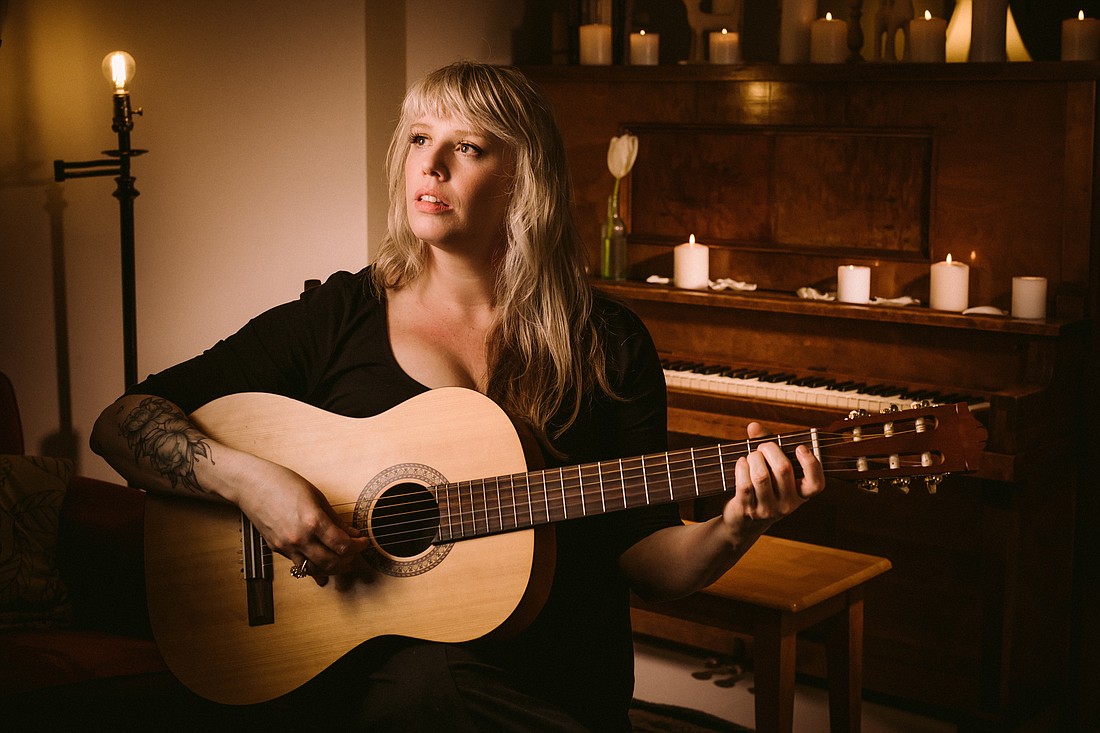 ---
---
Sarah Goodin is getting ready to release her wonderful new album, "Why I'm Like This." The talented musician has been a presence on the local scene for almost 20 years now, and the album draws on a wide range of experiences and influences. She'll be celebrating its release Saturday, Oct. 22, with a solo show at Honey Moon. 
Goodin's performing career started at the much-missed Stuart's Coffee House, back in the early 2000s. Before she even started playing guitar she would get up and perform solo a capella, something that takes an unusual degree of bravery. She eventually got an acoustic guitar and learned how to play it, and made a big musical breakthrough when she added electric guitar to her skill set. That helped Goodin stand out among a crowded field of acoustic singer-songwriters, and eventually enabled her to form a band. 
Her first EP, "Sleep," came out in 2012, and she started the band Sarah in the Wild not long after, with Cade Capp, Dave Batdorf and Jake Werrion. 
Since that EP was her last major recording project, the assortment of songs on the forthcoming album has had an unusually long time to develop. The songs are all built with Goodin's powerful voice in the foreground, accompanied by a mixture of her assorted guitars and keyboards, and then filled out with drums by Michael Bajuk, accordion and dobro by Michael Connelly, and bass and guitar by producer Bill Simpkins of Alpenglow Studios.
"Icarus" combines delicate acoustic fingerpicking with ominous waves of electric guitar and steady drums, creating an atmosphere of mixed dread and beauty that seems appropriate to its mythological inspiration. "Something Sweet" is more straightforwardly beautiful, with a stately, hymn-like melody accompanied by swells of organ. The title track, "Why I'm Like This," is bluesier, with layers of harmony stacked over rolling drums and a simple minor chord progression.
As the title might indicate, Goodin sees songwriting as a method for self-exploration, describing its role in her life as "therapy before I could afford therapy" — a sentiment a lot of musicians I know can probably relate to. 
You can check out Goodin's earlier EP online, but the new album will not be released until the night of the show. You can follow her on Bandcamp to get notified when that happens. She's looking forward to the possibility of some full-band shows in the future, so keep an eye out for that. 
In other local music news, Willdabeast just dropped a cool new track entitled "Brain Drain" that you can stream. The band is promising lots more new music coming soon, expanding on its signature blend of electronic music with live horns.
Live music listings  
Wednesday, Oct. 19
Blue Room: 8 p.m., Toadmortons, Lynn Street Ramble
Boundary: 6 p.m., Aaron Guest on piano
Foundation Lounge: 7:30 p.m., Open Mic
Honey Moon: 8 p.m., Open Mic
Mount Baker Theatre: 7 p.m., Robert Cray (blues)
Rockfish: 6 p.m., Aloha Danny (acoustic covers and originals)
Stones Throw: 6 p.m., Badd Dog Blues Society
Underground Coffeehouse: 7 p.m., Hockey Teeth (rock)
Thursday, Oct. 20
Blue Room: 6 p.m., Open Mic/Jam
Brown Lantern: 8:30 p.m., Open Mic
Honey Moon: 8 p.m., Glass Heart String Choir (folk)
Shakedown: 9 p.m., Bob Fossil, Mommyheads, Goldenboy (rock)
Thirsty Badger: 7 p.m., Open Mic
That's What I Like: 6 p.m., J.P. Falcon and Friends (folk/rock)
Wild Buffalo: 9:30 p.m., Westend, ZOF, Salleymane b2b Ricky Ticky, Cables (electronic)
Friday, Oct. 21 
Aslan: 8 p.m., Hopnotic (jazz/funk)
Beach at Birch Bay: 6 p.m., High Tide
Birdsview: 6 p.m., Conrad Gruener (country)
Blue Room: 8 p.m., Lazy Acres, Pure Halcyon, Vendovi (rock)
Fireside: 7 p.m., Jeffrey Slough (classic rock)
Honey Moon: 8 p.m., Bob Paltrow
Mount Baker Theatre: 7:30 p.m., Darlingside
Shakedown: 9 p.m., Boxcutter, Hilltop Rats, FCON (punk)
Skylark's: 8 p.m., Sweet Goodbyes (folk)
Thirsty Badger: 8:30 p.m., Michael Dayvid (acoustic covers)
Vault: 7 p.m., Tea Seas Trio (jazz/funk/rock)
Wild Buffalo: 9 p.m., Mr. Carmack, Jon Casey, Ceilla, Squanch, LargR
Saturday, Oct. 22
Beach at Birch Bay: 4 p.m., Chill DeVille (classic rock)
Big Stick BBQ: 6 p.m., Naughty Blokes Trio (folk/rock)
Brown Lantern: 9 p.m., Savage Blues Band
Conway Muse: 8 p.m., Stacy Jones Band (roots rock/blues)
Eagle Haven: 6 p.m., Midnight Hour (blues/R&B)
Fireside: 3:30 p.m., Singers' Saturday
Greene's Corner: 6 p.m., Quickdraw String Band (folk)
Honey Moon: 8 p.m., Sarah Goodin (singer-songwriter)
Main Street: 9 p.m., Sweet Emotion (Aerosmith tribute)
Menace: 6:30 p.m., Michael Dayvid
Shakedown: 8 p.m., Washed In Black, Wicked Garden (alt-rock tributes)
Skylark's: 8 p.m., Odd Mood Jam Band
Valley Taphouse: 7 p.m., Queen's Bluegrass
Sunday, Oct. 23 
Culture Cafe: 7 p.m., Open Mic
Kulshan: 5 p.m., Lindsay Street (pan-Celtic)
Main Street: 6 p.m., Open Mic
Old Edison: 5:30 p.m., Ron Bailey & The Tangents (classic rock)
Wild Buffalo: 9 p.m., The Hookups, Laguna Largo, State Park (rock)
Monday, Oct. 24 
FireHouse: 3:30 p.m., Cindy Minkler (piano)
Kulshan: 6 p.m., Yambaby
Tuesday, Oct. 25
Aslan: 8 p.m., Jazz Night
Boundary: 6 p.m., Paul Klein on piano
Wild Buffalo: 9 p.m., Sueco, Lil Aaron, Killboy
WWU PAC: 8 p.m., Reverso (chamber/jazz)
Wednesday, Oct. 26 
Blue Room: 8 p.m., No-Fi Soul Rebellion, North by North, PS Webster (rock)
FireHouse: 6:30 p.m., Dave Meder Trio (jazz)
Shakedown: 8 p.m., Vision Video, Gallowmaker, Flais (rock)
Before heading out to listen to live music, check with individual venues to make sure the event is still taking place as scheduled. 
Jesse Stanton's music column, The Beat Goes On, runs Wednesdays. Email: jsbhammusic@gmail.com or Twitter: @JSBhamMusic.