The A-List
A&E calendar: Savages, bats, Bigfoot and ghost walks
A curated list of happenings in Whatcom and Skagit counties
October 12, 2022 at 5:15 a.m.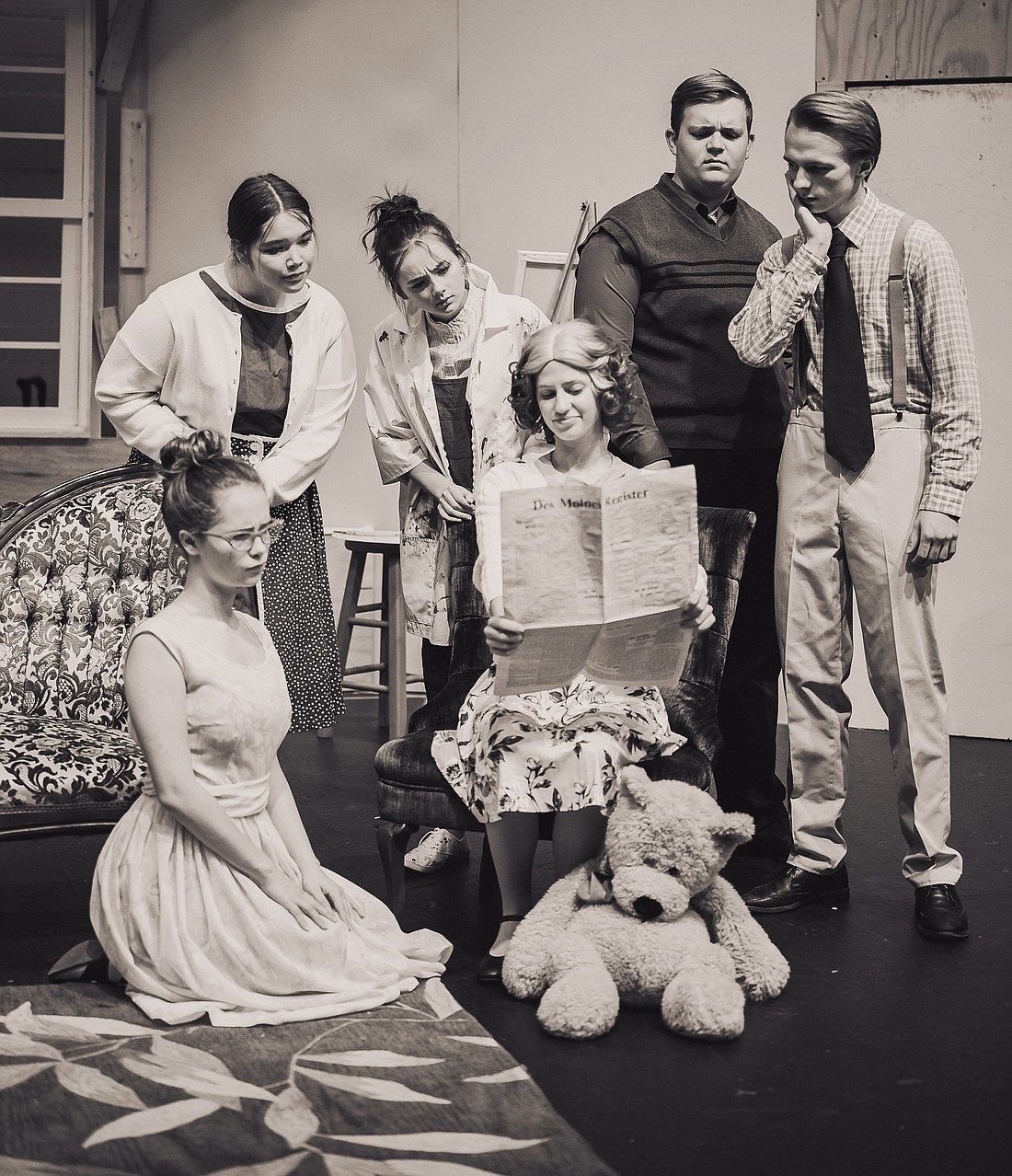 ---
---
Wednesday, Oct. 12
Under the Radar Artists of Whatcom
11 a.m. to 6 p.m., Waterfront Pump Track
Through Sunday, visit the container village at Waypoint Park to view and purchase the works of outsider artists and crafters Kayla Nygren, Pete Nygren and Adrianne Beard — as well as practicing artist Sara Young, who has been creating and selling art for more than 30 years. Info: spikeofalltrades.com/under-the-radar.
Sedro-Woolley Farmers Market
1–4 p.m., Hammer Heritage Square
Pick up everything from honey to locally grown vegetables, home decor, organically grown flowers, berries, baked goods, garlic, beauty products and more at the final market of the season. Info: sedrowoolleyfarmersmarket.com.
Thursday, Oct. 13
The Curious Savage
7 p.m. Lynden Christian High School, 515 Drayton St.
John Patrick's charming comedy can be seen at 7 p.m. Thursday, Saturday and again Oct. 21–22 at the Worship and Fine Art Center at LCHS. The play focuses on a woman named Mrs. Savage who inherits a small fortune when her husband passes away — causing her stepchildren to commit her to a sanitarium, where she befriends a wonderful group of misfits. Tickets are $7–$12. Info: gofan.co/app/school/WA23258.
The Bat
9:30 p.m., Upfront Theatre, 207 Prospect St.
Experience improv comedy in the dark at this special performance. The unique, spooky show is performed in pitch-black — think of it like an old-time radio show, with some chills added in for good measure. Entry is pay-what-you-will. Info: theupfront.com.
Fri., Oct. 14
Open House
10 a.m. to 7 p.m., Lynden Pioneer Museum, 217 Front St.
Celebrate the fall season and preview new changes coming to the museum from 10 a.m. to 4 p.m., with free admission, activities for kids, snacks and raffles prizes. At 5 p.m., listen to live music by The Moonlighters, presented by the Lynden Music Festival. Wine, beer and apps will be available to purchase. Info: lyndenpioneermuseum.org.
Skagit Bigfoot Fest
Friday through Sunday, Eagle Haven Winery, Sedro-Woolley
Skagit Social will host this inaugural event to raise funds to purchase a van to transport veterans to their appointments. In addition to live music, vending, food trucks and mini-golf, there will be a Sasquatch Call Contest and Sasquatch King and Queen Costume Contest, photos with Bigfoot, face painting and much more. Parking and camping are free. Entry fees vary (passes are available). Info: skagit.social/about-big-foot-festival.
Saturday, Oct. 15
Anacortes Farmers Market
9 a.m. to 2 p.m., Depot Arts Center, 611 R Ave.
Find produce, eggs, preserves, baked goods, flowers, tasty food, unique arts and crafts, a kids' booth and an outdoor cafe at this weekly event, Saturdays through October. Info: anacortesfarmersmarket.org.
Bellingham Farmers Market  
10 a.m. to 2 p.m., Depot Market Square, 1100 Railroad Ave.
The 30th annual market takes place every Saturday through Dec. 17. With more than 80 vendors from throughout Whatcom and Skagit counties, it provides a vital connection to the agricultural and artistic facets of our community. Info: bellinghamfarmers.org.
Dockside Market
10 a.m. to 2 p.m., Squalicum Harbor, Gate 5
Procure fresh and local seafood from local fisherfolks at this market, which takes place on the first and third Saturday of every month. Peruse the market's Facebook page to find out who will be selling what. Info: bellinghamseafeast.org.
Artist Talk
5:30 p.m., gallery i.e., 5800 Cains Court, Edison
Longtime Northwest oil painter Victor Sandblom will talk about his one-man exhibit, "Smoke and Mirrors," which can be seen Fridays through Sundays through Nov. 13. The paintings on display were started long before the pandemic, but were influenced by the calm of the first few months of lockdown. Info: ieedison.com.
Vaudevillingham
7 p.m. and 9 p.m., Cirque Lab, 1401 6th St.
Bellingham Circus Guild hosts its monthly variety show, with an early family-friendly performance and a later almost-anything-goes gig. Each month showcases local talent as well as traveling out-of-town guest performers. Suggested donation to the fundraiser is $5–$25. Info: bellinghamcircusguild.com.
The Poetry of Piano Music
7:30 p.m., Performing Arts Center Concert Hall, WWU
Western faculty member Milica Jelača Jovanović will offer a poetic musical journey with pieces by Bach, Fanny Mendelssohn, Clara Wieck-Schumann, Robert Schumann and more. Entry is free. Info: cfpa.wwu.edu.
Concrete Ghost Walk
7 p.m., Concrete Theatre, 45920 Main St.
Travel back in time to the early 1900s, when this Skagit town was a lawless village of miners, loggers, millhands and cement plant workers with plenty of hardworking, hard-living characters who now are long dead — or are they? The 90-minute tour will take you through dimly lit buildings and down dark alleys, so be aware. Tickets are $25. Advance purchase is required; additional tours take place Oct. 22 and 29. Info: concrete-wa.com.
Sunday, Oct. 16
Night Beat in the Afternoon
3–5 p.m., Squalicum Boathouse, 2600 Harbor Loop
Bellingham Music Club presents cellist Elinor Frey as part of its 107th season under the theme Concerts à la Carte. Frey will perform La Voce del Violoncello, her personal journey through early cello works from Northern Italy. Suggested donation is $20 (free for students). Info: bellinghammusicclub.org.
Monday, Oct. 17
Comedy Saloon
9 p.m., Horseshoe Cafe, 113 E. Holly St.
Head to one of the oldest cafe and cocktail lounges in Washington state when this event hits the Ranch Room stage. The free show has happy hour prices, featured standup comedians and a fast-paced open mic round. The gigs take place the first and third Monday each month. Info: horseshoecafe.com.
Tuesday, Oct. 18
A Conversation with Dave Eggers
7 p.m., Heiner Theater, 231 W. Kellogg Rd.
Whatcom Museum teams up with Village Books for this event featuring the famed artist and author at Whatcom Community College. In a conversation with Seattle author Jeff Schwager, Eggers will discuss his artwork — a few pieces which are included in "Un/Natural Selections" at the museum's Lightcatcher Building — as well as his book "The Museum of Rain" and his latest novels. Entry is free. Info: whatcommuseum.org.
Wednesday, Oct. 19
The Robert Cray Band
7 p.m., Mount Baker Theatre, 104 N. Commercial St.
Five-time Grammy Award-winner Robert Cray and his accomplished band will perform songs drawing from the best of American roots, blues, soul and R&B — including original music and pieces honoring their musical heroes like Curtis Mayfield, the Bobby "Blue" Band and The Sensational Nightingales. Tickets are $24.50–$59.50. Info: mountbakertheatre.com.
Beach Cat Comedy Open Mic
8 p.m., Beach Cat Brewing Co., 7876 Birch Bay Drive
Nikki Kilpatrick hosts this free standup comedy show on the first and third Wednesday of the month. Signups start at 7:30 p.m., with each performer getting five minutes onstage. The event is 18+ with some mature content. Info: asnailspace@gmail.com.
Before heading out to attend in-person happenings, check with individual venues to make sure the event is still taking place as scheduled.
The A-List appears weekly on Wednesdays. To submit an event for consideration, email calendar@cascadiadaily.com.