Theater
'Pride and Prejudice' adds slapstick to its comedy of manners
A classic story is given a reboot at the Bellingham Theatre Guild
November 30, 2022 at 5:55 a.m.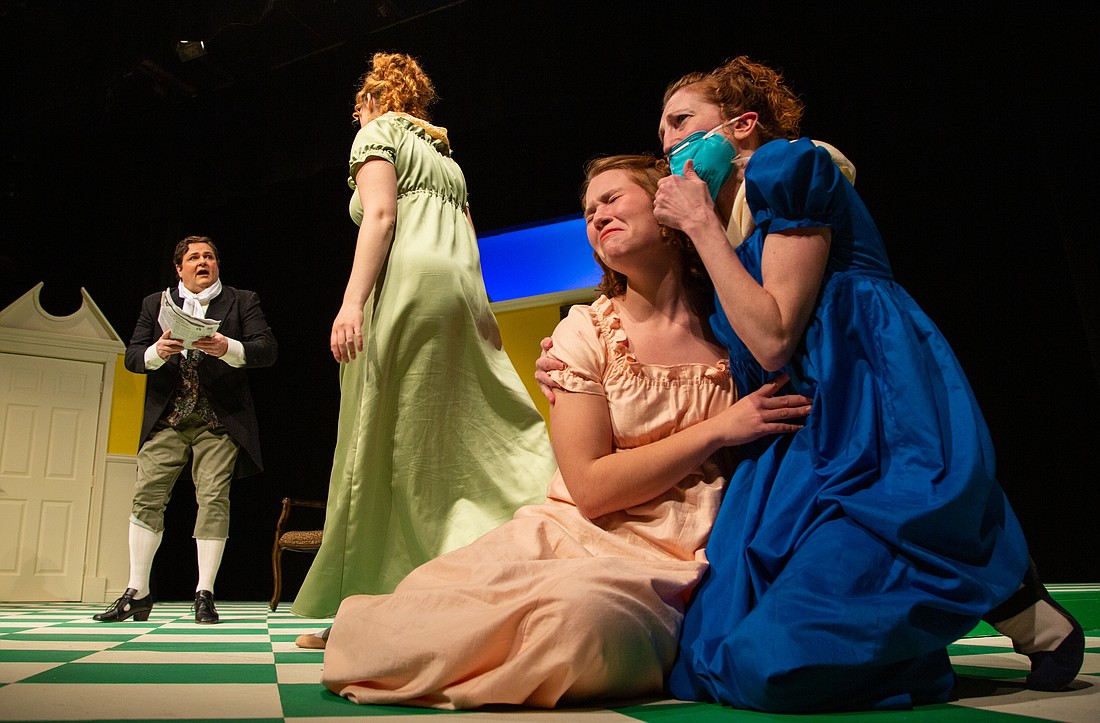 ---
---
"My favorite thing about Mr. Darcy is that I could break that man over my knee," a woman said to her seatmate during the intermission of a Sunday matinee of "Pride and Prejudice" at the Bellingham Theatre Guild (BTG).
The Mr. Darcy she was referring to, of course, is the character of Mr. Fitzwilliam Darcy, whom author Jane Austen referred to as "haughty, reserved and fastidious" in her 1813 "novel of manners." During the course of the book, the upper-class Mr. Darcy spars with his improbable love interest, Elizabeth "Lizzy" Bennet, a smart young woman of marriageable age who's not at all interested in tying the knot — at least not until the fateful moment she realizes Mr. Darcy's priggish veneer hides the fact that he's also liberal-minded, sincere and yes, even honorable.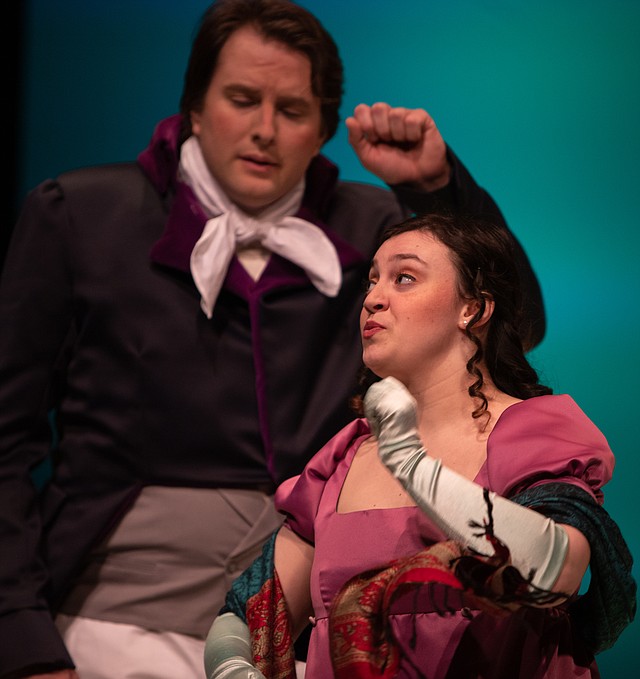 Since the book was first published more than 200 years ago, Mr. Darcy and Lizzy Bennet have rekindled their romance in the English countryside repeatedly onscreen, on television — with Academy Award-winning actor Colin Firth taking on the role to great acclaim for a 1995 miniseries — and onstage. People can't seem to get enough of the will-they-or-won't-they aspect of the duo's relationship, even though it's been proven time and again they're destined for the altar.
In the stage adaptation of "Pride and Prejudice" showing at BTG through Dec. 11, playwright Kate Hamill has turned the comedy of manners on its head. The main plot line still focuses on getting Lizzy and her sisters Jane, Mary and Lydia wedded to men who may be able to help save the Bennet estate, without having to hand it over to the closest male heir upon their father's death, but Hamill has added a slapstick element to the proceedings that points to the absurdity of believing a woman's only worth is in securing a spouse.
A content warning for "double entendres, anachronisms, and lots and lots of bells" in the play's program is the first tipoff that things may not be what they seem. Throw in modern dance moves, over-the-top characters, and an unhinged Mrs. Bennet — who leads her daughters in cheerleader-style chants such as "Chest and bum and eyes and smiles, catch that man with feminine wiles!" and even slaps their behinds while getting them to behave — and the story veers even further away from Austen's original telling.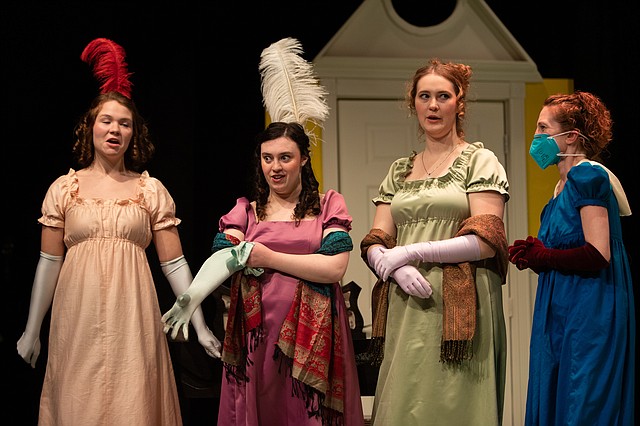 Director Les Campbell describes Hamill's adaptation as "a fast-paced comedy for our contemporary sense and sensibility" and said it shows that "despite a couple of centuries of supposed progress, society's expectations for women, and the difficulties of negotiating romance, are not that different today."
Although Lizzy and Mr. Darcy's relationship — aptly portrayed by Hannah Cafarella and Kyle Kahklen — is still the main driver of the action, it's the side players who steal the spotlight in this go-round. I'm thinking specifically of the role of Mary Bennet. Played by Aidan Ramey, Mary is portrayed as a sickly, almost ghoulish character.
In the novel, Mary is seen as a bookish sort, but in this "Pride and Prejudice," she's more of a pariah who seems to consistently alarm her sisters and parents with dire pronouncements and incessant coughing.
"Have consumption or be done with it!" Mr. Bennet (Lucas Naylor) barks at one point.
Ramey's comedic timing as the odd-sister-out is hilarious, but when you add in the fact that he also takes on the role of Jane's suitor, Mr. Bingley — whom Hamill has written as a man who is more canine than human, willing to fetch as well as sit on command — and he gets a gold star for his performance.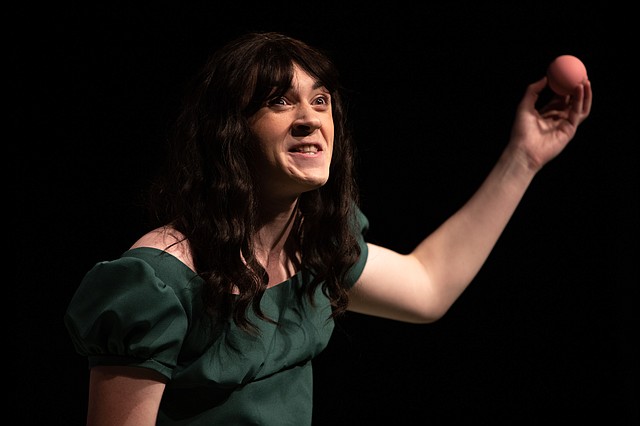 Naylor, whose takes on the aggrieved Mr. Bennett and Lizzy's friend Charlotte Lucas are also spot on, provides another dose of humor to the classic tale. So, too, does Cecilia Nielsen, who toggles back and forth between her roles as the flighty youngest sister Lydia and Lady de Bourgh, Mr. Darcy's conniving aunt.
It should be noted there was a bit of a hiccup during Sunday's show. The role of Mrs. Bennet was played by understudy Erin Hull that day, and although Hull was fully committed to the shrill nature of the character, it was disconcerting to have her reading off the script for the entirety of the play. However, because the audience wasn't apprised of the circumstances of why Cordelia Cloke wasn't able to play Mrs. Bennet for the performance, future audiences should give the players the benefit of the doubt and roll with any changes they encounter.
It's best not to forget it wasn't long ago theaters throughout the world were shut down due to pandemic-related closures. In fact, "Pride and Prejudice" was slated to run in BTG's 2020–21 season before the stage lights were dimmed. Casts and crews are still testing for COVID-19, staying as safe as possible and making allowances when they need to. Your role? Support your community and your local theaters by showing up to laugh, cry and clap as needed. When the next show comes around, do it again. 
"Pride and Prejudice" shows at 7:30 p.m. Dec. 1-3 and Dec. 8–10, and 2 p.m. Dec. 4 and 11 at the Bellingham Theatre Guild, 1600 H St. Tickets are $8–$18. Info: bellinghamtheatreguild.com.