Best Bets
Christmas lights, dancing elves and gingerbread houses
Margaret Bikman's weekly picks
November 30, 2022 at 5:15 a.m.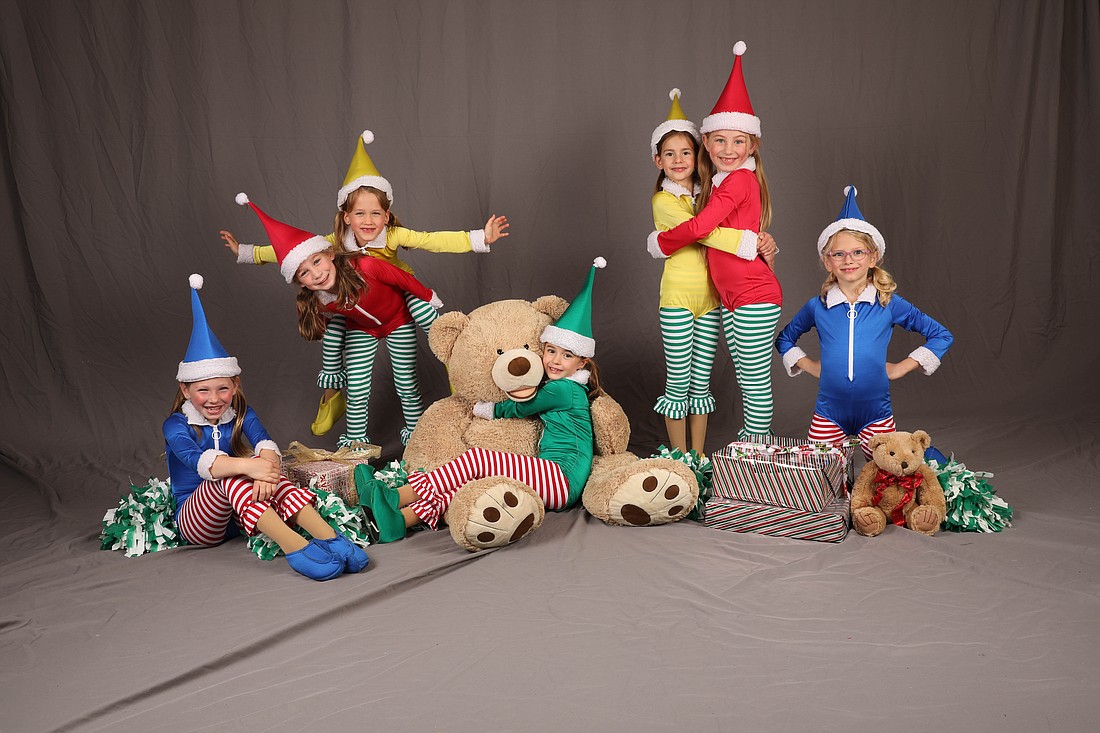 ---
---
After a couple of years of stay-at-home festivities, holidays are in full celebration this week from Bellingham to Lynden, Ferndale and Mount Vernon. Bundle up and head out!
Olde Fashioned Christmas
Families can celebrate the Ferndale Heritage Society's 30th annual holiday celebration from 4–9 p.m. Friday and Saturday, Dec. 2–3 at Pioneer Park, 2004 Cherry St. Among the many majestic cedar trees in Pioneer Village, the log cabins will be aglow with holiday spirit. Guests will visit with costumed volunteers who open the cabin doors to greet you as you feel the holiday cheer spill into the winter air. 
"Celebrating 30 Years of Memories" is the overall theme this year, and each cabin will be decorated accordingly. Try homemade applesauce in a pioneer kitchen, write a letter to Santa in the one-room schoolhouse and mail it in the historic post office, sing carols on a horse and wagon ride, and, of course, enjoy a warm treat. Visitors can also stroll through the village from 5–8 p.m. Dec. 9–10 and 16–17.
The lighting of the Christmas tree will be at 4 p.m. Friday, Dec. 2, at Centennial Riverwalk Park, hosted by the Ferndale Chamber of Commerce. Free cookies and hot cocoa will be provided. Santa and Mrs. Claus will also be in attendance. Details: Ferndale-chamber.com. 
A Christmas tradition
"Welkom" in this holiday season Saturday, Dec. 3, with the annual Northwest Lighted Christmas Parade in Lynden, presented to the community by title sponsor Edaleen Dairy. The parade starts at 6 p.m. at the Fairway Shopping Center, at Front and 18th streets, heading east on Front Street into downtown Lynden, ending at Third Street.
Get in the Christmas spirit as a lighted menagerie of cars, pickups, trucks, floats, wagons, farm equipment and more light up Front Street. Don't forget to take a tour of unique light displays and decorated storefronts throughout the city during Lynden in Lights. See illuminated designs including nativity sets, Dutch children, poinsettia and windmills shining brightly throughout the holiday season. For more info, go to lynden.org. 
Winterfest Holiday Movie Nights
The Fairhaven Association presents two nights of "warm your heart" family holiday movies. Will Ferrell's delightful comedy, "Elf," on Friday, Dec. 2, and "The Polar Express" the following Friday at the FireHouse Arts and Events Center, 1314 Harris Ave. Doors open at 6 p.m. 
Families are welcome to bring pillows, sleeping bags and blankets to cuddle up and get comfy on the floor. Jammies and slippers are allowed attire, especially for kids. Hot chocolate, cider, holiday treats, beer and wine can be purchased at the FireHouse Café. Admission is free, but donations are appreciated. Details: enjoyfairhaven.com. 
Double the voices
Join two of Bellingham's newest choral groups, Vox Pacifica and Choir of the Salish Sea, for "Sea & Stars" at 7:30 p.m. Friday, Dec. 2, and at 3 p.m. Saturday, Dec. 3 at the First Congregational Church of Bellingham, 2401 Cornwall Ave. This intoxicating musical journey will include works by Joan Szymko, Randall Thompson, Jake Runestad, Philippe Nicolai, Trond Kverno, Amy Beach and Duncan Tuomi. Wendy Bloom directs Vox Pacifica and Kevin Allen-Schmid directs the Choir of the Salish Sea. Tickets are $20 general, $10 for ages 12 and younger, available in advance at voxpacifica.org, choirofthesalishsea.com and at Village Books in Fairhaven. 
More music from the stars
Cantabile Chamber Choir, directed by Dustin Willetts, performs at 7:30 p.m. Friday, Dec. 2, at White Branches, 100 E. Montgomery St. in Mount Vernon; and at 7:30 p.m. Saturday, Dec. 3, at Depot Arts Market, 611 R Ave., in Anacortes. From holiday favorites to songs about stars and the northern lights, "Lighting Our Path" is an 80-minute concert that draws focus toward the light, with violinist Kera-Lynne Newman. Details: cantabilechamberchoir.org. 
Holiday Port Festival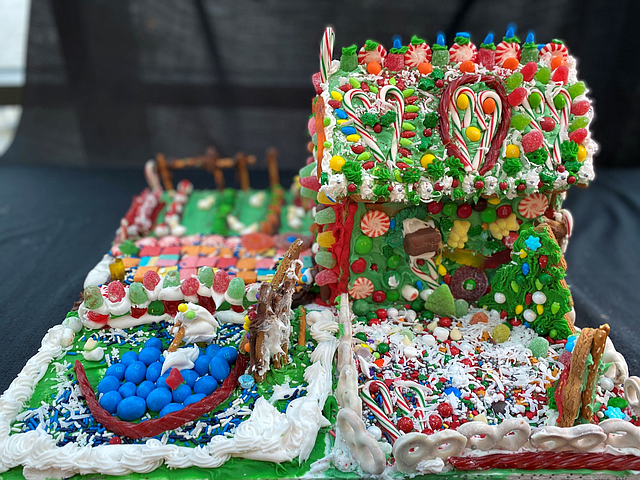 The annual Holiday Port Festival takes place from 11 a.m. to 5 p.m. Dec. 3–4 at the Bellingham Cruise Terminal, 355 Harris Ave. Enjoy performances by local choirs, orchestras, bands and dance groups — including "TubaChristmas" at 11 a.m. Saturday, part of the 48th anniversary of the events, which are presented throughout the world. There will also be free family activities, including horse-drawn wagon rides, children's art activities and complimentary gingerbread cookies and cider. 
Santa and Mrs. Claus will be there as well. Meanwhile, sugar plum fairies will transform the Bellingham Cruise Terminal into a gingerbread house contest. Categories range from youth to professional bakers. Previous entries have created miniature versions of the Space Needle, Santa's stable and even the Washington State Capitol. Get details at portofbellingham.com. 
Dancing elves 
Under the direction of Britt Burton, The Dance Studio presents its annual original dance production, "Saving Christmas Town," at 2 p.m. and 7 p.m. Saturday, Dec. 3, and 2 p.m. Sunday, Dec. 4, at Mount Baker Theatre, 104 N. Commercial St. Put on your elf caps, brush off your jingle bells and join the comical and quirky elves as they defend Christmas Town from the naughty and ominous characters of Oogie Boogie Land. Tickets can be purchased at mountbakertheatre.com. 
Play reading at Bellingham Theatre Guild
The reading series Lend Us Your Ears continues at 2 p.m. Saturday, Dec. 3 at the Bellingham Theatre Guild, 1600 H St. "The Lifespan of a Fact," the popular play based on John D'Agata and Jim Fingal's groundbreaking book, will be the focus. 
The pay-what-you-will performance, directed by Woody Ciskowski and featuring local actors Tim Albertson, Suzie Clarke, Ron Warner and Carmen Sterk, follows the comedically tumultuous effects when a fact-checker challenges the truth of an essayist's most acclaimed work. The play contains adult language and situations. Seating is general admission, and no reservations are necessary. Details: bellinghamtheatreguild.com. 
Fairhaven Firelight Stroll
As part of Fairhaven Winterfest, grab a hot cocoa or spiced cider at the entry tent and stroll a wooded path lined with luminaria from 5–8 p.m. Saturday and Sunday, Dec. 3-4, starting at Eighth Street and Harris Avenue (near Evil Bikes).
Music will be provided by Holiday Horns, a collective of local French hornists who get together every holiday season and share a varied arrangement of traditional and standard Christmas songs everyone knows and loves. The players are all longtime musicians who perform in the Bellingham Symphony, Skagit Symphony, the Whatcom Wind Ensemble and many other local groups. Details: enjoyfairhaven.com. 
Uke it up!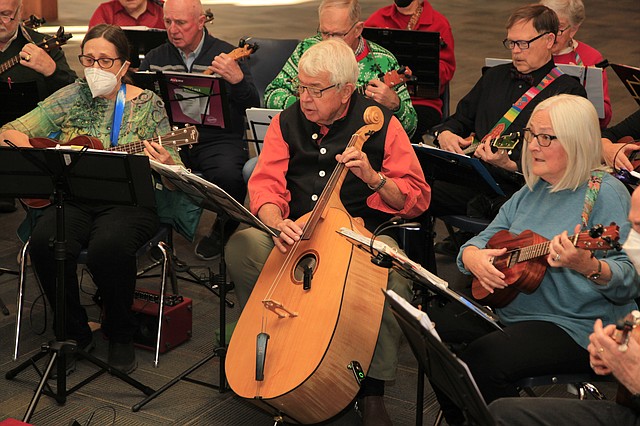 The Community Ukulele Players have been joyously serenading the community for more than 15 years. They'll perform at 3:30 p.m. Monday, Dec. 5, at the FireHouse Arts and Events Center, 1314 Harris Ave. The 24-member ensemble's exuberant vocal and instrumental repertoire spans genres, moods and decades, from Americana folk to contemporary standards.
They'll also perform "Songs of the Season" at 1 p.m. Sunday, Dec. 11 in Whatcom Museum's Rotunda Room. Both concerts will feature the "best of" their concert catalog as well as a sampling from their holiday songbook. Find out more at bellinghamukulelegroup.com. 

Before attending an in-person event, check with individual venues to make sure it is taking place as scheduled.
Margaret Bikman's column runs every Wednesday. Reach her at margaret.bikman@gmail.com.