The Beat Goes On
Morhaf Al Achkar is an 'oud' man out
Syrian musician mixes instrumentation and improvisation
November 23, 2022 at 5:10 a.m.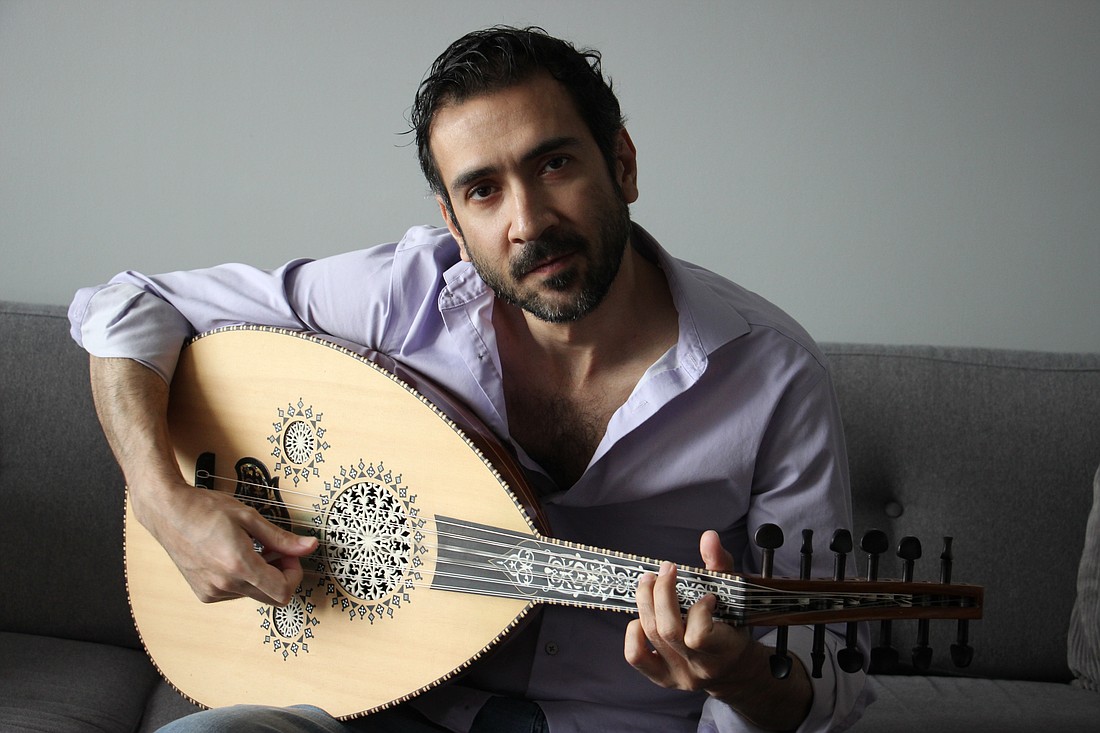 ---
---
A unique show is happening Friday, Nov. 25 which might be just the thing for your post-Thanksgiving entertainment. Oud player and singer Morhaf Al Achkar will be presenting an evening of his beautiful original compositions at the Honey Moon.
Originally from Syria, Al Achkar now lives in Seattle, where he's also a doctor, professor and author. His music is based in the classical Arabic tradition, which typically includes a considerable amount of improvisation. Most of his recent album "Mabsoota" was written in a brief period following a moment of heartbreak, so the songs emphasize feelings of longing and melancholy. 
In fact, Al Achkar wrote many of the songs with the idea of trying to win back his lover's affection. That didn't happen, but the burst of creativity was so strong he wanted to release them anyway, as a document of the experience.
The album features a broad range of instrumentation, even electric guitars and drums on some songs, but the show on Friday will be solo with his oud, a lute-type instrument. Some songs will feature dancing by Rachel Carter (aka Rachel Belly Dances), performing the dance style properly known as "raqs sharqi."
Another surprising thing about Al Achkar is that he's been living with stage IV lung cancer for several years. This has brought a sense of urgency to his music, as his uncertain health inspires him to take every opportunity to create and express himself while he has the chance. If you go to the show, you can anticipate a deeply emotional experience, even if you don't understand the language of the songs.
The Lincoln Theatre has a pretty fantastic live music lineup for the next month, some of which you might want to get tickets for now. Highlights include Christmas in Hawaii with ukulele virtuoso Jake Shimabukuro on Monday, Dec. 12; Karla Bonoff and Livingston Taylor on Thursday, Dec. 22; and a party with local heroes Kuinka on New Year's Eve.
I have some new releases to mention. The Harbor Day album I talked about a few weeks ago, "Ivy League," is out now on all streaming services. Singer-songwriter duo Raveis Kole have a new single, "So Nice," with a video on YouTube and plans for an album release in the spring. Also, a new band called Girls Know just released its first single, "Some Words," a blast of guitar pop that somehow manages to be shimmery and gloomy at the same time.
Finally, if you spend as much time looking at music listings as I do, a funny inversion is happening Saturday, Nov. 26. The Shakedown has cover bands doing '80s and '90s rock, while the Main Street in Ferndale has a three-band bill of younger original indie bands. I'd like to commend everyone involved for taking some chances and mixing things up a bit. 
Live music listings 
Wednesday, Nov. 23
Beach at Birch Bay: 6 p.m., Adrian Clark
Black Fern: 6:30 p.m., Queer Open Mic
FireHouse: 6:30 p.m., Michael Weiss Quartet (jazz)
Honey Moon: 8 p.m., Open Mic
Main Street: 8:30 p.m., Shannanagins (rock covers)
Rockfish: 6 p.m., Fidalgo Swing
Stones Throw: 6 p.m., John Swanke (acoustic instrumentals)
Friday, Nov. 25
Aslan: 8 p.m., Mindset Concept (jazz fusion)
Beach at Birch Bay: 6 p.m., Popology (classic pop covers)
Birdsview: 6 p.m., Nick Anthony
Brown Lantern: 8:30 p.m., The Enthusiasts (rock and roll)
Fireside: 7 p.m., Song Wranglers (acoustic Americana)
Honey Moon: 8 p.m., Morhaf Al Achkar (acoustic Arabic music, plus belly dancing)
Main Street: 9 p.m., 1967 (classic rock)
Shakedown: 9 p.m., Rosegarden Funeral Party, Vio\ator, Gallowmaker (post-punk)
Skylark's: 8 p.m., Tom Mullin (acoustic covers)
Vault: 7 p.m., Michael Dayvid (acoustic covers)
Saturday, Nov. 26 
Beach at Birch Bay: 4 p.m., Chris Eger Band (blues/rock)
Birdsview: 6 p.m., Zach Michaud
Conway Muse: 8 p.m., Badd Dogg Blues Society
Eagle Haven: 6 p.m., Tom Mullin (acoustic covers)
Fireside: 4 p.m., Singers' Saturday
Gateway1890: 7:30 p.m., The Naughty Blokes (rock)
Hotel Bellwether: 7 p.m., The Singer Tina
Main Street: 8:30 p.m., Madrona, Not You, Magenta Wave (rock)
Paws for a Beer: 5 p.m., Michael Dayvid (acoustic covers)
Rockfish: 7:30 p.m., Astley-Lagen Band (blues/country)
Shakedown: 9 p.m., Dial-Up (1990s-2000s rock covers), Vendovi ('80s tribute set)
Skylark's: 8 p.m., Song Wranglers (acoustic Americana)
Wild Buffalo: 7 p.m., The Walrus (classic rock)
Sunday, Nov. 27
Kulshan: 5 p.m., Carly Ann Calbero (singer-songwriter)
Main Street: 6 p.m., Open Mic
Old Edison: 5:30 p.m., Bow Diddlers
Monday, Nov. 28
Foundation Lounge: 7:30 p.m., Open Mic
Kulshan: 6 p.m., Conrad Gruener (country)
Tuesday, Nov. 29
Aslan: 8 p.m., Jazz Night
Beach Cat Brewing: 6 p.m., Michael Dayvid
Boundary: 6 p.m., Paul Klein on piano
Culture Cafe: 7 p.m., Open Mic
Greene's Corner: 6 p.m., Tenderpile's Smile Aisle
Before heading out to listen to live music, check with individual venues to make sure the event is still taking place as scheduled. 
Jesse Stanton's music column, The Beat Goes On, runs Wednesdays. Email: jsbhammusic@gmail.com or Twitter: @JSBhamMusic.