Uncorked
Pour out a few holiday helpers
Wines of the times
November 22, 2022 at 4:55 a.m.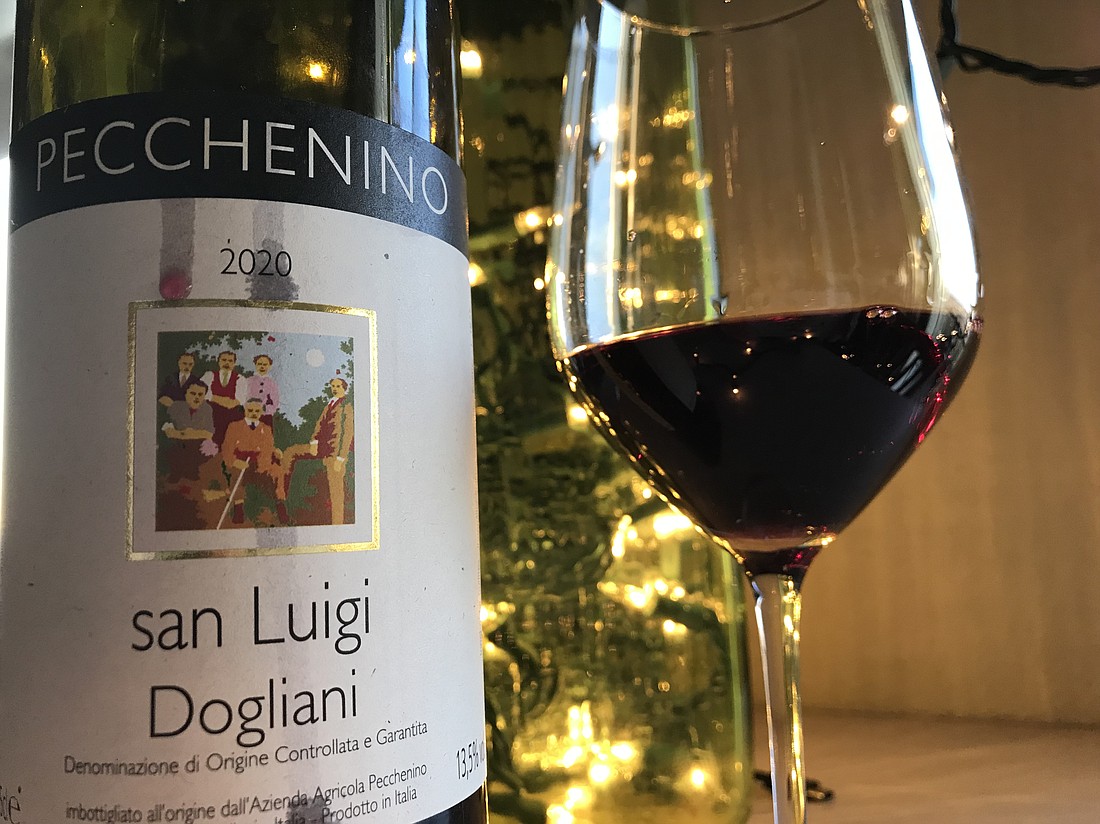 ---
---
Now that we've survived the trauma of "falling back," it's appropriate to look ahead to the upcoming holiday season. And thanks to the time change, happy hour starts an hour earlier, making this time of year even more enjoyable. 
My favorite holiday is Thanksgiving because of its simplicity — what's not to like about family and friends gathering together to eat and drink? Yes, there are the occasional cringe-worthy moments when someone at the table mentions politics and you ask yourself, "How can I possibly be related to this person?" or "Who invited that guy?"
At times like that, it's important to have plenty of wine on hand and stop the conversation by shouting, "Who needs more wine?" 
Due to my background, I'm always asked to "bring the wine," which I am more than happy to do. The only problem with this is I am a wine enthusiast and I want to drink good wine; wine I like. I have no beef with someone who prefers Hearty Burgundy or a wine with Snoop Dog on the label; I simply don't want to waste the good stuff on a loved one who can't tell the difference. 
The answer to this conundrum is to bring your hardworking host a bottle or two of what she enjoys, and three or four bottles of what you enjoy. I know this seems a bit extreme, but there is a method to my madness.
While the Chef de Cuisine is busy making velvety gravy and basting the bird, I casually offer to see how everyone is doing. Armed with a bottle or two of my personal stash, I begin to work the crowd by making sure everyone's wine glass is full. This way, I get to do what I love, which is talking about wine and introducing people to wines they may never think to try. 
The following wines were all purchased from the Barkley Village Haggen and selected with purpose. I want the wine to elevate the meal, not distract from it. After all, someone (other than ourselves) has been toiling away in the kitchen all day, slinging curse words like wet spaghetti, and has earned the right for the food to have top billing.
To create a festive mood at your gathering, I suggest starting with something sparkling. If your hostess likes Korbel, by all means, bring a bottle of that for her — but tuck something special in your stash, like a bottle of non-vintage Maurice Bonnamy Cremant de Loire ($21.59). Made from 100% Cabernet Franc, this sparkling rosé from the Loire Valley of France is fruity but dry and is the perfect ice-breaker to pair with relatives you haven't seen in years.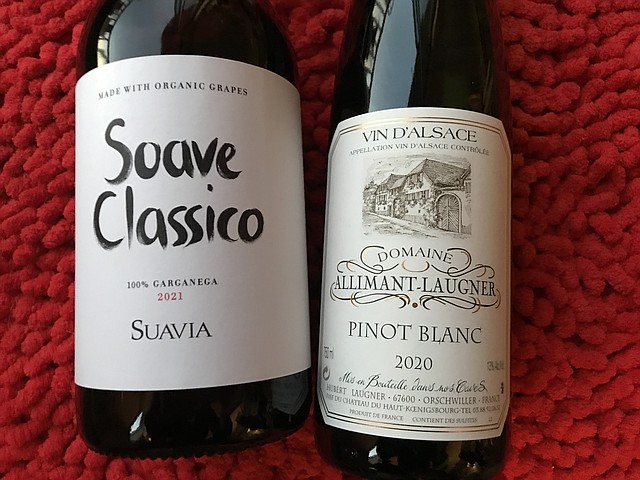 For the holiday meal, your stash should include a red and white wine, and since more is often better, I plan to bring two bottles of each.
For the whites, I recommend the 2021 Suavia Soave Classico ($20.99, from the Veneto region of Italy) and the 2020 Domaine Allimant-Laugner Pinot Blanc ($19.99, from Alsace, France).
The Soave (make sure it's a Classico) is the lighter of the two with delicate floral aromas and notes of pear and bitter almond skin. At first pour, this wine is a little tight, but when left to warm up a bit, the pear flavors come alive. The Allimant-Laugner has enticing aromas of pie crust dough and flavors of honeyed peaches and baked pear. While quite different stylistically, neither wine will overpower your meal. 
Red wine at Thanksgiving or Christmas dinner can be tricky because big, exuberant reds need a lot of attention and can be somewhat demanding in their behavior. Lighter body and less tannic reds won't bully your meal — they know how to share. With that in mind, I recommend the 2015 Louis Bernard Cotes-du-Rhone ($16.99) and the 2020 Pecchenino San Luigi Dogliani Dolcetto ($22.49).
I chose the Cotes-du-Rhone because I wanted to match the savory herb flavors in the wine to the meal. Cotes-du-Rhone is a region fermented in history and is one of the oldest vineyard regions on the planet. These reds are typically a good value and range in body from medium to full, with wild herb and bright cherry flavors. 
The last wine I would include in my stash is the above Pecchenino. At Vinostrology, I put this in my wine club and I had it on the machines. I wanted to share my passion for this wine. The nose alone will hypnotize you — rose petals, candied cranberry and a dash of baking spice. The palate on the Pecchenino will put you in a trance and pair well with your full and satisfied belly. 
During holiday meals, remember to drink responsibly and buy a bottle or two for yourselves and your hostess  — trust me, you'll thank me. 
Katie Bechkowiak owned Vinostrology wine bar in downtown Bellingham from 2013–19. If you have wine suggestions for her monthly column, contact vinostrology@gmail.com.