The Beat Goes On
The Unknowns: 5-piece blends jazz, pop, blues and soul
From harmonies to humor
November 16, 2022 at 5:10 a.m.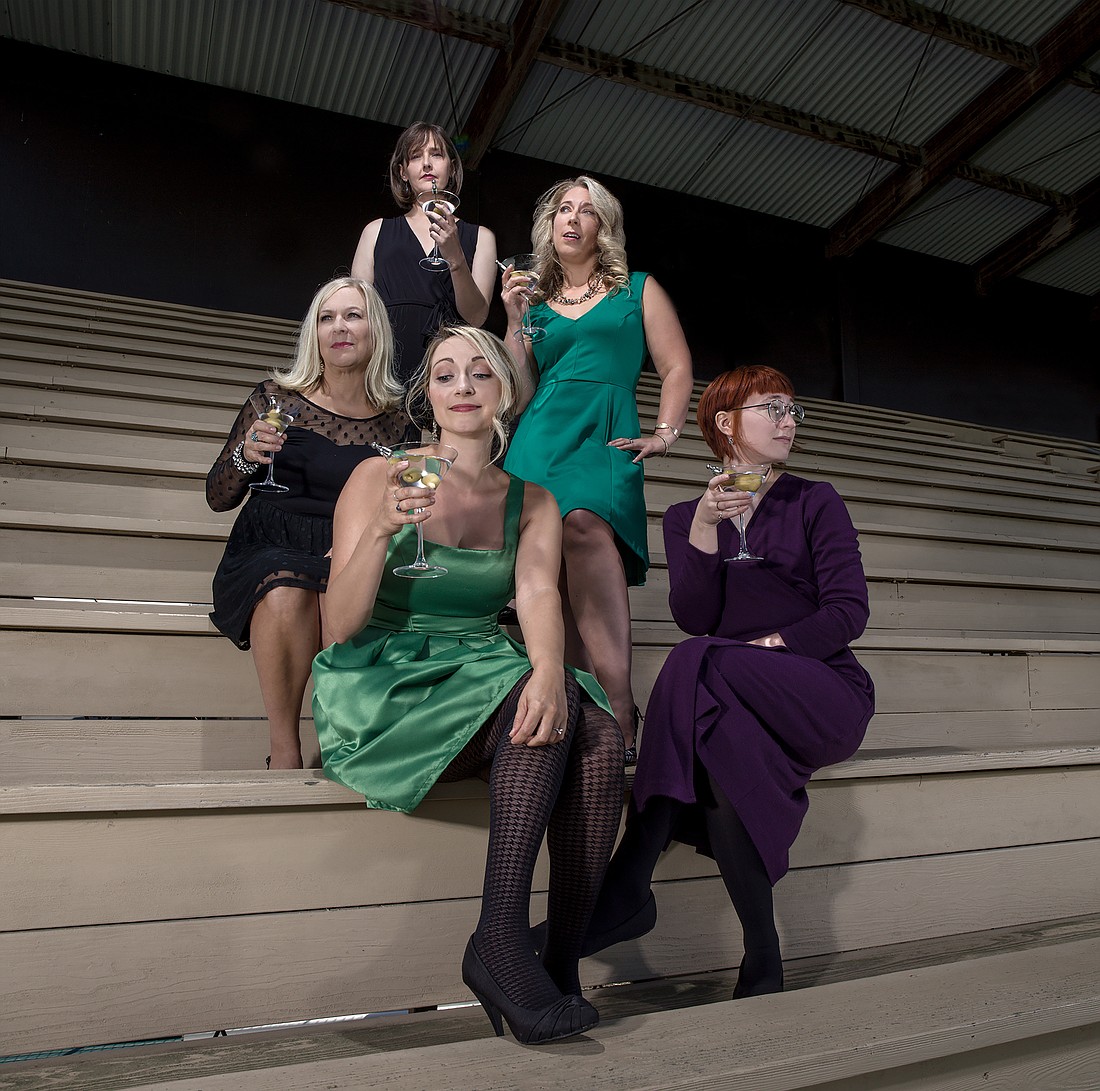 ---
---
The Unknowns are a five-piece group who perform an unclassifiable blend of jazz, pop, blues and soul. They've got a show Saturday, Nov. 19 at the Blue Room so I thought it would be a good time to check in with them. It turns out they've got some big projects in the works for next year.
The original core of the band was Kim Bowman, Allison Bowman and Caitie Bowell, who all met singing in a blues/Americana band. Realizing they had the makings of a special vocal blend, they struck out on their own and formed The Unknowns.
Kim Bowman plays keyboard, Allison Bowman plays ukulele, and Bowell plays tenor guitar, with all three singing and writing songs. They added bassist Sarah Yates and drummer Melanie Sehman to complete the current lineup, making their live debut in spring 2019.
You can get a little taste of their sound from the songs they have out on streaming services, and their website (theunknowns.band), but that doesn't account for the wide range of other people's songs, which they put their own unique spin on. A lot of people in town might have heard them for the first time when they played a concert at Elizabeth Park last summer. They've also been one of the most aggressive local groups in terms of pursuing opportunities to play out of town, with a couple 10-day tours and shows at places like the Evergreen State Fair and the Anacortes Arts Festival already under their belt. 
Next year, however, they're taking that to a whole other level when they head to Europe for a summer tour. They're already working on learning some songs in French, some of which they'll be playing at the show on Saturday. If you go, expect tight harmonies, plenty of sass and humor, and a lot of connection with the audience. In addition to the tour, they are planning to head to Seattle to record an EP in the next few months, so that's something to keep an eye out for next year!
Some venue news: Black Fern Coffee (in the old Granary building) is starting to host more music. There hasn't really been a coffee shop doing live music in town for a while, so that's neat to see. The Beach at Birch Bay has canceled its Wednesday night open mic and will just be having solo acts on Wednesdays while it makes some changes to its stage setup. Make.Shift is adding an all-ages open mic, scheduled for every second Saturday of the month. 
Finally, Nov. 20 is your last chance to see the exhibit entitled "The Scene: A Journey Through Bellingham's Musical Past" at Whatcom Museum's Old City Hall. It's worth the trip.
Live music listings
Wednesday, Nov. 16
Blue Room: 8 p.m., Laguna Largo, Orange Orange, Spider Cult (psychedelic pop)
Boundary: 6 p.m., Aaron Guest on piano
Honey Moon: 8 p.m., Open Mic
Mount Baker Theatre: 7 p.m., Midland, Jonathan Terrell (country)
Rockfish: 6 p.m., Pension King and the Dependents (classic rock)
Stones Throw: 6 p.m. Alger Rhythms ("dad rock" covers)
Underground Coffeehouse: 7 p.m., Smooth Kiwi (rock)
Thursday, Nov. 17
Blue Room: 6 p.m., Open Mic/ Jam
Brown Lantern: 8:30 p.m., Open Mic
Honey Moon: 8 p.m., Go Slowpoke (singer-songwriter)
Shakedown: 8:30 p.m., Checker Bloom, Fruit Juice, PS Webster
Thirsty Badger: 7 p.m., Open Mic
That's What I Like: 6 p.m, J.P. Falcon and Friends (folk/rock)
Friday, Nov. 18
Aslan: 8 p.m., Jamuel L. Saxon (dub)
Beach at Birch Bay: 6 p.m., Michael Dayvid (acoustic covers)
Blue Room: 8 p.m., Cat Positive, CERAS, Salt Lick, Cat Valley (rock)
Eagle Haven: 6 p.m., Aaron Crawford (country)
Fireside: 7 p.m., Wicked Timing (acoustic covers)
Honey Moon: 8 p.m., Cape Flattery (folk)
Make.Shift: 8 p.m., Ini, Townsend's Solitaire, Anna Arvan, Frankie Beach (indie/ folk)
McIntyre Hall: 7:30 p.m., Ordinary Elephant (folk)
Shakedown: 9 p.m., Earth Tones, Dublin Abbey (rock)
Skylark's: 8 p.m., Mike Faast (jazz)
Vault: 7 p.m., Dick and Jane (acoustic covers)
Saturday, Nov. 19
Beach at Birch Bay: 4 p.m., The 3 Radicals (classic rock)
Black Fern: 6 p.m., Morhaf Al Achkar (traditional Syrian music, plus bellydancing)
Blue Room: 8 p.m., The Unknowns, Nuages
Brown Lantern: 9 p.m., The Pine Hearts (folk)
Fireside: 4 p.m., Singers' Saturday
Gateway1890: 7:30 p.m., Thomas Sandblom & Mark Williams (acoustic covers)
Greene's Corner: 6:30 p.m., Michael Dayvid
Honey Moon: 8 p.m., Philip Hofmann, Louis Leford, Anna Arvan (song swap)
Make.Shift: 8 p.m., The Wyrds, LipStitch, The Hobby (punk)
Main Street: 9 p.m., Neon Shadows ('80s covers)
Rockfish: 7:30 p.m., Joe Cook Blues Band
Shakedown: 9 p.m., Josiah Johnson, Shaina Shepard, Cumulus (folk/rock)
Skylark's: 8 p.m., Havilah Rand (singer-songwriter)
Valley Taphouse: 7 p.m., Queen's Bluegrass
Wild Buffalo: 9 p.m., Built to Spill, Braided Waves, Anchorbaby (rock)
WinkWink: 7 p.m., Adventure Bites, Potbelly, Muppet Fetish, Done to Death (punk)
Zeeks Pizza: 7 p.m., The Sweet Goodbyes (folk)
Sunday, Nov. 20
FireHouse: 4 p.m., Ben Thomas Tango Project (tango/jazz)
Karate Church: 7 p.m., Sister Wife, Generifus, Sunflecks, August (folk)
Kulshan: 5 p.m., Katie and Kevin (folk)
Main Street: 6 p.m., Open Mic
Old Edison: 5:30 p.m., Ron Bailey & The Tangents (classic rock)
Wild Buffalo: 9 p.m., Champagne Drip, Sippy, guests (electronic)
Monday, Nov. 21
Blue Room: 8 p.m., Lord Lawrence
Conway Muse: 8 p.m., Tommy Castro and the Painkillers (blues)
Foundation Lounge: 7:30 p.m., Open Mic
Kulshan: 6 p.m., Quickdraw String Band
WWU PAC: 7:30 p.m., Onix Ensemble (chamber)
Tuesday, Nov. 22
Aslan: 8 p.m., Jazz Night
Boundary: 6 p.m., Paul Klein on piano
Culture Cafe: 7 p.m., Open Mic
Greene's Corner: 6 p.m., Tenderpile's Smile Aisle (yacht jazz)
Ranch Room: 8 p.m., Michael Dayvid
Wednesday, Nov. 23
FireHouse: 6:30 p.m., Michael Weiss Quartet (jazz)
Lincoln Theatre: 7 p.m., The Rocket Man Show (Elton John tribute)
Before heading out to listen to live music, check with individual venues to make sure the event is still taking place as scheduled. 
Jesse Stanton's music column, The Beat Goes On, runs Wednesdays. Email: jsbhammusic@gmail.com or Twitter: @JSBhamMusic.