The Beat Goes On
Harbor Day: From TikTok to local stages
The evolution of Austin Colwell
November 2, 2022 at 5:05 a.m.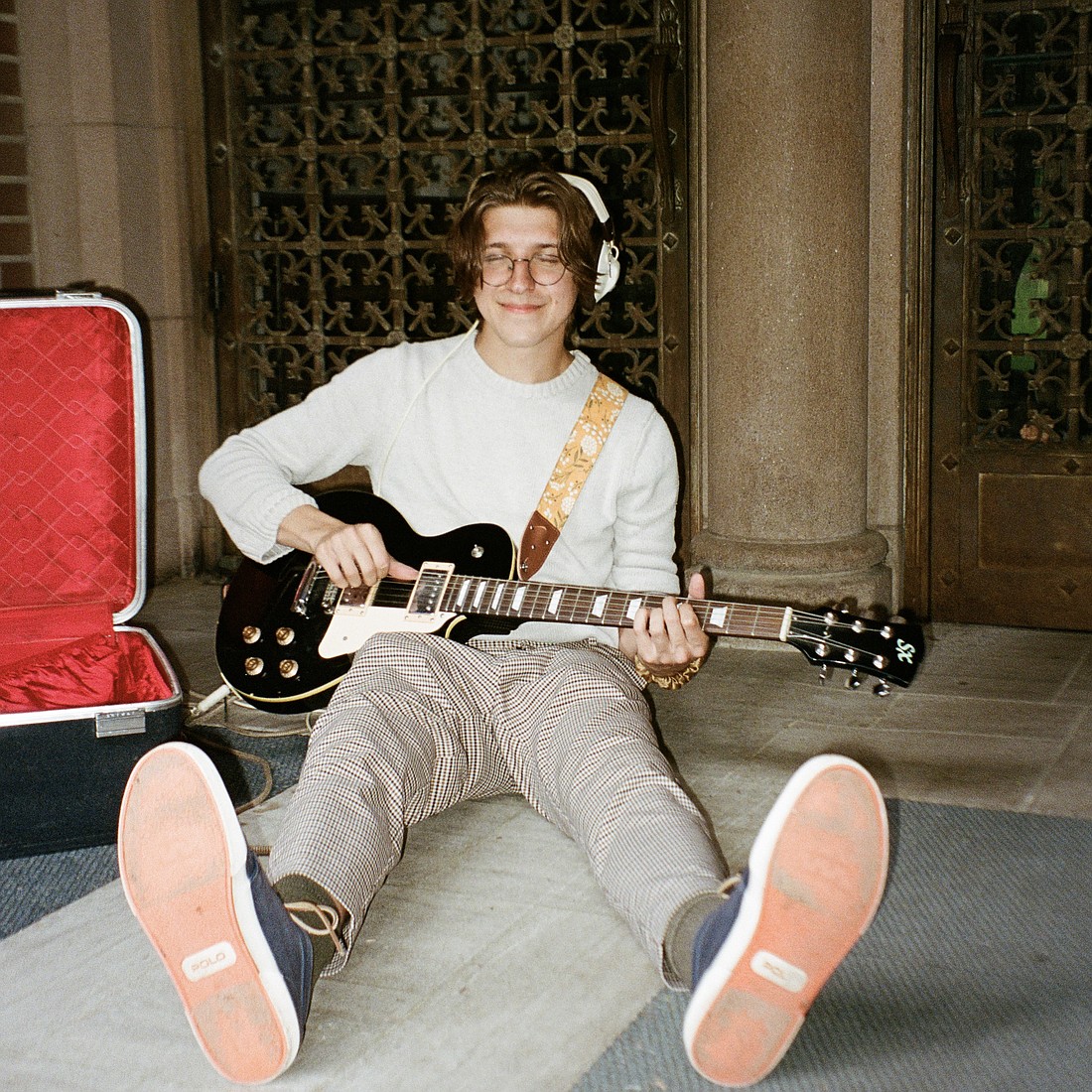 ---
---
Harbor Day has taken an unusual path to success.
Austin Colwell started the project in 2018, combining low-fi instrumentals with acoustic folk songs in a series of solo recordings. The sound gradually evolved to incorporate a wide range of influences, from bossanova to electronic.
Along the way, Colwell started doing live-streamed performances via TikTok, slowly building a worldwide following. When the single "Looks" came out, it blew up on the social media site, with people from all over using clips of it as the soundtrack to their videos.
Harbor Day's music features a blend of catchy melodies and distinctive moods that make it a natural fit for short video clips, although attentive listening to the full songs offers a deeper set of rewards. In 2021, Colwell released the epic double album "Ursa Major," a sprawling collection set to an eclectic blend of instrumental styles.
Until recently, Colwell was also playing guitar with local rockers Hockey Teeth, so that band would occasionally play a Harbor Day song, but other than that, Harbor Day was purely a solo endeavor.
Now, having left Hockey Teeth, and with a solid internet fan base established, Colwell is moving to turn Harbor Day into something a little more tangible and connected to the local scene. On Saturday, Nov. 12, at the Blue Room in downtown Bellingham, members of The Hobby and The Hookups will form a backing band, in order to present songs from the upcoming album, "Ivy League." The album itself will be released Nov. 18. Colwell describes the new one as more refined, upbeat and energetic than previous releases. Consider joining them to witness the next step in the evolution of Harbor Day.
One other notable local recording coming out this week: Aaron Guest releases his second release in as many months, a duo called Glimmer with singer Sarah Feinberg. They are celebrating their EP "Company" at Honey Moon on Friday, Nov. 4.
There have been some changes in the open mic scene, so I thought I'd try to get them all in one place for those looking to get onstage or to check out the talent.
Culture Cafe's open mic is moving from Sundays to Tuesdays, and the Foundation Lounge has switched from Wednesdays to Mondays. Main Street in Ferndale is on Sundays and allows for drums and electrified jamming. Greene's Corner has started one on the first and third Tuesdays of the month, and the Bellinghome School of Music sponsors one at Zeeks Pizza on the first Tuesday of the month. Underground Coffeehouse on Western's campus is also happening on Tuesdays. Honey Moon is still Wednesdays and Blue Room is still Thursdays, with a jam session afterward. Down in Anacortes, there's the Brown Lantern on Thursdays. Did I miss any? Let me know.
Live music listings
Wednesday, Nov. 2
Black Fern: 7 p.m., Gallowglass (Celtic)
Blue Room: 8 p.m., Eli Wills, Vervex, CHVRNS
Boundary: 6 p.m., Aaron Guest on piano
Honey Moon: 8 p.m., Open Mic
Wild Buffalo: 8:30 p.m., Trevor Hall (folk/rock/reggae)
Underground Coffeehouse: 7 p.m., WWU Combo Night (jazz)
Thursday, Nov. 3
Blue Room: 6 p.m., Open Mic/Jam
Brown Lantern: 8:30 p.m., Open Mic
Greene's Corner: 6 p.m., Flit (singer-songwriter)
Honey Moon: 8 p.m., Jazz Jam
Mount Baker Theatre: 7 p.m., Martin Sexton (singer-songwriter)
Shakedown: 8 p.m., Paisley Fields, Salt Pine, The Vandal Hands of Man (alt-country)
Thirsty Badger: 7 p.m., Open Mic
Twin Sisters: 6 p.m., Cardova (R&B/funk)
That's What I Like: 6 p.m., J.P. Falcon and Friends (folk/rock)
Wild Buffalo: 9 p.m., Flamingosis & Blockhead, Ehirobo (electronic/funk/jazz)
Friday, Nov. 4
Blue Room: 9 p.m., 45th St. Brass, Aardvarticus Zeus
Birdsview: 6 p.m., Wes Jones
Downtown Busking Program: 6–10 p.m., The Moving Hats, The Sweet Goodbyes, Jackson Ghost (exact locations TBA)
Fireside: 7 p.m., The D'Vas (classic pop and rock)
Greene's Corner: 6 p.m., Flattery (Celtic folk)
Honey Moon: 8 p.m., Glimmer, Josh Clausen (folk/rock)
Main Street: 8:30 p.m., Amish Warfare, TripMadam (rock)
Shakedown: 9 p.m., Proud Failures, RedShift, the ignorati (punk)
Skylark's: 8 p.m., Kazmyn (singer-songwriter)
Stones Throw: 6 p.m., High Mountain String Band (bluegrass)
Thirsty Badger: 8:30 p.m., Michael Dayvid (acoustic covers)
Vault: 7 p.m., Jerry Steinhilber Trio (jazz)
Wild Buffalo: 9 p.m., PEEKABOO, HEIRZ, Squanch, Pathos (electronic)
WinkWink: 7 p.m., Cat Positive, Where's the Exit? (rock)
WWU PAC: 8 p.m., David Trasoff and Ty Burhoe (North Indian classical)
Saturday, Nov. 5
Blue Room: 9 p.m., Goldmouth, Neffy3600, Yourgirlcallme, more
Brown Lantern: 9 p.m., Pay Dirt
Conway Muse: 8 p.m., John Pinetree & Joan Penney (jazz/blues)
Conway Pub: 8 p.m., Stacy Jones Band (blues)
Eagle Haven: 6 p.m., Michael Dayvid
Fireside: 3:30 p.m., Singers' Saturday
Guemes Island General Store: 5:30 p.m., Dog Tail Swing
Honey Moon: 8 p.m., Jeffrey Slough (singer-songwriter)
Make.Shift: 8 p.m., Dryland, Ceras, Duvcon (rock)
Menace: 7:30 p.m., Hookmeyer (blues)
Rockfish: 7:30 p.m., Cozmic Sauce (R&B/funk)
Shakedown: 9 p.m., Ossuary Wraith, LACABRA, Inpathos (metal)
Silver Reef Casino: 8 p.m., ToneLoc, Digital Underground, Color Me Badd
Skylark's: 8 p.m., Wicked Timing (acoustic covers)
VFW Post 156: 2 p.m., Market Street Dixieland Jazz Band
Sunday, Nov. 6
Kulshan: 5 p.m., Cardova
Main Street: 6 p.m., Open Mic
Mount Baker Theatre: 3 p.m., Bellingham Symphony Orchestra
Old Edison: 5:30 p.m., The Walrus (classic rock)
Shakedown: 8 p.m., Sons of Rainier, Afterlife Giftshop, Hamahata (country)
Wild Buffalo: 8:30 p.m., High Step Society, Red Giant Project
Monday, Nov. 7
FireHouse: 3:30 p.m., Dry Martini (jazz); 7 p.m., Rayn (flamenco)
Kulshan: 6 p.m., Broken Bow String Band
Tuesday, Nov. 8
Aslan: 8 p.m., Jazz Night
Boundary: 6 p.m., Paul Klein on piano
Greene's Corner: 6:30 p.m., old time fiddle jam
Ranch Room: 8 p.m., Michael Dayvid
Shakedown: 8 p.m., Os Mutantes, Claude Fontaine
Wednesday, Nov. 9
Mount Baker Theatre: 7 p.m., Talisk (Celtic)
Shakedown: 8 p.m., Sunking, Laguna Largo, guests
Before heading out to listen to live music, check with individual venues to make sure the event is still taking place as scheduled. 
Jesse Stanton's music column, The Beat Goes On, runs Wednesdays. Email: jsbhammusic@gmail.com or Twitter: @JSBhamMusic.