Breaking News
Cyclocross racer dies during Sunday's Ski to Sea race
Man experienced medical emergency while on the 13-mile course
May 29, 2022 at 9:00 a.m.
|
Updated May 30, 2022 at 5:25 p.m.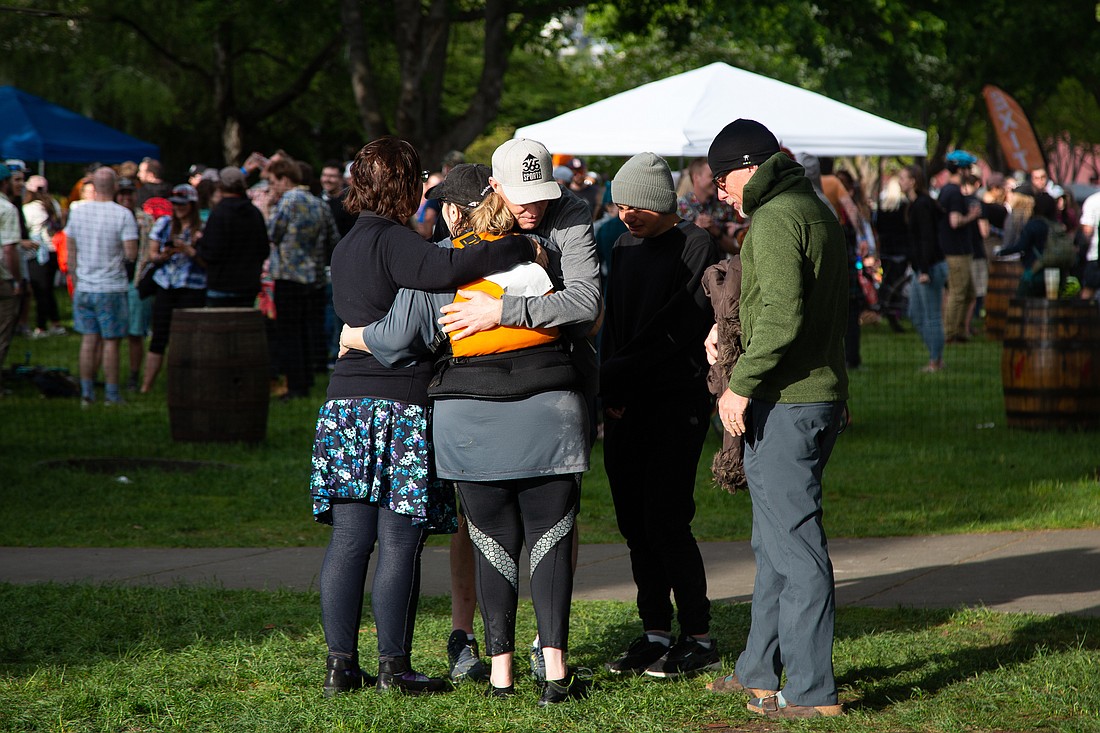 ---
---
A bicyclist in his late 50s died on the cyclocross leg of the 49th annual Ski to Sea race after experiencing a medical emergency, director Anna Rankin said Sunday night. 
Blaine resident Rob Lawrance was a member of Border Traffic, a veterans-division team, meaning the combined age of the racers was 385-plus. Bellingham Police Department responded, and Lawrance received treatment but died at the scene. 
His teammate and long-time friend, Amir Freund, was cycling home to Nanaimo, British Columbia, after completing the road bike leg of the race when he received a text that Lawrance "had a medical emergency" on the course. Freund initially thought his friend may have injured himself while riding. Lawrance was "in his 50s," and active, Freund said. The cyclocross bike route is approximately 13 miles of mostly flat, muddy riding which takes an average of 55 minutes to complete.
Shortly after Freund arrived at the ferry terminal to travel back to Vancouver Island, he got a call from a teammate. 
"'I have something to tell you that you don't want to hear.' My heart sank completely," he said. "How is it possible?"
The team of friends has been competing in the seven-leg relay race for many years, Freund said. 
"We never actually went for the trophy. We're not competitive. We were doing it for the fun of it, the experience to be outdoors," he said.
It was during a Ski to Sea race that Lawrance met his wife. A Canadian citizen, Lawrance went through the process of getting a green card and married his wife, an American, at the Peace Arch on the U.S.-Canada border. 
Lawrance recently retired from his position as an environmental planner with the city of Nanaimo and was loved by everyone, Freund said. The pair met through work in 2011. Freund, transportation planner for the city of Nanaimo, described his friend as intelligent, articulate, kind and humble. 
"I don't think he had anybody that didn't enjoy his time and temperament," Freund said. "He was always cheerful and friendly, and always ready to help." 
Lawrance was an avid outdoorsman — "you have to be as an environmental planner," Freund said. Lawrance moved to be with his wife, who lives in Blaine, seven months ago. Lawrance spent time working with the City of Bellingham Public Works department on invasive species. 
"He was such a lively guy, the center of attention when he's with his friends," Freund said. 
The day before the race, the two friends were tinkering with their bikes in Lawrance's garage. 
"It's just unreal for that to happen," Freund said. 
Border Traffic's canoeists logged the team's last official time in the race, finishing the leg at 8:57:57. The team's sea kayaker, Dawn Groves, was the last of her team to cross the finish line Sunday. The choruses of congratulations and high fives followed her as she ran the final stretch to ring the bell.
Moments after crossing the finish line, a friend pulled Groves aside with the news of Lawrance's death. They stood together, hugging, for several minutes.
"Myself and the board of directors express our deepest condolences to the family, the friends and the teammates," Rankin said.
In 2002, a woman died while practicing for the canoe leg of the Ski to Sea race. She drowned after her vessel became stuck in a logjam; her teammate made it safely to shore but suffered a head injury, according to an Associated Press story. 
Julia Lerner and Hailey Hoffman contributed to the reporting of this story. 
This story was updated at 5:25 p.m. May 30.