Track & Field
Sehome boys capture 2A track and field title
Locals earn 17 total titles across three-day event
May 28, 2022 at 10:22 p.m.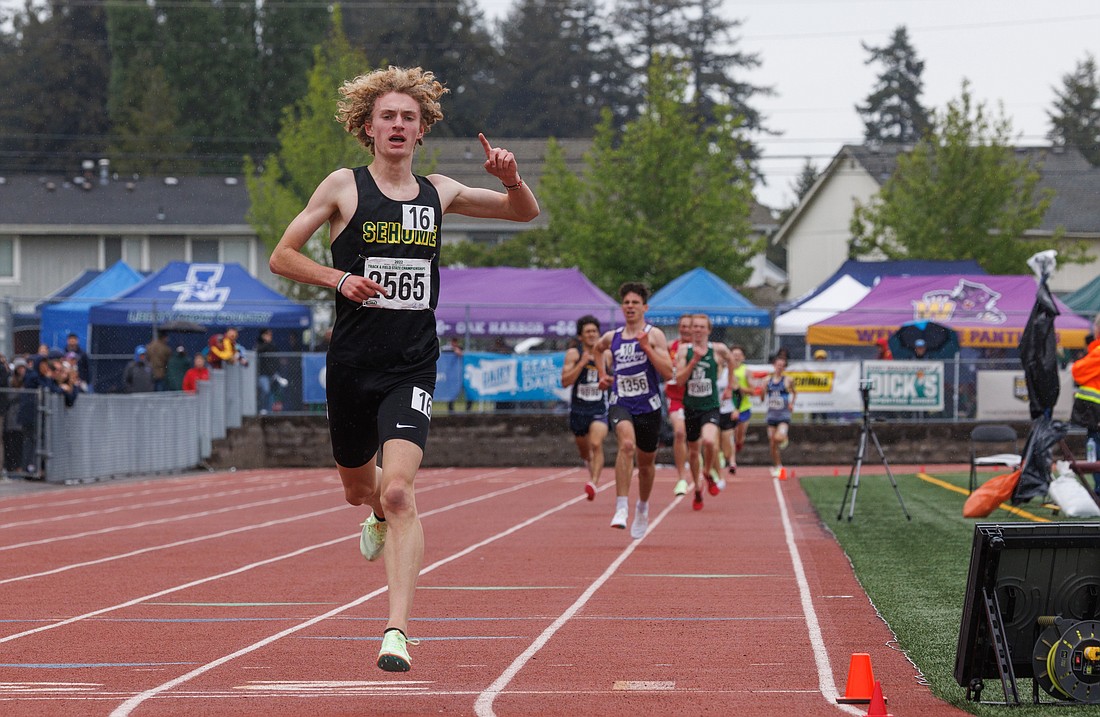 ---
---
TACOMA — At the start of the 2A state track and field championship's final day Saturday, Whatcom County athletes had won five state titles. By the end of the night, that number was up to 17.
Eleven more individual titles were claimed and the Sehome boys earned the 2A team title, scoring 88 points, to put a wrap on the spring track season.
The day was filled with photo finishes, an upset for the ages in the 2A boys 300-meter hurdles, and some pure event domination from the three Bellingham schools.
Here are state champions and other state placers by event.
2A boys 800-meter run
Diving on the track at the finish line wasn't exactly how Bellingham junior Will Giesen drew it up, but the improvised finish was worth it.
Giesen was neck-and-neck with Selah's Cooper Quigley the last 100 meters of the race before throwing himself forward.
"We clipped a little bit with our arms and we both started wobbling a bit the last 50 meters and we both dove," Giesen said. "Right when I fell I knew I had it, for sure. That's the first time I've ever done that."
Finishing in third was Squalicum sophomore Chase Bartlett with a time of 1:55.88. Squalicum junior Wesley Sluys placed eighth in 2:06.21.
2A girls shot put
After failing to record a mark in the discus the day before, Sehome senior Dawson Rothenbuler redeemed herself Saturday in the shot put, winning the event with a mark of 42-04.00.
Rothenbuler said she felt better and better after each throw.
"I got more focused each time and I think it worked out pretty well," she said. "It's incredible, I'm so happy."
2A boys 300-meter hurdles
Squalicum junior Andre Korbmacher and Foster's Lyricc Lopez lined up next to each other and the stage was set for the state's two best hurdlers to finally share a track and compete against one another.
Korbmacher said he knew he needed to have his best to beat the best, which meant changing up his approach.
"I went at my first two hurdles at 13 steps which was new for me and it worked perfectly," Korbmacher said. "We went out on the final stretch together and I just finished as well as I could and came across first."
Finishing .03 seconds ahead of Lopez, Korbmacher had to wait and see who won on the board after the race.
"I was so excited," Korbmacher said. "That's two state championships for both hurdles and I'm just really happy to be here for my first state meet and I'm going to come home fulfilled."
Korbmacher's time of 36.30 set a new state meet and personal record. 
Squalicum senior Josh Bates finished fifth in the event with a new personal record of 40.30.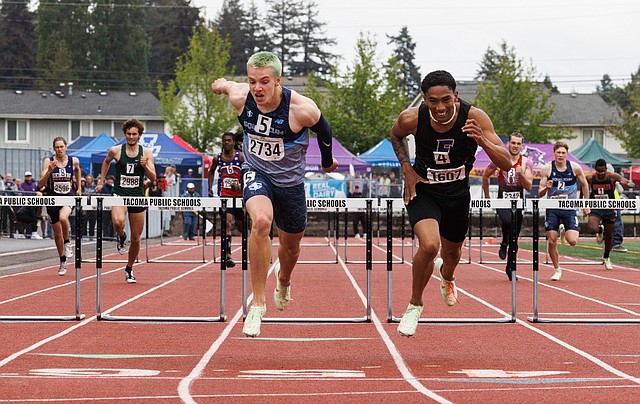 2A boys 100-meter dash
Further putting a stamp on the Sehome show at state, senior Carter Birade set a new personal record in the 100-meter dash, winning the event at 10.50.
"I had the 110 hurdle final yesterday and that's really all I was here for, the rest is just a bonus," Birade said. "I just wanted to come out here and get the win I missed out on yesterday, so I'm just happy with my performance."
Birade's teammate, Jake Andrews, placed second with a time of 10.56.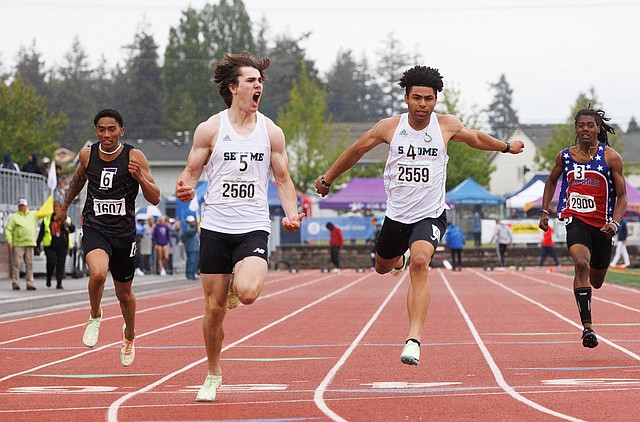 2A girls 100-meter dash
Bellingham sophomore Chayse Flick-Williams is coming back from her first trip to state with two state titles. Having won the 2A girls long jump the day before, Flick-Williams added to her total with a win in the 100-meter dash.
"I knew everybody was going to be really, really fast and was going to work their butts off to get to the finish line," Flick-Williams said. "I just wanted to run my own race and feel good while running and it paid off."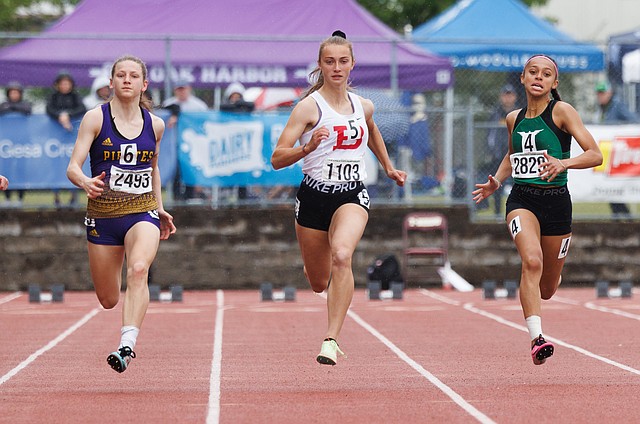 2A boys 4x100 relay
The Squalicum and Sehome relay teams knew it would come down to the two of them at the finish line.
The two schools had been within tenths of a second of each other all year and it was Squalicum that came out on top the last time around with a time of 43.18.
"Going into the race, we knew it was just us and Sehome for first place," Squalicum senior Josh Bates said. "When I saw our second exchange was a little rough I got a little scared, but we ran our hearts out and got the job done. It's a good day."
The rest of Squalicum's relay team is freshman Marcus Nixon, Korbmacher and sophomore Tegan Daughters.
Sehome finished second with a time of 43.50.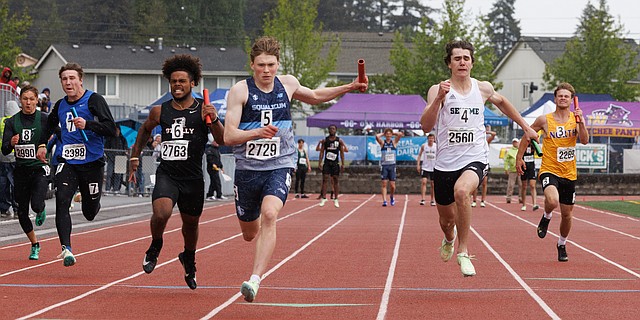 2A boys 3200-meter run
It was Sehome junior Zack Munson's race to lose.
Far ahead of the competition for the entire season, Munson entered the race as the heavy favorite for good reason.
He proved that by winning the race in a time of 9:12.61, finishing about five seconds ahead of the next closest runner.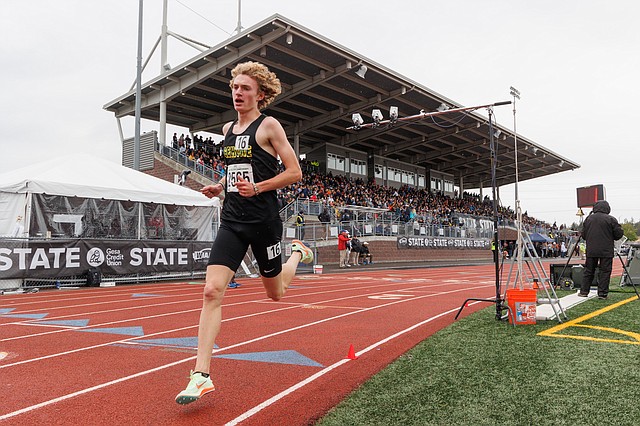 2A boys 200-meter dash, 2A boys 400-meter dash
A pulled hamstring a couple months ago has held Sehome junior Jake Andrews back from being where he thinks he should be.
The physical struggle and frustrating results have been a mental challenge, so winning state titles in the 200- and 400-meter dash meant everything to him.
"It's been a big mental battle knowing I should be further than I am, but it's been driving me a lot," Andrews said. 
He won the 200-meter with a time of 21.25, setting a new state meet record.
"It's good to have a state record, but I'm still pushing myself to go further," Andrews said. "I had two days of racing prior, so I'm excited to see what I can do with fresh legs."
Andrews' winning time in the 400-meter was 48.05. Also placing in the event was Lynden junior Porter Wilhite with a time of 50.67.
Bellingham senior Jaden Johnson placed third in the 200-meter with a time of 22.53.

2A girls 400-meter dash
Sehome sophomore Jayda Darroch kept it simple after winning the 2A girls 400-meter dash. She said she just really wanted to win and didn't care what her time was.
Darroch's time of 58.29 sealed it.
"I wanted to try and stay with the leader most of the race because with the last 100 meters I knew I could definitely pull away," Darroch said. "I don't even believe it. I'm really happy."
Lynden sophomore Ella Frerichs placed fourth with a time of 59.61.
2A boys 4x400 relay
Much like the 4x100 relay, it was bound to be Squalicum or Sehome crossing the finish line first with the other right behind them.
But unlike the 4x100 relay, it was Sehome finishing just ahead of Squalicum. The Mariners relay team placed first with a time of 3:21.76, just .02 seconds ahead of Squalicum's second-place time of 3:21.78.
"Earlier in the year we raced Squalicum and I knew they were a really good team," Andrews said. "With me against Andre [Korbmacher], I knew I had to sit with him the first straight because I knew if I passed him he would probably pass me again because I was wasting too much energy. I wasn't sure if I was going to be able to pass him. I'm pretty sure I closed my eyes, I don't even know what happened, but it was really close and fun."
Lynden placed third with a time of 3:26.83.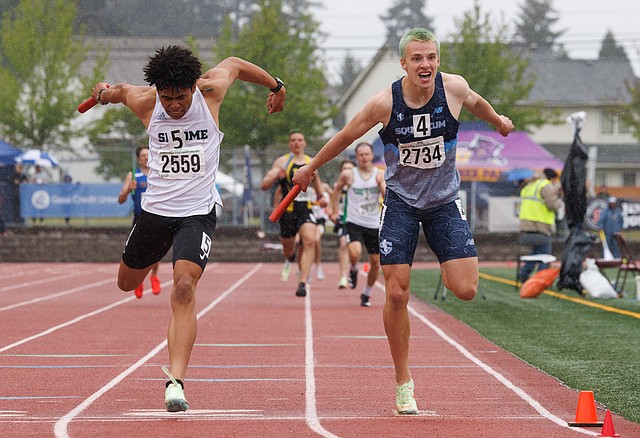 Other state placers are below.
2A girls triple jump
Fourth place, Genevieve Blum (Bellingham), 34-07.50
2A girls 4x200 relay
Third place, Lynden, 1:46.57
2A boys high jump
Fourth place, Jake McNeely (Bellingham), 5-10.00
2A girls pole vault
Second place, Katie Knies (Bellingham), 10-03.00
Sixth place, Calla Young (Bellingham), 9-00.00
2A girls 800-meter run
Fourth place, Emmanuelle Kroontje (Lynden), 2:19.00
2A girls 300-meter hurdles
Fourth place, Genevieve Blum (Bellingham), 47.13
Eighth place, Faith VanBrocklin (Lynden), 49.40
2A girls 4x100 relay
Second place, Bellingham, 51.31
Third place, Sehome, 51.41
Seventh place, Lynden, 51.92
2A girls 200-meter dash
Second place, Jayda Darroch (Sehome), 25.74
2A girls 4x400 relay
Second place, Lynden, 4:03.91
Seventh, Bellingham, 4:16.73